DIVA Presentation
3 results in works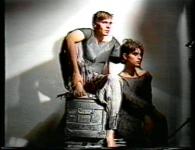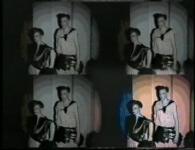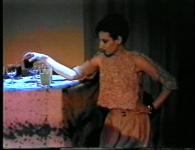 Ema Kugler, Nada Vodušek, Jane Štravs - Nostalgični izrez
(00:07:56)
Production:
Marijan Osole - Max, CD
,
1985
A collage of fashion creations from a fashion show set in Cankarjev dom starts off as if browsing through a trendy Fashion magazine. Models wearing leather clothes are accompanied by Italian, Yugoslav and American pop music from the 60'. We can also see some footage from behind the scenes. Camera is positioned high up on the left side of the runway. Scenes are often cut, multiplied and put together like photographs.
Add to playlist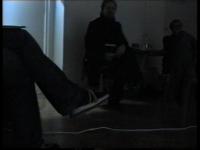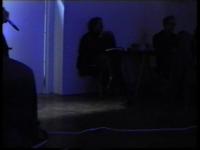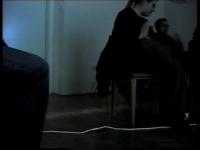 Čajanka za sodobno umetnost - Javni spomeniki v začetku 21. stoletja
(01:57:03)
Production:
KUD Mreža, Galerija Alkatraz, Zavoda GULAG
,
2006
Čajanke za sodobno umetnost so bila mesečna srečevanja, ki so vzpostavljala diskurzivno in dialoško situacijo na področju sodobne umetnosti. Odprte so bile za vse, ki so si želeli konstruktivnega dialoga in poglabljanja ter izmenjave znanja o aktualnih temah v polju sodobne umetnosti. S pomočjo čajank za sodobno umetnost so njeni pobudniki (Petja Grafenauer Krnc, Jadranka Ljubičič in Zoran Srdič) spodbujali k prepotrebni komunikaciji v svetu umetnosti slovenskega prostora. 13. november 2006 sta Z...
Add to playlist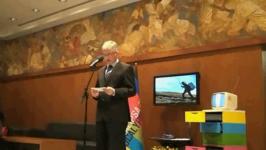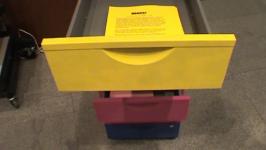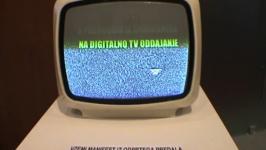 Sašo Sedlaček - Manifest
(00:09:41)
Production:
Aksioma - Zavod za sodobne umetnosti, Ljubljana
,
2009
Dokument o javni akciji Saše Sedlačka in sodelavcev v preddverju velike dvorane Državnega Zbora v Ljubljani leta 2009. Z akcijo, ki je bila del Iniciative za ustanovitev medijske avtonomne cone INFOKALIPSA ZDAJ!, je avtor želel poslanke in poslance opozoriti na polje analognih signalov, ki se je sprostilo z vpeljavo digitalne televizijske tehnologije in predlagati, da se jih nameni za medijsko avtonomno cono. Pri tem uporabi svoj lajt motiv - robota, ki na banalen način ustvari kohezijo tako, da ponuja...
Add to playlist