DIVA Station, Digital video archive
DIVA Station is a physical and web archive of video and new-media art. It is based on collecting video material within a wider national context, and includes artists who work in Slovenia and/or abroad. It includes three basic categories: art video, events and sources.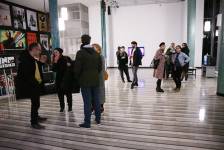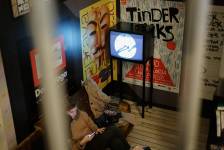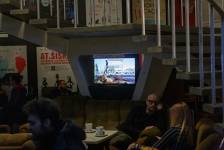 Shortly after the New Year, the Transgression exhibition inhabited the Kino Šiška entrance hall on the ground floor and first floor (10-28 January 2020). Group exhibition of video works from the archive DIVA Station presented ten video works from 1985 to 2019. Despite the demanding large spaces, the layout of the exhibition curated by Vesna Bukovec and Peter Cerovšek was very successful. (photo: Kaja Brezočnik)
Miha Vipotnik - Concurrences
(
00:52:00
)
Production:
Casablanca, RTV Slovenija
,
2017
The story of the poet - the protagonist of the film, who, upon the release of his new collection of poems, receives a message about finding long-lost videos of the late writer, poet and essayist Jure Detela. Vipotnik's recordings, which was actually accid...
Miha Vipotnik - It Brings Luck
(
00:02:30
)
Production:
TV Koper
,
1984
A reflection on the chain letters; contains tales of human fate and mysterious events that occurred in 1955.
Đejmi Hadrović - Silent Observer
(
00:09:12
)
Production:
KulturKontakt Austria
,
2017
Video performance acts as a monologue confession of a woman in her early thirties and the obstacles she is dealing with. Content deals with issues such as gender, identity, migration, and ethnicity. Autobiographical thoughts are exposed to the audience th...
Miha Vipotnik - France Prešeren: Gazele
(
00:24:40
)
Production:
RTV Slovenija
,
2000
A non-narrative documentary video work captures scenes of nature and people placed in it. The moving visual poetics of the nature is followed by an orchestral work of seven pieces called Gazelles by Lucijan Marija Škerjanec and by narrations of sev...