Name: Skušek, Nataša
No. of works: 17
Countries: Slovenia
Born: 1967
Nataša Skušek is a visual artist who, apart from video, uses various other medias of expression such as performance, sculpture, drawing, or photography in order to deal with the topic of social relations of women in contemporary world. Lately, she mostly takes upon the autobiographical position. She reflects on the complicated relations in a marriage and family ties. She had been actively exhibiting at numerous solo and group shows ever since 1999. In 2005 she finished MFA at the Academy of Fine Art in Ljubljana and Academy of Fine Arts in Trondheim. She lives and works in Ljubljana. In the framework of individual projects she had often collaborated with various artists like Mladen Stropnik, Rene Rusjan, Mateja Ocepek, Martina Bastarda and others.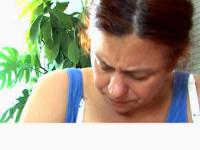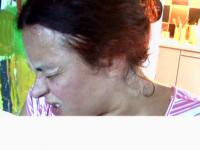 Nataša Skušek - Ekstaza
(00:11:28)
Video obsega deset bližnjih (close-up) posnetkov obraza med avtoričinim dojenjem hčerke. Avtorica je dobila vnetje tkiva v dojki oz. mastitis in prikazuje neprijetni, boleči del materinstva, ki ga sicer ponavadi prikazujejo z idealiziranimi prizori než...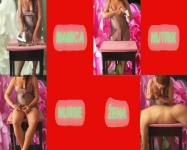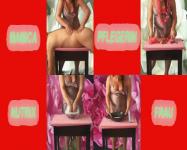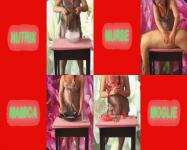 Nataša Skušek - Fliperautomat
(00:01:59)
V videu se na štirih slikah, ki se izmenjujejo na ekranu, odvijajo mitološka ženska opravila: kuhanje, pranje, likanje, masiranje, dojenje. Vlogam sodobne ženske - delavke, negovalke, žene, ljubice, urejene lepotice - avtorica dodaja še vlogo matere. Č...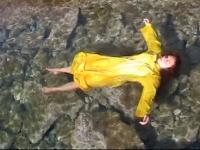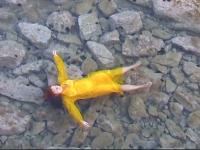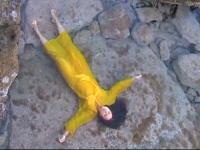 Nataša Skušek - Lebdenje
(00:04:31)
V videu avtorica leži v vodi in spominja na Ofelijo, ki je postala ikona obupane ženske. Ko leži v vodi in mimo nje namesto rož, kot na sliki Ophelie Johna Evereta Millaisa, plavajo odsevi kamenja, je popolna. Ne upira se več igri okoli nje in izpoln...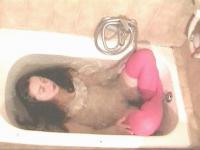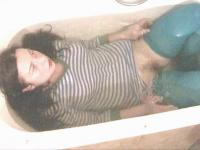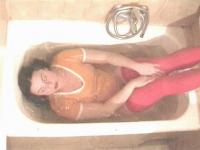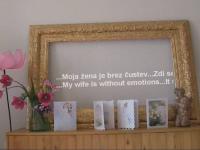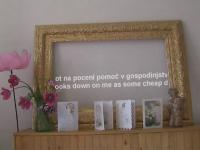 Nataša Skušek - Wedding
(00:01:00)
A one-minute video is a simple static shot of an altar celebrating a wedding. It is ornamented with a bouquet of flowers, wedding cards and gilded statue. Above the altar an empty frame is set in which signs quoting personal declarations of married couple...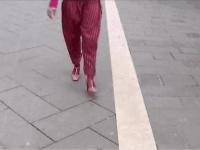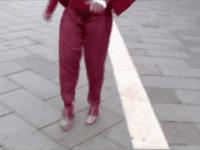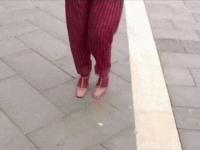 Nataša Skušek - Venezia 1
(00:12:05)
Video captures an unidentified figure dressed in red walking backwards. The figure is following a white line to its end, where it meets a new white line, which crosses the first one and completes the space. The scene is accompanied by loud street sounds.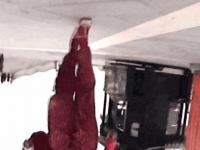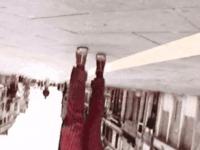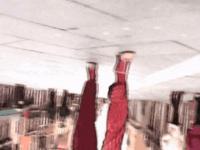 Nataša Skušek - Venezia 2
(00:12:05)
A flipped shot of a walk in Venice with unidentified figure in red and city background. The work is a continuation of a video Venezia 1. A figure in a red costume walks forward along a white line until it reaches perpendicular to the line. The image and t...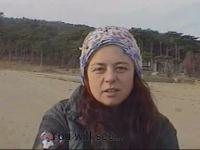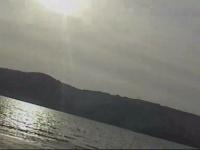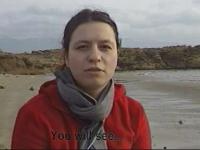 Nataša Skušek - You Will See...
(00:04:23)
Video is set on a windy beach. The author and her sister appear in two roles, which foretell dim prospects to each other with clichee expresions in a sinister way. Simple editing and the usage of shot reverse shot is used.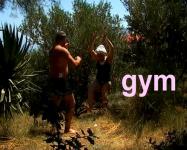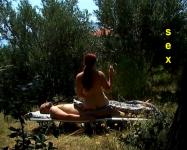 Nataša Skušek, Mladen Stropnik - Prosti čas / Free Time
(00:06:42)
Video work discusses time management in a modern family life. The authors document their holiday with their children and through personal experience explore the overload and expectations imposed upon an individual about themselves by modern society.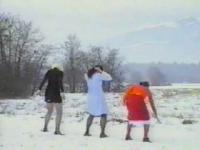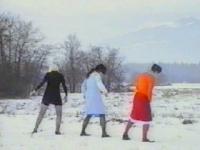 Martina Bastarda, Mateja Ocepek, Nataša Skušek - Pissing
(0:04:28)
Video work by three artists establishes a feministic social critique with an act of urinating in public. The authors in elegant costumes are placed into an idyllic snowy landscape. They take down their tights, lift their skirts and start urinating in a po...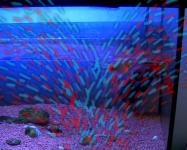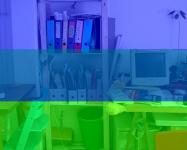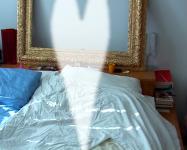 Nataša Skušek - Feng Šuji
(0:01:00)
Video documents the cleaning o fan apartment with the help of Fen Shui method. The author presents a humours version of a cliché expression with a multiple meaning, which is firmly present in the western culture. The raw document of a performance is crea...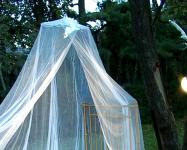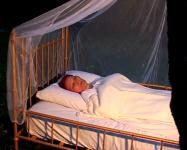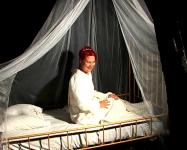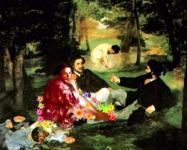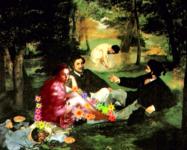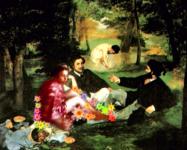 Nataša Skušek - Vrt
(00:00:20)
The artist is placed in the place of a naked female model inside an impressionistic painting by Édouard Manet Luncheon on the Grass. Video collage is author's miniature emancipatory gesture fighting against the passive representation of women.