Name: Ćosić, Vuk
No. of works: 1
Countries: Slovenia
Born: 1966
Vuk Ćosić, born 1966 in Belgrade, lives in Ljubljana since 1992. He is considered to be a pioneer of Internet art, exhibiting on prestige locations, such as Venice Biennale; ICA, London; Beaubourg, Paris; ICC, Tokyo; Kunsthalle, Vienna; Digital Artlab, Tel Aviv; ZKM, Karlsruhe; Ars Electronica, Linz; Walker, Minneapolis; Postmasters, NYC; Friedricanum, Kassel; Neue Galerie, Graz; IAS, Seoul; Moca, Oslo and others.
He is also a lecturer (Beaubourg, Paris; Guggenheim, Venice; CCA, Glasgow; Thing, NYC; festivals: Hong Kong, London, Liverpool, Dessau, Montreal, Banff, Madrid, Gorizia, Copenhagen...; art academies and universities: Stockholm, NYC, Los Angeles, Chicago, San Francisco, Troy, Dundee, Liverpool, Venice, Linz, Barcelona...).

His work is mentioned and analyzed in numerous diplomas, master and doctoral thesises (University of Rome, Sao Paolo, Leads, Manchester, Bruxelles, Trieste...), media (NY Times, Liberation, La Repubblica, Guardian, Cahiers du Cinema, Artforum, Newsweek, Wired, Haaretz, ORF, CNN, BBC...) and monographic publications on new media (MIT Press, Thames & Hudson, Tate, Taschen...).
He is represented by the galleries, such as Bryce Wolkowitz, NYC; Škuc, Ljubljana; ARC, Edinburgh, Sofia and many others.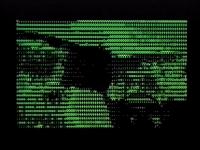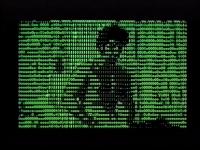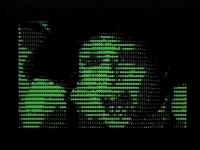 Vuk Ćosić - Deep ASCII
(01:00:05)
The ASCII conversion of the famous porno film Deep Throat.The author reduces volume of the image to a combination of black and green with various symbols. He is interested about durability of data, but also posses a more complex question about the transfe...