DIVA Station, Digital video archive
DIVA Station is a physical and web archive of video and new-media art. It is based on collecting video material within a wider national context, and includes artists who work in Slovenia and/or abroad. It includes three basic categories: art video, events and sources.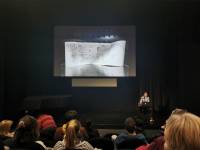 After the successful opening, the exhibition and the second evening, we were still able to continue with the screening of the film / video opus by Miha Vipotnik on March 3. The March program consisted of four videos / films from 1988 to 2015 that all tackle the themes of personal and social control, the atmosphere of political instability and military interventions. The program was introduced by Nika Grabar, a good expert on Vipotnik's oeuvre.
Matevž Jerman - Remains - Confessions to the Ghosts
(
40:08
)
Production:
Gustav film
,
2019
Niko Novak's songs inhabit and carve out the physical and interpersonal landscapes and distances discarded by another film – with sound, melody, expressiveness and voice weaved into dark, balladic rock. Something highly amorphous, intangible,...
P L A T E AU R E S I D U E - Sub Persona (trailer)
(
03:29
)
Production:
P L A T E AU R E S I D U E
,
2019
Sub Persona is a research project that focuses on the importance of forests its ecosystemic, economic, recreational and cultural functions, which are too often taken for granted by humans. From human habitation to the present, resource exploitation and de...
Nataša Prosenc Stearns - Alone Together – Evening
(
00:11:06
)
Production:
Arsmedia
,
1999
When solitude becomes too painful, we start imagining things.The film project Alone Together consists of two short films, Morning and Evening, whose stories unwind between reality and imagination. They both talk about solitude and isolation in contemporar...