"Armenian Artist on Cyber - Spatial Relations"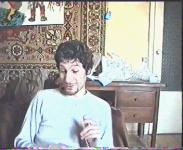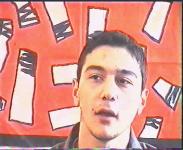 Video je na voljo samo v fizičnem arhivu
Naslov:
Armenian Artist on Cyber - Spatial Relations
Zvrst:
Eksperimentalni video / Dokumentarni video
Produkcija:
The Armenian Center for Contemporary Experimental Art (ACCEA)
Short videos of different Armenian artists and artists presentations in which they talk about a period of transition and the orientation of Armenian art in the context of post-modernism. Development of electronic technologies, particularly web communications, turned the ordinary rhythms of life upside down, offering us space and time of a new reality. Cyberspace overcomes temporal, spatial, geographical and political boundaries. The screen of the computer monitor opened fractal infinity of multidimensional doors of second nature, transferring art into virtual reality. Thus the artist acquires ideal capacity for choosing methods, and creating independent intercultural spaces. Artists: Abgarian Samvel, Abgarian Sona, Aramian Narine, Avetissian Narek, Azatyan Mgher, Babelian Albert, Bayadian Hrachia, Chukaszian Garegin, COBALT, Galstian Vahagn, Greg, Grigoryan Arman, Hakobian Diana, Kareian David, Karoyan Nazareth, Katlamagia Varsenik, Khachatrian Tigran, Leo-Leo, Matzakian Karine, Melkonyan Karen, Mkrtchian Karo, Pogosian Artak, Romelian Vahan, Sagatelian Samvel, Sargsian Arshak, Sargsian Azat and Simonian Haroutuin.