DIVA 1990-1999
165 results in works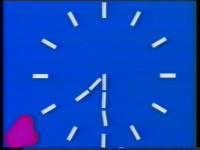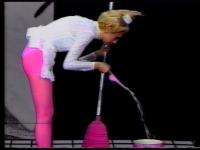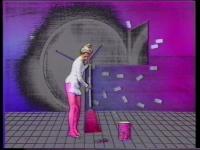 Nataša Prosenc Stearns - Čas? / Time?
(0:01:18 in 0:01:17, na št. 69 0:01:18)
Production:
TV Slovenija
,
1990
The repeated use of a media image gives it the status of stereotype - in this case a clock announcing the beginning of the television news. The artist wishes to undermine the 'freezing' of the stereotypical media image; she transforms it and thus reinstates time in its natural and constant flow. The concept and form of the work are characterised by irony. (VD)
Add to playlist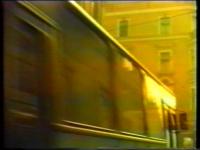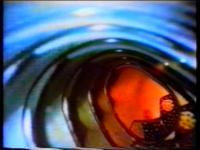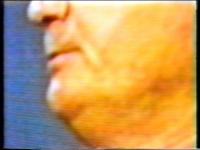 Mirko Simić - Passer By
(00:04:20)
Production:
Bris & VS VIDEO / Škuc - Forum Ljubljana
,
1990
A multitude of moving images presenting everyday life from various viewing angles. Images of life vibrate in the rhythm of music by Sergej Kurjohin. Although dance is in the forefront of this video, this is not a video spot. (VD)
Add to playlist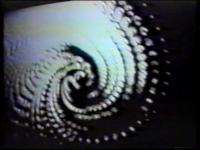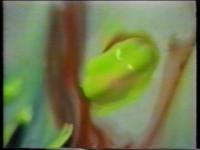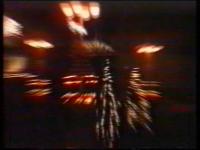 Mirko Simić - Positive Connection II
(00:03:20)
Production:
Bris & V.S. Video / Forum, Ljubljana, 1990
,
1990
A fleeting glance and noise bring us into a space of consciousness where the real and the abstract unite on the border of perception.
Add to playlist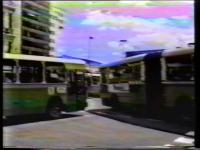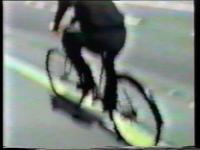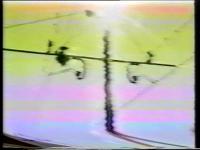 Rok Sieberer Kuri - Ljubjana Trafik
(00:05:12)
Production:
V.S. - D.V.
,
1990
Promet v Ljubljani poteka (z montažo) počasneje kakor sicer: avtomobili, dolgi avtobusi in kolesarji, ki pogled usmerjajo v kamero. Spremlja jih bučna glasba, ki s hitrejšim ritmom daje slow motionu slike še večji kontrast. Sporočilo glasbe je: It's nothing you can do.
Add to playlist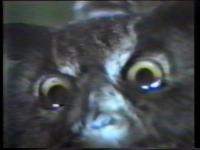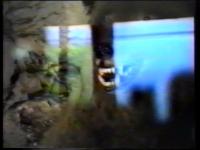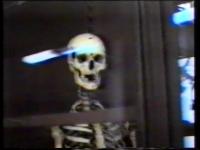 Rok Sieberer Kuri - Rollins
(00:01:03)
Production:
V.S. - D.V.
,
1990
Posnetki lobanj in človeškega okostja preidejo k posnetkom medveda, sove; nagačenih živali. Glas Henrya Rollinsa poda citat Henrya Millerja iz leta 1934: "Tomorrow you may bring about the destruction of your world. Tomorrow you sing in paradise above the smoking ruins of your world-cities. But tonight I would like to think of one man, a lone individual, a man without name or country, a man whom i respect because he has absolutely nothing in common with you - myself. Tonight i shall meditate upon that wh...
Add to playlist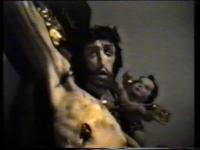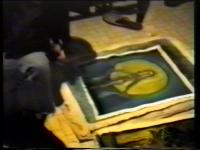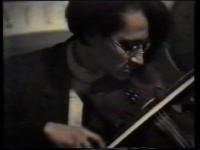 Rok Sieberer Kuri - Umetniški večer
(00:10:05)
Production:
V.S. - D.V.
,
1990
Podoba Kristusa na križu, okoli katerega kroži dinamična kamera, v obraz ga snema iz dveh perspektiv - iz vsake izgleda drugače. Hitri preskoki perspektiv, ki sežejo v rano na prsih. Nato se pogled preseli na Kristusovo fresko na steni, pod katero glasbeniki igrajo neko povsem drugo melodijo - koncert v živo, ki pritegne pogled kamere na čevlje in udarjanje noge ob tla. Kamera nato potuje po risbah v sobi, ki prikazujejo različne podobe - prostor je umetniški atelje, ki ima v gosteh rock glasbenike.
Add to playlist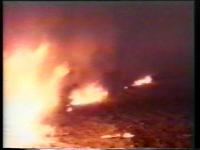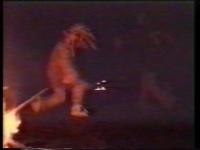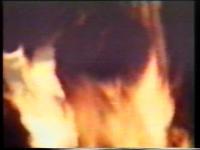 Rok Sieberer Kuri - Kres II. Razstava
(00:01:02)
Production:
V.S. - D.V.
,
1990
Posnetki nočnega kresa in ples okoli ognja. Kamera zmedeno beleži telo v soju ognjenih plamenov.
Add to playlist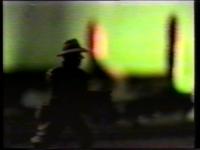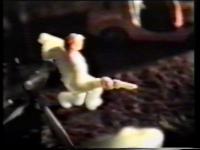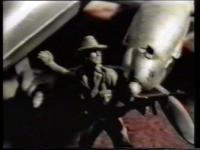 Rok Sieberer Kuri - Krimi krimič
(00:01:21)
Production:
V.S. - D.V.
,
1990
Posnetki figuric-igrač avtomobilčkov, majhnih avionov in vojakov, ki s pištolami merijo eden na drugega. Manipulacija z medijskimi, filmskimi podobami, ki jih avtor pogosto vključuje - akcijo prekine insert streljanja iz akcijskega filma. Figurica nato sede v avto in se odpelje.
Add to playlist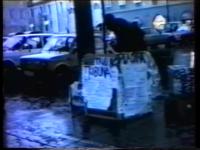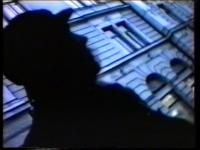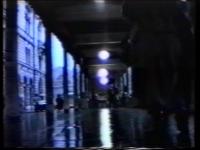 Rok Sieberer Kuri - Portret Koncilja
(00:03:23)
Production:
V.S. - D.V.
,
1990
Posnetki središča Ljubljane s kamero v roki, posnetki reke Ljubljanice v katero pada dež in ujet pogled na prodajalca revije Tribuna in Mladina - to je Brane Koncilija, pesnik, glasbenik ter punk / hard core aktivist iz Dolenjske. Z njim avtor izvede intervju o tem, kako se tiskovina prodaja in kakšne so njegove metode prodaje.
Add to playlist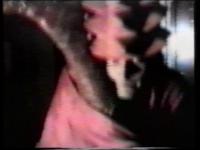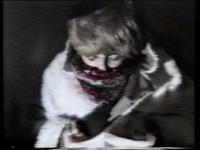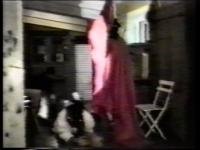 Rok Sieberer Kuri - Rop bakice
(00:02:53)
Production:
V.S. - D.V.
,
1990
Zamaskiran moški oropa babico, tako da jo najprej fizično napade, iz njene košare pada nakupljeno sadje, ona pa se po svojih močeh, a neuspešno brani.
Add to playlist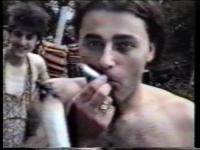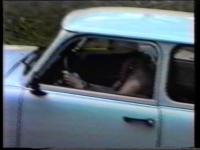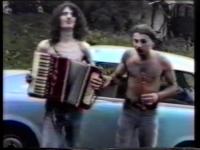 Rok Sieberer Kuri - Yello žur
(00:02:38)
Production:
V.S. - D.V.
,
1990
Na žuru oziroma pikniku v naravi se zberejo protagonisti ljubljanske hard core scene. Žur je predstavljen v povsem surovih posnetkih, dinamično in tresočo kamero, brez posebnih efektov. Gostje žura oddidejo na travnik, kjer se začne partija improviziranega bejzbola.
Add to playlist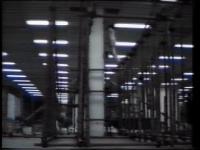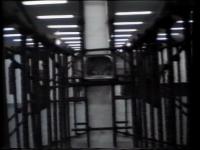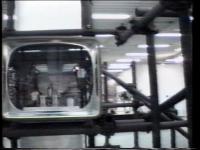 Marko Kovačič - Prediction of Zeus
(00:03:11)
Production:
1990
Black and white recording follows the process of the construction of an installation Prediction of Zeus in Sarajevo in 1989 to its final version. The monumental work combines elements of sculpture and video art for a sinister forecast of an apocalypse.
Add to playlist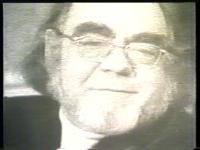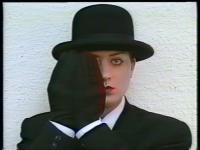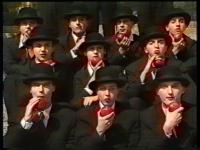 Ana Nuša Dragan - Anketa
(00:14:00)
Production:
TV Skopje
,
1990
Bretonski pesnik Eugene Guillevic, imenovan poèt contemporain je del moje inspiracije kot izhodišče ali opora v video dotiku z njegovo poezijo, ki se zame spremeni v samogovor, v spoznanje zvez med zavestjo in podzavestjo. Ritem slike je Guillevicova beseda, ki se ponavlja, ki je sprva spontana, nezadržna, potem pa postaja čedalje bolj določena in jasna. Resnici se skušam približati z uporabo velikega plana obraza ali objekta, pogosto vlada pogled in kot se zdi nič drugega. Spoznano resnico skuš...
Add to playlist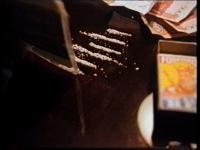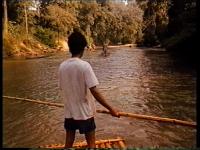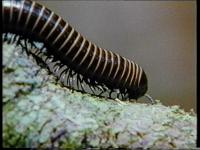 Andrej Lupinc - V 8. minutah okoli sveta / In 8 Minutes around the World
(00:09:38)
Production:
TV Slovenija, filmski laboratorij
,
1990-2000
The documentary video patchwork with shots from various places in the world that the author visited while working as a cameraman at Slovenian national TV station in the span of ten years. Diversity of aesthetics is visible through a compilation of shots from different continents. A stable rhythm that runs through the whole video unifies all different scenes and brakes the seeming symbolic differences. The video would work as an ideal visualisation of Levi-Strauss's anthropological theory developed in his bo...
Add to playlist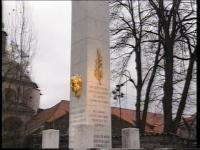 Sašo Podgoršek, Igor Zabel - Ceci n'est pas Paris
(00:03:55)
Production:
1991
Plečnik's Ilirski steber (Illyrian Column) in Ljubljana, a historical link between France and Slovenia, condensed into a visual gift intended for former French Culture Minister, Jack Lang.
Add to playlist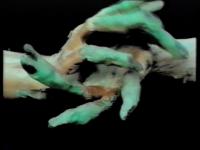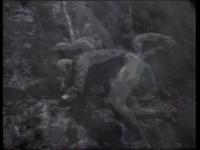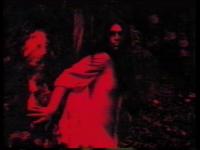 Nataša Prosenc Stearns - Tam (Framski slap) / Over There (Fram Waterfall)
(0:07:25)
Production:
Eurospekter (koprodukcija) & Otroški in mladinski program TV Slovenija
,
1991
This video can be viewed as a video fairy-tale: it contains all the elements of one. The happening takes place in a forest. We see a dwarf that never shows its face, but on its travels it often encounters other incredible beings. Graphic signs are component parts of the image, and they are accentuated by Saba Skaberne's and Tamara Sevčnikar's sculptures, which also form part of the installation of the same title.
Add to playlist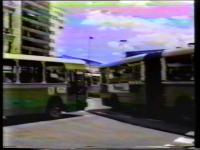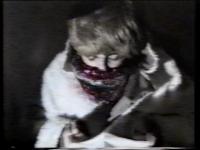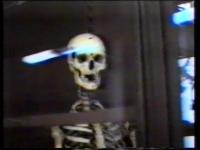 Rok Sieberer Kuri - Kuri kompilacija
(00:34:29)
Production:
V.S.Đ.V., Ljubljana
,
1991
The Kuri Compilation combines several humorous short video clips: Crisis, Yello Party, Ljubljana Trafik, Art Evening, Bonfire, Rollins, Crime-Criminal Story, The Koncilija Portrait, and Grandma's Robbery. An interview with a street newsvendor, city traffic, 'family' video in nature, video burlesque, criminal story featuring toys. (VD)
Add to playlist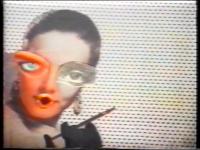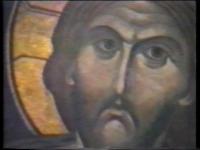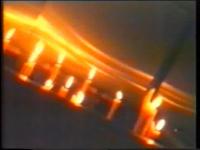 Mirko Simić - Dugtren
(00:05:27)
Production:
Bris
,
1991
The graphic signs appearing at the beginning are immediately transformed into real images of elements: shaping of clay, a fountain, a toilet bowl and the flushing of water accompanied by the sound of a train. Images follow the rhythm of the music which links them.
Add to playlist
ZANK - 400
(0:03:55)
Production:
TV Slovenija & PIAS
,
1991
Music video by Neven Korda for the song 400 by Borghesia (PIAS 1991) is a collage of different found footage, remakes of a performance by Marko Kovačič and Sebastjan Starič from 1991 and edited recordings of scenes performed by a theater group Gledališče za proizvodnjo fikcije, both members of Borghesia group and deaf-mute students. "400 kilometers is the distance between Belgrade and Zagreb, two cities of the same country in 1991." (Videodokument) ------- Borghesia (1983 - 1939) was a m...
Add to playlist
ZANK - Nestrpnost
(0:35:26)
Production:
TV Slovenija & Brut
,
1991
Based upon a novel by Lela B. Njatin, an extremely fragmented piece of narrative. The film retains all characteristics of the original text, introducing the fragmentariness both in the video image and music score. The heroine experiences only fragments of events, she gets involved in meetings which start but never end, she has wishes which are outlined, but never consumed. In the video film, all these fleeting and intolerable moments, transvestism and changes of identities are indicated with layering of vis...
Add to playlist