DIVA Installation Art
91 results in works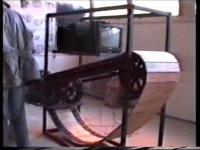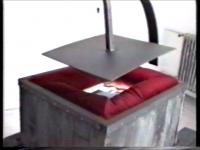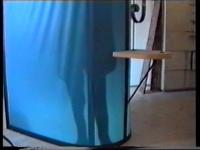 Darij Kreuh - Mine Mind Do you Mind
(00:03:18)
Subtitle:
Imena skulptur: Treadmill, Push it, Cabine
Production:
1993
Posnetek serije skulptur, ki delujejo kot nihala. Gre za interaktivno delo predmeta s predmeti in za dokumentarne posnetke iz razstave, v katere montaža minimalno poseže. Kamera posega v različne kote eksponatov, zato da jih lažje - razločneje vidimo.
Add to playlist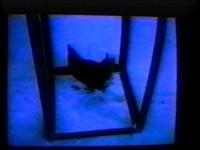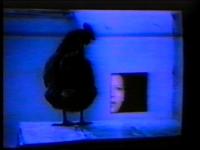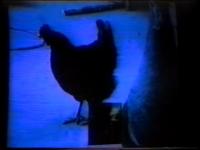 Damijan Kracina - Kurca / Little Hen
(00:02:55)
Production:
1996
The work was made in the studio of the sculpture department at the Academy of Fine Arts. A hen appears in the studio and waddles across the room. The prevailing colours of the image are various shades of blue. The hen is caught in a sculpture installation with a television set screening scenes from current Slovenian politics, with swastikas and church services. At the end, the picture completely disintegrates, with only the footage of the hen remaining, liberated from the media field/television. Animal righ...
Add to playlist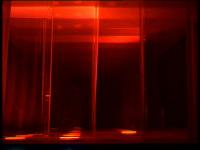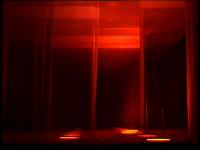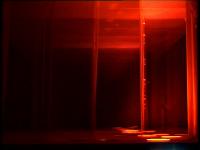 Zmago Lenardič - Fireworks
(00:10:10)
Production:
2006
Video documentation of an installation presented in the exhibition Liquid Space in 2006, shot with a static camera positioned in front of the work. A series of blinking red-light spots that switch on and off one after the other, creates a rhythmic correspondence between the light and the music. The light seems challenging the perceptive faculties of the viewer by drawing a visual interpretation of Bach's Kleine Preludien, and at the same time evoking the mechanism of a piano keys. The spot reflections and t...
Add to playlist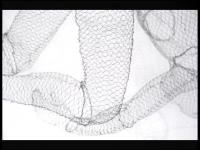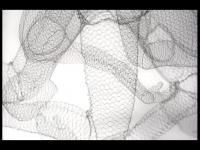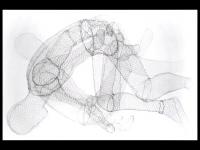 Zmago Lenardič - Network
(00:12:47)
Production:
2006
Video documentation of an installation presented in the exhibition Liquid Space in 2006, where the three-dimensional shape of a human body realized with a thin wire interweave is moving and projecting its shadow on a white surface. The video shows the overlapping of these shapes, creating a new layer where the body seems contested between real dimension and shadow. The movements of the camera around the installation make the new established relationship between the two entities become more and more confused...
Add to playlist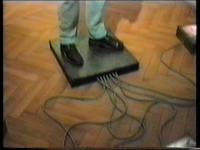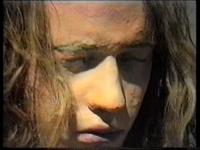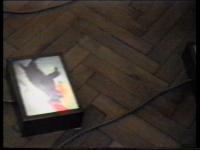 Damijan Kracina - Kracina TV
(00:06:24)
Production:
1995
A hyper-realistic latex sculpture of the artist stands in the middle of a room in Kapelica Gallery, where the artist first presented the installation. The sculpture's low pedestal is connected to seven monitors into which the figure gazes, while light boxes show photographs of cats run over by cars. The installation shows death doubled, or the absence of life. The cats are dead, and the statue, too, is lifeless. The images of dead cats not only draw attention to the cruel human attitude to animals and the...
Add to playlist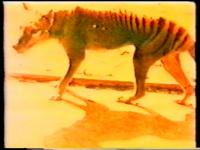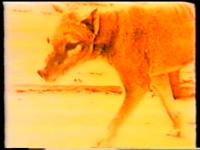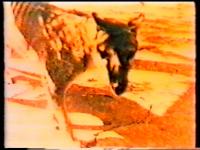 Damijan Kracina - Thylacinus Cynocephalus
(00:01:09)
Production:
2000
The video reconstructs the movements of the Tasmanian tiger (Thylacinus cynocephalus), which became extinct in 1936. A year before the video was created, the Australian Museum in Sydney began developing methods for preserving the genetic material of the animal in order to clone it in the 21st century, when appropriate technological procedures become available. Kracina watched the final footage of the Tasmanian tiger on TV and filmed it. He coloured the black-and-white shots and simulated the animal's move...
Add to playlist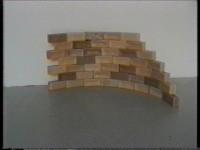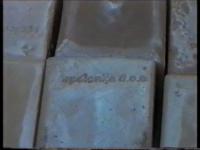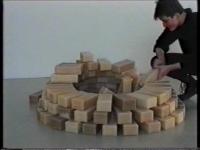 Apolonija Šušteršič - Do It Yourself
(0:05:36)
Production:
Rijksakademie van beeldende kunsten Amsterdam
,
1997
This video clip demonstration presents the use of a new commercial product, a recycled wax brick. Various professionals (referred to as architects at the end of the clip) demonstrate its usage through the process of building a wall. The video clip forms part of an installation of the same title. (VD)
Add to playlist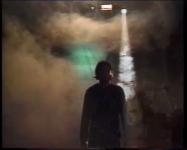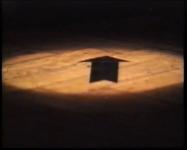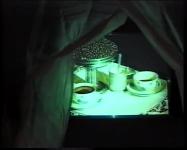 Rok Sieberer Kuri - Tišina prosim, gledamo
(00:09:58)
Production:
2001
Pripravljanje razstave Roka Siebererja Kurija v galeriji Kapelica (2001), kjer na dokumentaren način beleži delovani proces. Postavljanje instalacij, umeščanje video del v prostor, pogovor o učinskih predstavljenega.
Add to playlist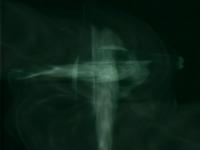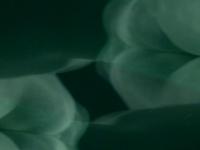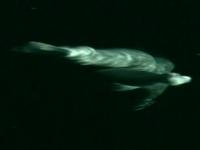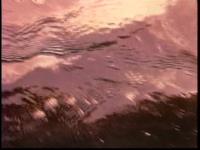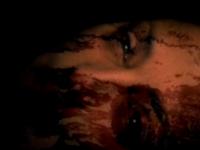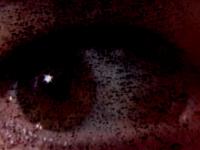 Nataša Prosenc Stearns - Crossing
(0:04:59)
Production:
Kanalya Pictures
,
2005
Video Crossing contains different layers of recordings. A close-up of a face is covered with a layer of tracks of fire and water. The combination gives impressions of the layers shading and blending. The viewer faces a sequence of video projections moving from realistic to abstract. Installation is a display of transformation attracting the viewer to change, metamorphosis and decomposing of images.
Add to playlist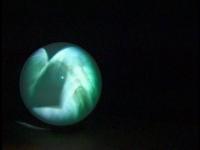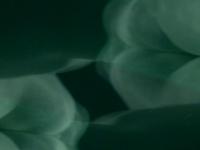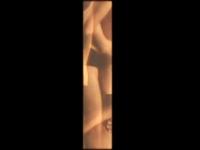 Nataša Prosenc Stearns - Video Installations (1994-2005)
(00:13:58)
Subtitle:
Swimming the Dark, Crossing, Sphere, Well, Vortex, Shadows, Corner, Tomb, Pillar, More, Reason, Vertical Horizon, Journey into the Void, Place of the Game
Production:
2005
1. Swimming the Dark: podvodni eksperimentalni posnetki plavalke ob spremljavi šuma vodnih tokov in strojev. (2005) 2. Crossing: večkanalna instalacija, ki prikazuje razkrajanje podob z ognjem in vodo. Prvi del sestavljajo podobe visečega človeškega telesa, ki se staplja s plameni. Oblike in barve ognja ter kože se zlijejo druga v drugo in kmalu ne zaznamo več nobene razlike med njimi. Drugi del prikazuje povečane obraze s sledmi ognja in vode, ki se prelivajo po njihovi površini ter izseke instal...
Add to playlist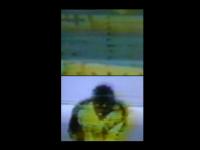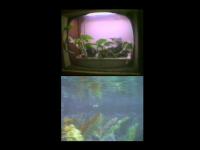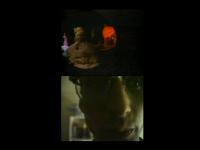 Miha Vipotnik - Eight
(00:24:52)
Production:
1992
Eight is based on the story from the novel Moment of Silence by Tomislav Longinović (Burning Books: San Francisco, 1990) that addresses the question of disintegration of Yugoslavia, search for identity, personal experience of history and the meaning "lost in translation". The video was made for the Remember Yugoslavia exhibition in New York (1991-92), but Vipotnik withdraw it due to the nationalistic tendencies of Serbian artists. Video was presented as an installation at the Vipotnik's inte...
Add to playlist
Damijan Kracina - The Ant
(00:03:53)
Production:
1997
The video shows the last minute in the life of a dying ant which is stuck on an adhesive surface. At exhibitions, the static footage is presented on a miniature screen, with the ant practically life-size. The author discusses human irresponsibility and merciless treatment of animals, revealing that the death of even such a tiny creature is just as dramatic as any other.
Add to playlist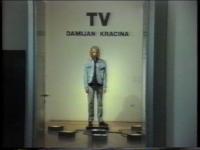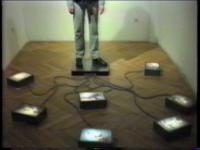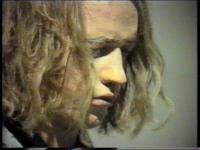 Damijan Kracina - Kracina TV
(00:05:48)
Production:
1995
Hiperrealističen kip avtorja iz lateksa stoji sredi prostora v Galeriji Kapelica, kjer je umetnik prvič postavil instalacijo. Nizek podstavek kipa je povezan s sedmimi monitorji, v katere je uprt pogled figure. Na svetlobnih objektih so prikazane fotografije povoženih mačk. Instalacija prikazuje dvojno smrt oziroma dvojno odsotnost življenja. Mrtve so povožene mačke, neživ pa je tudi kip umetnika. S podobami mrtvih mačk umetnik ni opozoril zgolj na krut odnost človeka do živali, na davek človeko...
Add to playlist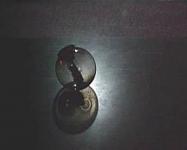 Borut Savski - Dancers
(00:03:34)
Production:
Galerija Kapelica
,
2008
Dve avtonomni gibljivi okrogli telesi v instalaciji izvajata plesni performans dveh preprosto (digitalno, a ne računalniško) programiranih objektov, ki med seboj komunicirata in se privlačita s pomočjo senzorjev in ambientalnega zvoka v galeriji. Okrogli telesi je umetnik prvič sestavil leta 2005 za nastop projekta Problemloss v Moderni galeriji v Ljubljani. Naslov performansu je bil Posodi polni zvoka. Kasneje je posodi vključil v predstavitev Distribuirano telo v Mali galeriji Moderne galerije ter v...
Add to playlist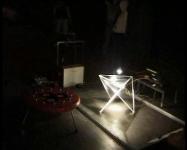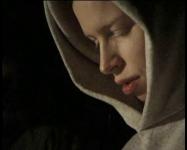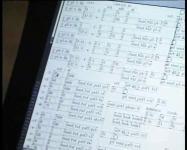 Borut Savski - Sonic Point of View
(00:08:46)
Production:
Sonično gledišče je dogodek med koncertom in performansom, kjer se skozi interakcijo zvočnega in vidnega ustvarjajo metafore univerzalnih nasprotij neba in zemlje. Za to priložnost je avtor naredil mešalno ploščo, ki zaradi svojega naključnega funkcioniranja onemogoča virtuozno dejanje, in s tem ravno omogoči da je vsakdo virtuoz.
Add to playlist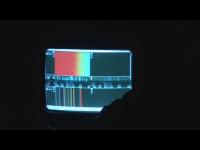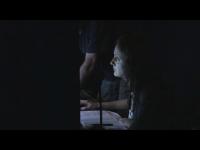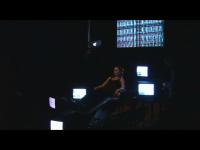 Maja Smrekar - Brain TV
(00:31:36)
Subtitle:
rcv:10.95–11.7GHz,snd 5.8GHz
Production:
Galerija Kapelica, Zavod K6/4
,
2008
Brain TV je interaktivni tehnološko pogojeni projekt, ki je bil postavljen v Galeriji Kapelica. Predstavljen je na podlagi video dokumentacije. Brain TV deluje na frekvencah med 10.95 in 11.7 gigahercev. To pomeni, da zbira elektromagnetna valovanja iz vesolja, jih zajema prek radijskega sprejemnika ter nato skozi kompleksne vmesnike pretvarja v zvok in sliko. Ker so signali iz neskončnega univerzuma večinoma šibki in statični, je avtorica za vmesnik uporabila človeško telo oziroma možgane kot enega...
Add to playlist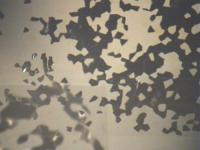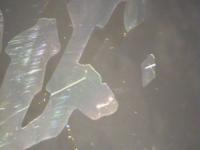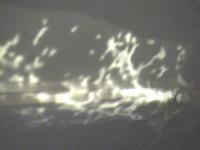 Uršula Berlot - Prehodnost / Transitoriness
(0:02:12)
Production:
2006
Patterns made by etching plastic surface reflect light onto the gallery walls. Diverse architecture of an ex sacral space is completely deconstructed with the movement of the light reflections. Two-dimensional surface is creating a three-dimensional animation with its many reflections, seizing the gallery's volume. This volume becomes the medium, which generates images and by that multiplies its space.
Add to playlist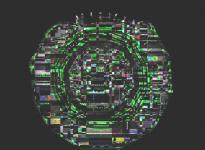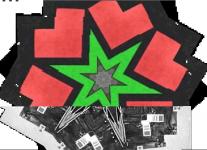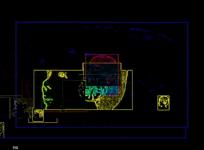 Tanja Vujinović - Extagram-ST807
(0:03:15)
Production:
Exstat/Ultramono
,
2007
Extagram/Oscilo is devised as a digital library of recycled frequencies, anthropomorphic shapes, mutating glitches, flux mapping, digital vibrations, and trajectories of test-signals and particles of toy sounds. (Source: Tanja Vujinović)
Add to playlist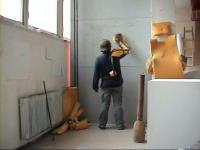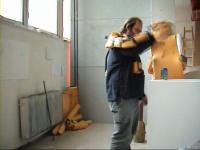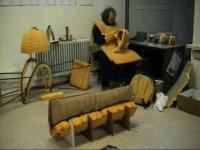 Tomaž Furlan - Wear I
(00:03:23)
Subtitle:
Wear series
Production:
Tomaž Furlan
,
2005
Video is a part of a series of studio performances Wear compounded of eight works. The artist becomes a cyborg - a man sculpture. He is wearing massive concrete sculptural elements, which make his movements stiff and difficult. With clumsy performance of everyday household chores he humorously deals with the paradox of a life routine with machines, which are supposed to make our life easier and which mentally and ideologically determine the freedom of movement and thinking. Video works were made between 2004...
Add to playlist