DIVA Art Film
34 results in works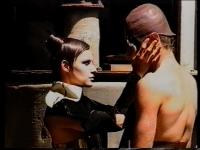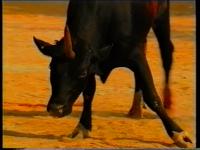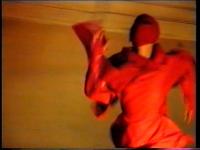 Ema Kugler - Hydra
(00:15:45)
Production:
V.S. Video, Forum Ljubljana, VPK
,
1993
Mythology in the video works by Ema Kugler is inscribed in rituals of everyday life; this time it is the theme of Hydra with many facets. The theme is represented by the separate scenes featuring human figures in leather costumes (created by the artist herself) that constrain their movements, thus emphasising their separation from nature. The last trace of their respective connection is shown in a ritual relationship between a man and a bull, although even this relationship involves man's deeply ingrained c...
Add to playlist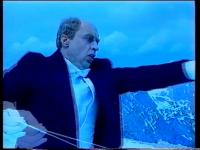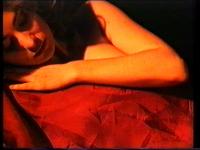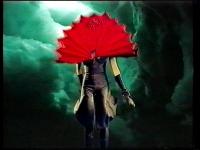 Ema Kugler - Postaja 25 / Station 25
(00:30:08)
Production:
Forum Ljubljana & VPK
,
1997
The artist continues with her main preoccupations: the relationship between a man and a woman, the irruption of the mythical into the rituals of everyday life. The video film uses the numerous potentials of electronic manipulation of the picture. The finest scenes are those of "morphing" (electronic transformation), where a figure from a painted canvas turns into an identical figure on the video screen, or the latter "freezes" into a figure on a fixed picture. The artist once again insists on the real natu...
Add to playlist
Ema Kugler - Obiskovalec / The Visitor
(00:26:41)
Production:
V.S. Video / Forum Ljubljana, VPK & Viba film
,
1995
The artist insists on the duality of human nature: the same dreadfulness is part of both the mythical and the real world. The duality is explicitly presented by means of electronic effects that can petrify a human face, or wall-up a human body in a few seconds. Human figures dressed in extravagant costumes are returned back to nature by means of electronic effects: a man in a costume reminiscent of a bird transforms into a real bird. The costumed and real birds are accentuated by the bird's eye view, which...
Add to playlist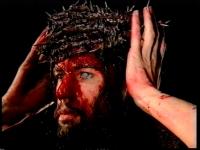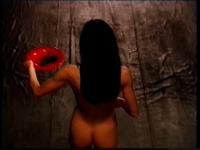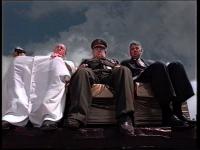 Ema Kugler - Menhir
(00:35:16)
Production:
Forum Ljubljana, VPK & TV Slovenija
,
1999
Urbanity is finally erased with mythological rituals, which is defined by the title of the video film: menhir, a large upright standing stone from the Neolithic Period which was used in sacred rituals. A man and a woman are Adam and Eve who are formed before us with electronic transformation (morphing) and are marked by blood, which also marks all the other elements of the video image: murder of an individual committed by a menhir or the trinity (politics, church, army), bodies of dancers. Blood, murder a...
Add to playlist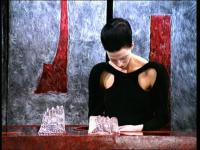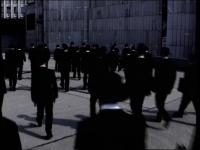 Ema Kugler - Homo Erectus
(00:43:28)
Production:
ZANK
,
2000
This video features no words, only music and images. Ema Kugler describes the moving images as: "They are like a dark, surrealist dance of everyman with his own death. I have seen all these images. They came from the darkness of my subconsciousness, colonized me and obsessed me." (Slovenian Film Fund) The video shows images, which together with the accompanying music give an impression of the infinite and the divine and being sucked into an abyss from where there is no return. The images bring us to...
Add to playlist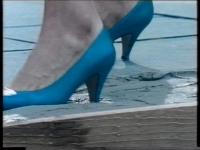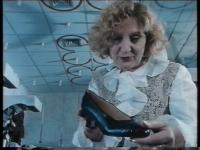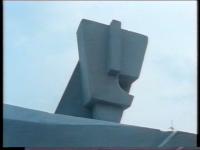 Nataša Prosenc Stearns - Betonski človek
(0:15:29)
Production:
TV Slovenija
,
1995
A woman's shoe gets stuck in concrete in the middle of the city. Her usual rhythm of life is disturbed. She is impatient to solve the problem. But a string of unexpected events interferes with her plans. Her world of fast living, obligations and errands turns into a pilgrimage to find the lost shoe... until she finally gives into the flow of events. At the end of the film she finds the shoe, which has by now lost its role as the primary motive for her search.
Add to playlist
Sašo Podgoršek - Koza je preživela
(00:09:03)
Production:
1992
Posnetki prikazujejo posameznike, ki se zbirajo pred zapornico: oseba v avtomobilu, ki čaka na svoje dekle, oseba na vozu, oseba na motorju in nekdo s kozo v naročju. Kolona pred zapornico čaka na vlak, vname se pretep, koza pa se v zmedi znajde privezana na zapornico, ki se, ko vlak odide, dvigne s kozo vred. Video predstavlja zrežirane komične prizore, ki prikazujejo resničnost sodobne družbe.
Add to playlist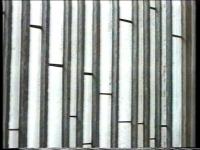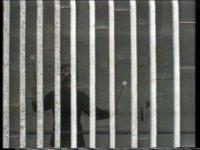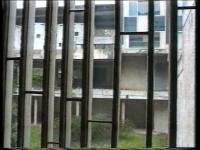 Apolonija Šušteršič - Music for Windows I
(0:02:34)
Subtitle:
MTV for La Tourette
Production:
Rijksakademie van beeldende kunsten Amsterdam
,
1997
This is a compilation of four short video films, made in the La Tourette Dominican monastery near Lyon, which was constructed in the early sixties according to the plans of Le Corbusier and with the participation of mathematician, musician, and composer Iannis Xenakis. A static camera records a musician playing a special instrument - a glass wall. He is enclosed in the space behind the glass wall, while the camera is positioned outside the wall. The musician improvises various rhythms on different parts...
Add to playlist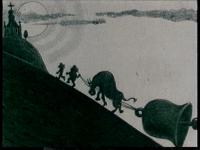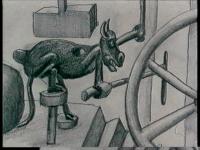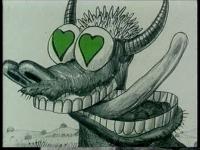 Zvonko Čoh, Milan Erič - Cigara za princa / Cigar for a Prince
(00:11:09)
Subtitle:
Socializacija bika - prva epizoda / Socializing The Bull? - first episode
Production:
Emotionfilm, ŠKUC, TV Slovenija
,
1995
Cigara za princa je prva epizoda animiranega filma Socializacija bika?, ki je bila uporabljena kot promocijski spot. Skozi prelivanje podob spremljamo nagajivo ljubezensko zgodbo. Karikaturi dveh ljudi (avtorjev?) bežita pred bikom, asociacije odvijanja zgodbe so podobne sanjam, detajli so v ospredju. Socializacija bika? je prva slovenska celovečerna risanka.
Add to playlist
ZANK - Nestrpnost
(0:35:26)
Production:
TV Slovenija & Brut
,
1991
Based upon a novel by Lela B. Njatin, an extremely fragmented piece of narrative. The film retains all characteristics of the original text, introducing the fragmentariness both in the video image and music score. The heroine experiences only fragments of events, she gets involved in meetings which start but never end, she has wishes which are outlined, but never consumed. In the video film, all these fleeting and intolerable moments, transvestism and changes of identities are indicated with layering of vis...
Add to playlist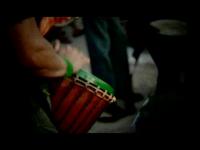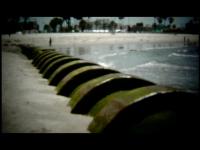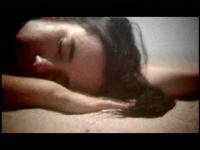 Nataša Prosenc Stearns - The Beach
(00:05:51)
Production:
Kanalya Pictures
,
2004
Selected moments from Venice Beach. Shot with exerimental recording technique, which combines DV camera, film lenses, and an adaptor for converting the film image to digital signal.
Add to playlist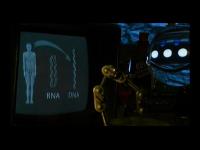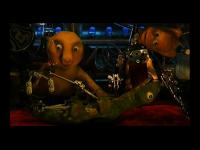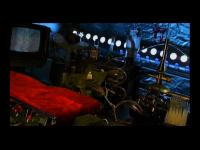 Marko Kovačič, Kolja Saksida - Svetla prihodnost: Plastos Fedor pomaga / Bright Future: Plastos Fedor Assists
(00:05:55)
Production:
Forum Ljubljana / Zwiks production
,
2003
In the year 2119 inside a base camp of Plastoses in the Saratov area a doctor is creating a fast Plastos Fesor, who will survive in the radioactive kirgian steppe. All the animations that are connected to Marko A. Kovačič's artistic practice, more precisely, to The Civilisation of Plastos, are characterized by the combination of computer graphics or mechanical animation and performative procedures: on the one side conceptual actions with noticeable real-time production process and computer generated i...
Add to playlist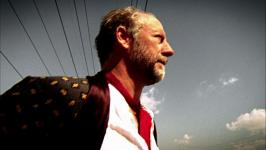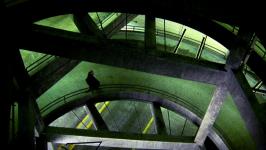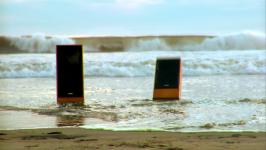 Nataša Prosenc Stearns - The Trial of Socrates (trailer)
(01:24:00 (trailer, 00:03:00))
Production:
Kanalya Pictures
,
2010-2013
Omnibus 23 filmskih režiserjev in videastov iz različnih kulturnih okolij, med njimi sta tudi Jasna Hribernik in Zmago Lenardić. Pobudnica in glavna režiserka je Nataša Prosenc Stearns. Drugi sodelujoči: M. Basso, J. Beckhardt, J. Berry, N. Buchanan, J. Church, S. Elam, S. Gill, T. Grace, J. Hribernik, A. D. Irvine, N. Kiang, R. Kobayashi, K. Kuhne, Z. Lenardič, A. Libri, P. Marescotti, D. O'Brien, W. Romeo, M. Romero, Y. Stanchev, W. Stiner, W. Zane Film je eksperiment v koeksistiranju različn...
Add to playlist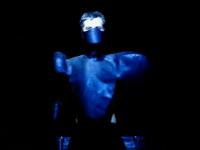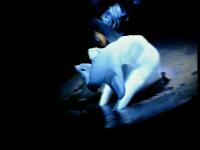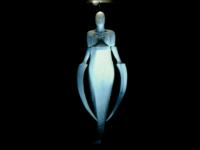 Ema Kugler - Tajga / Taiga
(00:08:22)
Production:
Forum Ljubljana & VPK
,
1996
Video Taiga is made after eponymous performance carried out at the international festival of contemporary arts City of women in October 1995 in Ljubljana. The viewer enters a dark atmosphere, dictated by dramatic vocal-electronic music, threatening anthropomorphic and wax zoomorphic figures and the movement of the camera. When the author establishes the landscape, she inserts two wrestlers and a drowning woman into it, additionally increasing the suspense. As the dramaturgy reaches its peak, the set scene...
Add to playlist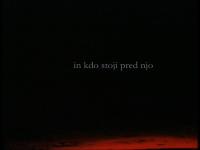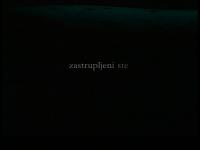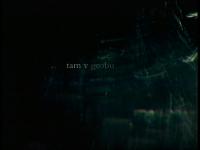 Ema Kugler - Le Grand Macabre
(01:40:44)
Production:
ZANK / Ljudmila
,
2005
Experimental video is made after sound recording of Le Grand Macabre opera, recorded live at the Parisian Theatre du Chatelet in fabruary 1998, performed by London Sinfonietta Voices Philharmonic Orchestra. Composer György Ligeti, avant-gardist of the contemporary classic left a big impression in the musical and also film universe. Ligeti was the author of unforgettable passages in Kubrick's films 2001: A Space Odyssey (1968), The Shining (1980) in Eyes Wide Shut (1999). Film has no dialogs, it is a string...
Add to playlist
Bratko Bibič - Potujoči kino BRIDKA BEBIČA predstavlja: Na domačem vrtu 1-3 / The BRIDKO BEBIČ Travelling Cinema Presents: In the Family Garden 1-3
(1:30:44)
Production:
Zavod Alcedo / Slovenska Kinoteka - Kino uho, Slovenski filmski arhiv pri Arhivu RS, SCCA, Zavod ZANK, NEEWA FILM d.o.o., DEMIURG
,
2005
Pred nami se odvija filmska glasbena nadaljevanka, ki nastaja od leta 1999 dalje, Potujoči kino Bridka Bebiča, ki prikazuje potovanje iz preteklosti v prihodnost v zvoku in sliki. Opominja nas tudi, da se vse nujno ne konča dobro in da ima napredek tudi slabe strani. Projekt temelji na kinematografski tradiciji Slovencev od leta 1905 dalje, njegov naslov pa je povzet po arhivskem filmu pionirja slovenskega filma dr. Karola Grossmanna (1864-1929) 'Na domačem vrtu' (1906). Projekt je v dveh delih, leta 2004...
Add to playlist
Bratko Bibič, The Medleys - Na domačem vrtu, 3. del
(00:22:58)
Subtitle:
Vloga, pomen in podoba harmonike v vojni, miru in revoluciji
Production:
2005
Bratko Bibič s sodelavci (Boris Garb, montaža, trik; Neven Korda, super-vizija) je v prvi polovici leta 2004 sproduciral tretji del filmsko-glasbene nadaljevanke 'Na domačem vrtu', ki nastaja od leta 1999 dalje in se je zaključila ob 100-letnici slovenskega in 110-letnici filma nasploh leta 2005. Svetovna premiera tretjega dela projekta, ki nosi tudi za-naslov 'Vloga, pomen in podoba harmonike v vojni, miru in revoluciji', je bila v okviru Vienna Jazz Festivala na Dunaju 8. 7. 2004, kjer so film z avtor...
Add to playlist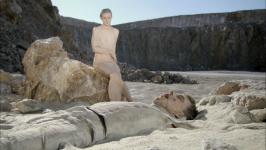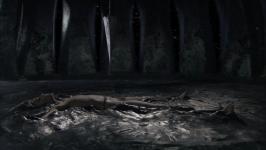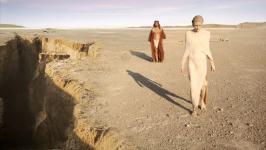 Ema Kugler - Za konec časa / For the End of Time
(02:05:28)
Production:
Zank & VPK
,
2009
The video film is an investigation on man and his smallness in front of nature and time, the story is told by a voice-over narrator, with no dialogues between the characters. The camera slowly moves horizontally in panoramic views showing bright wide desert landscapes crossed by traces of death, alternated with futuristic interiors. Computer generated imagery plays an important role in this last work as in the previous ones by Ema Kugler and contributes to the creation of recurrent enviroments which are a p...
Add to playlist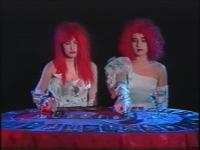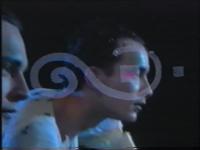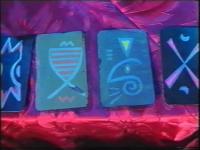 Nataša Prosenc Stearns - Tango za ribe
(00:04:21)
Production:
Mladinski program TV Slovenija
,
1992
The eternal issue of the relation between the sexes is presented by pairs and accentuated by the details which are doubled. In the foreground we see fish ('real' fish, or a graphic sign), and from time to time they completely fill the screen. The video image is supplemented by art objects - a constant feature in Prosenc's works.
Add to playlist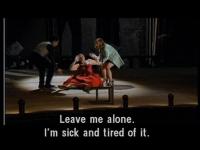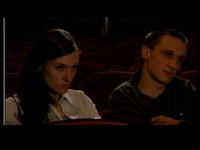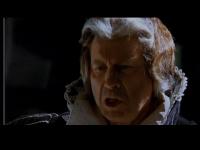 Miha Vipotnik - Moč usode / The Power of Destiny
(0:50:47)
Production:
KUP, RTV Slovenija
,
2001
The work was made in 2001 and 2002 marking the centennial of Giuseppe Verdi's death. The power of destiny is an experimental and polemic story about the making of a film intertwined with music by the Italian giant of classical music Verdi and his contemporary Wagner, who demolished the until then accepted norms with his musical procedures. The film itself also provocatively questions high and popular art, opera and film creating a relationship, which through the questions about film language refers to Slo...
Add to playlist