DIVA Documentary video
168 results in works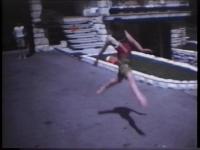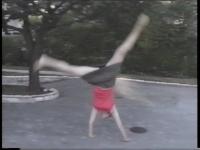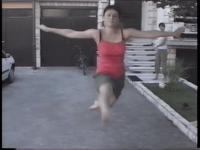 Polonca Lovšin - Always Better
(00:01:27)
Subtitle:
Street
Production:
2002
The video thematises footage from the artist's childhood: together with her sister, she demonstrated gymnastic exercises for the camera in the back garden of their family home. The sisters repeated the same routine, in the same place, in the present.
Add to playlist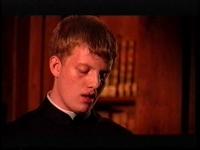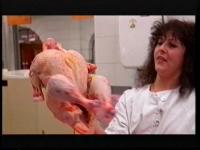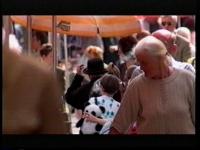 Jasna Hribernik - Hiša nasprotij / House of Contrasts
(00:20:17)
Production:
TV Slovenija
,
1998
Video documents a day in a house, where both the main Ljubljana food market and Christian seminary are based. Lively, ordinary conversations with the vendors blend with scenes from peaceful clerical life, which goes on undisturbed in the upper storeys of the same building. While the first, engaged with the earth and the material side of being, the second deal with spiritual and soulful aspect of life. Through the narrator the author questions about existence of life beyond matter. Classical documentary sh...
Add to playlist
ZANK, Zemira Alajbegović, Neven Korda - Podoba 5: Marko Kovačič
(00:39:45)
Production:
TV Slovenija
,
1993
An introduction of the artist Marko Kovačič: sculptures, involvement in the Ana Monro Theatre, videos. The interview was conducted by Zemira Alajbegović. The video features edited material taken from the artist's personal archives, the Ana Monro Theatre, VS Škuc-Forum and Brut Film. The video is a part of TV series Podoba by Zemira Alajbegović and Neven Korda ("The Image of Zemira Alajbegović and Neven Korda"), which was the most important contribution to original video production in the 1980s...
Add to playlist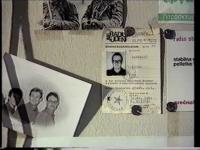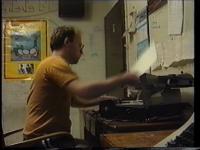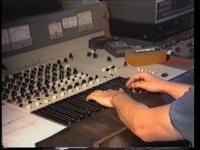 Jurij Korenc - Oddaja o Radiu Študent
(0:04:55)
Subtitle:
oddaja o RŠ
Production:
Studio 37
,
1988
A short documentary video on Radio Študent in 1988, the time of political and social change in Slovenia. It shows the work of the Radio Študent journalists at the time of the Trial Against the Four (the JBTZ Trial). Editor Peter Barbarič comments on the state of the independent radio and its ambitions.
Add to playlist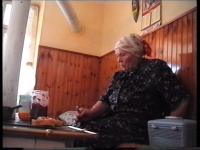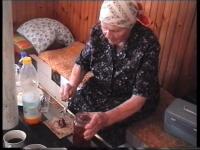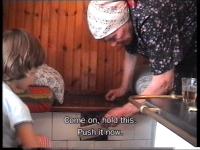 Damijan Kracina, Katarina Toman Kracina - Marmelada / Marmalade
(00:03:37)
Production:
2004
Are you familiar with that tingling feeling somewhere that emerges around the root of your tongue when you eat marmalade without bread and butter? The marmalade sticks to your palate and its taste lingers in your mouth for a long time. It's that special home-made marmalade, saturated with sugar. In the video Marmalade, we get to know yet another, truly practical usage of that sweet mélange. In some parts, they once used to spread it on the tiles, which were keeping the heat of the wooden stove apart from m...
Add to playlist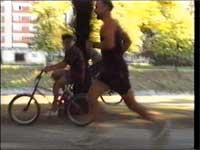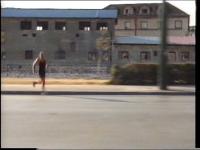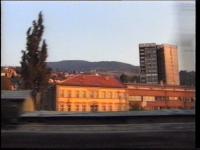 Katja Šoltes, Emir Jelkić - How Do You Say Ćesma? / Kako se kaže fountain?
(00:07:30)
Production:
Ljudmila, Ljubljana in SCCA/pro.ba, Sarajevo
,
2000
The video shows thoughts of a traveller and runner David Jones, who is discovering a war-stricken Sarajevo and tells the story of his endless travels. First the video follows the runner and surroundings through a window of a moving car. The shots at the end of the video are static and feature close-ups of the runner.
Add to playlist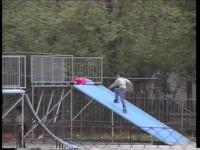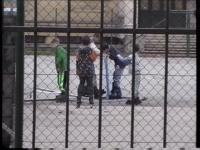 Polonca Lovšin - Opazovalec
(00:03:13)
Subtitle:
Ulica
Production:
2002
The author is filming child play at a school playground. Her voyeuristic position allows her to observe a group of children having fun. She is filming them playing, but the filmed characters fail to notice their hidden observer.
Add to playlist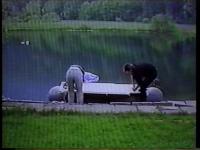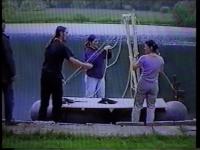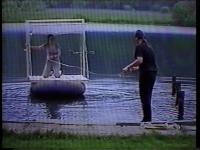 Polonca Lovšin - Nomadi / Vroče poletno vozilo
(00:02:40)
Production:
2000-2002
The author is building an improvised vehicle with a group of her friends and then uses it to sail on the lake. The static camera first shows accelerated shots of construction which slow down to real speed at the end of the video, when she finally sails away.
Add to playlist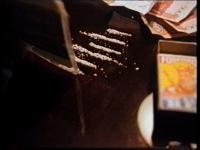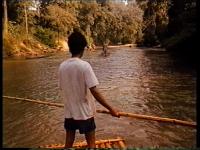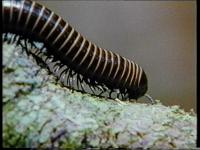 Andrej Lupinc - V 8. minutah okoli sveta / In 8 Minutes around the World
(00:09:38)
Production:
TV Slovenija, filmski laboratorij
,
1990-2000
The documentary video patchwork with shots from various places in the world that the author visited while working as a cameraman at Slovenian national TV station in the span of ten years. Diversity of aesthetics is visible through a compilation of shots from different continents. A stable rhythm that runs through the whole video unifies all different scenes and brakes the seeming symbolic differences. The video would work as an ideal visualisation of Levi-Strauss's anthropological theory developed in his bo...
Add to playlist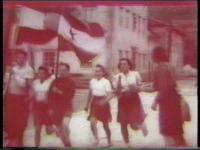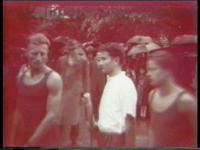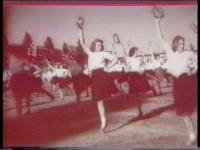 Andrej Lupinc - Mladina gradi / The Youth Constructs
(0:22:06)
Production:
Brut
,
1985
Technologically manipulated scenes from documentary and propaganda films Mladina gradi, Obzornik, 3. kongres ZSMS (The Youth Constructs, Obzornik, The 3rd Congress of Slovene Youth)directed by France Štiglic in a positive and encouraging manner, typical for these films, show youth brigades helping renew Yugoslavia after its emancipation. The narrator informs the viewer about what has happened during the Second World War and then introduces the brigades and some of its most hard working participants with th...
Add to playlist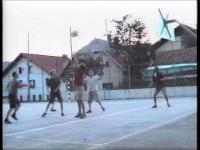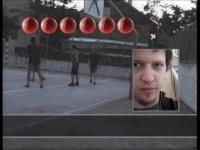 Damijan Kracina - BasketVideo
(00:19:41)
Production:
2001
A group activity – playing basketball in public. All the participants hold the rights to show the video: Borut Korošec, Jaka Mihelič, Damjan Švara, Grega Kregar, Damijan Kracina, Mojca Senegačnik, Katarina K. Toman, and Sara Hughes. Before dawn, the group gathered for a game of basketball on one hoop in the semi-rural suburbs of Ljubjana, where church bells ring in the evening. The work establishes a relationship between body movement, spending free time, and professional careers. A dynamic camera fol...
Add to playlist
Damijan Kracina - Mravlja
(00:01:07)
Production:
1997
The video shows the last minute in the life of a dying ant which is stuck on an adhesive surface. At exhibitions, the static footage is presented on a miniature screen, with the ant practically life-size. The author discusses human irresponsibility and merciless treatment of animals, revealing that the death of even such a tiny creature is just as dramatic as any other.
Add to playlist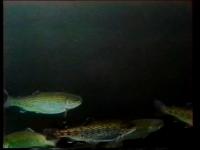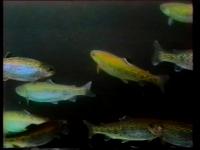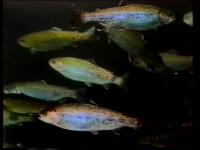 Damijan Kracina - Aquarium
(00:01:12)
Production:
1997
Underwater footage of the flight of the Soča trout, which is endangered due to irresponsible human farming of the common trout in the former's natural habitat. The swimming fish opening their mouths are silent witnesses of human actions.
Add to playlist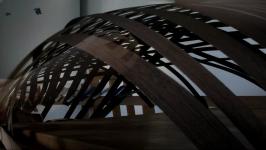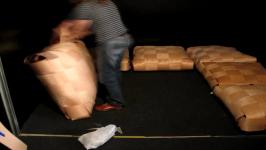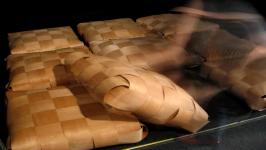 Amir Muratović - Napeto v kabinetu
(00:01:00)
Production:
2007
Video rekonstruira proces nastajanja umetniškega dela Irene Romih za razstavo v Kabinetu, ki je med letoma 2005 in 2008 gostoval v degradiranem dvoriščnem prostoru Galerije Škuc na Starem trgu 21 v Ljubljani. Kabinet je razvilo Društvo za domače raziskave za potrebe svojega delovanja kot premični razstavni prostor, ki je občasno gostil tudi druge umetnike. Umetnica Irena Romih je portretirana v različnih zankah, njeno telo pa je tako "vpeto" v prostor, ki ga določajo skulpture.
Add to playlist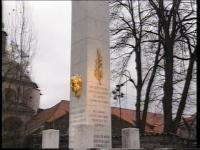 Sašo Podgoršek, Igor Zabel - Ceci n'est pas Paris
(00:03:55)
Production:
1991
Plečnik's Ilirski steber (Illyrian Column) in Ljubljana, a historical link between France and Slovenia, condensed into a visual gift intended for former French Culture Minister, Jack Lang.
Add to playlist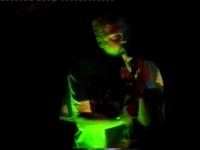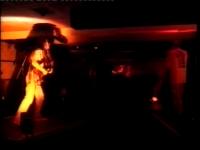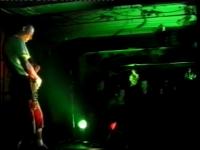 Rok Sieberer Kuri - Posnetek koncerta 2227
(00:29:07)
Production:
Stripcore
Koncert zasedbe 2227 iz kluba Channel Zero, ki je bil nekdaj matični klub te ljubljanske zasedbe. Koncerti 2227 v Channel Zero so bili ponavljajoča se stalnica v devetdesetih letih. Video delo predstavlja dokumentarni zapis koncerta v Channel Zero brez avtorskih posegov.
Add to playlist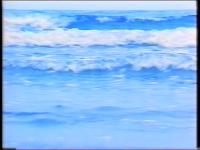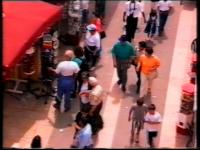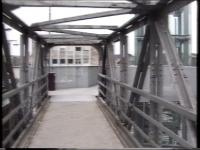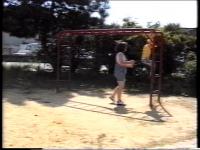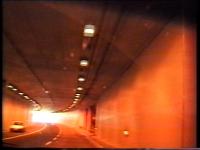 Apolonija Šušteršič - Bonnevoie by day & night
(0:07:54)
Production:
1998
Video odslikuje podobo predela mesta Bonnevoie. Razgibana kamera raziskuje prostor, snema ključne točke četrti (železniška postaja, mestne ulice, gradbišče, privatne in javne prostore). Raziskovanje delovnega in bivalnega prostora mesta in njegovih prostorov za kulturno dejavnost. Bonnevoie je mestna četrt, ki slovi kot najbolj mešan predel Luksemburga z 80% emigrantske populacije.
Add to playlist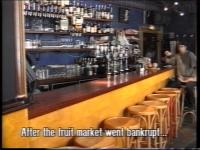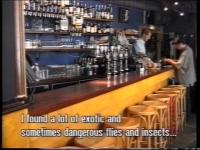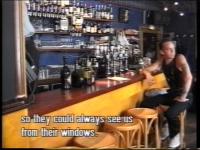 Apolonija Šušteršič - (Cre)Action Directe
(0:13:57)
Subtitle:
Intervju z Riek van der Kerchove
Production:
1998
Pogovor z ustvarjalcem in producentom Rickom van der Kerchovom. Kamera ne snema intervjujanca, ampak spremlja dogajanje v skoraj preznem baru v Luxemburgu. Pogovor je bil uporabljen za potrebe festivala Manifesta.
Add to playlist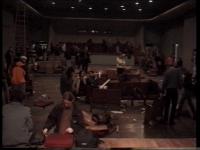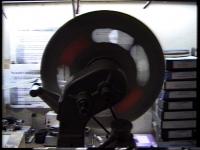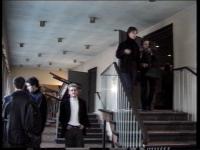 Apolonija Šušteršič - Ausverkauf
(0:09:45)
Production:
1999
Množica obiskovalcev prihaja v kino dvorano, kjer se najprej posedejo in ogledujejo film, nato pa jo popolnoma izpraznijo.
Add to playlist