DIVA Performance
26 results in works
Duba Sambolec - Questioning, Answering
(00:58:16)
Subtitle:
NoHomeVideos©
Production:
Duba Sambolec
,
1999
In the video we witness an interrogation of a women with a blind over her eyes. Strict and somewhat violet interrogation is executed by the second female character. Eventually it becomes clear, that shots of both people were merged in postproduction. The viewer is therefore manipulated as is the video, and at the same time he takes on the role of an accomplice, as he accepts the game of the interrogator. NoHomeVideos© video performances, altogether created 14 by the author, are dealing with the experi...
Add to playlist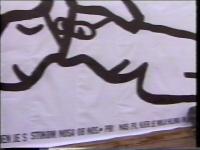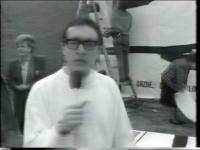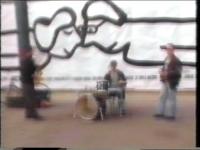 Jasna Hribernik - Petra Varl Simončič - Nos ob nos - Metelkova 1994
(0:06:34)
Production:
1994
Video documents an event accompanying setting up of a composed photocopied painting Nos ob nos by Petra Varl Simončič measuring 30 meters depicting a man and a woman with a poem by Andrej Rozman. We are guided around the set by a commentator. The video is accompanied by a music by a group Lolita, who performed live at the event.
Add to playlist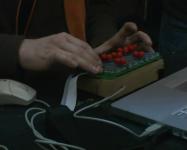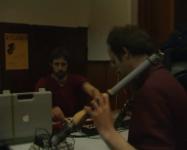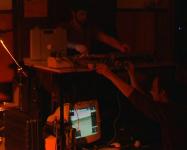 Borut Savski - Problemloss Orchestra
(00:04:52)
Subtitle:
pred nastopom v Berlinu
Production:
2006
Problemloss Orchestra je bila projektna skupina (Luka Prinčič, Matjaž Manček in Borut Savski), ki je nastopala v letih 2005 in 2006. Posnetek je z nastopa v Berlinu. Posnel je Neven Korda.
Add to playlist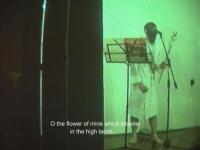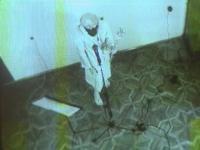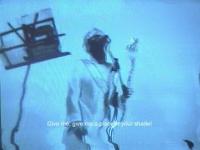 son:DA, Erinc Seymen - Performance for a Poem 2
(00:08:48)
Subtitle:
Maribor
Production:
2006
The two channel video is a performance and site-specific installation realised in Istanbul and Maribor. In the second one it's clear that the stage where the performer acts and the public space are definitely separated. The low resolution image allows a digital manipulation of video and sound made of pixelization, distorsion, colour key glitch, streching of the image. Key role is given to the recitacion of a Turkish poem of the '30, a remarkable example of nationalist rethoric. The sound and the video imag...
Add to playlist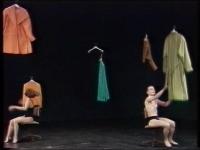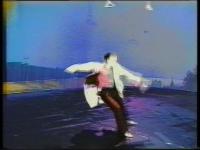 ZANK - Icht
(00:24:25)
Production:
RTV Slovenija
,
1993
The dance performance by a man and a woman presents a story of timeless attraction and rejection. Despite of our desire for closeness, the curse of the greatest love for ourselves is omnipresent; sometimes the dancers come together, and then again they challenge and fight with each other yet they never get together. The theme of the stage choreography is partly transferred onto the street. (Source: Videodokument)
Add to playlist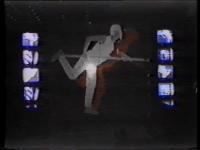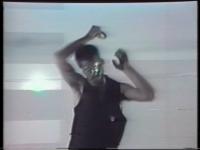 Marko Kovačič - Casus belli ( video performance)
(00:04:54)
Subtitle:
Video performance, 1st International Video Biennial VIDEO CD 83, Ljubljana
Production:
1983
Video documents performance in which the author combines elements of sculpture, space, geometry, physicality, action and music. With specific movement, contructivistically designed sets projected onto a screen and the present video installation the artist creates unclear boundaries between reality and construct of space, time and body.
Add to playlist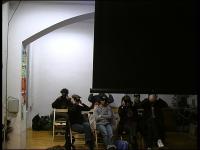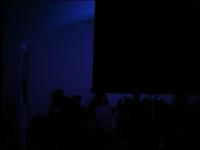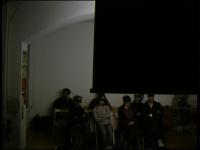 Nika Špan - Polucija v umetnosti / Pollution in Art
(00:17:46)
Production:
SCCA-Ljubljana
,
2008
Video documents a lecture conducted as part of a continuous project No Nails, No Pedestals. The author designed the lecture in which she thematises pollution in art as an interactive audio-visual happening.
Add to playlist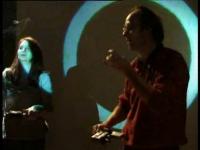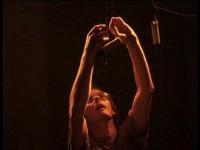 Borut Savski - Multimedia
(00:03:53)
Subtitle:
Mali
Production:
Borut Savski
,
2008
Omnibus dokumentarnih video in fotografskih posnetkov instalacij in performansov med leti 1999 in 2008.
Add to playlist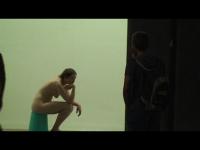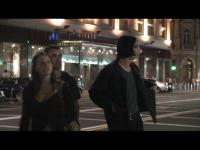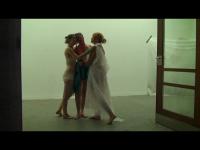 PUNce, Pila Rusjan, Tina Krajnc, Nina Bric - Vidiš umetnost?
(00:05:46)
Production:
KUD PUNce
,
2010
Dokumentarni posnetek performativne akcije skupine PUNce (Pila Rusjan, Tina Krajnc, Nina Bric) s posnetkom avtorske izjave, ki jo je za skupino podala Pila Rusjan. V posnetku spremljamo performans treh akterk in reakcije naključnih mimoidočih sprehajalcev. Performans je bila neformalna intervencija v razstavo Viktorja Bernika v Mali galeriji Moderne galerije na Slovenski cesti. Bernik je 20. junija 2010 kot svojo samostojno razstavo izpraznil prostor in na stežaj odprl vrata, da bi zastavil vprašanje gl...
Add to playlist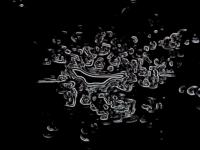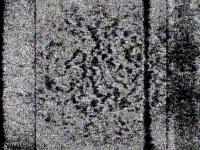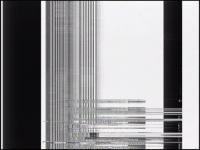 Luka Dekleva - FeedForward Cinema
(00:05:25)
Production:
codeep
,
2007
Video dokumentacija performansa iz Kinodvor dne 19. oktobra 2007. Delo Feedforward Cinema nastaja z interakcijo dveh video naprav, ki si vzajemno pošiljajo signale in tvorijo zaprt krog informacij. Rezultat spominja na različne vzorce od zelo organskih oblik do strogo geometričnih in točno omejenih polj, ki v določenem trenutku raspadejo in odprejo polje za nove oblike. Vzorci so vedno ne-narativni. Če je na začetku tvorba, ki spominja na molekulano strukturo, proti koncu postaja vse bolj grafična. Vs...
Add to playlist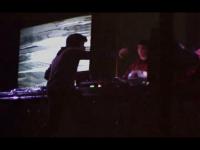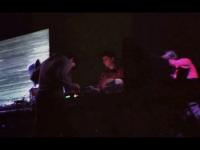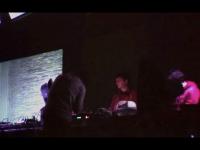 Luka Dekleva, Luka Prinčič, Miha Ciglar - Netmag08 Live
(00:05:22)
Production:
2008
Netmag08 Live je multimedijski dogodek, performans interakcije signalov in napetostnih polj. Že sama postavitev določa parametre video interakcij. Intervencija umetnika, ki s svojim telom preusmerja tok elektronov iz katodne cevi v zvočni izvor. Umetnik je posredovalec zvoka in video signalov, ima vlogo media, ki omogoča komunikacijo med zvokom in video signalom in vseh estetskih rezultatov, ki iz tega izvirajo.
Add to playlist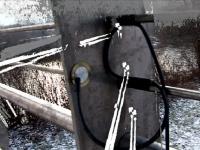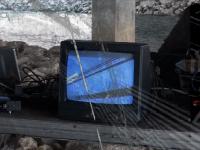 Luka Dekleva, Luka Prinčič - Singing Bizovik Bridge
(00:04:07)
Production:
Kapelica, Codeep. KinoDvor
,
2008
The authors created new contents and techniques by manipulating video and audio recordings of a bridge. In this video performance the sound is coming from the microphones mounted on cables and construction of the bridge. Thus, Jodi, Rose and Luka Prinčič combined the recorded sound material in a live event and a video of the bridge that has been simultaneously manipulated by Luka Dekleva. Artists escalate the presence of environmental sound, in order to expand the importance of sound architecture as the s...
Add to playlist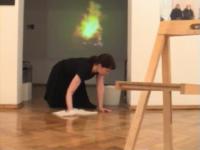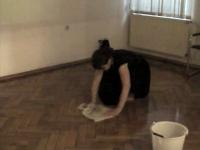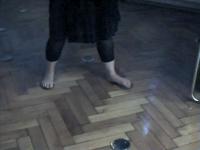 Andreja Džakušič - Development of Compassion
(00:06:26)
Subtitle:
Scrubbing
Production:
2008
Video documentation of performance made at ZDSLU Gallery in Ljubljana in 2008. Developing Compassion is a project made of series of performances, installations and photographs, which lasted two years (2006-2008). It represents the artist's way of noting the pain that she has faced with the illness, dying and final passing away of her father. In the first of three performances she symbolically let go of her emotional states, which she has stitched as pain, sadness and fear on white pillows. In the second...
Add to playlist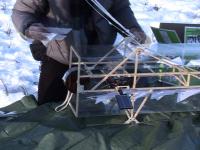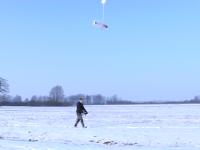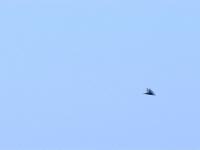 Sašo Sedlaček - Origami Space Race
(00:05:52)
Production:
Galerija Kapelica
,
2009
Eksperiment pri katerem avtor poskuša na amaterski ravni, in tudi s določeno dozo ironije, izivati vesoljske programe, tako tiste mainstream, kot druge, alternativne ali privatne. Sam eksperiment se pokaže uspel, lansiranje s mobilno tehnologijo je uspelo a vseeno je očitna nesmiselnost samega postopka.
Add to playlist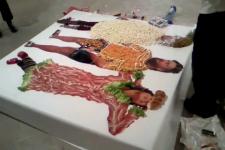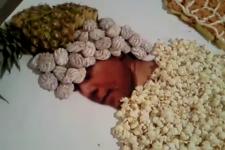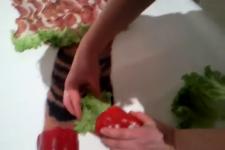 Andreja Džakušič, Simon Macuh, Iva Tratnik, SIVA - Obleka...človeka - otvoritvena zakuska
(00:03:19)
Production:
Likovni salon Celje
,
2011
S projektom obleka … človeka, ki je bil leta 2010 razstavljen v Likovnem salonu, je skupina dveh umetnic in umetnika raziskovala, v kolikšni meri obleka določa človekovo identiteto, koliko se s spremembo zunanje podobe spremeni odnos drugih. Za produkcijo razstave je neformalna skupina, ki so jo ustanovili ravno za razstavo obleka ... človeka, naredila serijo javnih intervencij, s katerimi so motili ustaljene oblačilne navade. Med drugim so se ukvarjali z nenavadnim pojavom specializiranih oblek, za...
Add to playlist
Dejan Habicht - 12 Boring Poems
(01:21:19)
Production:
SCCA-Ljubljana
,
2013
The 12 Boring Poems are visual materials, stacked into shorter narrative structures. They issued successively in electronic form, from January to December 2007. They were available free of charge one by one on the last week of the month on e-mail addresses registered to the P74 Gallery's e-list. At the exhibition Line Stroke the Letter (Vžigalica Gallery, Ljubljana, 5.9.-28.10.2013), the author presented how 'bright' the visual poems are today.
Add to playlist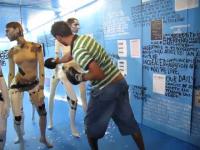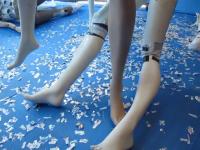 Lenka Djorojević, Neža Jurman, Matej Stupica - Boxing Match
(00:07:04)
Production:
Galerija Kresija
,
2012
Videodokument otvoritvenega performansa razstave Boxing Match umetnic Lenke Đorojević, Neže Jurman in umetnika Mateja Stupice, ki je bila v Galeriji Kresija na ogled v avgustu leta 2012. Boxing Match je bil participatorni projekt, s katerim so avtorji razstave pozivali gledalce k aktivni udeležbi in opredelitvi do razstavljenih objektov in do samih avtorjev. Umetniki so razstavni prostor popolnoma transformirali, na stene izpisali manifeste številnih umetnikov ter umetniških skupin, osrednji del in...
Add to playlist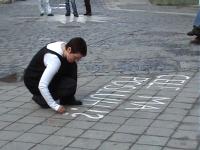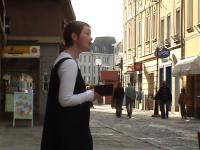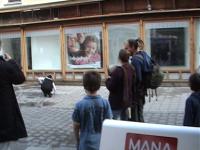 Andreja Džakušič - Cel'e 'as deaf ear
(00:09:17)
Production:
2010
Video is documentation of performance in public space. The performance was carried out together with street musician Vesna Prevolšek. A chair was placed in the location where vesna usually sings, which stood vacant until the time of the performance was due to start. While Vesna sat silently, the artist wrote Cel'e 'as deaf ear!? on the ground. She began to mime the singing of a song from a songbook of Slovene love songs. (Source: Andreja Džakušič, Encounters, overview exhibition catalogue, Center fo...
Add to playlist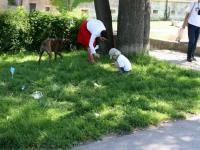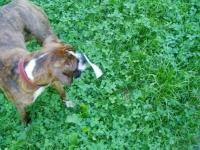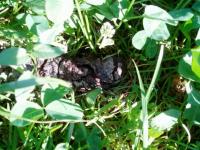 Andreja Džakušič - Celje, my city
(00:04:23)
Production:
2005
The video is a photo slide show documentation of the 'Celje, my city' action in public space which was part of the Admission Free festival in Celje, 2005. Similar to a well know action of the Belgrade based collective Škart (Your Shit - Your Responsibility) the artist stuck little flags into dog excrements in Celje City Park. On the flags was city's coat of arms and caption 'Celje, my city'.
Add to playlist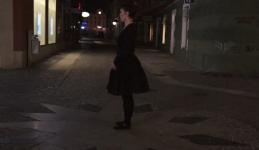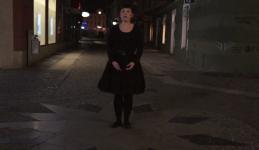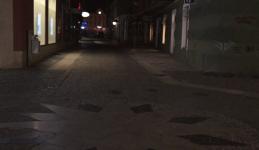 Andreja Džakušič - A Lullaby for the City
(00:07:00)
Production:
2008
Video is documentation of performance in public space made at the occasion of the Admission Free 2008 festival in Celje. During the time of the festival the artist sang a lullaby to the city at exactly midnight. The initiative for the performance was existing conflictive relationship between the residents of the old city centre and the owners of the bars, whose needs and wishes were diametrically opposite. (Source: Andreja Džakušič, Encounters, overview exhibition catalogue, Center for Contemporary A...
Add to playlist