DIVA Lecture
4 results in works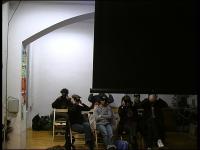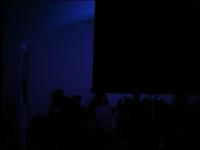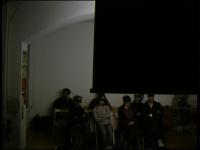 Nika Špan - Polucija v umetnosti / Pollution in Art
(00:17:46)
Production:
SCCA-Ljubljana
,
2008
Video documents a lecture conducted as part of a continuous project No Nails, No Pedestals. The author designed the lecture in which she thematises pollution in art as an interactive audio-visual happening.
Add to playlist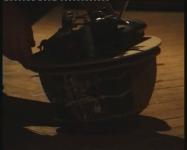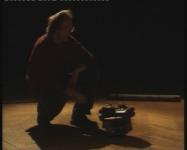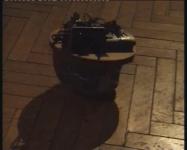 Borut Savski - Plesalec
(00:17:23)
Production:
Galerija Kapelica
,
2005
Posnetek performansa, ki se je zgodil v galeriji Kapelica. Borut Savski je izdelal stroj, ki samostojno deluje in na ta način ustvarja svojo lastno umetnostno prakso. Avtorjevo vprašanje zadeva predvsem prinicipe subjektivacije. Plesalec nam predlaga čisto novo subjektivacijo umetniškega početja skozi gib in zvok in ne več skozi besedo in jezik.
Add to playlist
Dejan Habicht - 12 Boring Poems
(01:21:19)
Production:
SCCA-Ljubljana
,
2013
12 dolgočasnih pesmi so vizualni materiali, zloženi v krajše narativne strukture. Izhajali so sukcesivno, v elektronski obliki, od januarja do decembra 2007. Bile so brezplačno dosegljive druga za drugo vsak zadnji teden v mesecu na elektronskih naslovih, ki so bili prijavljeni v obveščevalni seznam Galerije P74. Avtor Dejan Habicht je v okviru razstave S črko čez črto (Galerija Vžigalica, Ljubljana, 5.9.-28.10.2013) predstavil, kako "kratkočasne" so pesmi danes.
Add to playlist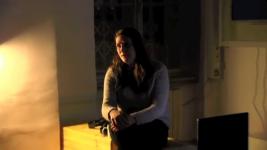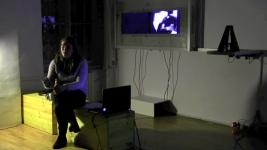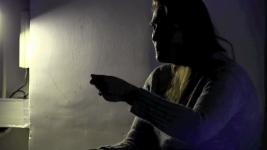 Sanela Jahić - Produktivna razmerja med človekom in strojem
(00:54:49)
Production:
SCCA-Ljubljana
,
2015
Razstava in predstavitev instalacije intermedijske umetnice Sanele Jahić z naslovom Tempo Tempo, v katerem avtorica raziskuje razmerje med človekom in strojem v odnosu do delovne produktivnosti in časa. Instalacija je bila prvič razstavljena v okviru nominacij za nagrado skupine OHO v Galeriji P74 maja lani. Tempo Tempo sestavlja dvokanalni video in kinetični objekt - metronom, ki sproža električno iskro. Sanela Jahić obravnava družbo in posameznika v njej kot tehnološka orodja. V tem delu govo...
Add to playlist