DIVA Article
7 results in works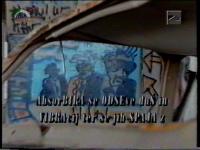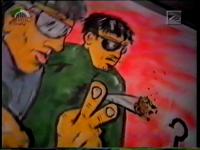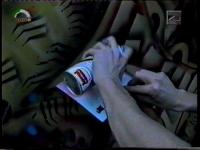 Klon:Art:Resistance, Miha Dovžan - Klon Art
(00:02:43)
Subtitle:
Prispevek v oddaji Studio City
Production:
TV Slovenija
Dokumentarni prispevek o skupini grafitarjev in uličnih umetnikov KlonArt. Dokumentarni prispevek TV Slovenija (oddaja Studio City), ki ga v slogu skupine KlonArt odlikuje dinamična kamera in hitra menjava kadrov. Predstavitvenemu tekstu so dodani posnetki grafitarskih akcij skupine v Ljubljani.
Add to playlist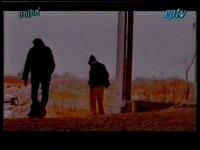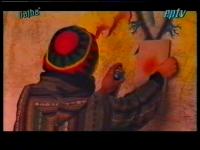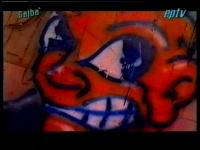 Klon:Art:Resistance - Klon Art
(00:05:05)
Subtitle:
Dokumentarni prispevek na Gajba TV
Production:
Gajba TV
Dokumentarni prispevek Gajba TV* o skupini grafitarjev in uličnih umetnikov KlonArt. Prispevek spremlja rap komad z naslovom Ilegal d.o.o., dinamična kamera, hitra menjava kadrov in nasičen kolorit, ki je značilen za ulično umetnost. Govorjeni tekst v prispevku predstavi nekatera idejna izhodišča umetniške skupine in pojasnjuje področje njihovega delovanja. Grafitarstvo predstavi kot življenjski stil, ki presega dualizme lepega in grdega in nastopa proti gentrificirani podobi mestne pokrajine. Gra...
Add to playlist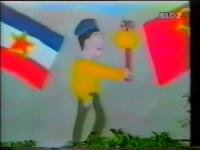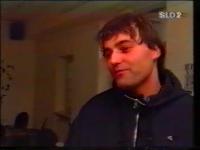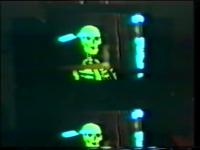 Barbara Borčić - Škuc-Forum Video Production
Production:
SCCA-Ljubljana
,
1997
The text is accompanying the video program entitled "Škuc-Forum Video Production", curated by Barbara Borčić in 1997. It was presented at the Interstanding project (exhibition & conference) in Tallin, Estonia.

Nancy Buchanan - Slovenian Video Program
Production:
1996
The text was written on the occasion of screening of "From Alternative Scene to Art Video" video program in Los Angeles and Valencia in 1996. The program was curated by Zemira Alajbegović, Barbara Borčić and Eva Rohrman and produced by SCCA-Ljubljana and Škuc Gallery.
Kosec, Milena - Marička B. Pomagaj
Production:
Milena Kosec, zdaj karierna umetnica, nekoč pa uradna pooblaščenka Državice Ptičjestrašilne, je predstavila ustanovitev državice in svojo vlogo v njej. Njena predstavitev se je zaključila z akcijo Marička Pomagaj v Moderni galeriji v Ljubljani, v času pregledne triletne razstave slovenske umetnosti U3 Vulgata, ki jo je leta 2001 kuriral Gregor Podnar. Sodelovanje na razstavi je umetnica odklonila, ker za svoj prispevek ni dobila honorarja. Poudarila je, da je umetnost lahko kritična tudi kot manjš...
Add to playlist

Grabar, Nika; Colner, Miha - Same Place - Different Time
Production:
SCCA-Ljubljana
,
2011
Through our conversations with the protagonists of the art scene in Ljubljana, who belong to different generations and expressive currents, we wanted to confront views and memories while considering the tectonic shifts in the fine art field in the last thirty years that accompanied the social transformation in this region.[From: From Consideration to Commitment: Art in Critical Confrontation to Society, on-line publication https://talkingcriticarts.wordpress.com/, Belgrade, Ljubljana, Skopje, Zagreb: 1990-2...