DIVA Works
832 results in works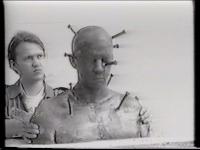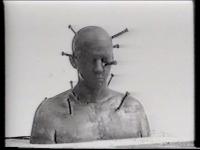 Damijan Kracina - Žeblji / Nails
(00:06:34)
Production:
Akademija za likovno umetnost, Ljubljana
,
1995
The black-and-white footage of a performance shot from a static camera dates to the time when the artist was studying at the Academy of Fine Arts in Ljubljana. The performer looks at sculpted busts, and hammers nails into them, seeking a way to examine the traditional sculptural format without employing a process of construction or deconstruction. The work is also humorous, as if the artist were trying to say that the sculpture is 'hammered' in the head.
Add to playlist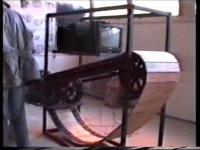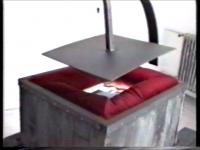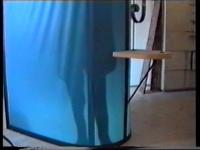 Darij Kreuh - Mine Mind Do you Mind
(00:03:18)
Subtitle:
Imena skulptur: Treadmill, Push it, Cabine
Production:
1993
Posnetek serije skulptur, ki delujejo kot nihala. Gre za interaktivno delo predmeta s predmeti in za dokumentarne posnetke iz razstave, v katere montaža minimalno poseže. Kamera posega v različne kote eksponatov, zato da jih lažje - razločneje vidimo.
Add to playlist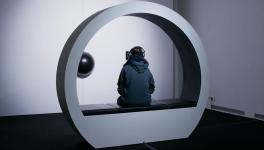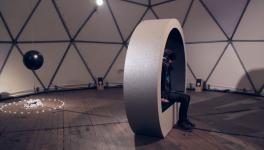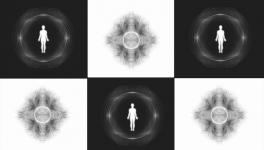 Saša Spačal - Liminoid
(00:08:08)
Production:
Saša Spačal, Muzej sodobne umetnosti Metelkova - MSUM+
,
2016
The video conceptually reflects on Liminoid, an artwork by Saša Spačal and Matic Potočnik.
Add to playlist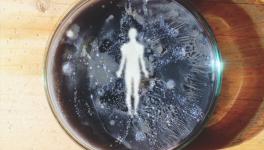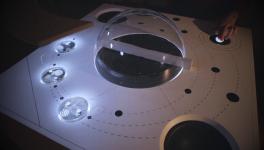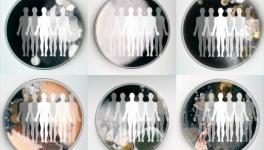 Saša Spačal - Mycophone_unison
(00:14:27)
Production:
Saša Spačal, Muzej sodobne umetnosti Metelkova - MSUM+
,
2016
The video conceptually reflects on the work Mycophone_unison by Saša Spačal, Mirjan Švagelj and Anil Podgornik.
Add to playlist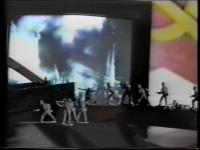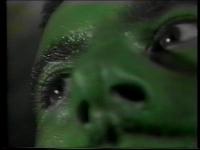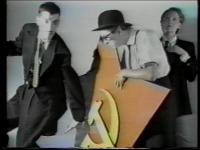 Marko Kovačič - Song of Flesh and Image Was Made Body
(00:15:56)
Production:
ŠKUC - Forum / koprodukcija Marijan Osole - Max
,
1985
The story of the narrative is based on genre crime fiction. The images are filled with citations from the history of art and cinema (Man Ray, S. Eisenstein) and are further stratified and multiplied. The dynamics of the image fraught with a typical cinematic suspence, is curtailed to the music ful of suspenz (Bernard Herrmann).
Add to playlist
Miha Vipotnik - Space 2
(00:01:53)
Production:
Max-Max (Brut)
,
1986
In his video work the author gives an ironic statement about the state of home video production of that time and its integration in television programme (recorded for Petak u 22. TV Belgrade show in 1984). In the beginning the artist is sitting in a studio in a manner of TV broadcast presenters. His statement continues in an off over a montage of segments of one of his older video works Space shot in black and white. The montage is edited with added chroma key. Video was shown as part of Avtovizija (1986),...
Add to playlist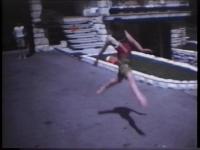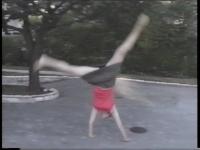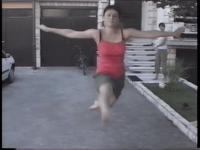 Polonca Lovšin - Always Better
(00:01:27)
Subtitle:
Street
Production:
2002
The video thematises footage from the artist's childhood: together with her sister, she demonstrated gymnastic exercises for the camera in the back garden of their family home. The sisters repeated the same routine, in the same place, in the present.
Add to playlist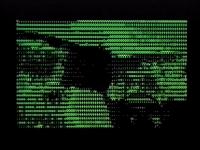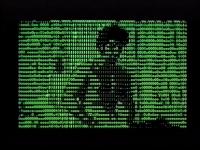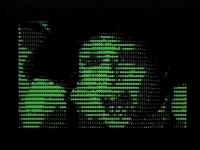 Vuk Ćosić - Deep ASCII
(01:00:05)
Production:
1998
The ASCII conversion of the famous porno film Deep Throat.The author reduces volume of the image to a combination of black and green with various symbols. He is interested about durability of data, but also posses a more complex question about the transfer of information. Video Deep ASCII plays with the limit where information disappears.
Add to playlist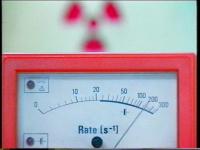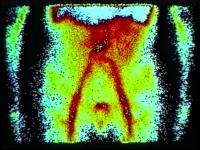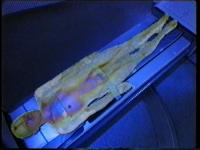 Janez Janša - Nuclear Body
(00:08:51)
Production:
VPK, ŠOU Galerija Kapelica, Cankarjev dom
,
1999
Grassijev eksperiment z medicinsko tehnologijo, s katerim se klonira iz digitalnih podob. Nato s pridobljenimi podobami manipulira, da bi razvil življenjski ciklus za svoj klon z vsemi življenjskimi funkcijami. Nuclear Body nima le estetske vrednosti, temveč je pomemben tudi za medicino. človeško telo je že dolgo predmet umetniškega čaščenja - od klasičnega grškega kipa do Rodina, notranji ustroj človeškega telesa, ki ga proučuje renesansa ... Anatomske risbe Da Vincija pa so poleg njihove es...
Add to playlist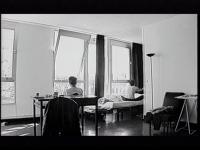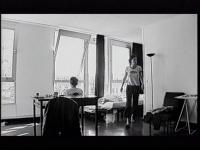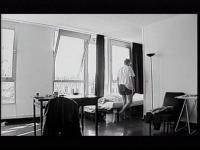 Marjan Gumilar - Pogled
(00:06:38)
Production:
Marjan Gumilar
,
2002
Avtor posname svoj vsakdan na statičen način. Video je posnet v enem samem kadru in prikazuje par v stanovanju, prepravljenem z dnevno svetlobo. Na radiu slišimo jazz glasbo, ki je obenem najbolj dramatičen element videa in omogača tako moški kot ženski osebi, da naselita video brez da bi komunicirala. Moški gleda skozi okno in občuduje razgled, ženska pa bere na postelji. Z odsotnostjo komunikacije - osebe so dejansko ujete v melanholičnost dolgočasnega vsakdana -, postane njuno stanovanje udob...
Add to playlist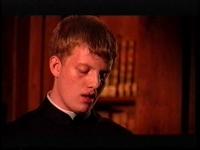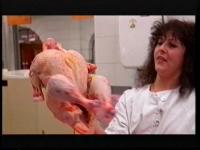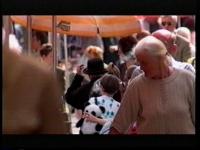 Jasna Hribernik - Hiša nasprotij / House of Contrasts
(00:20:17)
Production:
TV Slovenija
,
1998
Video documents a day in a house, where both the main Ljubljana food market and Christian seminary are based. Lively, ordinary conversations with the vendors blend with scenes from peaceful clerical life, which goes on undisturbed in the upper storeys of the same building. While the first, engaged with the earth and the material side of being, the second deal with spiritual and soulful aspect of life. Through the narrator the author questions about existence of life beyond matter. Classical documentary sh...
Add to playlist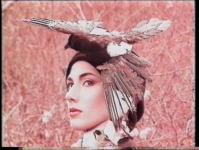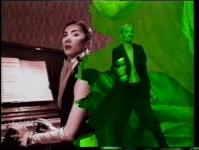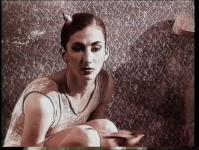 Jasna Hribernik - Ballabende
(00:21:46)
Production:
TV Slovenija
,
1995
At first glance the video works as a research of the past. An expressive study set in a nostalgic landscape takes music and dance as its medium. The protagonist is a dancer and the set is an old house full of memories. Scenes of ballet dancing and piano playing are combined with shots of old photographs due to associative montage. Passing of time is emphasized by scenes of water overflowing a well and of running clouds. Spirit of the past is strengthen by editing with shadows and sepia filter. This idyllic...
Add to playlist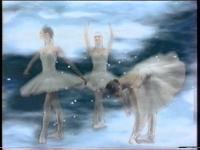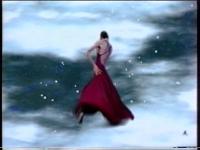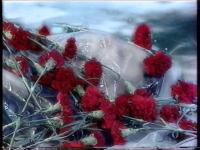 Jasna Hribernik, Zmago Lenardič - Elsa und Lohengrin
(0:03:15)
Production:
VPK
,
1997
A variation on Wagner and his opera Lohengrin. There is no Wagnerian hero, but a ballerina dancing to the opera, which later transforms into a modern song, and the ballerina also turns into a modern dancer. Both dancers, however, resemble a woman covered with roses and lying under transparent plastic - Snow White, or Laura Palmer? (source: Videodokument)
Add to playlist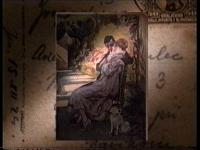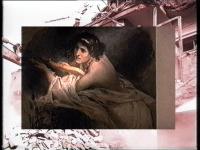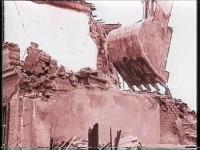 Jasna Hribernik - Carte Postale
(0:06:10)
Production:
TV Slovenija
,
1997
By layering of pictures the artist succeded in simultaneously presenting the past and the present. Destruction of a house represents the present, and fragments from letters written by people who used to live in the house represent the past. An off-screen voice reads the letters, but the sounds soon become unintelligible - for who gives us the right to rummage through the intimacies of these anonymous people? Anonymous they shall remain. For a moment we even see their faces in photographs, but these photogra...
Add to playlist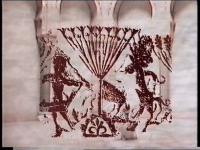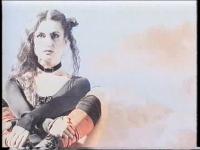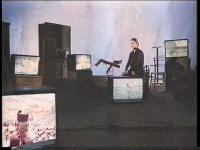 Jasna Hribernik - Lok Telesa / The Body Bow
(00:18:21)
Production:
Sfinga, TV Slovenija
,
1996
In the late seventies, the expressive dancer Jasna Knez travelled through the former Yugoslavia creating new dance elements inspired by the particularities of individual cultural surroundings. The video traces her steps during the nineties, but now they are often viewed as absurd documents of the post-war period. The layering of the images combines body movements and the geography of space, but their visual harmony is disturbed by a graphic sign undergoing several transformations, including an animated draw...
Add to playlist
ZANK, Zemira Alajbegović, Neven Korda - Podoba 5: Marko Kovačič
(00:39:45)
Production:
TV Slovenija
,
1993
An introduction of the artist Marko Kovačič: sculptures, involvement in the Ana Monro Theatre, videos. The interview was conducted by Zemira Alajbegović. The video features edited material taken from the artist's personal archives, the Ana Monro Theatre, VS Škuc-Forum and Brut Film. The video is a part of TV series Podoba by Zemira Alajbegović and Neven Korda ("The Image of Zemira Alajbegović and Neven Korda"), which was the most important contribution to original video production in the 1980s...
Add to playlist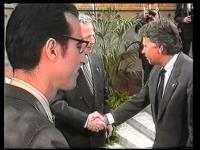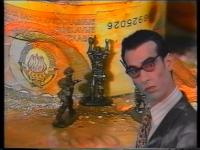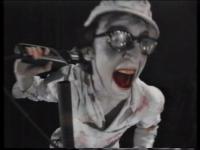 Marko Kovačič - No More Heroes Any More
(0:18:15)
Production:
V.S. VIDEO/Forum Ljubljana
,
1992
Video deals with the theme of war in a parodic and grotesque manner. With Chroma key procedure the two main protagonists or shall we say antagonists - evil and conniving political leaders are set inside a TV studio, where so called Royal game takes place. War battle metaphorically packed as a twisted game of chess, which sees real people as toys in the hands of malicious and greedy politics, is getting more and more insane and uncontrollable. Performative character of the video allows the actors to exagge...
Add to playlist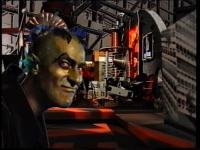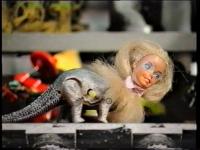 Marko Kovačič - Naprej v preteklost / Forth Into the Past
(0:09:30)
Production:
Forum Ljubljana, VPK
,
1995
The video deals with our understanding of the distant future, presented through a concrete example of the 23rd century archaeology. A narration of a professor archaeologist leads us through the story as he guides his student through one of the main archaeological sites in the City of Catastropolis, where so-called Plastoses, who (will) survived the atomic catastrophe live. These half-organic half-mechanical creatures form a comprehensive civilisation of Plastos, which is the author's subject in a series of...
Add to playlist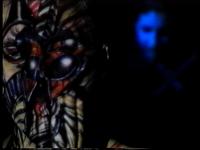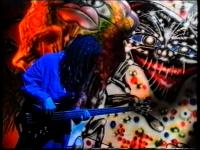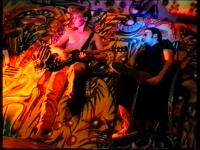 Marko Kovačič - I've Seen That... Like It Is
(0:06:40)
Production:
V.S. Video & Strip Core / Forum Ljubljana
,
1993
A music video for a song - collage I've seen that … Like it is by a music group 2227 from Ljubljana blends shots of the group's performance with projections of graffiti by Strip Core group. Usage of lights and postproduction create chaotic and expressive atmosphere, which follows the dramaturgy of music. Scenes of one part of the video are shot in a smaller space with walls covered in graffiti. Lights and projections make the space flat and almost two-dimensional. Projections of graffiti draw an outline o...
Add to playlist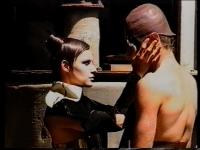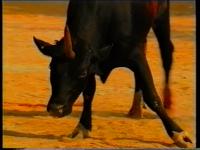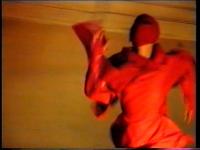 Ema Kugler - Hydra
(00:15:45)
Production:
V.S. Video, Forum Ljubljana, VPK
,
1993
Mythology in the video works by Ema Kugler is inscribed in rituals of everyday life; this time it is the theme of Hydra with many facets. The theme is represented by the separate scenes featuring human figures in leather costumes (created by the artist herself) that constrain their movements, thus emphasising their separation from nature. The last trace of their respective connection is shown in a ritual relationship between a man and a bull, although even this relationship involves man's deeply ingrained c...
Add to playlist