DIVA Events
65 results in works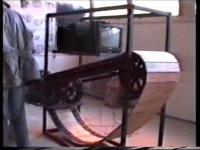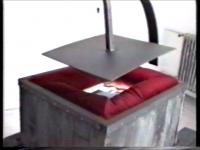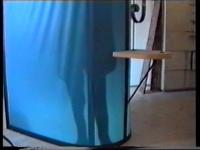 Darij Kreuh - Mine Mind Do you Mind
(00:03:18)
Subtitle:
Imena skulptur: Treadmill, Push it, Cabine
Production:
1993
Posnetek serije skulptur, ki delujejo kot nihala. Gre za interaktivno delo predmeta s predmeti in za dokumentarne posnetke iz razstave, v katere montaža minimalno poseže. Kamera posega v različne kote eksponatov, zato da jih lažje - razločneje vidimo.
Add to playlist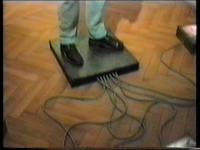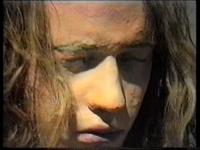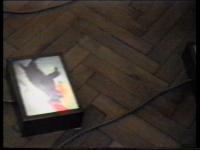 Damijan Kracina - Kracina TV
(00:06:24)
Production:
1995
A hyper-realistic latex sculpture of the artist stands in the middle of a room in Kapelica Gallery, where the artist first presented the installation. The sculpture's low pedestal is connected to seven monitors into which the figure gazes, while light boxes show photographs of cats run over by cars. The installation shows death doubled, or the absence of life. The cats are dead, and the statue, too, is lifeless. The images of dead cats not only draw attention to the cruel human attitude to animals and the...
Add to playlist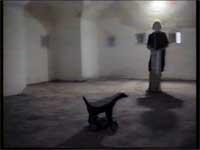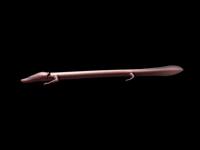 Damijan Kracina - A collage of excepts by Kracina
(00:03:09)
Production:
1995
A collage of three video works. The first shows footage of an exhibition at Trdnjavi Kluže Gallery in Bovec, where the artist presented one of his first statues of animals – a remote-controlled skunk. The second video is a study of changes in colour tones on surfaces saturated with colour. The third video shows the computer generated movements of the olm – proteus.
Add to playlist
Duba Sambolec - Questioning, Answering
(00:58:16)
Subtitle:
NoHomeVideos©
Production:
Duba Sambolec
,
1999
In the video we witness an interrogation of a women with a blind over her eyes. Strict and somewhat violet interrogation is executed by the second female character. Eventually it becomes clear, that shots of both people were merged in postproduction. The viewer is therefore manipulated as is the video, and at the same time he takes on the role of an accomplice, as he accepts the game of the interrogator. NoHomeVideos© video performances, altogether created 14 by the author, are dealing with the experi...
Add to playlist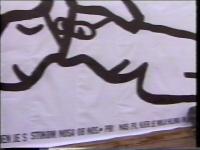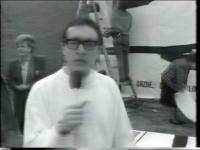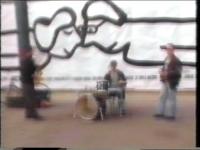 Jasna Hribernik - Petra Varl Simončič - Nos ob nos - Metelkova 1994
(0:06:34)
Production:
1994
Video documents an event accompanying setting up of a composed photocopied painting Nos ob nos by Petra Varl Simončič measuring 30 meters depicting a man and a woman with a poem by Andrej Rozman. We are guided around the set by a commentator. The video is accompanied by a music by a group Lolita, who performed live at the event.
Add to playlist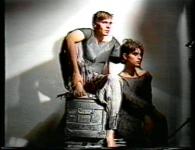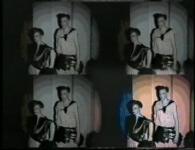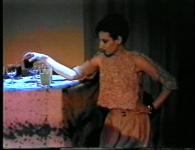 Ema Kugler, Nada Vodušek, Jane Štravs - Nostalgični izrez
(00:07:56)
Production:
Marijan Osole - Max, CD
,
1985
A collage of fashion creations from a fashion show set in Cankarjev dom starts off as if browsing through a trendy Fashion magazine. Models wearing leather clothes are accompanied by Italian, Yugoslav and American pop music from the 60'. We can also see some footage from behind the scenes. Camera is positioned high up on the left side of the runway. Scenes are often cut, multiplied and put together like photographs.
Add to playlist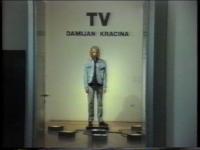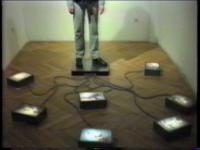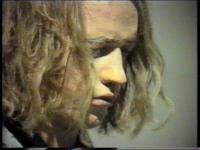 Damijan Kracina - Kracina TV
(00:05:48)
Production:
1995
Hiperrealističen kip avtorja iz lateksa stoji sredi prostora v Galeriji Kapelica, kjer je umetnik prvič postavil instalacijo. Nizek podstavek kipa je povezan s sedmimi monitorji, v katere je uprt pogled figure. Na svetlobnih objektih so prikazane fotografije povoženih mačk. Instalacija prikazuje dvojno smrt oziroma dvojno odsotnost življenja. Mrtve so povožene mačke, neživ pa je tudi kip umetnika. S podobami mrtvih mačk umetnik ni opozoril zgolj na krut odnost človeka do živali, na davek človeko...
Add to playlist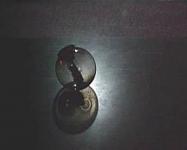 Borut Savski - Dancers
(00:03:34)
Production:
Galerija Kapelica
,
2008
Dve avtonomni gibljivi okrogli telesi v instalaciji izvajata plesni performans dveh preprosto (digitalno, a ne računalniško) programiranih objektov, ki med seboj komunicirata in se privlačita s pomočjo senzorjev in ambientalnega zvoka v galeriji. Okrogli telesi je umetnik prvič sestavil leta 2005 za nastop projekta Problemloss v Moderni galeriji v Ljubljani. Naslov performansu je bil Posodi polni zvoka. Kasneje je posodi vključil v predstavitev Distribuirano telo v Mali galeriji Moderne galerije ter v...
Add to playlist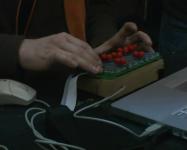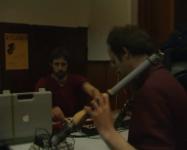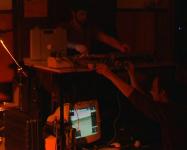 Borut Savski - Problemloss Orchestra
(00:04:52)
Subtitle:
pred nastopom v Berlinu
Production:
2006
Problemloss Orchestra je bila projektna skupina (Luka Prinčič, Matjaž Manček in Borut Savski), ki je nastopala v letih 2005 in 2006. Posnetek je z nastopa v Berlinu. Posnel je Neven Korda.
Add to playlist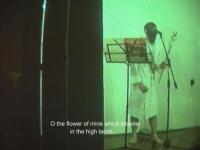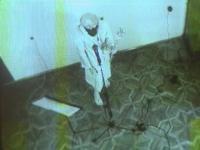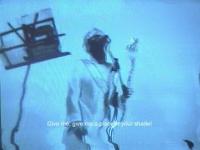 son:DA, Erinc Seymen - Performance for a Poem 2
(00:08:48)
Subtitle:
Maribor
Production:
2006
The two channel video is a performance and site-specific installation realised in Istanbul and Maribor. In the second one it's clear that the stage where the performer acts and the public space are definitely separated. The low resolution image allows a digital manipulation of video and sound made of pixelization, distorsion, colour key glitch, streching of the image. Key role is given to the recitacion of a Turkish poem of the '30, a remarkable example of nationalist rethoric. The sound and the video imag...
Add to playlist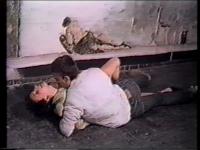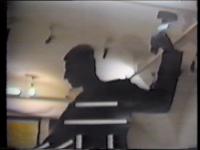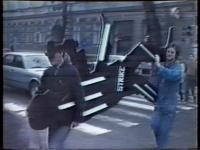 Marko Kovačič - Back to the USA
(00:04:37)
Production:
1984
Video je nastal v okviru razstave Back to the USA skupine R IRWIN S (katere član je bil takrat Kovačič) v Galeriji ŠKUC. Poleg dokumentarnih posnetkov z razstave in spremljajočih dogodkov, so bili kot performans uprizorjeni prizori iz slik na razstavi. Ženska in moški uprizarjata statične poze iz stenskih poslikav. Poslikave prikazujejo jazzista s trobento in par, ki se ljubi v ležečem položaju. Statične poze in igranje na trobento spremlja jazz glasba, ki jo prekini občasni računalniški napi...
Add to playlist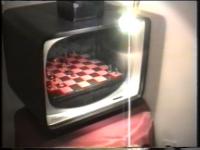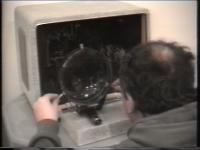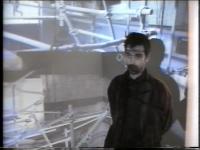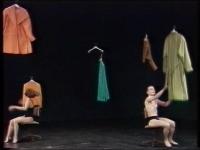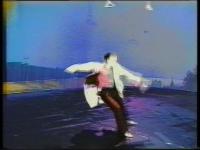 ZANK - Icht
(00:24:25)
Production:
RTV Slovenija
,
1993
The dance performance by a man and a woman presents a story of timeless attraction and rejection. Despite of our desire for closeness, the curse of the greatest love for ourselves is omnipresent; sometimes the dancers come together, and then again they challenge and fight with each other yet they never get together. The theme of the stage choreography is partly transferred onto the street. (Source: Videodokument)
Add to playlist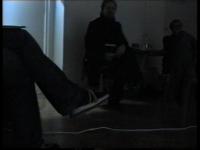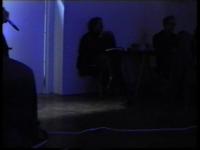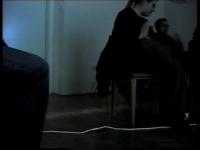 Čajanka za sodobno umetnost - Javni spomeniki v začetku 21. stoletja
(01:57:03)
Production:
KUD Mreža, Galerija Alkatraz, Zavoda GULAG
,
2006
Čajanke za sodobno umetnost so bila mesečna srečevanja, ki so vzpostavljala diskurzivno in dialoško situacijo na področju sodobne umetnosti. Odprte so bile za vse, ki so si želeli konstruktivnega dialoga in poglabljanja ter izmenjave znanja o aktualnih temah v polju sodobne umetnosti. S pomočjo čajank za sodobno umetnost so njeni pobudniki (Petja Grafenauer Krnc, Jadranka Ljubičič in Zoran Srdič) spodbujali k prepotrebni komunikaciji v svetu umetnosti slovenskega prostora. 13. november 2006 sta Z...
Add to playlist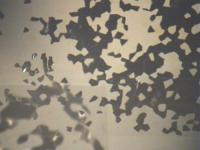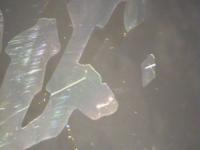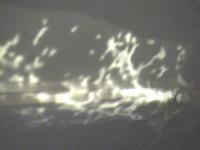 Uršula Berlot - Prehodnost / Transitoriness
(0:02:12)
Production:
2006
Patterns made by etching plastic surface reflect light onto the gallery walls. Diverse architecture of an ex sacral space is completely deconstructed with the movement of the light reflections. Two-dimensional surface is creating a three-dimensional animation with its many reflections, seizing the gallery's volume. This volume becomes the medium, which generates images and by that multiplies its space.
Add to playlist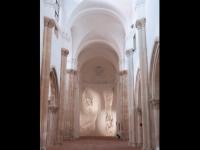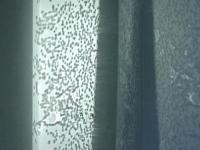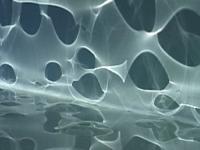 Uršula Berlot - Instalacije 2004-2007 / Installations 2004-2007
(0:05:14)
Production:
2007
Video documentation of the kinetic light installations made by the author in the period 2004-2007.Uršula Berlot combines different techniques of light manipulations. In all of the procedures author uses natural phenomena in order to redefine space and suggest its new metaphysical value.
Add to playlist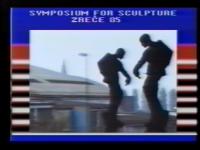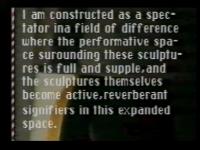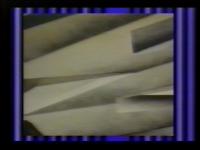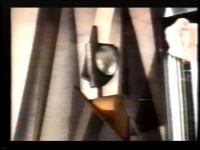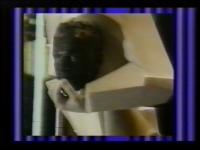 Marko Kovačič - AIDA 87
(00:03:22)
Production:
1987
Video documents the author's installations with close-ups and details. Video is partly framed with a coloured mask. The author deals with sculptures theoretically as well through quotes featured at the end of the video.
Add to playlist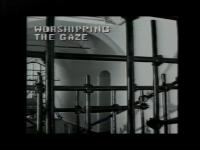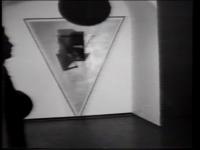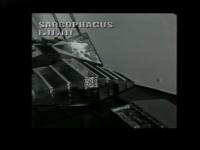 Marko Kovačič - Programiranje pogleda / Programming the Gaze
(00:07:41)
Production:
1988
Video documents an exhibition Programiranje pogleda in Škuc Gallery in 1988. Camera travels around the exhibition and captures space installations in close-ups and from unexpected perspectives. Shots of five different installations line up, the title of each of them appears on the upper left corner of the screen. An important part of the exhibition introduced by a labyrinth construction, were sonic ambient (Egon March institute) and ambient lighting (Cian. kb).
Add to playlist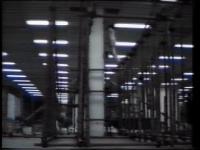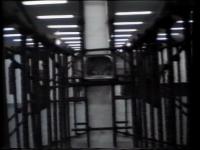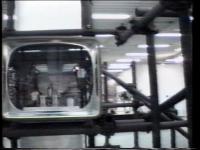 Marko Kovačič - Prediction of Zeus
(00:03:11)
Production:
1990
Black and white recording follows the process of the construction of an installation Prediction of Zeus in Sarajevo in 1989 to its final version. The monumental work combines elements of sculpture and video art for a sinister forecast of an apocalypse.
Add to playlist