DIVA Fiction
50 results in works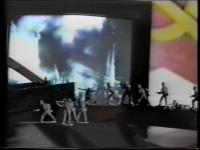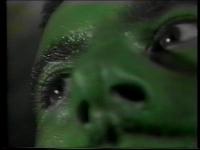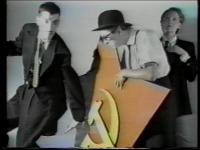 Marko Kovačič - Song of Flesh and Image Was Made Body
(00:15:56)
Production:
ŠKUC - Forum / koprodukcija Marijan Osole - Max
,
1985
The story of the narrative is based on genre crime fiction. The images are filled with citations from the history of art and cinema (Man Ray, S. Eisenstein) and are further stratified and multiplied. The dynamics of the image fraught with a typical cinematic suspence, is curtailed to the music ful of suspenz (Bernard Herrmann).
Add to playlist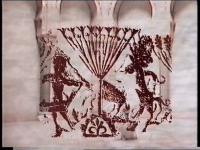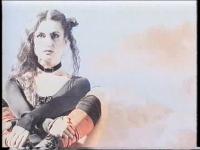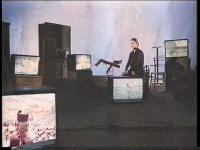 Jasna Hribernik - Lok Telesa / The Body Bow
(00:18:21)
Production:
Sfinga, TV Slovenija
,
1996
In the late seventies, the expressive dancer Jasna Knez travelled through the former Yugoslavia creating new dance elements inspired by the particularities of individual cultural surroundings. The video traces her steps during the nineties, but now they are often viewed as absurd documents of the post-war period. The layering of the images combines body movements and the geography of space, but their visual harmony is disturbed by a graphic sign undergoing several transformations, including an animated draw...
Add to playlist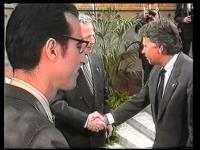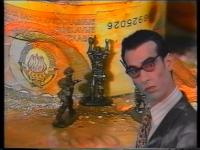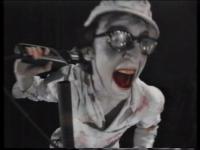 Marko Kovačič - No More Heroes Any More
(0:18:15)
Production:
V.S. VIDEO/Forum Ljubljana
,
1992
Video deals with the theme of war in a parodic and grotesque manner. With Chroma key procedure the two main protagonists or shall we say antagonists - evil and conniving political leaders are set inside a TV studio, where so called Royal game takes place. War battle metaphorically packed as a twisted game of chess, which sees real people as toys in the hands of malicious and greedy politics, is getting more and more insane and uncontrollable. Performative character of the video allows the actors to exagge...
Add to playlist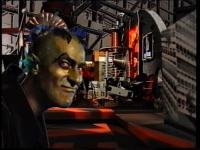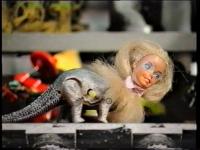 Marko Kovačič - Naprej v preteklost / Forth Into the Past
(0:09:30)
Production:
Forum Ljubljana, VPK
,
1995
The video deals with our understanding of the distant future, presented through a concrete example of the 23rd century archaeology. A narration of a professor archaeologist leads us through the story as he guides his student through one of the main archaeological sites in the City of Catastropolis, where so-called Plastoses, who (will) survived the atomic catastrophe live. These half-organic half-mechanical creatures form a comprehensive civilisation of Plastos, which is the author's subject in a series of...
Add to playlist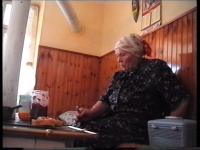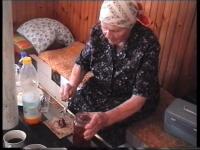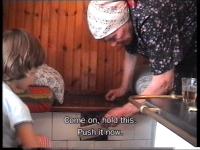 Damijan Kracina, Katarina Toman Kracina - Marmelada / Marmalade
(00:03:37)
Production:
2004
Are you familiar with that tingling feeling somewhere that emerges around the root of your tongue when you eat marmalade without bread and butter? The marmalade sticks to your palate and its taste lingers in your mouth for a long time. It's that special home-made marmalade, saturated with sugar. In the video Marmalade, we get to know yet another, truly practical usage of that sweet mélange. In some parts, they once used to spread it on the tiles, which were keeping the heat of the wooden stove apart from m...
Add to playlist
ZANK - Zbiralci peska / The Sand Collectors (English version)
(00:12:34)
Production:
V.S. Video / Forum Ljubljana & TV Slovenija
,
1995
Video work tells a story of an art collector as remembered by herself in her old age, and as narrated by her friend, a psychoanalyst. Thru this narrative the authors deal with the spirit of avant-garde art in the first half of the 20th century. By layering black and white and colour images and sounds the work creates a deep and lively emotional space. (Source: Videodokument)
Add to playlist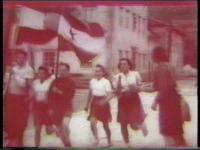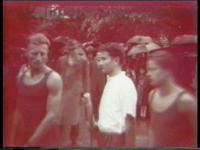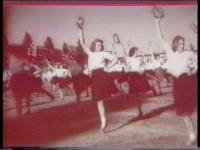 Andrej Lupinc - Mladina gradi / The Youth Constructs
(0:22:06)
Production:
Brut
,
1985
Technologically manipulated scenes from documentary and propaganda films Mladina gradi, Obzornik, 3. kongres ZSMS (The Youth Constructs, Obzornik, The 3rd Congress of Slovene Youth)directed by France Štiglic in a positive and encouraging manner, typical for these films, show youth brigades helping renew Yugoslavia after its emancipation. The narrator informs the viewer about what has happened during the Second World War and then introduces the brigades and some of its most hard working participants with th...
Add to playlist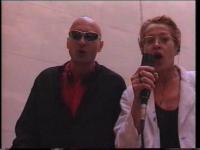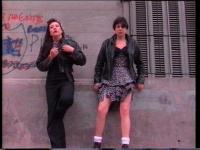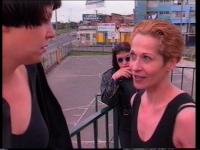 Andrej Lupinc - Odvrženi
(00:42:42)
Subtitle:
Adaptacija gledališke igre Roberto Zucco
Production:
TV Slovenija
,
1997
The story of a tourist who gets lost in a South American metropolis. He wanders into a dangerous suburb, where he meets a strange family and Roberto Zucco - the adventurer, poet and murderer.
Add to playlist
Sašo Podgoršek - Koza je preživela
(00:09:03)
Production:
1992
Posnetki prikazujejo posameznike, ki se zbirajo pred zapornico: oseba v avtomobilu, ki čaka na svoje dekle, oseba na vozu, oseba na motorju in nekdo s kozo v naročju. Kolona pred zapornico čaka na vlak, vname se pretep, koza pa se v zmedi znajde privezana na zapornico, ki se, ko vlak odide, dvigne s kozo vred. Video predstavlja zrežirane komične prizore, ki prikazujejo resničnost sodobne družbe.
Add to playlist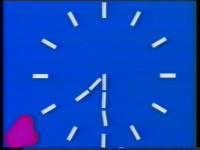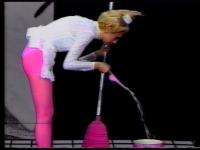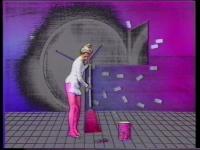 Nataša Prosenc Stearns - Čas? / Time?
(0:01:18 in 0:01:17, na št. 69 0:01:18)
Production:
TV Slovenija
,
1990
The repeated use of a media image gives it the status of stereotype - in this case a clock announcing the beginning of the television news. The artist wishes to undermine the 'freezing' of the stereotypical media image; she transforms it and thus reinstates time in its natural and constant flow. The concept and form of the work are characterised by irony. (VD)
Add to playlist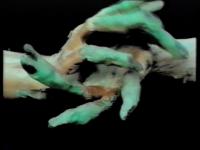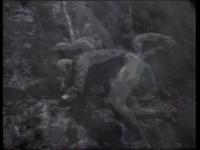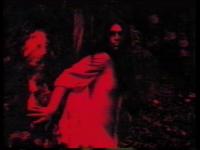 Nataša Prosenc Stearns - Tam (Framski slap) / Over There (Fram Waterfall)
(0:07:25)
Production:
Eurospekter (koprodukcija) & Otroški in mladinski program TV Slovenija
,
1991
This video can be viewed as a video fairy-tale: it contains all the elements of one. The happening takes place in a forest. We see a dwarf that never shows its face, but on its travels it often encounters other incredible beings. Graphic signs are component parts of the image, and they are accentuated by Saba Skaberne's and Tamara Sevčnikar's sculptures, which also form part of the installation of the same title.
Add to playlist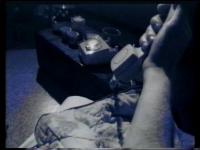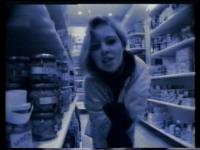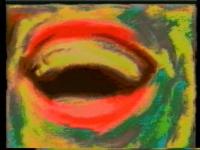 Mirko Simić - Out of Memory
(00:04:47)
Production:
Bris, VPK, V.S. Video / Forum & KUD Naprej Idrija
,
1994
Precise editing and sharp cuts stress the sense of hopelessness and isolation of the world. The main hero moves through urban areas, but finally finds himself in the midst of the 'endlessness' of nature, none the less strange and unpredictable. Dreams of a different life are complemented by graphics and computer animation, additionally perfecting a visually rich and conceptually 'old-fashioned' video. (VD)
Add to playlist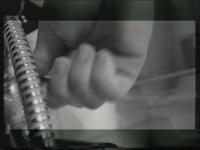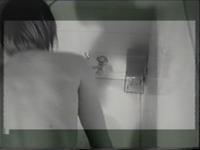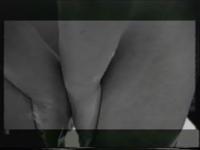 Mirko Simić - Do you hear the sound of silence
(00:03:02)
Production:
Bris & V.S. Video / Forum Ljubljana
,
1992
A black and white video which builds on the details of the body under the shower. The images are not disturbed either by sounds or music because - as the title says - only the silence can be heard. That the eye of the video camera is always voyeuristic is best illustrated by the detail of the bath drain, a fetishistic and 'psychotic' object of the greatest voyeur among film directors - Hitchcock. (VD)
Add to playlist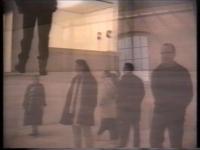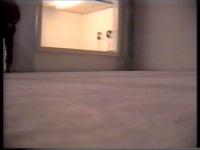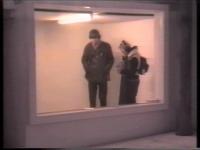 Apolonija Šušteršič - Studio 016
(0:02:11)
Production:
1995
Zvočna intervencija v prostorih Rijksakademie van beeldene kunsten Amsterdam. Video prikazuje posnetke postopnega vstopanja v svetli prostor, snemanje tal ob hoji, snemanje obiskovalcev, ki poslušajo instalacijo na slušalke. Kamera je statična, na trenutke tudi premična. Na koncu videa se prostor postopoma izprazni. Zvočna kulisa, ki opremlja posnetek, je sestavljena iz korakov in hrupa obiskovalcev.
Add to playlist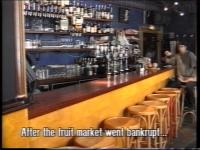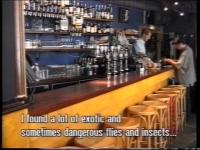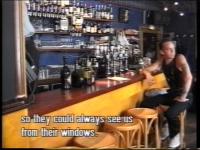 Apolonija Šušteršič - (Cre)Action Directe
(0:13:57)
Subtitle:
Intervju z Riek van der Kerchove
Production:
1998
Pogovor z ustvarjalcem in producentom Rickom van der Kerchovom. Kamera ne snema intervjujanca, ampak spremlja dogajanje v skoraj preznem baru v Luxemburgu. Pogovor je bil uporabljen za potrebe festivala Manifesta.
Add to playlist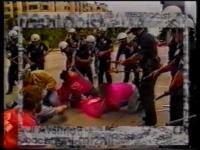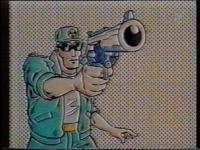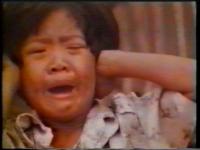 Mirko Simić - Anti Nazy
(00:09:06)
Production:
Bris & VS Video / Strip core
,
1992
A collage of documentary shots of totalitarian regimes of various periods and places. (VD)
Add to playlist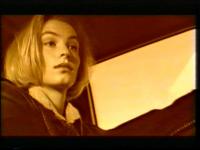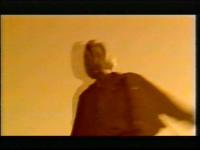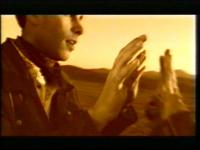 Mirko Simić - Radiorama
(00:00:36)
Production:
ZM
,
1994
Dekle in fant se s terenskim avtomobilom vozita po kolovozni poti. Dekle nenadoma ustavi, izstopi iz vozila in prične plesati, fant se ji medtem približa in jo ustavi. Roki se sklenejo in oba akterja se umirita. V video delu je prisotna dinamična kamera in dolgi kadri, ki želijo ujeti razpoloženje in psihološko karakterizacijo igralcev.
Add to playlist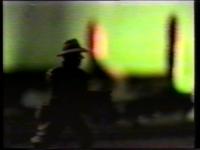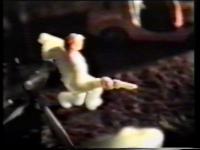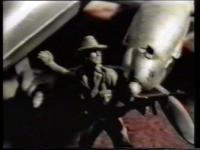 Rok Sieberer Kuri - Krimi krimič
(00:01:21)
Production:
V.S. - D.V.
,
1990
Posnetki figuric-igrač avtomobilčkov, majhnih avionov in vojakov, ki s pištolami merijo eden na drugega. Manipulacija z medijskimi, filmskimi podobami, ki jih avtor pogosto vključuje - akcijo prekine insert streljanja iz akcijskega filma. Figurica nato sede v avto in se odpelje.
Add to playlist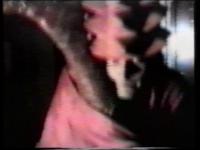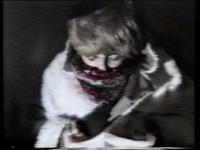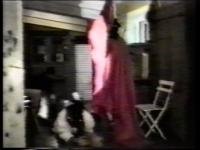 Rok Sieberer Kuri - Rop bakice
(00:02:53)
Production:
V.S. - D.V.
,
1990
Zamaskiran moški oropa babico, tako da jo najprej fizično napade, iz njene košare pada nakupljeno sadje, ona pa se po svojih močeh, a neuspešno brani.
Add to playlist
ZANK - Avtobus / Autobus (English version)
(00:11:20)
Production:
TV Slovenija
,
1993
The video starts with a graphic sign from which emerge images, and this procedure points to the fact that any documentary is but an artefact. The narrator searches through documents and reconstructs the life of Lela: in the Middle Ages she was accused of witchcraft; in the 20th century she finds herself in the midst of war, in the future she will leave the planet. Lela's individual destiny is being inscribed into the fate of humanity by means of layering the image; only television shots of the war in former...
Add to playlist