DIVA Exhibition
32 results in works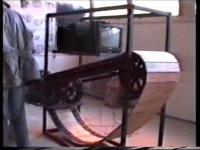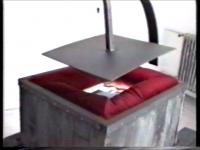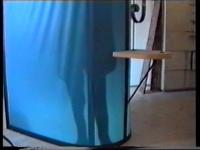 Darij Kreuh - Mine Mind Do you Mind
(00:03:18)
Subtitle:
Imena skulptur: Treadmill, Push it, Cabine
Production:
1993
Posnetek serije skulptur, ki delujejo kot nihala. Gre za interaktivno delo predmeta s predmeti in za dokumentarne posnetke iz razstave, v katere montaža minimalno poseže. Kamera posega v različne kote eksponatov, zato da jih lažje - razločneje vidimo.
Add to playlist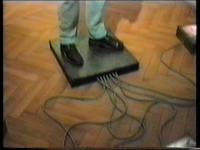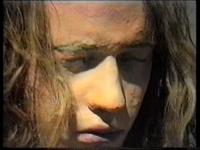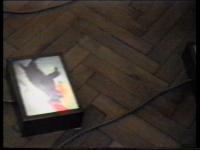 Damijan Kracina - Kracina TV
(00:06:24)
Production:
1995
A hyper-realistic latex sculpture of the artist stands in the middle of a room in Kapelica Gallery, where the artist first presented the installation. The sculpture's low pedestal is connected to seven monitors into which the figure gazes, while light boxes show photographs of cats run over by cars. The installation shows death doubled, or the absence of life. The cats are dead, and the statue, too, is lifeless. The images of dead cats not only draw attention to the cruel human attitude to animals and the...
Add to playlist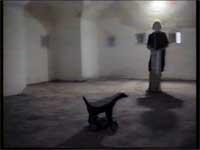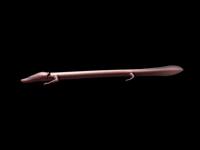 Damijan Kracina - A collage of excepts by Kracina
(00:03:09)
Production:
1995
A collage of three video works. The first shows footage of an exhibition at Trdnjavi Kluže Gallery in Bovec, where the artist presented one of his first statues of animals – a remote-controlled skunk. The second video is a study of changes in colour tones on surfaces saturated with colour. The third video shows the computer generated movements of the olm – proteus.
Add to playlist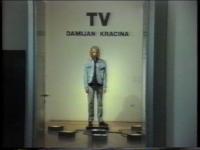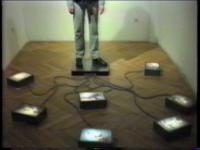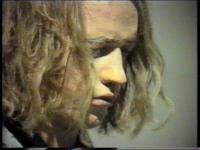 Damijan Kracina - Kracina TV
(00:05:48)
Production:
1995
Hiperrealističen kip avtorja iz lateksa stoji sredi prostora v Galeriji Kapelica, kjer je umetnik prvič postavil instalacijo. Nizek podstavek kipa je povezan s sedmimi monitorji, v katere je uprt pogled figure. Na svetlobnih objektih so prikazane fotografije povoženih mačk. Instalacija prikazuje dvojno smrt oziroma dvojno odsotnost življenja. Mrtve so povožene mačke, neživ pa je tudi kip umetnika. S podobami mrtvih mačk umetnik ni opozoril zgolj na krut odnost človeka do živali, na davek človeko...
Add to playlist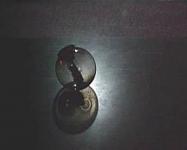 Borut Savski - Dancers
(00:03:34)
Production:
Galerija Kapelica
,
2008
Dve avtonomni gibljivi okrogli telesi v instalaciji izvajata plesni performans dveh preprosto (digitalno, a ne računalniško) programiranih objektov, ki med seboj komunicirata in se privlačita s pomočjo senzorjev in ambientalnega zvoka v galeriji. Okrogli telesi je umetnik prvič sestavil leta 2005 za nastop projekta Problemloss v Moderni galeriji v Ljubljani. Naslov performansu je bil Posodi polni zvoka. Kasneje je posodi vključil v predstavitev Distribuirano telo v Mali galeriji Moderne galerije ter v...
Add to playlist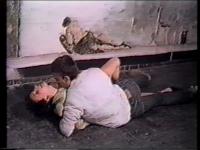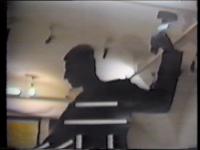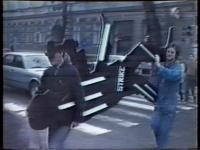 Marko Kovačič - Back to the USA
(00:04:37)
Production:
1984
Video je nastal v okviru razstave Back to the USA skupine R IRWIN S (katere član je bil takrat Kovačič) v Galeriji ŠKUC. Poleg dokumentarnih posnetkov z razstave in spremljajočih dogodkov, so bili kot performans uprizorjeni prizori iz slik na razstavi. Ženska in moški uprizarjata statične poze iz stenskih poslikav. Poslikave prikazujejo jazzista s trobento in par, ki se ljubi v ležečem položaju. Statične poze in igranje na trobento spremlja jazz glasba, ki jo prekini občasni računalniški napi...
Add to playlist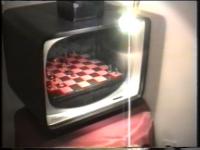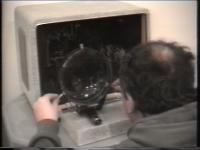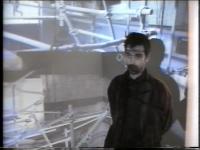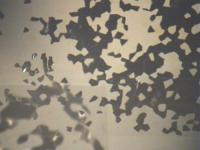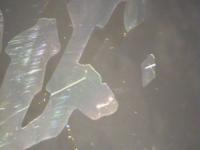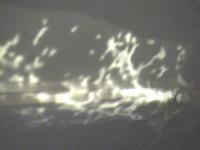 Uršula Berlot - Prehodnost / Transitoriness
(0:02:12)
Production:
2006
Patterns made by etching plastic surface reflect light onto the gallery walls. Diverse architecture of an ex sacral space is completely deconstructed with the movement of the light reflections. Two-dimensional surface is creating a three-dimensional animation with its many reflections, seizing the gallery's volume. This volume becomes the medium, which generates images and by that multiplies its space.
Add to playlist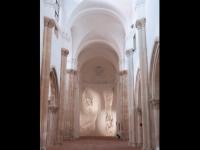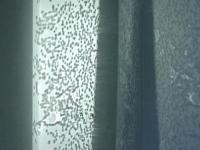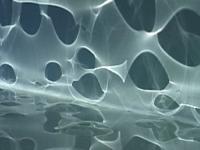 Uršula Berlot - Instalacije 2004-2007 / Installations 2004-2007
(0:05:14)
Production:
2007
Video documentation of the kinetic light installations made by the author in the period 2004-2007.Uršula Berlot combines different techniques of light manipulations. In all of the procedures author uses natural phenomena in order to redefine space and suggest its new metaphysical value.
Add to playlist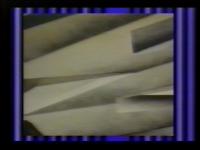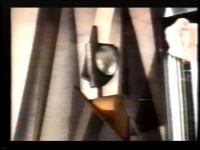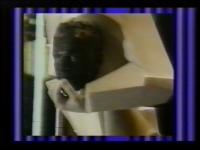 Marko Kovačič - AIDA 87
(00:03:22)
Production:
1987
Video documents the author's installations with close-ups and details. Video is partly framed with a coloured mask. The author deals with sculptures theoretically as well through quotes featured at the end of the video.
Add to playlist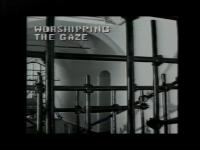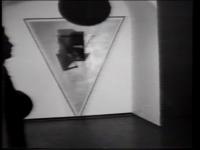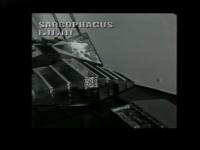 Marko Kovačič - Programiranje pogleda / Programming the Gaze
(00:07:41)
Production:
1988
Video documents an exhibition Programiranje pogleda in Škuc Gallery in 1988. Camera travels around the exhibition and captures space installations in close-ups and from unexpected perspectives. Shots of five different installations line up, the title of each of them appears on the upper left corner of the screen. An important part of the exhibition introduced by a labyrinth construction, were sonic ambient (Egon March institute) and ambient lighting (Cian. kb).
Add to playlist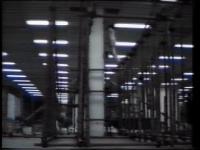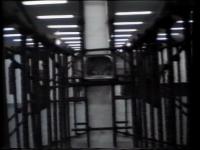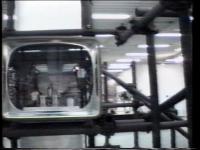 Marko Kovačič - Prediction of Zeus
(00:03:11)
Production:
1990
Black and white recording follows the process of the construction of an installation Prediction of Zeus in Sarajevo in 1989 to its final version. The monumental work combines elements of sculpture and video art for a sinister forecast of an apocalypse.
Add to playlist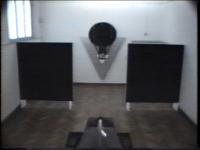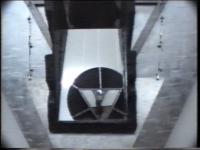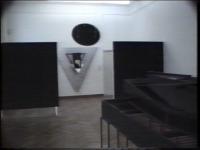 Marko Kovačič - Sarcophagus, The Eye
(00:02:49)
Production:
Black and white recording documents two space installations entitled Sarcophagus and The Eye, accompanied by opera music. The pieces were part of an exhibition Programiranje pogleda in Škuc gallery in 1988.
Add to playlist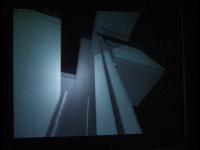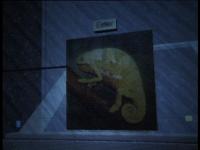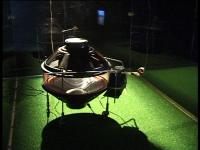 Sašo Sedlaček - Biotop Condition
(0:03:08)
Production:
2001
Video is a documentation of a project, combined with computer graphics, computer games and recordings of an exhibition.
Add to playlist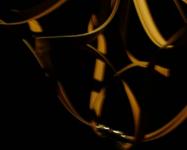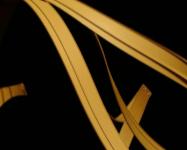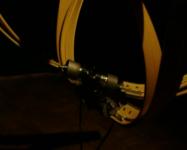 Borut Savski - Prenapete strukture
(00:01:19)
Production:
KUD Trivia in Galerija Kapelica
,
2009
With movable mechanical organisms the artist follows his research of autonomous structures / systems. The installation is constructed with elements that are connected but overstrained. The movable mechanical part of the installation carries this (over) strained elements and the result is an almost organic / lively movement of the construction. The electronic mechanism constructed by the artist are usually analogue and built according to the principles of BEAM robotics (Biology, Electronics, Aesthetics, Mec...
Add to playlist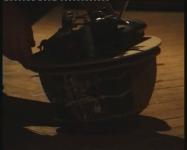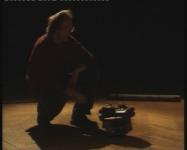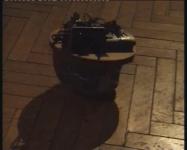 Borut Savski - Plesalec
(00:17:23)
Production:
Galerija Kapelica
,
2005
Posnetek performansa, ki se je zgodil v galeriji Kapelica. Borut Savski je izdelal stroj, ki samostojno deluje in na ta način ustvarja svojo lastno umetnostno prakso. Avtorjevo vprašanje zadeva predvsem prinicipe subjektivacije. Plesalec nam predlaga čisto novo subjektivacijo umetniškega početja skozi gib in zvok in ne več skozi besedo in jezik.
Add to playlist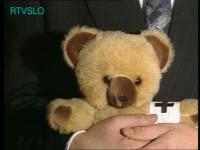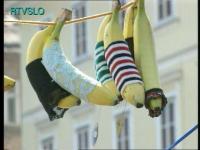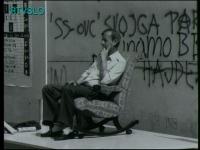 Amir Muratović - Urbanaria (Slovenski magazin)
(00:05:21)
Production:
RTV Slovenija
,
1998
TV documentary presents the Urbanaria exhibition and its individual projects, realised in the span of three years in non-exhibition spaces across Ljubljana, with a final statement by one of the curators. Urbanaria was conceived, curated and organised by the Soros Center for Contemporary Arts in Ljubljana (1994-1997). Its general concept was art in the urban context. The public announcement was open to all forms of expression and visual media. Out of 52 proposals the international expert jury selected 14 pro...
Add to playlist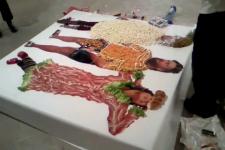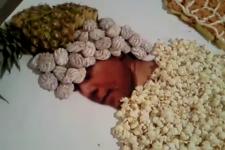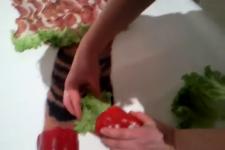 Andreja Džakušič, Simon Macuh, Iva Tratnik, SIVA - Obleka...človeka - otvoritvena zakuska
(00:03:19)
Production:
Likovni salon Celje
,
2011
S projektom obleka … človeka, ki je bil leta 2010 razstavljen v Likovnem salonu, je skupina dveh umetnic in umetnika raziskovala, v kolikšni meri obleka določa človekovo identiteto, koliko se s spremembo zunanje podobe spremeni odnos drugih. Za produkcijo razstave je neformalna skupina, ki so jo ustanovili ravno za razstavo obleka ... človeka, naredila serijo javnih intervencij, s katerimi so motili ustaljene oblačilne navade. Med drugim so se ukvarjali z nenavadnim pojavom specializiranih oblek, za...
Add to playlist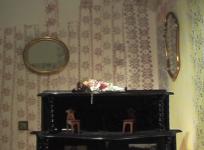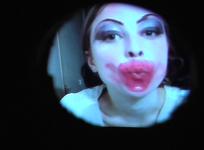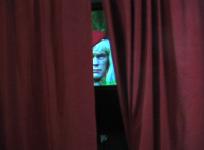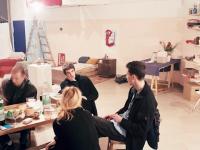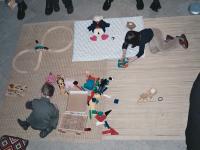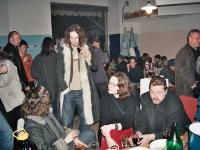 Andreja Džakušič - Unusual Pairs
(00:14:23)
Production:
2002
Video is a photo slide show documentation of the project 'Unusual Pairs', created together with Radivoj Mulič at Likovni salon Celje in 2002. The two artists transformed the Likovni salon exhibition space into an apartment and offered visitors the possibility to use and make sense of the venue. It became a place to meet and socialise, in which the commonest things took place, from playing to sitting around, laying and cooking. (Source: Andreja Džakušič, Encounters, overview exhibition catalogue, Center...
Add to playlist