DIVA civilization
39 results in works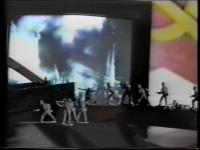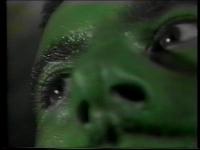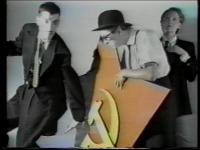 Marko Kovačič - Song of Flesh and Image Was Made Body
(00:15:56)
Production:
ŠKUC - Forum / koprodukcija Marijan Osole - Max
,
1985
The story of the narrative is based on genre crime fiction. The images are filled with citations from the history of art and cinema (Man Ray, S. Eisenstein) and are further stratified and multiplied. The dynamics of the image fraught with a typical cinematic suspence, is curtailed to the music ful of suspenz (Bernard Herrmann).
Add to playlist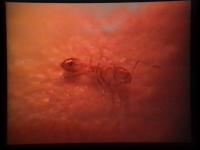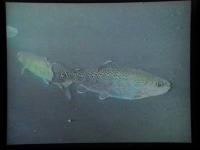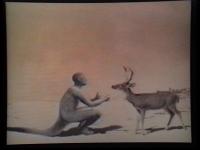 Damijan Kracina - Zoospective
(00:11:53)
Subtitle:
(Zoological Retrospective)
Production:
2000
The video summarises the basic motifs of the artist's work: endangered species and fantasy animals of the future. It comprises an omnibus of five individual video pieces and additional raw video footage. First, we see 'proteus', a computer-generated olm in motion; which is followed by 'An Interview with an Endangered Species', featuring frontal shots of the Soča Trout opening its mouth as if it were speaking; these are combined with an Aquarium video showing the flight of the Soča Trout. This is...
Add to playlist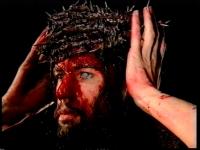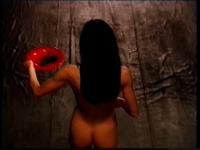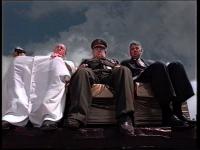 Ema Kugler - Menhir
(00:35:16)
Production:
Forum Ljubljana, VPK & TV Slovenija
,
1999
Urbanity is finally erased with mythological rituals, which is defined by the title of the video film: menhir, a large upright standing stone from the Neolithic Period which was used in sacred rituals. A man and a woman are Adam and Eve who are formed before us with electronic transformation (morphing) and are marked by blood, which also marks all the other elements of the video image: murder of an individual committed by a menhir or the trinity (politics, church, army), bodies of dancers. Blood, murder a...
Add to playlist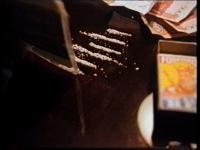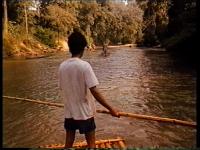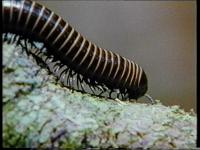 Andrej Lupinc - V 8. minutah okoli sveta / In 8 Minutes around the World
(00:09:38)
Production:
TV Slovenija, filmski laboratorij
,
1990-2000
The documentary video patchwork with shots from various places in the world that the author visited while working as a cameraman at Slovenian national TV station in the span of ten years. Diversity of aesthetics is visible through a compilation of shots from different continents. A stable rhythm that runs through the whole video unifies all different scenes and brakes the seeming symbolic differences. The video would work as an ideal visualisation of Levi-Strauss's anthropological theory developed in his bo...
Add to playlist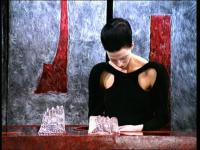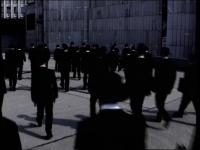 Ema Kugler - Homo Erectus
(00:43:28)
Production:
ZANK
,
2000
This video features no words, only music and images. Ema Kugler describes the moving images as: "They are like a dark, surrealist dance of everyman with his own death. I have seen all these images. They came from the darkness of my subconsciousness, colonized me and obsessed me." (Slovenian Film Fund) The video shows images, which together with the accompanying music give an impression of the infinite and the divine and being sucked into an abyss from where there is no return. The images bring us to...
Add to playlist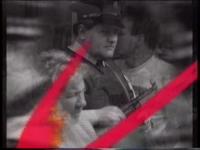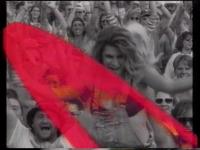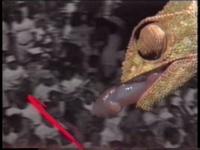 Nataša Prosenc Stearns - Disk / Disc
(00:02:57)
Production:
TV Slovenija
,
1995
This video in black-and-white presents people participating in mass rituals, primarily wars and the glorification of leaders, which are constant and universal documents of the world. The global and temporal association of these images is emphasised by the graphic sign of a disc, the only colourful object on the screen, which emerges into our view and disappears from it, until finally it is destroyed by a lizard, another - and the last - colourful creature in the records of the world. Every artist's creation...
Add to playlist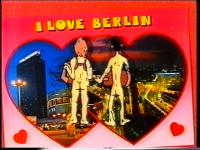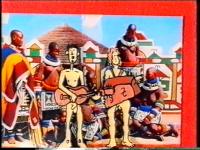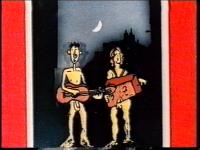 Oliver Marčeta - Internacional
(00:02:01)
Production:
Narisani goli figuri potujeta tako, da se s croma key efektom prestavljata po razglednicah različnih krajev sveta. Figuri sta realizirani na enostaven risarski način, s kombiniranjem nekoliko različnih poz. Video je parodija na glabalizacijo in sodobno manijo, da se turistične destinacije predstavijo kot trofeje.
Add to playlist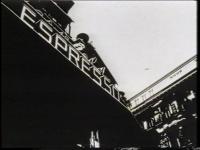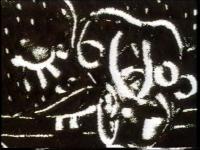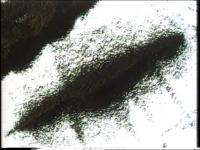 Oliver Marčeta - Kaffehaus
(00:05:24)
Production:
Liki se izrisujejo kot bela kreda na rjavi grobi podlagi, ki se razrezuje in sestavlja v neko urbano zgodbo z gostilnami in vinom, kjer nimajo kave... Naposled jo najde v Kavarni. Avtor animacijo ustvarja s nenehenim nalaganjem slojev, ki nadgrajujejo in spreminjajo prvotno risbo. Zanimivost vsebine je v stalni variaciji risarske površine - prestopi belega ozadja in črne risbe v črno ozadje in belo risbo.Material, ki omogoča risbo, je pravzaprav prav mleta kava.
Add to playlist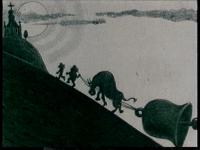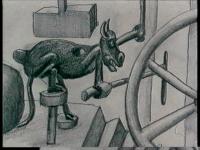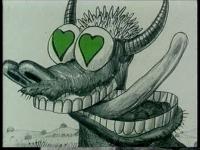 Zvonko Čoh, Milan Erič - Cigara za princa / Cigar for a Prince
(00:11:09)
Subtitle:
Socializacija bika - prva epizoda / Socializing The Bull? - first episode
Production:
Emotionfilm, ŠKUC, TV Slovenija
,
1995
Cigara za princa je prva epizoda animiranega filma Socializacija bika?, ki je bila uporabljena kot promocijski spot. Skozi prelivanje podob spremljamo nagajivo ljubezensko zgodbo. Karikaturi dveh ljudi (avtorjev?) bežita pred bikom, asociacije odvijanja zgodbe so podobne sanjam, detajli so v ospredju. Socializacija bika? je prva slovenska celovečerna risanka.
Add to playlist
ZANK - ZMR
(00:03:49)
Production:
FV Video, ŠKUC Forum
,
1985
Video work is a somewhat atypical video for a song by a group borghesia: static, monumental, melancholic. Author recreates an urban space by combining empty recordings of modern and neoclassical architecture. A lonely female figure almost constantly poses statically is placed inside a completely utopic atmosphere. This surrounding totally deadens the only present character, reduces it to a state of sculpture, where the vividness of the skin and minimal movement is barely noticeable. Borghesia (1983 - 1939)...
Add to playlist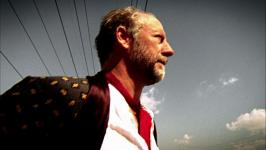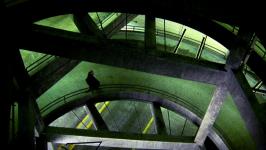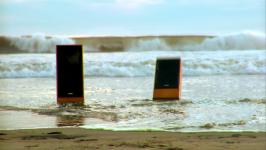 Nataša Prosenc Stearns - The Trial of Socrates (trailer)
(01:24:00 (trailer, 00:03:00))
Production:
Kanalya Pictures
,
2010-2013
Omnibus 23 filmskih režiserjev in videastov iz različnih kulturnih okolij, med njimi sta tudi Jasna Hribernik in Zmago Lenardić. Pobudnica in glavna režiserka je Nataša Prosenc Stearns. Drugi sodelujoči: M. Basso, J. Beckhardt, J. Berry, N. Buchanan, J. Church, S. Elam, S. Gill, T. Grace, J. Hribernik, A. D. Irvine, N. Kiang, R. Kobayashi, K. Kuhne, Z. Lenardič, A. Libri, P. Marescotti, D. O'Brien, W. Romeo, M. Romero, Y. Stanchev, W. Stiner, W. Zane Film je eksperiment v koeksistiranju različn...
Add to playlist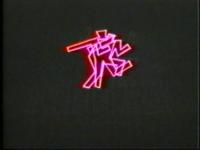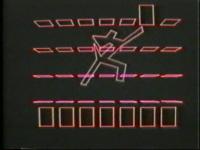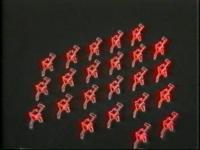 Goran Devide - Sovražnik
(0:04:28)
Production:
Škuc-Forum, FV video
,
1984
Computer animation is a music video for a song by group Borghesia. The author uses formally simple animation, which due to light line on a blue surface, creates an illusion of depth. Strong contrast functions aggressively. Animated anthropomorphic figures move together and one against the other, but there is always tension between them. The animation is author's interpretation of estranged and shallow civilization. ------- Borghesia (1983 - 1939) was a multimedia group (concert performance, video works,...
Add to playlist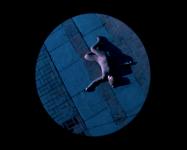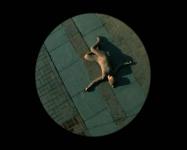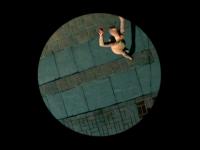 Maja Slavec - Revaluation
(00:42:19)
Production:
Partizanka
,
2008
Video polje je reducirano na krog. Reducirano zato ker je še vedno prisotna črna površina, ki tvori razliko do pravokotnika. Krožna oblika in snemanje s ptičje persepktive ustvarjajo klaustrofobično vzdušje in akterjem ukradejo volumen. Volumen tako beremo bolj preko senc, kot preko perspektive. Subjekti prihajajo in odhajajo iz krožnega polja, plesalcu pa je krog tudi celotno polje delovanja. Avtorica se sprašuje o stopnji avtonomije, ki jo ima posameznik v družbi.
Add to playlist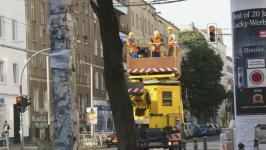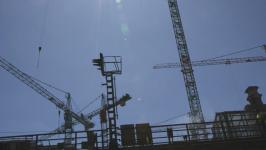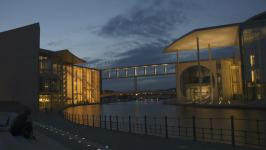 Amir Muratović - Impresija velemesta
(00:13:45)
Production:
Amir Muratović
Video je dokumentarna animacija zbranih fotografij Berlina. Avtor fotografira dogajanje v mestu in s tem ustvarja nov ritem velemesta, kar dobro izrazi predsodek o prenatrpanih in rastočih urbanih središčih. Urbani dogodki, ki so v vsakdanjem življenju postali skoraj neopazni, se skozi avtorjev pogled pokažejo v neki povsem novi obogateni estetiki. Še posebej to pride do izraza v pravilnih usmerjenih gibanjih, ki v ponavljajoči se animirani tehniki izpostavljajo red in tehnološkost velemesta.
Add to playlist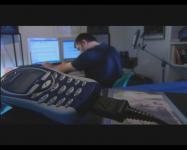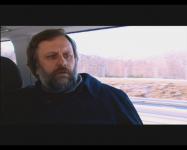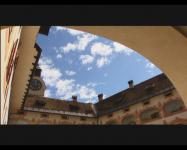 Jasna Hribernik - Koncert za mobilne telefone in orkester
(00:45:50)
Subtitle:
Aldo Kumar in Slavoj Žižek
Production:
2005
Documentary video follows the work and ponderings of composer Aldo Kumar through a perspective of sounds of a mobile phone. We witness long scenes of the composer taking walks in idyllic landscapes and around the city, where everyone is rushing and talking on mobile phones. The author presents 8-bit low quality sound without directly valuating it. The contentious role of mobile phones is analyzed by Slavoj Žižek. He discusses about how mobile phones seemingly make communicating easy, but actually they e...
Add to playlist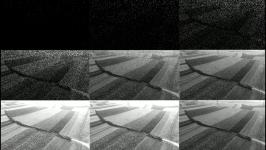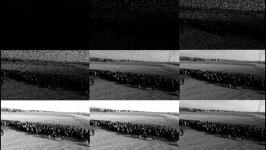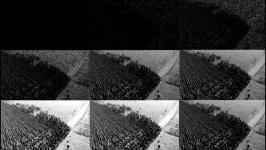 Jasna Hribernik - Tense Present: Šum fotonov / Tense Present: Photon Noise
(00:01:18)
Production:
White Balance
,
2015
Photon Noise vzame za izhodišče simulacijo fizikalnega pojava, ki v optiki govori o občutljivosti senzorja na katerega padajo fotoni in se spreminjajo v elektrone. V videu v tej simulaciji uporabim posnetek skupine migrantov, ki se pomika skozi slovensko pokrajino. In se vse bolj izgubljajo v fotonskem šumu.... Tense Present je serija video filmov, ki predstvljajo ustvarjalni odziv na temeljno občutenje časa v katerem živimo po »koncu zgodovine« oz. o stanju in pojavih v družbi, ki jo filozof...
Add to playlist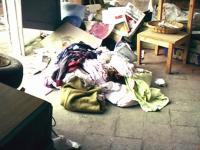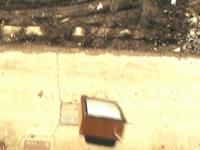 Zoran Srdić Janežič - Take a walk on the wild side
(00:07:30)
Production:
Zavod za sodobne umetnosti in kulture Gulag
,
2010
Video je nastal s snemanjem zapuščenega prostora. Snemalec sprva opazuje okolje in nima interakcije s objekti. Potem pa se v bistvu video pretvori v animacijo, kjer razmetani objekti dobijo neki svoj ritem in novo življenje. Gledalec ima občutek, kot da se stvari same od sebe začenjajo urejati, in iz kaosa zapuščenega prostora nastajajo pravilni in včasih ponavljajoči se vzorci in ritmi.
Add to playlist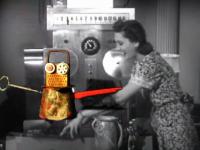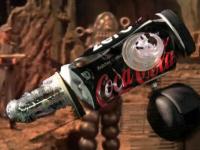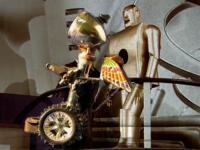 Zoran Srdić Janežič - Trash Robots
(00:01:56)
Production:
Zavod za sodobne umetnosti in kulture Gulag
,
2010
Pri video gre za združitev dveh tipov podob. Prvi sloj je analogen, arhivski in prikazuje različne interakcije robotov in ljudi. Zgornji sloj je nekakšen avtorjev odgovor, remake na arhivske posnetke. Avtorjev poseg v črno-belo sliko je zelo enostaven in poskuša vspostaviti kontrast v obliki in barvi. Barvni roboti poskušajo brez uspeha ustvariti dialog s spodnjo črno-belo podlago. Ta neuspeh lahko beremo kot parodijo na človekovo zaslepljenost s strojem.
Add to playlist
ZANK - A.R.
(00:04:44)
Production:
FV Video, ŠKUC Forum
,
1985
The video creates dynamics by combining positive and negative versions of urban subcultural happening. Traditional and alternative culture are in constant battle. The text of the song is simple, reduced to a repetition of words, which don't follow the structure of a sentence. Video presents an information abundance and fills in the economic text. Borghesia (1983 - 1939) was a multimedia group (concert performance, video works, music videos, video tapes, music records and cassettes) formed by Zemira Alajbe...
Add to playlist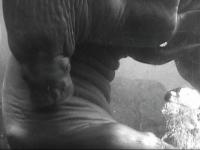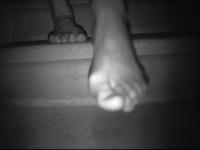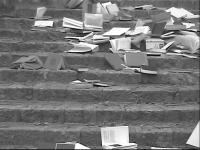 Ksenija Čerče - fall...
(00:08:09)
Production:
Ksenija Čerče
,
2005-2008
The video was created on the basis of three short videos, partly recorded during the artist's audio- visual studies in New York City. By naming it 'audio video', she emphasizes the key role that sound plays in her works. In individual sequences we follow the movement of persons, objects and animals, while the rhythm is based primarily on the presence and absence of sound and image, emphasized silence and darkness.
Add to playlist