DIVA work
21 results in works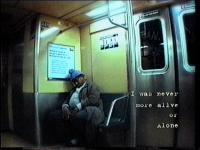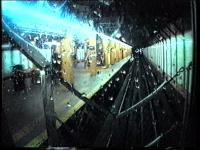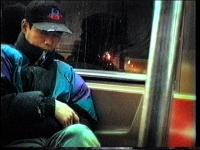 Zmago Lenardič - Big Blue Subway
(00:12:42)
Production:
VPK & White Balance
,
2000
Video tematizira odtujenost velikega urbanega središča s posnetki utrujenih, spečih ljudi na newyorški podzemni železnici. Pripisana beseda se nanaša na njihove misli ali sanje, odmik od realnosti odtujenega velemesta. Sprevračana je v temačno odisejado individualiziranega mestnega življenja preko osebnih zgodb malih ljudi, osamljenih meščanov.
Add to playlist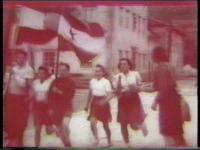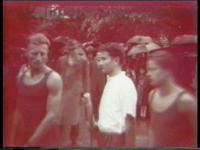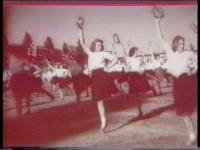 Andrej Lupinc - Mladina gradi / The Youth Constructs
(0:22:06)
Production:
Brut
,
1985
Technologically manipulated scenes from documentary and propaganda films Mladina gradi, Obzornik, 3. kongres ZSMS (The Youth Constructs, Obzornik, The 3rd Congress of Slovene Youth)directed by France Štiglic in a positive and encouraging manner, typical for these films, show youth brigades helping renew Yugoslavia after its emancipation. The narrator informs the viewer about what has happened during the Second World War and then introduces the brigades and some of its most hard working participants with th...
Add to playlist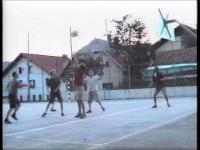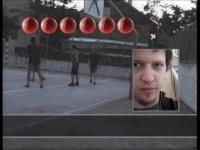 Damijan Kracina - BasketVideo
(00:19:41)
Production:
2001
A group activity – playing basketball in public. All the participants hold the rights to show the video: Borut Korošec, Jaka Mihelič, Damjan Švara, Grega Kregar, Damijan Kracina, Mojca Senegačnik, Katarina K. Toman, and Sara Hughes. Before dawn, the group gathered for a game of basketball on one hoop in the semi-rural suburbs of Ljubjana, where church bells ring in the evening. The work establishes a relationship between body movement, spending free time, and professional careers. A dynamic camera fol...
Add to playlist
Miha Vipotnik - Path of Crazy Wisdom
(00:09:58)
Production:
CalArts, Los Angeles
,
1993
Through a structure of an interview the video explores the life of an American sculptor Eric Orr. Questions about his work exchange with personal topics and in some moments reach the point of absurd and complete fiction. Due to a usage of the camera and editing the video gives an impression of a police interrogation. In the ending credits the artist is listed as "The accused". Shots of the interview are in parts interrupted by quotes and photographs from Eric Orr's literary work Zero Mass - The...
Add to playlist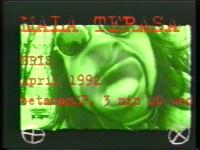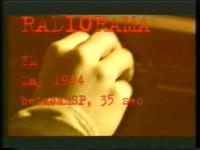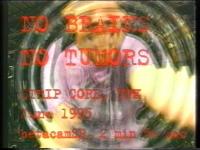 Mirko Simić - Intro - predstavitev vsebine
(00:01:25)
Production:
1993
Predstavitev glasbenih in avtorskih video del v kratki formi. Nekakšen hitri avtorski portfolio, ki prikazuje inserte različnih projektov in s tem vizualno podobo ter formalne značilnosti avtorja. Hitri prehodi med motivi, hitro kadriranje.
Add to playlist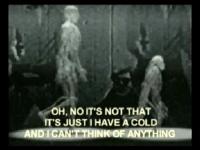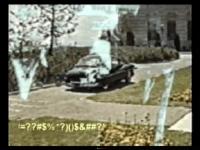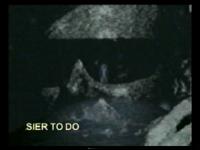 Vesna Bukovec - Why Do I Do This?
(0:03:18)
Production:
2001
Video work is a collage composed of found material to which the author adds graphic inserts. Through the content of the video she poses herself questions which can always be answered with "I don't know". With that she problematizes the state of contemporary art, which often lacks purpose.
Add to playlist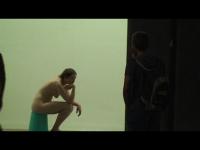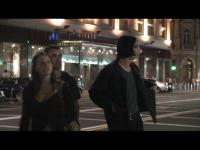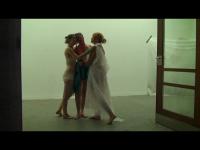 PUNce, Pila Rusjan, Tina Krajnc, Nina Bric - Vidiš umetnost?
(00:05:46)
Production:
KUD PUNce
,
2010
Dokumentarni posnetek performativne akcije skupine PUNce (Pila Rusjan, Tina Krajnc, Nina Bric) s posnetkom avtorske izjave, ki jo je za skupino podala Pila Rusjan. V posnetku spremljamo performans treh akterk in reakcije naključnih mimoidočih sprehajalcev. Performans je bila neformalna intervencija v razstavo Viktorja Bernika v Mali galeriji Moderne galerije na Slovenski cesti. Bernik je 20. junija 2010 kot svojo samostojno razstavo izpraznil prostor in na stežaj odprl vrata, da bi zastavil vprašanje gl...
Add to playlist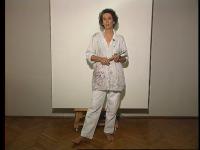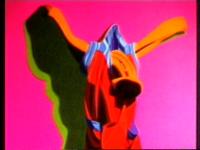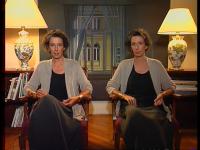 Ana Nuša Dragan - In Medias Res
(00:47:00)
Subtitle:
Umetniški portret Metke Krašovec
Production:
TV Slovenija
,
1999/2000
Metka Krašovec je slikarka, je outsiderka, je samotarka, je svetovna popotnica, je profesorica in je žena. Je borka vendar kot ženska nima težav v svetu, ki je po moško determiniran. Nasprotno, to ji daje veliko svobode, ker se ji nii treba zapletati v igre moči, kar pomeni, da lahko v miru dela. Gonilna sila v njenem slikarstvu ni raziskava jazika ampak eksistencialna izkušnja, notranja nuja, ljubezen in iskanje boga. Njeno življansko zgodbo najprej vodi filmska slika, njeno slikarsko dvojnost, ko...
Add to playlist
ZANK - A.R.
(00:04:44)
Production:
FV Video, ŠKUC Forum
,
1985
The video creates dynamics by combining positive and negative versions of urban subcultural happening. Traditional and alternative culture are in constant battle. The text of the song is simple, reduced to a repetition of words, which don't follow the structure of a sentence. Video presents an information abundance and fills in the economic text. Borghesia (1983 - 1939) was a multimedia group (concert performance, video works, music videos, video tapes, music records and cassettes) formed by Zemira Alajbe...
Add to playlist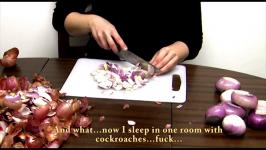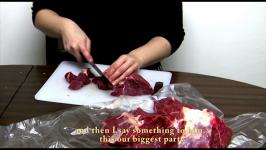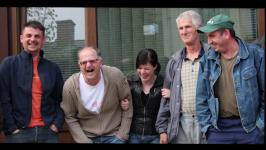 Maja Hodošček - Promised Land
(00:10:04)
Production:
2010
A static camera is showing the artist preparing onions for goulash, while the voices of men in the audio recording are commenting on the best preparation method. Still cutting the onions, the men start to explain the levels of migrant worker's exploitation in European Union. They are describing the unfair working conditions, 12 hours shifts, bad living situations, miserable earnings and the history of seasonal migrations in their family. The artist does not expose them, but rather gives them voices. At the...
Add to playlist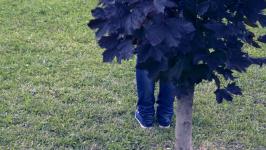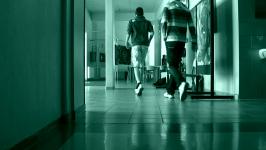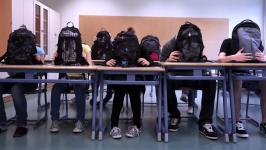 Maja Hodošček - Little Girl
(00:20:43 (trailer 00:03:45))
Production:
Maja Hodošček
,
2012
The artist made the video Little Girl together with her little sister Zala Ožek at the primary school Zala was attending at the time. Taking on the role of cameraman, Zala filmed her schoolmates at class and during the breaks, as well as their interactions in the school corridors. The main part of the film consists of conversations between Zala and two of her classmates, revealing how these children see and reflect their position in the education system, where they see themselves in the labor market in the...
Add to playlist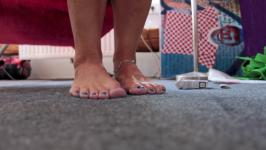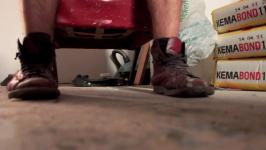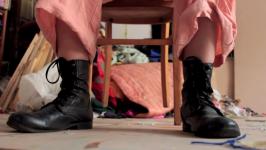 Andreja Džakušič - Survival Tactics
(00:42:40)
Production:
2011
Umetnice in umetniki spregovorijo o načinih preživetja, svojem težkem ekonomskem položaju in produkcijskih pogojih na področju sodobne vizualne umetnosti. Avtorica ohrani anonimnost sodelujočih s postavitvijo kamere na tla prostora, v katerem poteka pogovor. Video je bil predvajan na bienalni razstavi Jaz, tukaj, zdaj: pogled na likovno umetnost Slovenije 6 leta 2011.
Add to playlist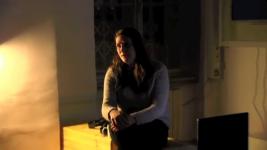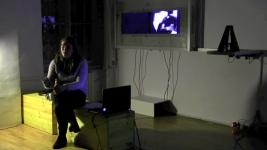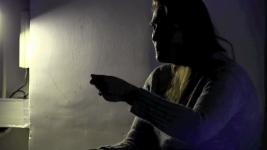 Sanela Jahić - Produktivna razmerja med človekom in strojem
(00:54:49)
Production:
SCCA-Ljubljana
,
2015
Razstava in predstavitev instalacije intermedijske umetnice Sanele Jahić z naslovom Tempo Tempo, v katerem avtorica raziskuje razmerje med človekom in strojem v odnosu do delovne produktivnosti in časa. Instalacija je bila prvič razstavljena v okviru nominacij za nagrado skupine OHO v Galeriji P74 maja lani. Tempo Tempo sestavlja dvokanalni video in kinetični objekt - metronom, ki sproža električno iskro. Sanela Jahić obravnava družbo in posameznika v njej kot tehnološka orodja. V tem delu govo...
Add to playlist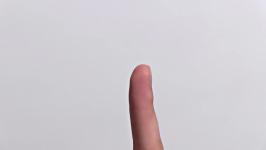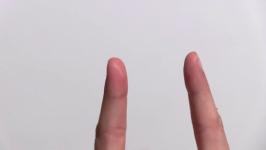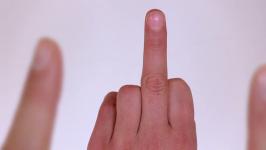 Ana Čigon - OHOHO
(00:01:30)
Production:
Ana Čigon
,
2015
Video se začne s posvetilom vsem organizatoricam in organizatorjem razstav, ki ne izplačujejo razstavnin. V ozadju se slišijo nerazločni glasovi različnih ljudi in blag ropot. Hrup spominja na zvoke z odprtja razstave. Posvetilo izgine, hrup se počasi poleže in v kader vstopi prst. Gledamo lutkovno predstavo, kjer gol kazalec, brez vseh rekvizitov, nadomešča lutko. Prvi nagovori druga dva in izkaže se, da gre za dirigenta in dva pevca tik pred nastopom. Po zvočnem znaku s taktirko sledi uvodni ug...
Add to playlist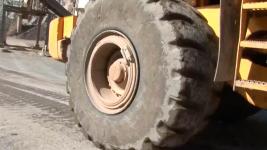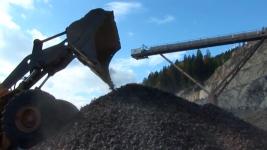 Nika Oblak & Primož Novak - 900 m3 Sand
(00:10:21)
Production:
Universitätskulturzentrum UNIKUM, Klagenfurt in cooperation with section.a, Vienna
,
2014
'900 m3 Sand' is a video installation created as a response to the specific site, a 1st world war cavern on mount Sabotin near Nova Gorica, Slovenia. The volume corresponds to the volume of the cavern dug out by soldiers mostly by hand in the course of 2 years. On Nika Oblak & Primož Novak's request a digger in a quarry composed a 900 m3 large pile of sand in a day. The action alludes to the absurd amount of the labor invested in constructing a battlefield and the pointlessness of warfare. (Source: Nika O...
Add to playlist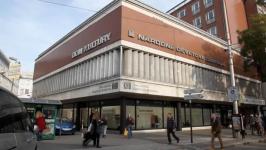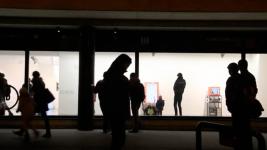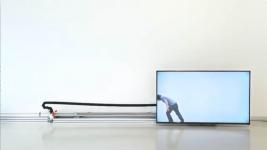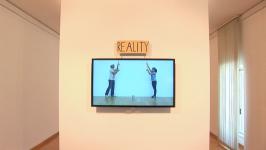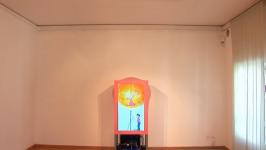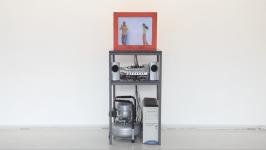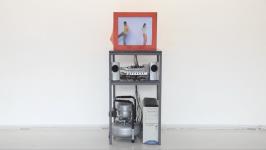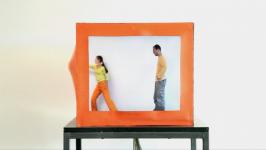 Nika Oblak & Primož Novak - The Box
(00:01:02)
Production:
2005
'The Box' is a kinetic video installation which shows Nika Oblak & Primož Novak being trapped, trying to escape to the outside. As they hit their fists against the walls of the interior surrounding them, trying to break through, each hit is visible, since the rubber bends outwards. The work is influenced by constant exposure to mass media messages and inability to avoid its effects. It evokes detachment, the possibility to exist outside prevailing systems. Oblak and Novak's attempt of escape is a reference...
Add to playlist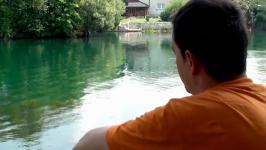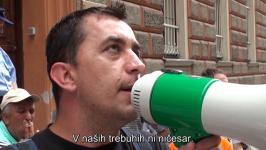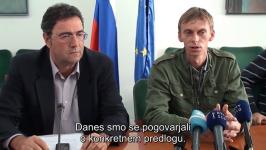 Nika Autor - In the land of bears
(01:12:33)
Production:
Obzorniška fronta
,
2012
In 2010 and 2011, the huge Slovenian construction sector, which employed more than 70,000 foreign workers, collapsed, leaving behind it debts, halted construction activities and exploited and unpaid workers. Most employed workers came from the territory of former Yugoslavia, especially Bosnia and Herzegovina. While the government silently watched the exploited, underpaid, unpaid and humiliated workers, the accumulation of wealth on one side led to the accumulation of indignation and resistance on the side o...
Add to playlist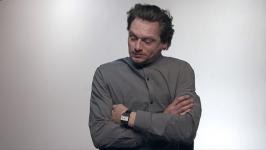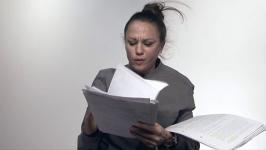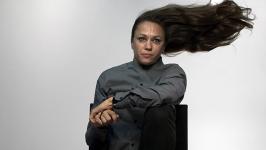 Lenka Djorojević, Matej Stupica - Free Fall
(00:21:30)
Production:
Zavod P.A.R.A.S.I.T.E.
,
2016
The video performance was first introduced as part of the installation entitled Free Fall in the P74 Gallery, Ljubljana in 2016. The solo exhibition was part of the OHO Young Visual Artist Award, which the authors received in 2015. The installation was designed as an empty office space with a video window. The entire room was rotated for 90 degrees. The video shows man and woman alternately (Primož Bezjak and Katarina Stegnar), dressed in a simple gray uniform, we see them frontally. At first glance, they...
Add to playlist