DIVA acting
20 results in works
ZANK, Zemira Alajbegović, Neven Korda - Podoba 5: Marko Kovačič
(00:39:45)
Production:
TV Slovenija
,
1993
An introduction of the artist Marko Kovačič: sculptures, involvement in the Ana Monro Theatre, videos. The interview was conducted by Zemira Alajbegović. The video features edited material taken from the artist's personal archives, the Ana Monro Theatre, VS Škuc-Forum and Brut Film. The video is a part of TV series Podoba by Zemira Alajbegović and Neven Korda ("The Image of Zemira Alajbegović and Neven Korda"), which was the most important contribution to original video production in the 1980s...
Add to playlist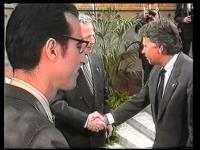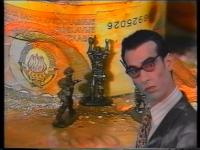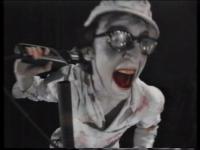 Marko Kovačič - No More Heroes Any More
(0:18:15)
Production:
V.S. VIDEO/Forum Ljubljana
,
1992
Video deals with the theme of war in a parodic and grotesque manner. With Chroma key procedure the two main protagonists or shall we say antagonists - evil and conniving political leaders are set inside a TV studio, where so called Royal game takes place. War battle metaphorically packed as a twisted game of chess, which sees real people as toys in the hands of malicious and greedy politics, is getting more and more insane and uncontrollable. Performative character of the video allows the actors to exagge...
Add to playlist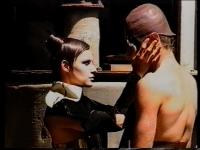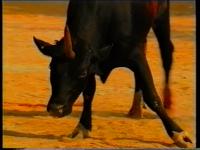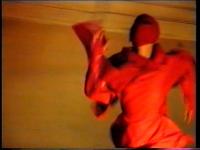 Ema Kugler - Hydra
(00:15:45)
Production:
V.S. Video, Forum Ljubljana, VPK
,
1993
Mythology in the video works by Ema Kugler is inscribed in rituals of everyday life; this time it is the theme of Hydra with many facets. The theme is represented by the separate scenes featuring human figures in leather costumes (created by the artist herself) that constrain their movements, thus emphasising their separation from nature. The last trace of their respective connection is shown in a ritual relationship between a man and a bull, although even this relationship involves man's deeply ingrained c...
Add to playlist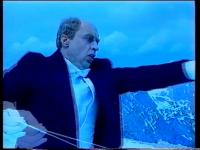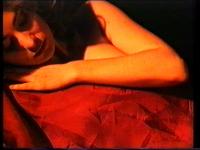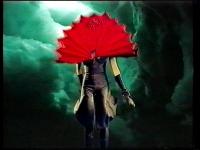 Ema Kugler - Postaja 25 / Station 25
(00:30:08)
Production:
Forum Ljubljana & VPK
,
1997
The artist continues with her main preoccupations: the relationship between a man and a woman, the irruption of the mythical into the rituals of everyday life. The video film uses the numerous potentials of electronic manipulation of the picture. The finest scenes are those of "morphing" (electronic transformation), where a figure from a painted canvas turns into an identical figure on the video screen, or the latter "freezes" into a figure on a fixed picture. The artist once again insists on the real natu...
Add to playlist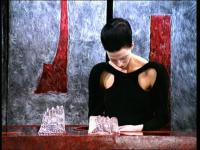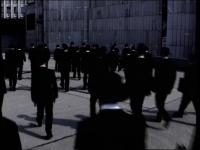 Ema Kugler - Homo Erectus
(00:43:28)
Production:
ZANK
,
2000
This video features no words, only music and images. Ema Kugler describes the moving images as: "They are like a dark, surrealist dance of everyman with his own death. I have seen all these images. They came from the darkness of my subconsciousness, colonized me and obsessed me." (Slovenian Film Fund) The video shows images, which together with the accompanying music give an impression of the infinite and the divine and being sucked into an abyss from where there is no return. The images bring us to...
Add to playlist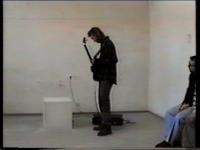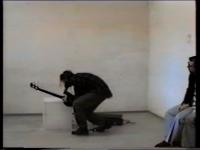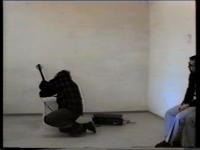 Damijan Kracina - Koncert za bas kitaro in gipsasto kocko
(00:01:04)
Production:
1995
The Concert for Bass Guitar and Plaster Cube was performed by the artist in 1993 at the Academy of Fine Arts in Ljubljana, where he studied sculpture between 1991 and 1995. The brief performance refers to the main issues of contemporary sculpture, exploring the relationship between the static nature of sculpting material and the experimental sound landscape. The performance projects several procedures which can be detected in the artist's later work, a mixture of experimental and elementary sculpture, ins...
Add to playlist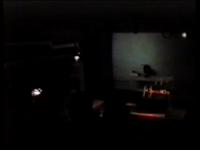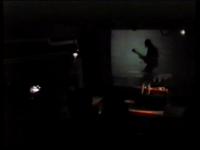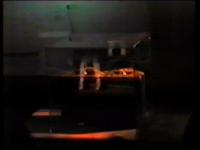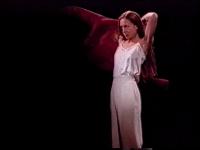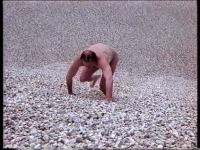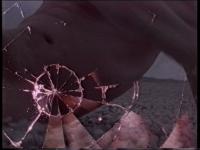 Nataša Prosenc Stearns - One Way
(00:05:31)
Production:
TV Slovenija
,
1995
A man and a woman aim to fulfil their desire for power, beauty, supremacy and other similar human attributes. The male and the female are represented through archetypal images: a strong man's body fighting against the crude force of nature, and a woman's body and its clothing reflected in a mirror. The video image presents these archetypes in duplicate, in slow-motion and replication, and thus it assembles the collective visual memory of human inclinations.
Add to playlist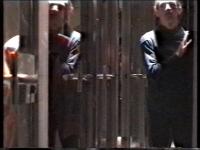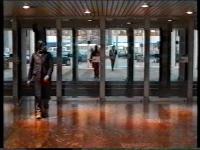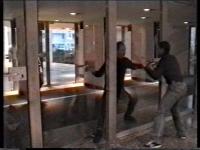 Apolonija Šušteršič - Entrance de Singel
(0:05:50)
Production:
1997
Javni plesni performans, izveden na lokaciji Vlaams cultureel centrum de Singel v Antwerpnu, Belgiji. Posnetki vstopanja v zgradbo in dogajanja pri notranjih vhodnih vratih kulturnega centra. Kamera je statična, posnetki so režirani in zmontirani - gre za plesni performans med vrati. Site specific zvočna intervencija.
Add to playlist
Miha Vipotnik - Videogram 4
(00:28:59)
Production:
RTV Ljubljana
,
1976/79
Video is a final result of a same named project conducted in Jakopič gallery, which was recorded by the author with five cameras. The study of the limits of video, using painting and performative elements, achieves an effect of an innovative and unique visual and sonic experience by exploring image and sound.
Add to playlist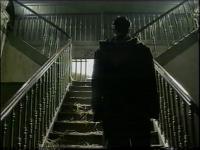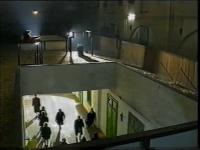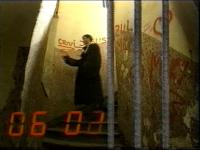 Jasna Hribernik - Stopnišče / Starcase
(0:16:07)
Production:
VPK, Ministrstvo za kulturo RS & Studio Ljubljana
,
1992
Two dancers, a man and a woman, present different human positions and movements in the space, and thus represent different times and spaces. The repetitive scenes of people walking around indicate the passage of time, while the fixed structure of the staircase delienates permanency.(source: Videodokument)
Add to playlist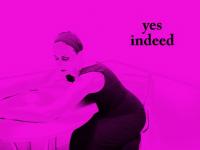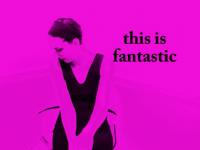 Evelin Stermitz - Table Talk
(0:02:35)
Production:
2008
In an exaggerated gender specific communication role, a woman is constantly giving positive encouragement towards an unseen male discussion partner, without having an own opinion, or something else to say then to support the counterpart. In this performative video work, a gendered communication role model is directed to an imaginary male opponent and describes how the usage of language can be defined as a relation and structure of power between the two social sexes.
Add to playlist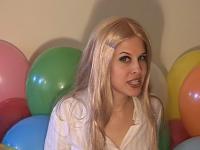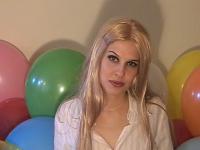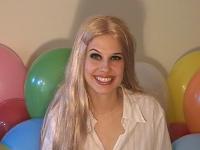 Nika Oblak & Primož Novak - Baby
(0:04:13)
Production:
2003
The video Baby shows a sexy blonde in a cheesy environment overflown by colorful balloons. She is posing in front of the camera and telling jokes about stupid policemen, which rather evoke jokes about stupid blondes. In the atmosphere filled by common stereotypes, simplified representations and sweet laughter, we can hardly find humor in the end and jokes become ironic and bitter. Baby explores the ideological structure of jokes and creates an ironic display of prejudice in society. (Source: oblak-novak.or...
Add to playlist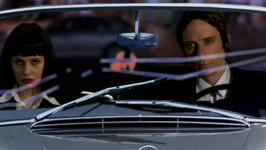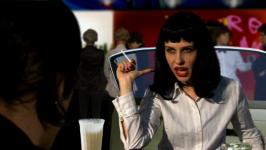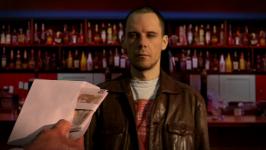 Nika Oblak & Primož Novak - Shund
(0:02:23)
Production:
2008
Shund is a frame by frame visually reconstructed original trailer of the movie Pulp Fiction. The entire trailer was reconstructed in the studio, using the technique of chroma key and simple props, like toy cars and guns, cardboard, paper… Nika Oblak & Primož Novak acted all parts. For the backgrounds of scenes they constructed photo collages, composed from photos mostly found on the internet. In this way Oblak & Novak subject themselves to the influence of mass media and materialize a common fascination...
Add to playlist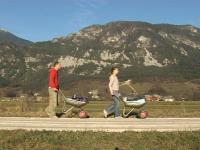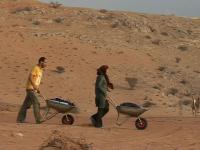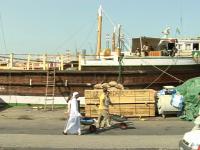 Nika Oblak & Primož Novak - Going South
(0:31:15)
Production:
Sharjah Biennial 9
,
2009
Going South is a fictional documentary based on an actual Guinness World Record. It presents stages of a fake, fabricated story about how Nika Oblak & Primož Novak achieve a world record by pushing wheelbarrows from Ljubljana to Sharjah for 14.500 km in 3 years and 12 days. The fictional documentary is a continuum of Oblak & Novak's exploration of media and capital driven society, exposing the media spectacle, and obsession with success and fame. It addresses the issues of global warming and environmental...
Add to playlist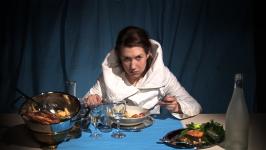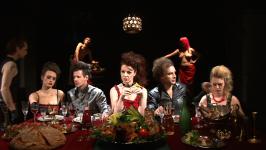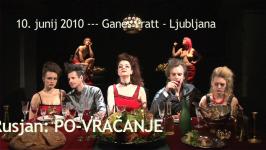 Pila Rusjan - Po-vračanje
(0:18:19)
Production:
Visoka šola za umetnost Univerze v Novi Gorici; Famul Stuart & KUD PUNce
,
2010
Delo Po-vračanje je dvokanalna video instalacija, ki sinhrono prikazuje dva vsebinsko in formalno povezana posnetka skozi specifično postavitev na način, da gledalec nikdar ne vidi obeh strani naenkrat, ter predstavlja metaforo posameznikovega podrejanja skupini oz. posameznikove vpetosti v širšo družbo. Videa sta posneta v studijskem okolju s popolnoma statično kamero, ki nepremično spremlja dogajanje v prostoru, razdeljenem na dve strogo ločeni strani. Osrednji motiv videa je slavnostna večerja...
Add to playlist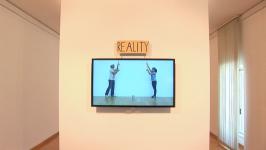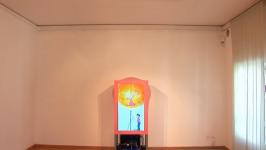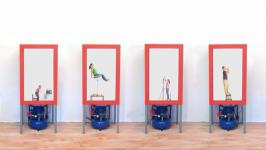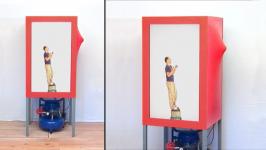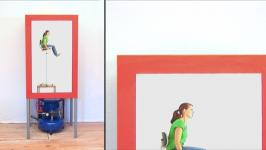 Nika Oblak & Primož Novak - Sisyphus Actions
(00:03:00)
Production:
2011
'Sisyphus Actions' is a kinetic video installation in which Nika Oblak & Primož Novak repeat monotonous, seemingly purposeless actions over and over. A surreal, absurd situation reflects contemporary global way of life, where people are trapped by daily routines and artificially produced consumerist needs. Software synchronizes custom designed pneumatic system with a particular video, thus transferring 2D video image into 3D actual space. (Source: Nika Oblak & Primož Novak) Co-production: SAIR – S...
Add to playlist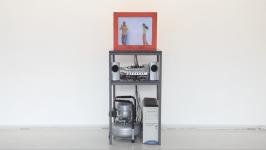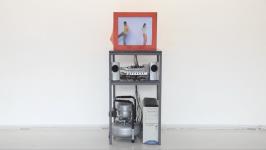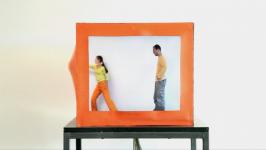 Nika Oblak & Primož Novak - The Box
(00:01:02)
Production:
2005
'The Box' is a kinetic video installation which shows Nika Oblak & Primož Novak being trapped, trying to escape to the outside. As they hit their fists against the walls of the interior surrounding them, trying to break through, each hit is visible, since the rubber bends outwards. The work is influenced by constant exposure to mass media messages and inability to avoid its effects. It evokes detachment, the possibility to exist outside prevailing systems. Oblak and Novak's attempt of escape is a reference...
Add to playlist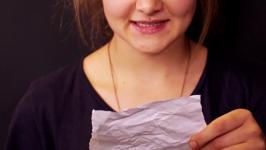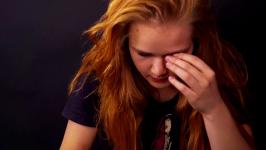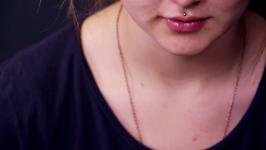 Maja Hodošček - Poem
(00:12:04 (trailer 00:02:03))
Production:
2015
For the first time a teenage girl is encountering a poem written by her high school colleagues – members of a school debate club wrote this particular poem. In the video we see how she reacts upon the written words by translating them in semi abstract sounds. Or she pics upon parts of the poem and tries to transform them into a new form, reading the words backwards or inventing them a new. She confronts herself with an unknown material, there is no reference on which she could depend on. Therefore she fin...
Add to playlist