DIVA improvisation
18 results in works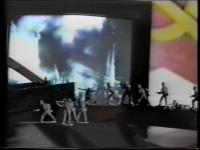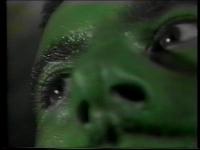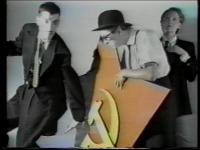 Marko Kovačič - Song of Flesh and Image Was Made Body
(00:15:56)
Production:
ŠKUC - Forum / koprodukcija Marijan Osole - Max
,
1985
The story of the narrative is based on genre crime fiction. The images are filled with citations from the history of art and cinema (Man Ray, S. Eisenstein) and are further stratified and multiplied. The dynamics of the image fraught with a typical cinematic suspence, is curtailed to the music ful of suspenz (Bernard Herrmann).
Add to playlist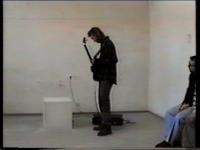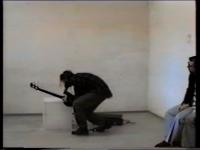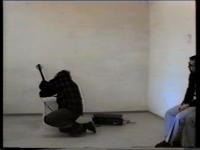 Damijan Kracina - Koncert za bas kitaro in gipsasto kocko
(00:01:04)
Production:
1995
The Concert for Bass Guitar and Plaster Cube was performed by the artist in 1993 at the Academy of Fine Arts in Ljubljana, where he studied sculpture between 1991 and 1995. The brief performance refers to the main issues of contemporary sculpture, exploring the relationship between the static nature of sculpting material and the experimental sound landscape. The performance projects several procedures which can be detected in the artist's later work, a mixture of experimental and elementary sculpture, ins...
Add to playlist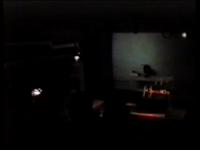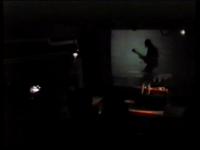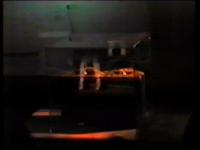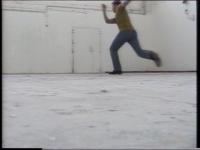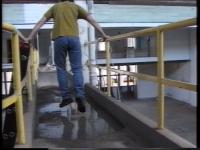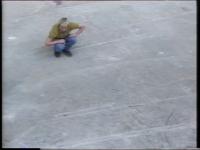 Miha Vipotnik - Videogram 4
(00:28:59)
Production:
RTV Ljubljana
,
1976/79
Video is a final result of a same named project conducted in Jakopič gallery, which was recorded by the author with five cameras. The study of the limits of video, using painting and performative elements, achieves an effect of an innovative and unique visual and sonic experience by exploring image and sound.
Add to playlist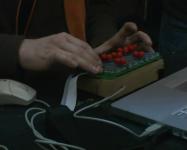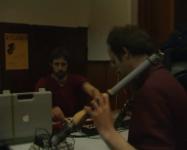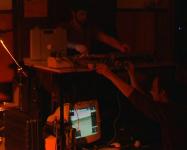 Borut Savski - Problemloss Orchestra
(00:04:52)
Subtitle:
pred nastopom v Berlinu
Production:
2006
Problemloss Orchestra je bila projektna skupina (Luka Prinčič, Matjaž Manček in Borut Savski), ki je nastopala v letih 2005 in 2006. Posnetek je z nastopa v Berlinu. Posnel je Neven Korda.
Add to playlist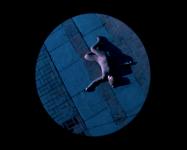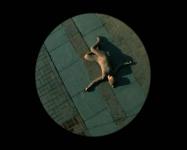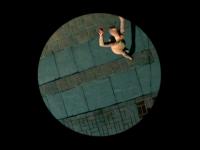 Maja Slavec - Revaluation
(00:42:19)
Production:
Partizanka
,
2008
Video polje je reducirano na krog. Reducirano zato ker je še vedno prisotna črna površina, ki tvori razliko do pravokotnika. Krožna oblika in snemanje s ptičje persepktive ustvarjajo klaustrofobično vzdušje in akterjem ukradejo volumen. Volumen tako beremo bolj preko senc, kot preko perspektive. Subjekti prihajajo in odhajajo iz krožnega polja, plesalcu pa je krog tudi celotno polje delovanja. Avtorica se sprašuje o stopnji avtonomije, ki jo ima posameznik v družbi.
Add to playlist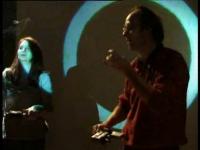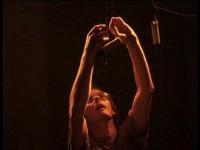 Borut Savski - Multimedia
(00:03:53)
Subtitle:
Mali
Production:
Borut Savski
,
2008
Omnibus dokumentarnih video in fotografskih posnetkov instalacij in performansov med leti 1999 in 2008.
Add to playlist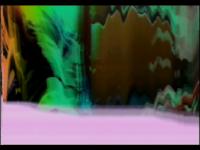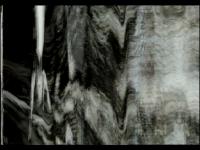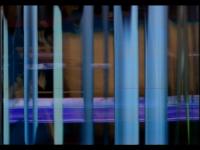 Luka Dekleva - Sen/za Televizijo/a
(00:28:38)
Production:
The video is a result of artistic collaboration with Miha Vipotnik during the Sen/za Televizijo/a project at Jakopič Gallery, marking 30 years to the date after the first transmission of Vipotnik's television video project Videograma 4 on May 4th, 1979. Dekleva's work is a re-make of Videograma 4. The image has been deformed with an oscillator in order to achieve an entirely abstract video, thus making the image and sound completely illegible and seemingly playing in a slowed down mode as though the Videog...
Add to playlist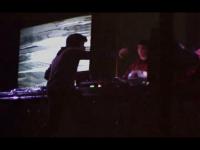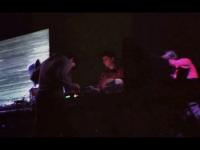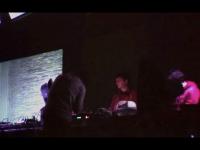 Luka Dekleva, Luka Prinčič, Miha Ciglar - Netmag08 Live
(00:05:22)
Production:
2008
Netmag08 Live je multimedijski dogodek, performans interakcije signalov in napetostnih polj. Že sama postavitev določa parametre video interakcij. Intervencija umetnika, ki s svojim telom preusmerja tok elektronov iz katodne cevi v zvočni izvor. Umetnik je posredovalec zvoka in video signalov, ima vlogo media, ki omogoča komunikacijo med zvokom in video signalom in vseh estetskih rezultatov, ki iz tega izvirajo.
Add to playlist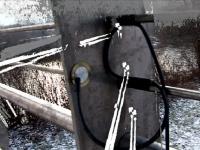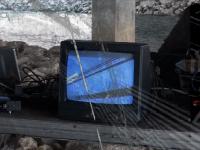 Luka Dekleva, Luka Prinčič - Singing Bizovik Bridge
(00:04:07)
Production:
Kapelica, Codeep. KinoDvor
,
2008
The authors created new contents and techniques by manipulating video and audio recordings of a bridge. In this video performance the sound is coming from the microphones mounted on cables and construction of the bridge. Thus, Jodi, Rose and Luka Prinčič combined the recorded sound material in a live event and a video of the bridge that has been simultaneously manipulated by Luka Dekleva. Artists escalate the presence of environmental sound, in order to expand the importance of sound architecture as the s...
Add to playlist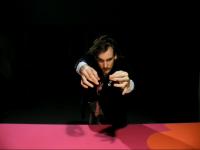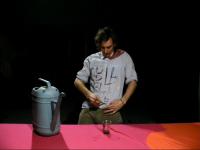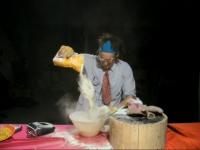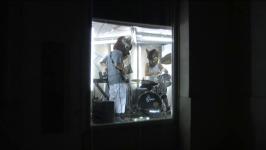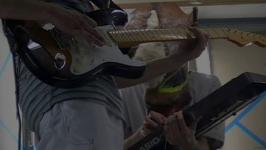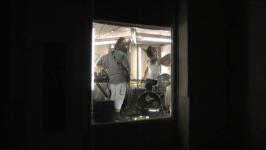 Mark Požlep - Maybe Weird and Dark but Certainly Alive
(0:05:00)
Subtitle:
Maybe Weird and dark but certainly alive; Never Exactly sure what i will find, never exactly sure what i will search; Is my cock big enough, is my brain small enough, for you to make me a star; Disco fever killed my beaver; It is never too late to have a
Production:
2010
Video predstavlja dokumentacijo glasbenega performansa ob otvoritvi razstave 'Maybe Weird and Dark but Certainly Alive' v galeriji Plevnik-Kronkowska v Celju. Skupina v volkodlake maskiranih glasbenikov v izložbenem oknu galerije izvaja hrupne minutne kompozicije (avtor Gašper Piano). Sleherna skladba kljub svoji instrumentalni naravi predstavlja refleksijo na določeno temo, saj so se izvajalci z zvokom odzvali na predlagane naslove: 'Maybe Weird and Dark but Certainly Alive', 'Never Exactly Sure Wha...
Add to playlist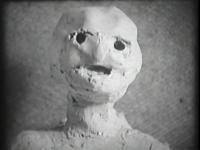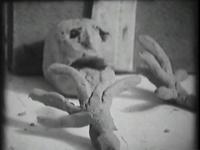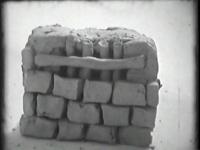 Zoran Srdić Janežič - Testing
(00:07:08)
Production:
Zavod za sodobne umetnosti in kulture Gulag
,
2010
Kompilacija različnih iz gline animiranih zgodb. Pristop avtorja je lahkoten in je podoben improvizaciji. Narativnost sledi določenemu ritmu, vendar zgodbe niso močno povezane v celoto. Sam naslov asociira na poskuse različnih kiparskih in animacijskih rešitev. Testing deluje kot nabor prizorov prototipov, ki napovedujejo neko večjo zgodbo, ki se mora šele realizirati. K temu prispevajo tudi občasni kratki prizori avtorjevih rok, ki določajo kadre.
Add to playlist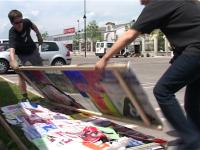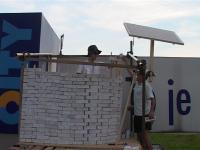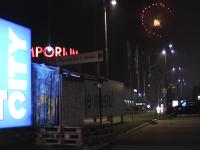 Sašo Sedlaček - Zanka / Loop
(00:05:56)
Production:
Galerija Kapelica
,
2004
Video prikazuje proces izdelave in uporabo stavbenega objekta, zgrajanega iz recikliranega materiala. Stavbeni objekt je mobilen in se lahko kot parazit postavi na različna urbana mesta, kjer s svojo amatersko radio postajo lahko uporabniku oddaja zvočne informacije iz okolja. Avtorjeva izbira mesta za instalacijo objekta je zelo sugestivna. V nakupovalnem centru, pod panojem "To je moje mesto", zveni projekt rahlo sarkastično. Umetnikov komentar je več kot očiten - ali v tem okolju potrošništva splo...
Add to playlist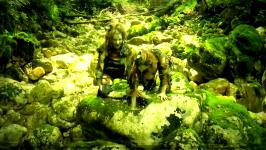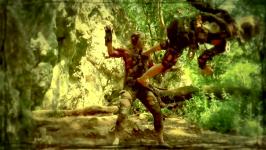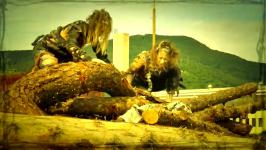 Katjuša Kovačič - Njavke: Crossed-Eyed Gazes
(00:14:53)
Production:
2015
Njavka je v slovanski mitologiji gozdno bitje ženskega spola. Predstavlja dušo deklice, ki je umrla nenaravne smrti. Njavke navadno živijo v skupinah globoko v gozdu ali v jamah, visoko v gorah. Dve njavki (performerki v animaličnem kostumu, ki posnema živalsko kožo, in v gibanju, ki je mešanica živalskega in človeškega) spremljamo v njunem naravnem, domačem okolju. Sledimo njunemu raziskovanju gozda: dotikamo se mahu na skalah, splazimo se v votlo drevesno deblo, ki je njun dom, oglašamo se...
Add to playlist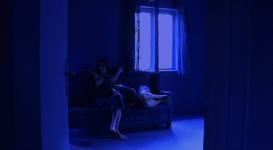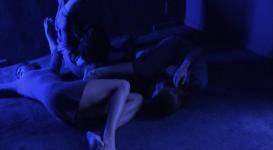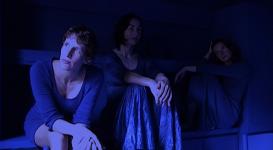 Evelin Stermitz - Blue House
(00:25:18)
Subtitle:
Dance Improvisation Performance
Production:
E.S.
,
2009
Dance improvisation by three female performers. They use their bodies to explore empty spaces in a blue house. The author links the blue color to the story of Bluebeard, which addresses violence against women. However, the house in the video is a safe place. Performers: Klaudia Ahrer, Tina Gressl, Judith Meister All music composed, performed and recorded by Elise Kermani, Copyright 2008, Licensed by BMI.
Add to playlist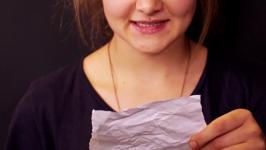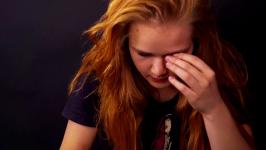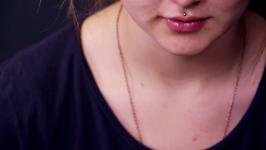 Maja Hodošček - Poem
(00:12:04 (trailer 00:02:03))
Production:
2015
For the first time a teenage girl is encountering a poem written by her high school colleagues – members of a school debate club wrote this particular poem. In the video we see how she reacts upon the written words by translating them in semi abstract sounds. Or she pics upon parts of the poem and tries to transform them into a new form, reading the words backwards or inventing them a new. She confronts herself with an unknown material, there is no reference on which she could depend on. Therefore she fin...
Add to playlist