DIVA capitalism
25 results in works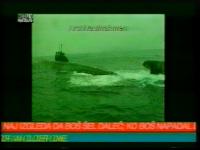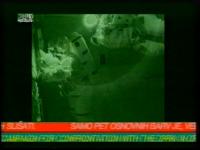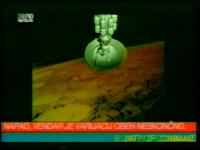 Marko Peljhan - The Park of Culture (TV situation)
(00:07:44)
Subtitle:
part of Media in Media exhibition
Production:
Projekt Atol, SCCA-Ljubljana, VPK
,
1996
If television bombards us with information, then this TV situation explicitly shows it. Images of earths' surface and human, especially technological activities on it are described in double captions, which look like stock quotes and differ in language (English and Slovene) and speed. The first line is describing, the second is explaining. The TV situation can be understood as a cradle for somebody discovering the world. The textual material is the translation of Sun Tzu's The Art of War and the compendium...
Add to playlist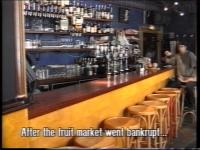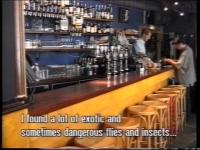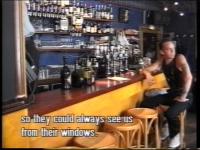 Apolonija Šušteršič - (Cre)Action Directe
(0:13:57)
Subtitle:
Intervju z Riek van der Kerchove
Production:
1998
Pogovor z ustvarjalcem in producentom Rickom van der Kerchovom. Kamera ne snema intervjujanca, ampak spremlja dogajanje v skoraj preznem baru v Luxemburgu. Pogovor je bil uporabljen za potrebe festivala Manifesta.
Add to playlist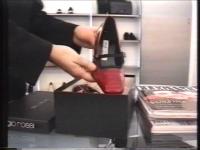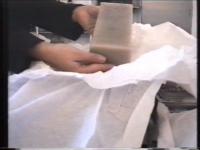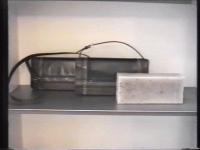 Apolonija Šušteršič - Production of Desire
(0:04:19)
Production:
Rijksakademie van beeldende kunsten Amsterdam
,
1997
The video clip relates handbags and shoes produced by world famous fashion companies (Armani, Gucci, etc.) to a brick of wax produced by Apolonija d.o.o. The material of the brick reveals the recycling procedure that characterises the entire artist's production. The video clip advertisement forms part of an installation placed in a prestigious shop. (VD)
Add to playlist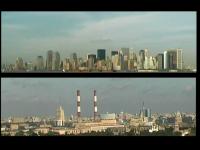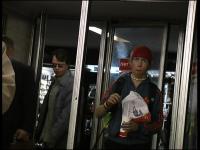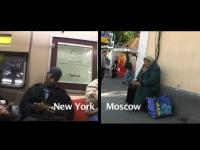 Zmago Lenardič, Jasna Hribernik - NewMoscowYork
(00:25:20)
Production:
White Balance
,
2004
The video is a humoristic comparison of two metropolises – New York and Moscow, where the life in the age of globalization is close to identical. Authors juxtapose similar scenes on two different channels. Each channel shows an urban silhouette with skyscrapers, triumphal arches and monuments of one of both cities. Scenes are followed by a lively music and a narration by a voice speaking English with a Russian accent reading highly ironical quotations from Little golden America, a work by humorists Ilya I...
Add to playlist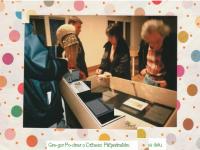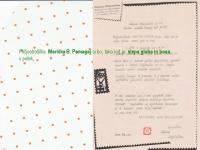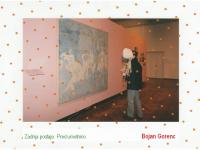 Milena Kosec - Marička B. Pomagaj ante portas
(00:09:10)
Production:
2009
Marička B. Pomagaj ante portas je umetniška akcija v okviru Državice Ptičjestrašilne. Njena državljanka Marička B. Pomagaj si je v petek, 5. januarja 2001, ob 17. uri s pomočjo asistenta Tomaža Trčka ogledala razstavo Vulgata, U3 – tretji trienale sodobne slovenske umetnosti, ki jo je kuriral Gregor Podnar. Državna inštitucija se v primeru U3 ni korektno obnašala do ustvarjalcev Državice Ptičjestrašilne, kar je izzvalo prepoved uporabe gradiva o Državici. Milena Kosec, takratna uradno...
Add to playlist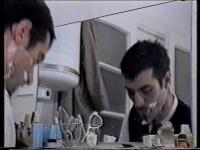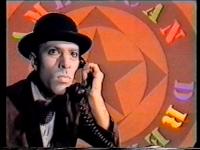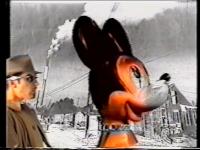 Marko Kovačič - American Dream
(00:06:43)
Production:
Brut film
,
1986
The hero first appears in real surroundings (the documentary effect), but in the next moment he finds himself in front of a rich fine-art scenery. The chroma-key effect is used to manifest some other world (the illusion of dreams). The scenery, however, does not give the impression of immobility, but appears dynamic because of the changing surfaces; this is enhanced also by the constant motion of the hero ceaselessly changing between two roles, the pursuer and the pursued, and thus presenting the Hollywood-...
Add to playlist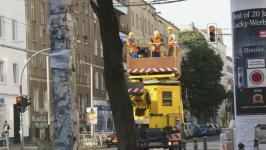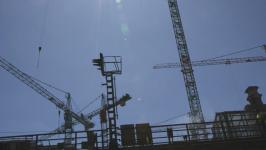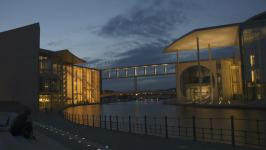 Amir Muratović - Impresija velemesta
(00:13:45)
Production:
Amir Muratović
Video je dokumentarna animacija zbranih fotografij Berlina. Avtor fotografira dogajanje v mestu in s tem ustvarja nov ritem velemesta, kar dobro izrazi predsodek o prenatrpanih in rastočih urbanih središčih. Urbani dogodki, ki so v vsakdanjem življenju postali skoraj neopazni, se skozi avtorjev pogled pokažejo v neki povsem novi obogateni estetiki. Še posebej to pride do izraza v pravilnih usmerjenih gibanjih, ki v ponavljajoči se animirani tehniki izpostavljajo red in tehnološkost velemesta.
Add to playlist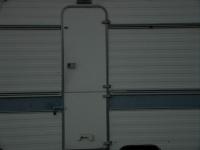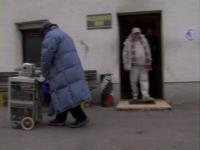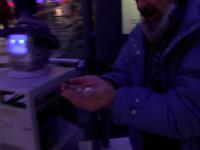 Sašo Sedlaček - Rent a Žicar / Rent a Beggar
(00:19:23)
Production:
2006
Dokumentarni video o problemu "žicanja" denarja. Umetnik ponudi pravemu žicarju robota, ki bo namesto njega opravljal sramotno prakso pridobivanja denarja. Zaradi simbolno-estetske kategorije robota ima le-ta to prednost pred žicarjem, da lahko vstopi v določene javne prostore, ki so žicarjem sicer prepovedani. A video ne kaže samo na probleme skupine ljudi, ki eksistirajo na margini družbe - robot predstavlja tudi strategijo izboljševanja žicarskih pogojev, predstavlja višjo učinkovitost, višjo...
Add to playlist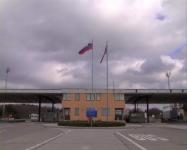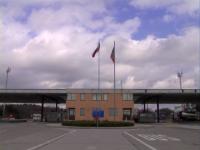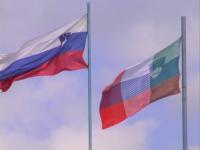 Sašo Sedlaček - Fernetiči / Fernetti
(00:05:59)
Production:
Video je del projekta Izgubljena ozemlja. Kader je statičen in prikazuje mejni prehod Fernetiči med Italijo in Slovenijo. Umetnik spremeni državne simbole na način, da združi zastave v novi digitalni verziji. Forme dveh držav so prisotne, a so vseeno slabo vidne in izginjajo v digitalni posplošitvi. Tako kot je absurdna meja med državami, je absurdna tudi znakovna distinkcija.
Add to playlist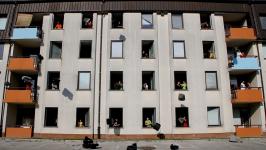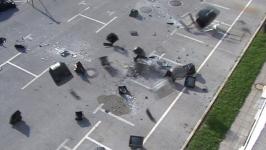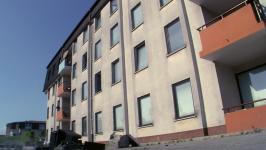 Sašo Sedlaček - Veliki izklop / The Big Switch Off
(00:01:48)
Production:
Aksioma
,
2011
The Big Switch Off is a part of Supertrash exhibition in which the artist problematizes mass destruction of worn out technological equipment and the dumping of it in the third world countries. In the video in question, characterized by a utopian touch, we follow opening and closing of windows of a big apartment building through which some of the tenants throw out cathodic TV receivers. The video gives a comment about introducing digital signal, which replaced the analogue one and as a result the devices, wh...
Add to playlist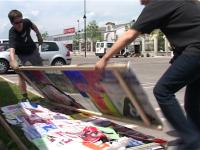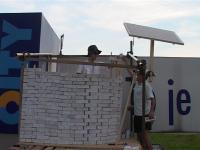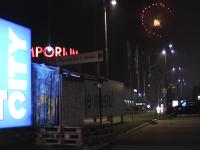 Sašo Sedlaček - Zanka / Loop
(00:05:56)
Production:
Galerija Kapelica
,
2004
Video prikazuje proces izdelave in uporabo stavbenega objekta, zgrajanega iz recikliranega materiala. Stavbeni objekt je mobilen in se lahko kot parazit postavi na različna urbana mesta, kjer s svojo amatersko radio postajo lahko uporabniku oddaja zvočne informacije iz okolja. Avtorjeva izbira mesta za instalacijo objekta je zelo sugestivna. V nakupovalnem centru, pod panojem "To je moje mesto", zveni projekt rahlo sarkastično. Umetnikov komentar je več kot očiten - ali v tem okolju potrošništva splo...
Add to playlist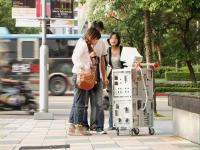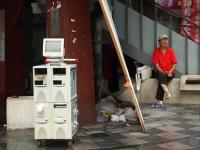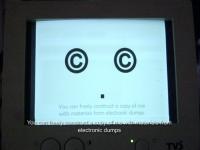 Sašo Sedlaček - Qi Gai
(00:16:16)
Production:
Robot-Žicar v azijskem gospodarskem središču - mogoče gre za najboljšo adaptacijo Sedlačekova projekta. Namreč, v boljšem okolju si ga ne bi mogli zamisliti. V tehnološko napredni državi je bil projektu z značilno robotično socialno noto uspeh zagotovljen. V stresnem hitrem in individualističnem okolju se funkcija Robota-Žicarja kaže v svoji pravi luči - pritegne pozornost s svojo tehnološko nedolžnostjo in tako opravi svojo funkcijo zbiranja denarja.
Add to playlist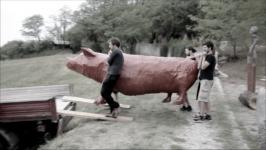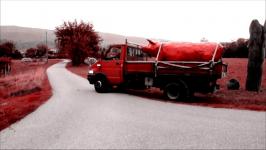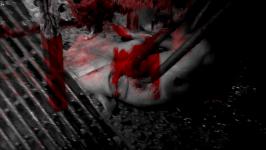 3kolektiv - Rezervoar "Svinja je umetnost in umetnost je svinja"
(00:04:18)
Production:
3kolektiv in Luka Kastelic
,
2012
Avtorski video je del celostnega projekta Rezervoar "Svinja je umetnost in umetnost je svinja". Prvi del projekta je bil podnaslovljen Rezervoar, izhajajoč iz definicije besede »rezervoár« po SSKJ, ki je zaprt prostor ali posoda za shranjevanje navadno večjih količin nečesa; zbiralnik, hranilnik. Video delo je montirani dokument prenosa objekta od lokacije njegovega izdelave v Biljah pri Novi Gorici do lokacije njegove postavitve v Ljubljani. Sama pot in dislociranje kipa je bilo izvedeno k...
Add to playlist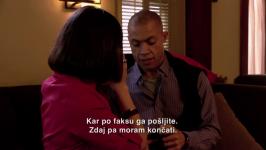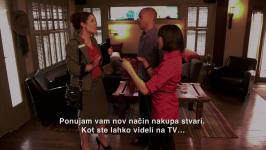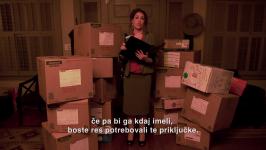 Nataša Prosenc Stearns - Our Twenty Minutes
(00:07:39)
Production:
2013
Kratki film o paru, ki si skuša med službo vzeti 20 minut za zasebnost. V njuno zgodbo prileti nepovabljena trgovska potnica, ki ju z neomajnim prepričevanjem poskuša opehariti. Zgodba se odvija s frontalnimi statičnimi kadri v notranjščini hiše.
Add to playlist

Nika Grabar - Interview: Marko Peljhan/Projekt Atol on video The Park kulture
Production:
SCCA-Ljubljana
,
2011
Interview with Marko Peljhan on TV situation Parc of Culture realised in frame of Media in Media exhibition project (SCCA-Ljubljana) in 1997.[Iz: From Consideration to Commitment: Art in Critical Confrontation to Society, on-line publication https://talkingcriticarts.wordpress.com/, Belgrade, Ljubljana, Skopje, Zagreb: 1990-2010; Publishers: SEEcult.org in cooperation with ForumSkopje; Kurziv - Platform for Matters of Culture, Media and Society; SCCA, Center for Contemporary Arts - Ljubljana / Artservis;...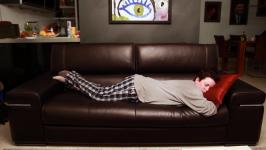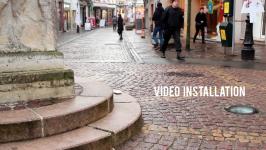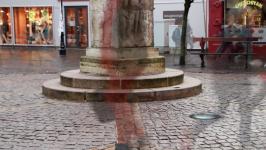 Valérie Wolf Gang - Artist Sleeping on The Street (trailer)
(03:00:00 (00:01:06))
Production:
Co-production: Famul VideoLab
,
2013
"Artist Sleeping on The Street" is a one channel video installation. LCD screen was put on the street of Belgium city Arlon and left there for couple of hours: the real time of the video in which the artist is sleeping. The goal of the video installation was to test the public for two things: firstly if they can notice a small detail on the street and secondly if they would stop and look at the artist sleeping or if they would turn their back on it. The result of the first test was expected but al...
Add to playlist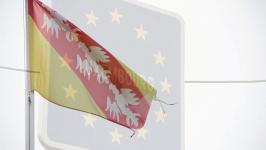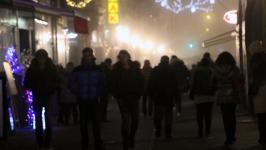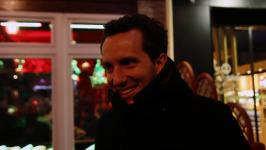 Valérie Wolf Gang - The Luxembourg Monster
(00:10:05)
Production:
2013
"The Luxembourg monster" is a video installation which combines different artistic techniques (graffiti, video, sound). It is also an art piece which plays with the perception of the public: What is the actual monster in the installation? Artists Valerie Wolf Gang researches new surroundings and culture in Luxembourg and questions locals about the personal and economic problems they face in their country. As a representative democracy with a constitutional monarch, Luxembourg is headed by...
Add to playlist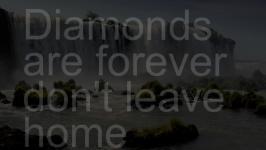 Vesna Bukovec - You can do it!
(00:02:46)
Production:
2010
The video consists of scrolling text and static image in the background. The text is compiled from various advertising slogans of famous international brands. Combined into a body of text these singular statements form new meanings with almost poetic connotations. It all sounds very nice and familiar. But the fusion of a beautiful scenic landscape slowly fading in and out in the background with the ominous soundtrack creates a strong contradiction and puts the kind harmonious text into perspective. The vide...
Add to playlist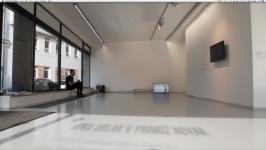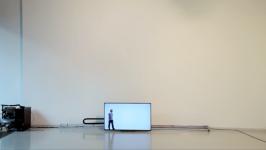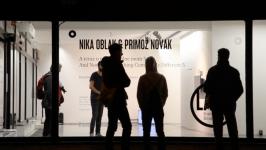 Nika Oblak & Primož Novak - Border Mover
(00:02:45)
Production:
Co-Production/Koproducent: MMCA Residency Changdong, National Museum of Modern and Contemporary Art, Seul, Južna Koreja
,
2015
'Border Mover' is a kinetic video installation made in co-production with MMCA Residency Changdong, National Museum of Modern and Contemporary Art, Seoul, South Korea, dealing with contemporary individual being trapped by overwhelming technology and routine of our everyday existence, which more and more resembles monotony of operating machines. It is playing with ideas of physical and psychical boundaries as the consequence of capitalistic, neoliberal globalization, where it seems dreams are impossible and...
Add to playlist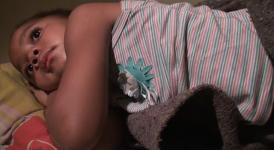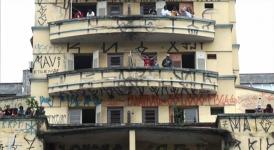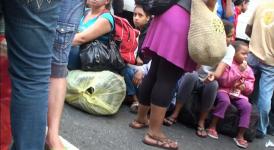 Pila Rusjan - Elisa, 5
(00:04:51)
Production:
2010
Elisa, 5 is a video about a girl who ends up on a street on her 5th birthday, is a video about reality of São Paulo, about the problem of homeless and social differences in the world. Video was produced in time of Traffic Jam #1 residency in São Paulo, Brasil. (Source: Pila Rusjan)
Add to playlist