DIVA sculpture
27 results in works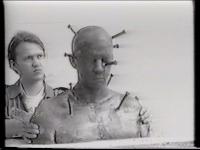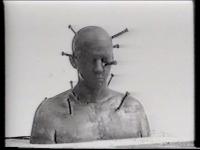 Damijan Kracina - Žeblji / Nails
(00:06:34)
Production:
Akademija za likovno umetnost, Ljubljana
,
1995
The black-and-white footage of a performance shot from a static camera dates to the time when the artist was studying at the Academy of Fine Arts in Ljubljana. The performer looks at sculpted busts, and hammers nails into them, seeking a way to examine the traditional sculptural format without employing a process of construction or deconstruction. The work is also humorous, as if the artist were trying to say that the sculpture is 'hammered' in the head.
Add to playlist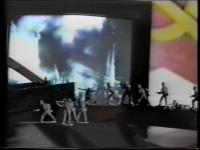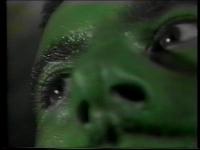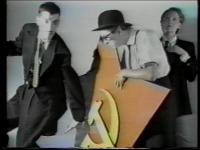 Marko Kovačič - Song of Flesh and Image Was Made Body
(00:15:56)
Production:
ŠKUC - Forum / koprodukcija Marijan Osole - Max
,
1985
The story of the narrative is based on genre crime fiction. The images are filled with citations from the history of art and cinema (Man Ray, S. Eisenstein) and are further stratified and multiplied. The dynamics of the image fraught with a typical cinematic suspence, is curtailed to the music ful of suspenz (Bernard Herrmann).
Add to playlist
ZANK, Zemira Alajbegović, Neven Korda - Podoba 5: Marko Kovačič
(00:39:45)
Production:
TV Slovenija
,
1993
An introduction of the artist Marko Kovačič: sculptures, involvement in the Ana Monro Theatre, videos. The interview was conducted by Zemira Alajbegović. The video features edited material taken from the artist's personal archives, the Ana Monro Theatre, VS Škuc-Forum and Brut Film. The video is a part of TV series Podoba by Zemira Alajbegović and Neven Korda ("The Image of Zemira Alajbegović and Neven Korda"), which was the most important contribution to original video production in the 1980s...
Add to playlist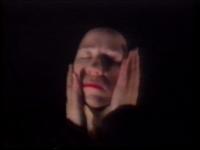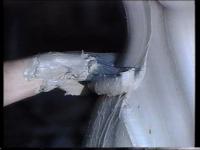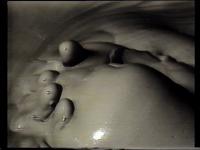 Jurij Korenc - Svetloba sence
(0:27:20)
Subtitle:
predstava Svetloba giba, svetloba sence
Production:
Cankarjev dom, Viba film, Studio 37
,
1987
The video shows the process of making a sculpture; static shots accompanied by dramatic ambient music show frozen and moving images of sculpting material – clay. The sculptress's hands begin to knead the material and shape it into a figurine. Hand movements are slow and quite elegant; the scenes change into an abstract, clouded image of dancing figurines which are becoming increasingly clearer. The end result of the process is a standing female nude.
Add to playlist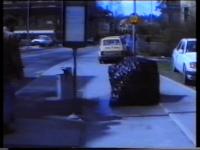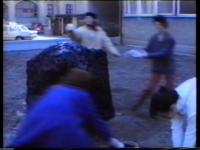 Damijan Kracina - Kocka / Cube
(0:03:39)
Production:
1995
A group event staged in public spaces - at a bus stop and in the garden of the Academy of Fine Arts in Ljubljana - took place on 22 March, World Water Day. The event was intended to draw attention to this day not by moralising, but by emphasising the joy of living. The main element in the video is a sponge cube with holes, which hides the artist. The water theme is further emphasised by the prevailing blue colour of the picture. The members of the group water the sponge at both locations – the bus stop an...
Add to playlist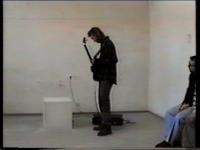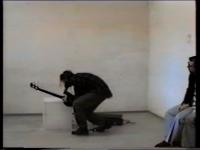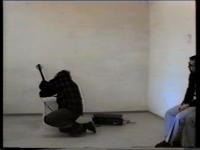 Damijan Kracina - Koncert za bas kitaro in gipsasto kocko
(00:01:04)
Production:
1995
The Concert for Bass Guitar and Plaster Cube was performed by the artist in 1993 at the Academy of Fine Arts in Ljubljana, where he studied sculpture between 1991 and 1995. The brief performance refers to the main issues of contemporary sculpture, exploring the relationship between the static nature of sculpting material and the experimental sound landscape. The performance projects several procedures which can be detected in the artist's later work, a mixture of experimental and elementary sculpture, ins...
Add to playlist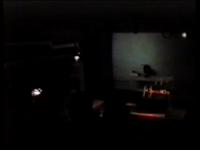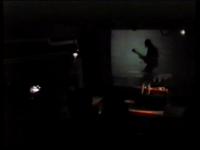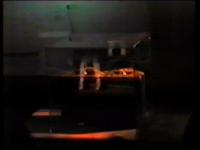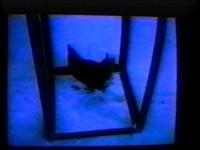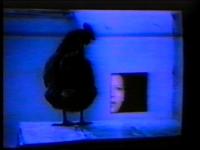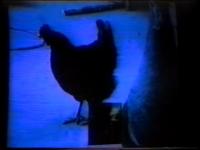 Damijan Kracina - Kurca / Little Hen
(00:02:55)
Production:
1996
The work was made in the studio of the sculpture department at the Academy of Fine Arts. A hen appears in the studio and waddles across the room. The prevailing colours of the image are various shades of blue. The hen is caught in a sculpture installation with a television set screening scenes from current Slovenian politics, with swastikas and church services. At the end, the picture completely disintegrates, with only the footage of the hen remaining, liberated from the media field/television. Animal righ...
Add to playlist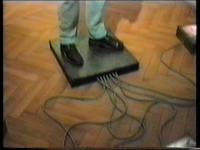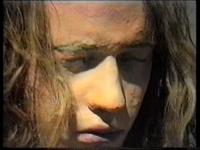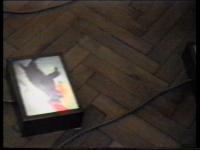 Damijan Kracina - Kracina TV
(00:06:24)
Production:
1995
A hyper-realistic latex sculpture of the artist stands in the middle of a room in Kapelica Gallery, where the artist first presented the installation. The sculpture's low pedestal is connected to seven monitors into which the figure gazes, while light boxes show photographs of cats run over by cars. The installation shows death doubled, or the absence of life. The cats are dead, and the statue, too, is lifeless. The images of dead cats not only draw attention to the cruel human attitude to animals and the...
Add to playlist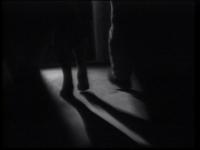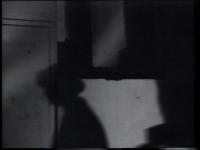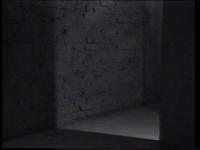 Nataša Prosenc Stearns - Vertikalni horizont
(0:03:20)
Production:
TV Slovenija
,
1994
The video film replicates the labyrinth presented in the installation of the same title. Bricks are placed on the floor, and they pass into the labyrinth on the screen. The figures never come from 'behind the walls' of the labyrinth, we can only hear the sound of their fleeting steps.
Add to playlist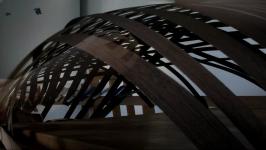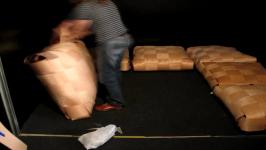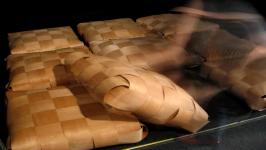 Amir Muratović - Napeto v kabinetu
(00:01:00)
Production:
2007
Video rekonstruira proces nastajanja umetniškega dela Irene Romih za razstavo v Kabinetu, ki je med letoma 2005 in 2008 gostoval v degradiranem dvoriščnem prostoru Galerije Škuc na Starem trgu 21 v Ljubljani. Kabinet je razvilo Društvo za domače raziskave za potrebe svojega delovanja kot premični razstavni prostor, ki je občasno gostil tudi druge umetnike. Umetnica Irena Romih je portretirana v različnih zankah, njeno telo pa je tako "vpeto" v prostor, ki ga določajo skulpture.
Add to playlist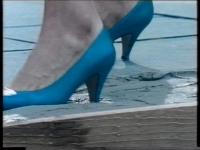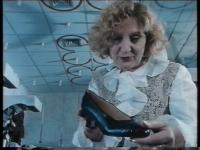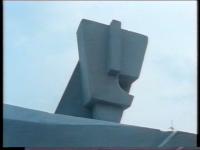 Nataša Prosenc Stearns - Betonski človek
(0:15:29)
Production:
TV Slovenija
,
1995
A woman's shoe gets stuck in concrete in the middle of the city. Her usual rhythm of life is disturbed. She is impatient to solve the problem. But a string of unexpected events interferes with her plans. Her world of fast living, obligations and errands turns into a pilgrimage to find the lost shoe... until she finally gives into the flow of events. At the end of the film she finds the shoe, which has by now lost its role as the primary motive for her search.
Add to playlist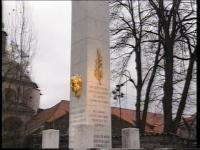 Sašo Podgoršek, Igor Zabel - Ceci n'est pas Paris
(00:03:55)
Production:
1991
Plečnik's Ilirski steber (Illyrian Column) in Ljubljana, a historical link between France and Slovenia, condensed into a visual gift intended for former French Culture Minister, Jack Lang.
Add to playlist
ZANK - ZMR
(00:03:49)
Production:
FV Video, ŠKUC Forum
,
1985
Video work is a somewhat atypical video for a song by a group borghesia: static, monumental, melancholic. Author recreates an urban space by combining empty recordings of modern and neoclassical architecture. A lonely female figure almost constantly poses statically is placed inside a completely utopic atmosphere. This surrounding totally deadens the only present character, reduces it to a state of sculpture, where the vividness of the skin and minimal movement is barely noticeable. Borghesia (1983 - 1939)...
Add to playlist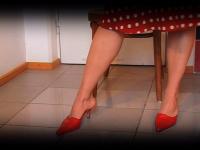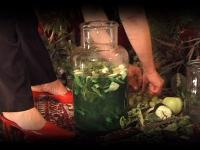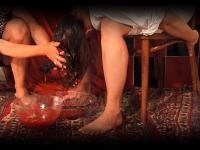 Duba Sambolec - Collectors #3
(00:30:55)
Subtitle:
*Settings*
Production:
Duba Sambolec
,
2002
Video deals with the dynamics in a personal service sector through a series of scenes displaying body care in a satirical manner. Scenes are set in doubles. The woman offering the service is preparing the cosmetic specimens and in the next scene she uses them to treat her client. Scenes of preparations are accompanied with whistling dictating an optimistic working atmosphere. Video Collectors #3 is a reflection of the author about a personal profile, some sort of auto portrait placing the viewer into Othe...
Add to playlist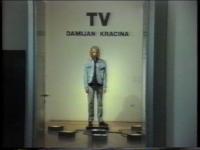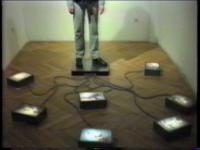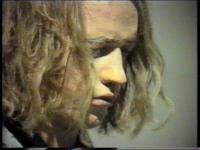 Damijan Kracina - Kracina TV
(00:05:48)
Production:
1995
Hiperrealističen kip avtorja iz lateksa stoji sredi prostora v Galeriji Kapelica, kjer je umetnik prvič postavil instalacijo. Nizek podstavek kipa je povezan s sedmimi monitorji, v katere je uprt pogled figure. Na svetlobnih objektih so prikazane fotografije povoženih mačk. Instalacija prikazuje dvojno smrt oziroma dvojno odsotnost življenja. Mrtve so povožene mačke, neživ pa je tudi kip umetnika. S podobami mrtvih mačk umetnik ni opozoril zgolj na krut odnost človeka do živali, na davek človeko...
Add to playlist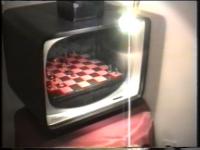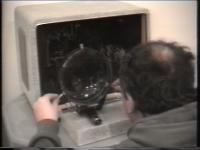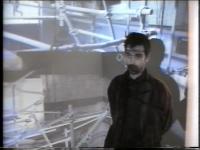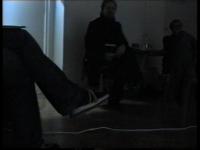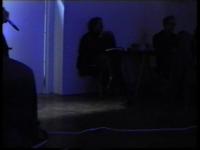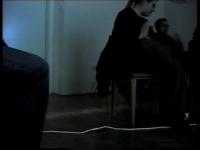 Čajanka za sodobno umetnost - Javni spomeniki v začetku 21. stoletja
(01:57:03)
Production:
KUD Mreža, Galerija Alkatraz, Zavoda GULAG
,
2006
Čajanke za sodobno umetnost so bila mesečna srečevanja, ki so vzpostavljala diskurzivno in dialoško situacijo na področju sodobne umetnosti. Odprte so bile za vse, ki so si želeli konstruktivnega dialoga in poglabljanja ter izmenjave znanja o aktualnih temah v polju sodobne umetnosti. S pomočjo čajank za sodobno umetnost so njeni pobudniki (Petja Grafenauer Krnc, Jadranka Ljubičič in Zoran Srdič) spodbujali k prepotrebni komunikaciji v svetu umetnosti slovenskega prostora. 13. november 2006 sta Z...
Add to playlist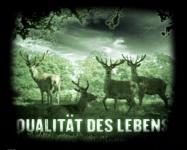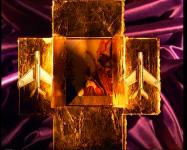 Sašo Podgoršek - Tanz mit Laibach
(0:03:29)
Production:
Mute Records
,
2004
Video for a song Tanz mit Laibach by Laibach group places the lead singer of the group in front of different backgrounds showing symbols and scenes from Slovene art and history. Occasionally the scenes exchange with recordings shot at the group's concerts.
Add to playlist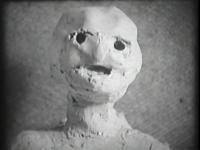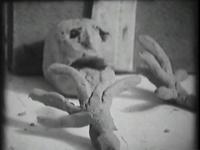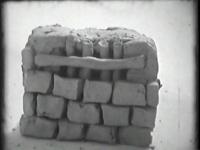 Zoran Srdić Janežič - Testing
(00:07:08)
Production:
Zavod za sodobne umetnosti in kulture Gulag
,
2010
Kompilacija različnih iz gline animiranih zgodb. Pristop avtorja je lahkoten in je podoben improvizaciji. Narativnost sledi določenemu ritmu, vendar zgodbe niso močno povezane v celoto. Sam naslov asociira na poskuse različnih kiparskih in animacijskih rešitev. Testing deluje kot nabor prizorov prototipov, ki napovedujejo neko večjo zgodbo, ki se mora šele realizirati. K temu prispevajo tudi občasni kratki prizori avtorjevih rok, ki določajo kadre.
Add to playlist