DIVA metal
4 results in works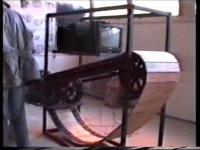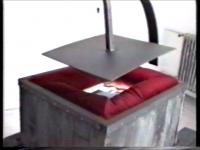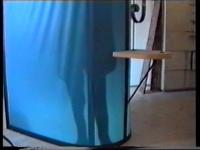 Darij Kreuh - Mine Mind Do you Mind
(00:03:18)
Subtitle:
Imena skulptur: Treadmill, Push it, Cabine
Production:
1993
Posnetek serije skulptur, ki delujejo kot nihala. Gre za interaktivno delo predmeta s predmeti in za dokumentarne posnetke iz razstave, v katere montaža minimalno poseže. Kamera posega v različne kote eksponatov, zato da jih lažje - razločneje vidimo.
Add to playlist
Duba Sambolec - Lights & Pipes
(00:05:22)
Subtitle:
NoHomeVideos©
Production:
Duba Sambolec
,
2000
The authors put on the camera and film lights and pipes with one of them filming and the other holding her. The situation is entertaining for both of them, as we hear them laughing. The first one dictates hot the other should hold her in order for her to move up and film the lights and pipes. Movement of the hand held camera is impulsive, fast and improvised. NoHomeVideos© video performances, altogether created 14 by the author, are dealing with the experience of being manipulated by the agents of powe...
Add to playlist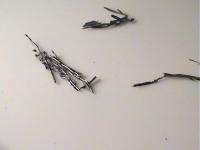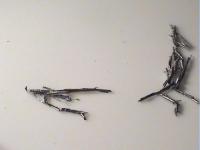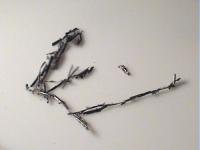 Uršula Berlot - Privlačnosti / Attractions
(0:56:43)
Production:
2005
Video has a simple concept, as it works like a primitive animation based on magnetism. The presence of some higher power is actualized indirectly, through a movement of small iron particles. Shapes that are formed by the movement of an invisible magnet are seen as a process of concretizing images. But concrete, suggestive shapes are never formed and therefore the viewer is left to his own imagination and brings these abstract forms to some personal space.
Add to playlist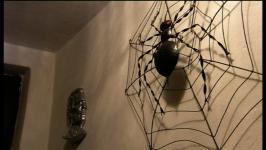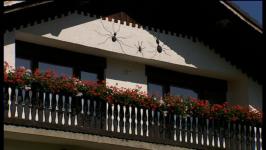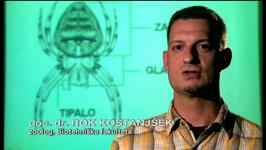 Amir Muratović - Domači pajek
(00.27:47)
Production:
RTV Slovenija
,
2009/2010
Dokumentarec o raziskavi Društva za domače raziskave, ki se ukvarja z etnološkim fenomenom fasadnih pajkov. Zakaj, na dokaj endemskem področju, tako nenavaden element? Raziskava je podrobno obdelala različne sociološke faktorje, ki so skupaj pripeljali do pomembne produkcije enostavnih kovinskih pajkov. Raziskava se je zaključila z razstavo v Knjižnici Kolodvor v Ljubljani leta 2009.
Add to playlist