DIVA skin
12 results in works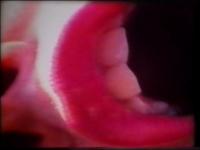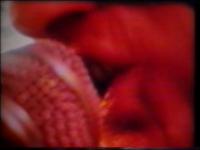 Sašo Podgoršek - Cry Baby
(00:03:26, 00:02:55)
Production:
Nord Cross Production
,
1993
Music video for the song Cry Baby of Slovenian group Demolition Group.
Add to playlist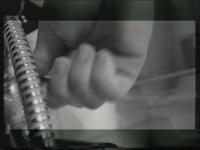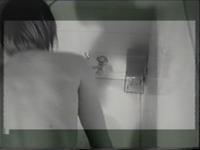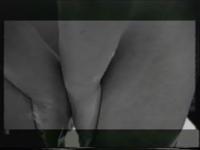 Mirko Simić - Do you hear the sound of silence
(00:03:02)
Production:
Bris & V.S. Video / Forum Ljubljana
,
1992
A black and white video which builds on the details of the body under the shower. The images are not disturbed either by sounds or music because - as the title says - only the silence can be heard. That the eye of the video camera is always voyeuristic is best illustrated by the detail of the bath drain, a fetishistic and 'psychotic' object of the greatest voyeur among film directors - Hitchcock. (VD)
Add to playlist
Duba Sambolec - I Do Remember
(00:22:11)
Subtitle:
NoHomeVideos©
Production:
Duba Sambolec
,
2000
Video performance starts with they descend of women down a wooden stair case into a factory space full of metal constructions. Women are wrapped in long colourful clothes. They then walk on a metal net. They all carefully choose their steps, some of them sit down. Close-ups of colourful clothes and separate parts of women's bodies and skin. Camera circles the space, follows women's movement, we occasionally hear sounds of rattle. The set changes and a scene on a factory balcony is played out. Women lean ove...
Add to playlist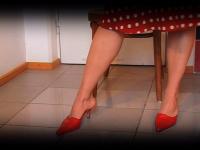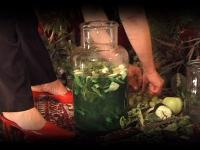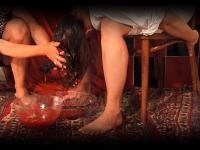 Duba Sambolec - Collectors #3
(00:30:55)
Subtitle:
*Settings*
Production:
Duba Sambolec
,
2002
Video deals with the dynamics in a personal service sector through a series of scenes displaying body care in a satirical manner. Scenes are set in doubles. The woman offering the service is preparing the cosmetic specimens and in the next scene she uses them to treat her client. Scenes of preparations are accompanied with whistling dictating an optimistic working atmosphere. Video Collectors #3 is a reflection of the author about a personal profile, some sort of auto portrait placing the viewer into Othe...
Add to playlist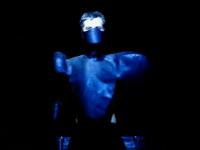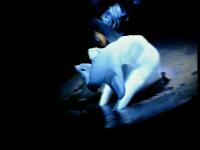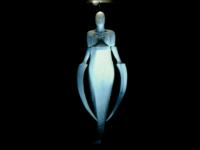 Ema Kugler - Tajga / Taiga
(00:08:22)
Production:
Forum Ljubljana & VPK
,
1996
Video Taiga is made after eponymous performance carried out at the international festival of contemporary arts City of women in October 1995 in Ljubljana. The viewer enters a dark atmosphere, dictated by dramatic vocal-electronic music, threatening anthropomorphic and wax zoomorphic figures and the movement of the camera. When the author establishes the landscape, she inserts two wrestlers and a drowning woman into it, additionally increasing the suspense. As the dramaturgy reaches its peak, the set scene...
Add to playlist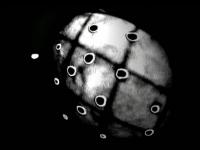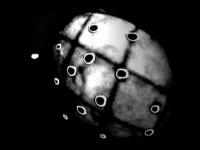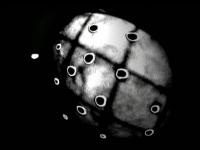 Robertina Šebjanič - Bubble I
(0:01:00)
Production:
2007
Video work is a display of unknown stylized objects, by which the author establishes a sensual and intimate atmosphere. Unidentified, unusual, soft, moving matter reminds of a living creature, an organ or a completely irrational, inorganic object unable to identify. Video is accompanied by an ambient sound.
Add to playlist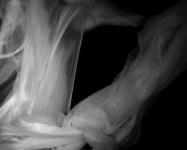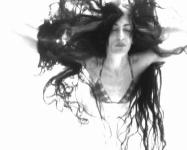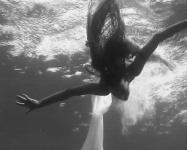 Mirjana Batinić - Meduza
(00:04:36)
Production:
Mirjana Batinić
,
2006
Avtorica v videu in skozi video relizira neki novi način lastnega obstoja. Medij vode uspostavlja breztežinsko stanje in omogoča lahkotno gibanje telesa v vseh smereh. Telo avtorice plava na način meduze, gre torej za proces depersonifikacije. Video kombinira tri različne rešitve svetlobe: osvetljeno telo na črnem ozadju, zatemnjeno telo na belem ozadju in nevtralno polje sivih tonov.
Add to playlist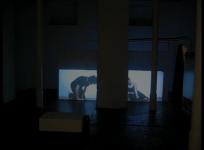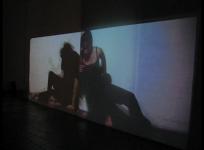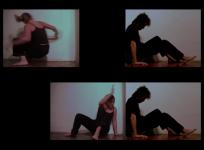 Ana Čigon - Perspective
(00:05:07)
Subtitle:
Video Installation
Production:
Ana Čigon, Galerija Alkatraz
,
2010
Delo je enokanalni video, ki združuje dokumentacijo večkanalne videoinstalacije v galeriji Alkatraz z originalnimi posnetki. Performans za video je bil predhodno posnet v prostorih galerije in nato predstavljen na treh dvo-kanalnih projekcijah v zanki. V videu se izmenjujejo posnetki prostorske postavitve z originali, ki so sestavljeni tako, da je znotraj enega kadra več posnetkov, ki simulirajo prostorsko postavitev. Video spominja na delo One more kick iz leta 2009, vendar ni njegovo nadaljevanje, am...
Add to playlist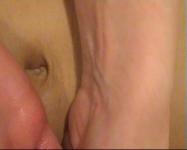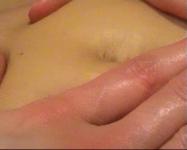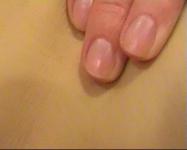 Aleksandra Saška Gruden - Bijem
(00:03:55)
Production:
2005
Na videu je posnet goli trebuh, v sredini se vidi popek preko katerega počasi v krožnih gibih polzita roki. Masiranje trebuha povzroča, da se koža guba in razteguje in ustvarja enakomerno gibanje tkiva pod dlanema. Kratek video je izsek enournega posnetka masaže golega ženskega telesa, ki je bil ustvarjen za projekt video poezije (Vesna Spreitzer, MKC Maribor). (Source: A. S. Gruden)
Add to playlist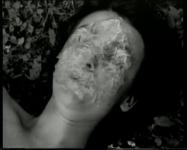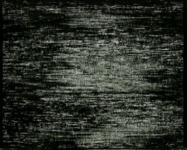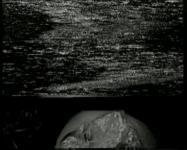 Aleksandra Saška Gruden - Self-portrait
(00:01:54)
Production:
2001
The video shows the artist wearing a see through mask, which partially covers and deforms her face. A slow rotating camera and the disruption created by the movement add a grotesque and secretive atmosphere to the recording. The black-and-white video is occasionally covered by the disruptions in colour spots, which bring a premonition of a crossing into another reality. (Source: A. S. Gruden)
Add to playlist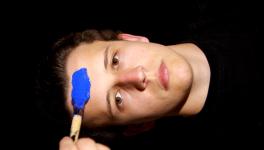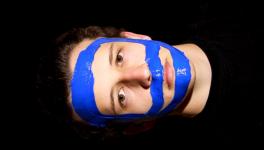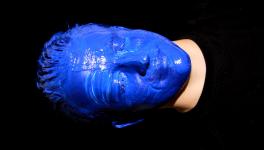 Valérie Wolf Gang - Dali's blue (trailer)
(00:15:00 (00:02:23))
Production:
2013
Dali's blue is video installation by Valerie Wolf Gang inspired by the Salvador Dali's picture Galatea of the Spheres. In the video Valerie is painting the face of a young man blue and the video is projected on white balloons suspended from the ceiling. Balloons are set in different layers so the projection becomes three dimensional in space and it degrades the video image in smaller parts which became it's own separate videos. If you look at the projection from the frontal part you can see a young man an...
Add to playlist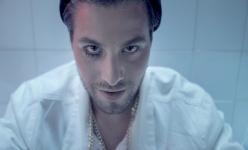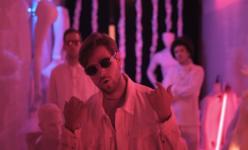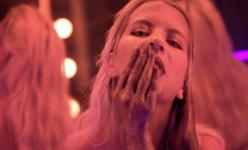 Katarina Rešek - Anakonda (Matter)
(00:04:40)
Production:
2016
Music video for song Anakonda by Matter is visually partly inspired by the film A Clockwork Orange by Stanly Kubrick. Members of the band are seen in the video, joined by KUKLA as guest artist (also the author of the video). Most of the scenes are shot in various illuminated interiors. Later members of the band find themselves in a tunnel and then in the exterior with a burning car in the background. The mysterious text is complemented by a carnival visual imagery with expressive makeup and clothing. Everyt...
Add to playlist