DIVA beauty
21 results in works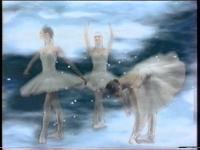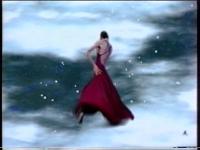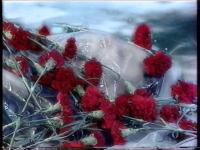 Jasna Hribernik, Zmago Lenardič - Elsa und Lohengrin
(0:03:15)
Production:
VPK
,
1997
A variation on Wagner and his opera Lohengrin. There is no Wagnerian hero, but a ballerina dancing to the opera, which later transforms into a modern song, and the ballerina also turns into a modern dancer. Both dancers, however, resemble a woman covered with roses and lying under transparent plastic - Snow White, or Laura Palmer? (source: Videodokument)
Add to playlist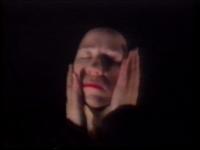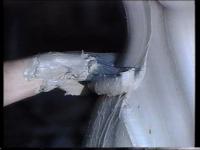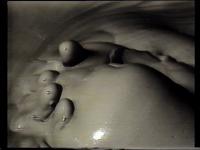 Jurij Korenc - Svetloba sence
(0:27:20)
Subtitle:
predstava Svetloba giba, svetloba sence
Production:
Cankarjev dom, Viba film, Studio 37
,
1987
The video shows the process of making a sculpture; static shots accompanied by dramatic ambient music show frozen and moving images of sculpting material – clay. The sculptress's hands begin to knead the material and shape it into a figurine. Hand movements are slow and quite elegant; the scenes change into an abstract, clouded image of dancing figurines which are becoming increasingly clearer. The end result of the process is a standing female nude.
Add to playlist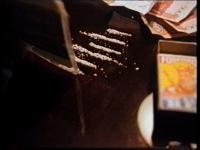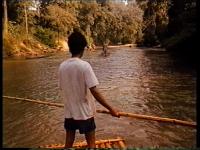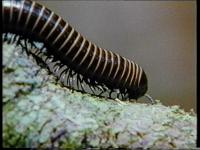 Andrej Lupinc - V 8. minutah okoli sveta / In 8 Minutes around the World
(00:09:38)
Production:
TV Slovenija, filmski laboratorij
,
1990-2000
The documentary video patchwork with shots from various places in the world that the author visited while working as a cameraman at Slovenian national TV station in the span of ten years. Diversity of aesthetics is visible through a compilation of shots from different continents. A stable rhythm that runs through the whole video unifies all different scenes and brakes the seeming symbolic differences. The video would work as an ideal visualisation of Levi-Strauss's anthropological theory developed in his bo...
Add to playlist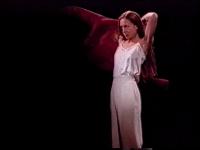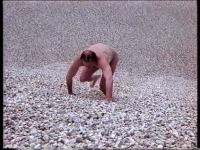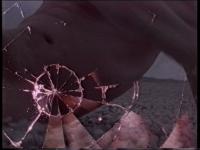 Nataša Prosenc Stearns - One Way
(00:05:31)
Production:
TV Slovenija
,
1995
A man and a woman aim to fulfil their desire for power, beauty, supremacy and other similar human attributes. The male and the female are represented through archetypal images: a strong man's body fighting against the crude force of nature, and a woman's body and its clothing reflected in a mirror. The video image presents these archetypes in duplicate, in slow-motion and replication, and thus it assembles the collective visual memory of human inclinations.
Add to playlist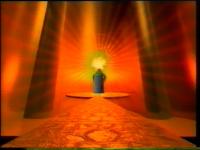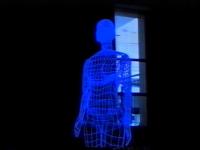 Sašo Podgoršek - The Model
(00:04:58, 00:05:14)
Production:
Nord Cross Production, Mute Film, TV Slovenija
,
1994
Music video for the song The Model, cover of legendary Kraftwerk, by the Slovenian band Demolition Group.
Add to playlist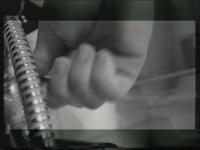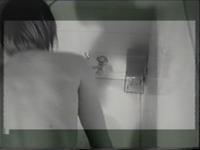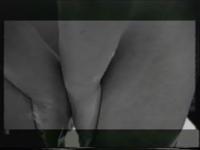 Mirko Simić - Do you hear the sound of silence
(00:03:02)
Production:
Bris & V.S. Video / Forum Ljubljana
,
1992
A black and white video which builds on the details of the body under the shower. The images are not disturbed either by sounds or music because - as the title says - only the silence can be heard. That the eye of the video camera is always voyeuristic is best illustrated by the detail of the bath drain, a fetishistic and 'psychotic' object of the greatest voyeur among film directors - Hitchcock. (VD)
Add to playlist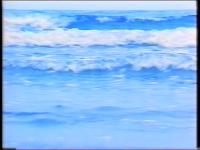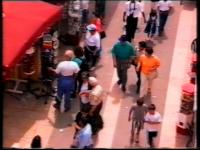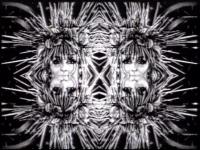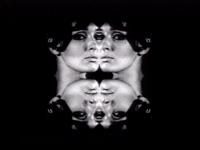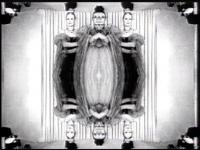 Zemira Alajbegović - Vortex
(00:04:04)
Production:
TV Slovenija
,
2000
Music video of Iztok Turk (dj plasma). Vortex is a video limited to rigid symmetrical space which nevertheless shows an extraordinary abundance of shapes. This compositional matrix with a simple concept contains affluence of visual contents connected to the utopia present in the music.
Add to playlist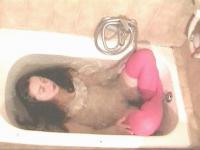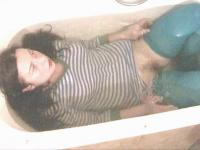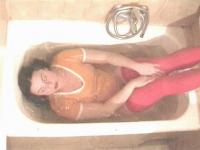 Nataša Skušek - Toaleta 1 / 36
(00:03:31)
Production:
2005
Video collage composed of 36 photographs of the author laying in a bathtub dressed in different clothes.
Add to playlist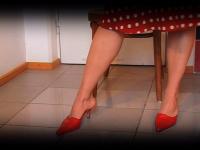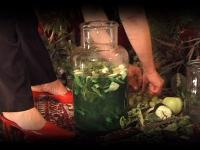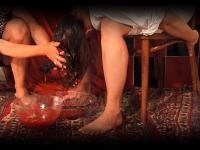 Duba Sambolec - Collectors #3
(00:30:55)
Subtitle:
*Settings*
Production:
Duba Sambolec
,
2002
Video deals with the dynamics in a personal service sector through a series of scenes displaying body care in a satirical manner. Scenes are set in doubles. The woman offering the service is preparing the cosmetic specimens and in the next scene she uses them to treat her client. Scenes of preparations are accompanied with whistling dictating an optimistic working atmosphere. Video Collectors #3 is a reflection of the author about a personal profile, some sort of auto portrait placing the viewer into Othe...
Add to playlist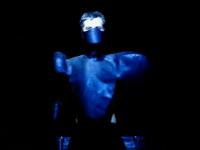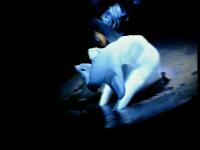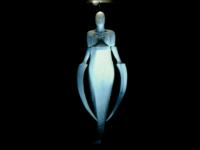 Ema Kugler - Tajga / Taiga
(00:08:22)
Production:
Forum Ljubljana & VPK
,
1996
Video Taiga is made after eponymous performance carried out at the international festival of contemporary arts City of women in October 1995 in Ljubljana. The viewer enters a dark atmosphere, dictated by dramatic vocal-electronic music, threatening anthropomorphic and wax zoomorphic figures and the movement of the camera. When the author establishes the landscape, she inserts two wrestlers and a drowning woman into it, additionally increasing the suspense. As the dramaturgy reaches its peak, the set scene...
Add to playlist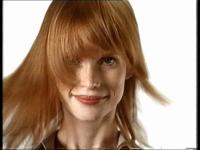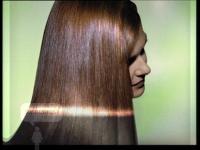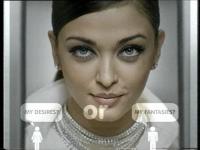 Vesna Bukovec - Endless Game
(0:01:30)
Production:
2006
Video work is playing with the cliché motif of TV ads for women. Author is combining the key moments when models smile, touch their skin and fix their shiny hair. She problematizes the endless game of arousing consumers and lateral brain washing.
Add to playlist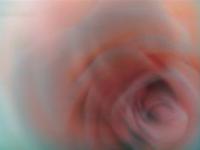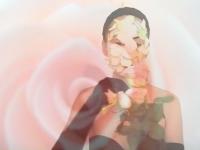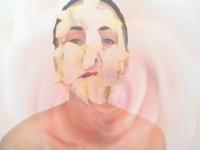 Evelin Stermitz - Rose is a Rose
(0:03:53)
Production:
2008
This performative video work shows a woman engaged in covering her face with rose leaves. As a metaphor for the above and beyond term "beauty", the fragility of beauty and the canons of beauty, the video reveals an obscure image of woman, which is also shaped by transiency and impermanence. Excerpts from the poem "Sacred Emily" by Gertrude Stein, in which she created the sentence "Rose is a rose is a rose is a rose.", form the sound collage to the video work.
Add to playlist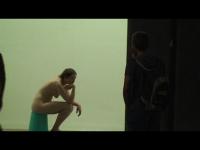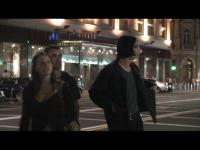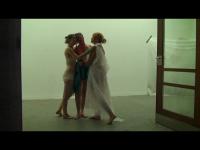 PUNce, Pila Rusjan, Tina Krajnc, Nina Bric - Vidiš umetnost?
(00:05:46)
Production:
KUD PUNce
,
2010
Dokumentarni posnetek performativne akcije skupine PUNce (Pila Rusjan, Tina Krajnc, Nina Bric) s posnetkom avtorske izjave, ki jo je za skupino podala Pila Rusjan. V posnetku spremljamo performans treh akterk in reakcije naključnih mimoidočih sprehajalcev. Performans je bila neformalna intervencija v razstavo Viktorja Bernika v Mali galeriji Moderne galerije na Slovenski cesti. Bernik je 20. junija 2010 kot svojo samostojno razstavo izpraznil prostor in na stežaj odprl vrata, da bi zastavil vprašanje gl...
Add to playlist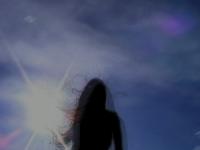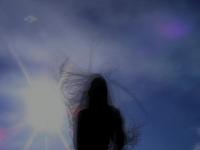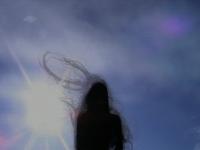 Mirjana Batinić - Burja
(00:02:42)
Production:
2006
Podvojena podoba. Silhueta, neprijetni občutek tesnobe. Fizični napor. avto erotika. Zaslepljena kamera. V delih snema subtilne avtoportrete, ki mejijo celo na avtoerotiko. Zdi se, da je njeno življenje postalo umetniško delo. A prvo umetniško delo je pravzaprav umetnica sama, ki oblikuje svojo podobo z nenavadno dolgimi lasmi, z oblikovanjem lastne osebnosti, z eksplicitno prefinjeno mimiko. Močna prezenca v njenih delih, kjer se skoraj vedno pojavlja kot osrednja igralka, nas privede do ideje nar...
Add to playlist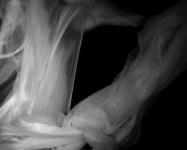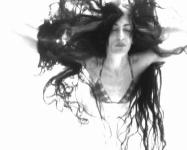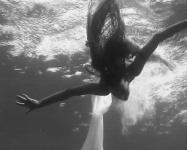 Mirjana Batinić - Meduza
(00:04:36)
Production:
Mirjana Batinić
,
2006
Avtorica v videu in skozi video relizira neki novi način lastnega obstoja. Medij vode uspostavlja breztežinsko stanje in omogoča lahkotno gibanje telesa v vseh smereh. Telo avtorice plava na način meduze, gre torej za proces depersonifikacije. Video kombinira tri različne rešitve svetlobe: osvetljeno telo na črnem ozadju, zatemnjeno telo na belem ozadju in nevtralno polje sivih tonov.
Add to playlist
Vesna Bukovec - I love myself for who I am
(00:03:10)
Production:
Bukovec, Vesna
Video is a part of White Performances / Positive Affirmations, a series calling out the deceptiveness of the ostensible happiness and illusions about a perfect life. We see a woman trying to accent her beauty and her perfect appearance and chanting a mantra, which is supposed to help her accept and love herself. Video is a parody of new age lifestyle which promotes the power of suggestive thoughts. The mantra is pointing out the absurdity of work automatism especially with so called women chores like cleani...
Add to playlist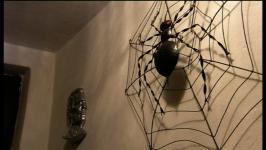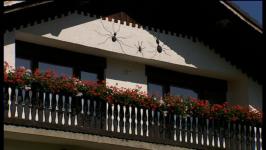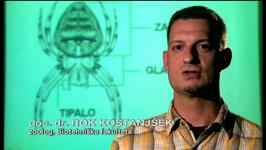 Amir Muratović - Domači pajek
(00.27:47)
Production:
RTV Slovenija
,
2009/2010
Dokumentarec o raziskavi Društva za domače raziskave, ki se ukvarja z etnološkim fenomenom fasadnih pajkov. Zakaj, na dokaj endemskem področju, tako nenavaden element? Raziskava je podrobno obdelala različne sociološke faktorje, ki so skupaj pripeljali do pomembne produkcije enostavnih kovinskih pajkov. Raziskava se je zaključila z razstavo v Knjižnici Kolodvor v Ljubljani leta 2009.
Add to playlist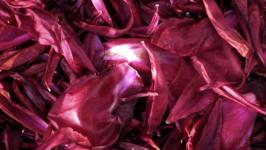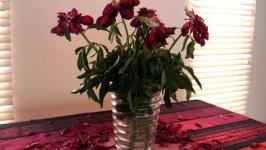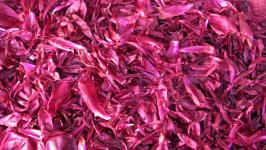 Nataša Prosenc Stearns - Afterlife
(00:02:43)
Production:
Nataša Prosenc
,
2010
Video is part of the series Haiku Videos, which originate in daily recordings with minimal staging. They are created when a real life situation motivates an idea. Like in Haiku poetry, the images of Haiku Videos are based on directly observed events, objects or occurrences.
Add to playlist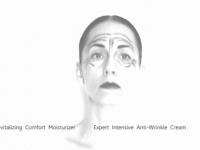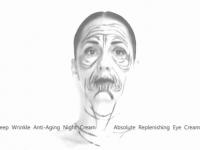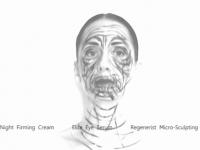 Evelin Stermitz - The Art of Aging
(00:03:29)
Production:
E.S.
,
2011
A black and white video shows the artist's portrait against a white background. With the help of a exaggerated make-up, which creates more and more age lines on the face and neck, the artist criticizes the exploitment of a youth-obsessed culture by cosmetics industry. Names of the rejuvenating and anti-age creams and related products are scrolling at the bottom. They are red out loud by a slow and distorted voice.
Add to playlist