DIVA youth
16 results in works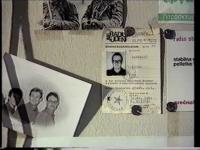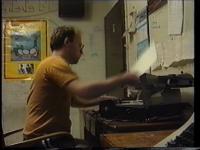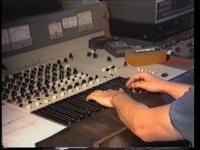 Jurij Korenc - Oddaja o Radiu Študent
(0:04:55)
Subtitle:
oddaja o RŠ
Production:
Studio 37
,
1988
A short documentary video on Radio Študent in 1988, the time of political and social change in Slovenia. It shows the work of the Radio Študent journalists at the time of the Trial Against the Four (the JBTZ Trial). Editor Peter Barbarič comments on the state of the independent radio and its ambitions.
Add to playlist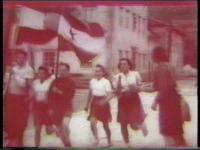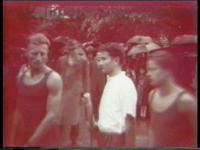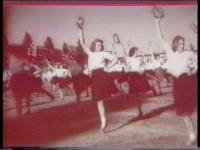 Andrej Lupinc - Mladina gradi / The Youth Constructs
(0:22:06)
Production:
Brut
,
1985
Technologically manipulated scenes from documentary and propaganda films Mladina gradi, Obzornik, 3. kongres ZSMS (The Youth Constructs, Obzornik, The 3rd Congress of Slovene Youth)directed by France Štiglic in a positive and encouraging manner, typical for these films, show youth brigades helping renew Yugoslavia after its emancipation. The narrator informs the viewer about what has happened during the Second World War and then introduces the brigades and some of its most hard working participants with th...
Add to playlist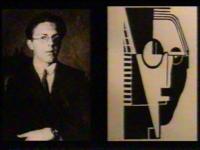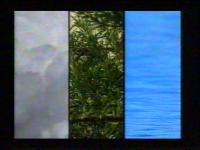 Ana Nuša Dragan - ves svet je moder in zelen, ves svet je v modrino potopljen...
(00:15.30)
Subtitle:
Video artistični portret o Srečku Kosovelu
Production:
Video Produkcija Kregar
,
2001
Življenski krog Srečka Kosovela je kot dežna kaplja, kjer domuje poezija. Z njo se sreča že zelo zgodaj, v okolju, ki je njegov temelj za prve otroške podobe in spoznanje resnice. Njegovo bivanje pozna dva domova, dve središči: svetlobo in temo, bolest in radost, dom in tujino. Video slika se sprehaja po krasu, ki je izvor njegovih pesniških podob. Zgodba slike je konceptualistična, osnova ji je kraško okolje: narava, nebo, oblaki, vinogradi, oljke, rožmarin, morje, arhitektura hiš, dimnikov, v...
Add to playlist
ZANK - Cindy
(00:04:00)
Production:
FV Video, ŠKUC Forum
,
1985
Protagonists of the video Cindy are set in an apocalyptic space inside an abandoned villa. The figures are mostly static, they occupy the shot as though they have been placed there - they exist in a manner of a still life. They rare movements are always slow, conceited and consistent with the rhythm of the music. There is no dialog, interactions are solely physical. This creates a feeling of loneliness and alienation. Borghesia (1983 - 1939) was a multimedia group (concert performance, video works, music...
Add to playlist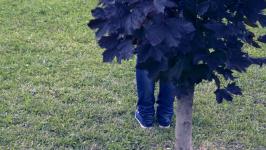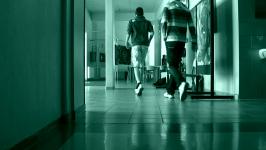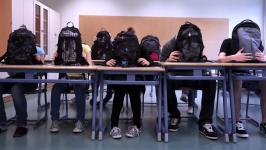 Maja Hodošček - Little Girl
(00:20:43 (trailer 00:03:45))
Production:
Maja Hodošček
,
2012
The artist made the video Little Girl together with her little sister Zala Ožek at the primary school Zala was attending at the time. Taking on the role of cameraman, Zala filmed her schoolmates at class and during the breaks, as well as their interactions in the school corridors. The main part of the film consists of conversations between Zala and two of her classmates, revealing how these children see and reflect their position in the education system, where they see themselves in the labor market in the...
Add to playlist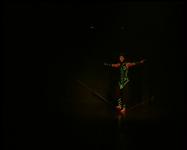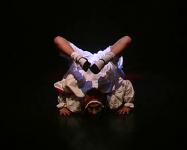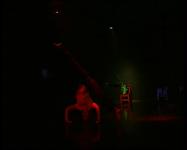 Katjuša Kovačič - Seeking Balance
(00:08:40)
Production:
Mesto žensk / City of Women
,
2009
The author, Katjuša Kovačič, in her movement debut, Seeking Balance, seeks balance in a moving, expressive, cultural, and gravitational sense; she is trying to connect different entities into a whole, and in this manner to create a story of co-existence, transition, and complementation.
Add to playlist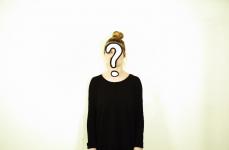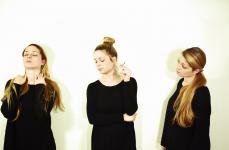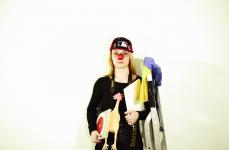 Yuliya Molina - Some-body
(00:03:50)
Production:
Zavod APIS
,
2015
Video je nastal v okviru projekta kratkih filmov 'Equality in Focus' v produkciji Zavoda Apis. Projekt usposabljanja na področju družbeno angažirane video produkcije pod mentorstvom Romane Zajec je bil zasnovan z namenom preseganja stereotipov in krepitve vloge in moči migrantskih in romskih žensk. Ena od udeleženk je bila tudi umetnica Yuliya Molina. Video je posnet v tehniki stop-motion animacije, v njem nastopa avtorica in uporablja različne rekvizite, njen glas slišimo v ozadju. Odgovarja n...
Add to playlist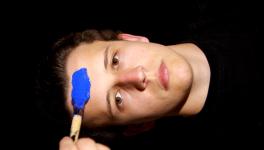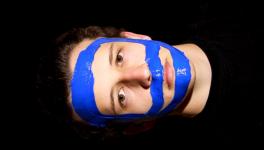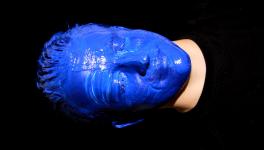 Valérie Wolf Gang - Dali's blue (trailer)
(00:15:00 (00:02:23))
Production:
2013
Dali's blue is video installation by Valerie Wolf Gang inspired by the Salvador Dali's picture Galatea of the Spheres. In the video Valerie is painting the face of a young man blue and the video is projected on white balloons suspended from the ceiling. Balloons are set in different layers so the projection becomes three dimensional in space and it degrades the video image in smaller parts which became it's own separate videos. If you look at the projection from the frontal part you can see a young man an...
Add to playlist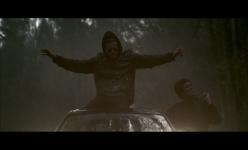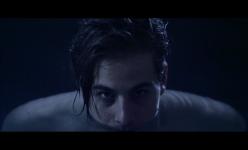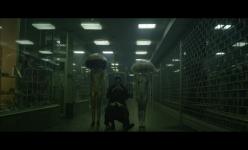 Katarina Rešek - Meduze (Matter)
(00:03:30)
Production:
2015
Music video for song Meduze by Matter. The scenes are dark, recorded at night, in dark interiors or in the early morning. The members of the band drive witha a car from the forest to a city, into an empty garage house. They walk through an underpass full of graffiti towards underground shops, all of them are closed. Next to band members stand two jellyfish - naked women, completely covered with silver color, with a big hat over the head. Throughout the whole video we see short scenes in a dark pool. The mys...
Add to playlist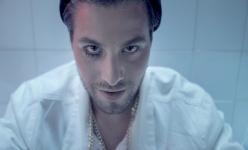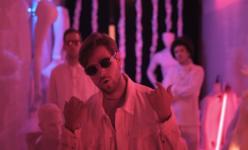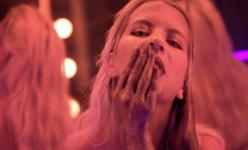 Katarina Rešek - Anakonda (Matter)
(00:04:40)
Production:
2016
Music video for song Anakonda by Matter is visually partly inspired by the film A Clockwork Orange by Stanly Kubrick. Members of the band are seen in the video, joined by KUKLA as guest artist (also the author of the video). Most of the scenes are shot in various illuminated interiors. Later members of the band find themselves in a tunnel and then in the exterior with a burning car in the background. The mysterious text is complemented by a carnival visual imagery with expressive makeup and clothing. Everyt...
Add to playlist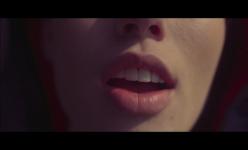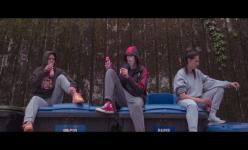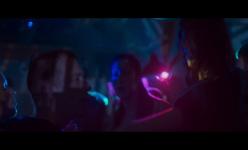 Katarina Rešek - Among the Lull (Your Gay Thoughts)
(00:03:49)
Production:
2015
Music video for the song Among the Lull by Your Gay Thoughts. Recorded in the urban environment of large apartment buildings. Bored young people hang out on the playground and at the club. Stereotypic sexual roles are mixed, empowered girls behave typically masculine, they take on the podium on the playground and on the dance floor. Most of the shots are in slow motion, editing style fits the melancholic feeling of the song. The video ends with an underwater shot of a kiss.
Add to playlist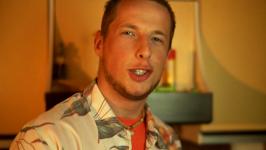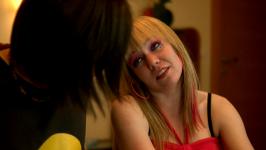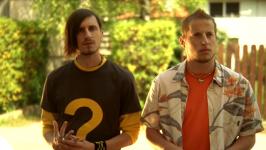 Miha Šubic - Neverending knot
(00:31:18)
Production:
Filmsko društvo Film Factory
,
2010
Caesar is a young professional forger of personal documents and concert tickets. Because of his fake ticket at the concert, Andy is being held by the police. He starts to blackmail Cezar with pictures, because he is determined that Caesar must bear the consequences. Cezar hires Kojot and Slavc to solve the problem. (Source: Miha Šubic)
Add to playlist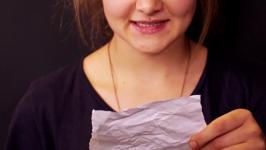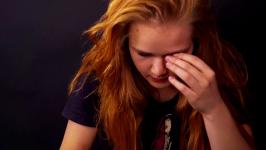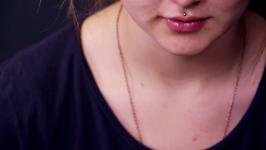 Maja Hodošček - Poem
(00:12:04 (trailer 00:02:03))
Production:
2015
For the first time a teenage girl is encountering a poem written by her high school colleagues – members of a school debate club wrote this particular poem. In the video we see how she reacts upon the written words by translating them in semi abstract sounds. Or she pics upon parts of the poem and tries to transform them into a new form, reading the words backwards or inventing them a new. She confronts herself with an unknown material, there is no reference on which she could depend on. Therefore she fin...
Add to playlist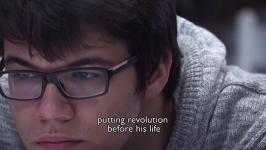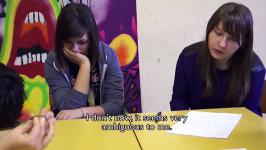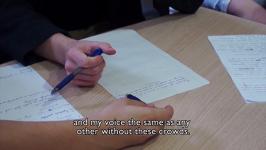 Maja Hodošček - We need a title
(00:08:19)
Production:
2014
Hodošček made the video in collaboration with six members of school debate club. In the school year 2013/2014 the members participated in a sort of parallel curricula initiated by the artist. The departure point of the debate was the legacy and potentiality of the Non-Aligned Movement (First NAM conference in Belgrade, 1961). Pupils engaged themselves into a thought process where they reflected upon the idea of the third politics today, new forms of communism and their own role within family, institutiona...
Add to playlist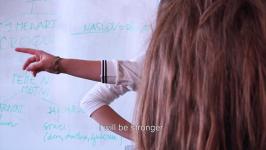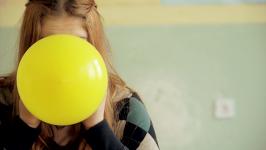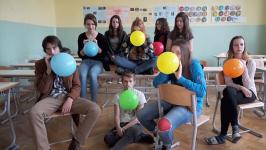 Maja Hodošček - Celebration
(00:03:57)
Production:
2015
Celebration is a short video that Hodošček made with a school theatre club. The group followed the lyrics of the poem Voiceless (written by the debate club in Hodošček previous work entitled We Need a Title) and transformed them into a performance. In the performance, we see a group of pupils in a classroom, each with its own ballon that has to be blown. The performance ends when all the pupils blew up their balloons. (Source: Maja Hodošček) NOTE: On the artist's request, the full video is not publ...
Add to playlist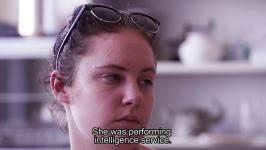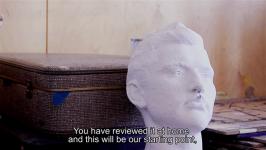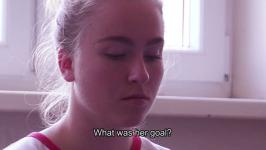 Maja Hodošček - The Lesson
(00:15:20 (trailer 00:03:46))
Production:
2017
The Lesson takes places in school, during a lesson. We see pupils and the teacher engaged in a conversation about a particular historical movement, partisan schooling, that emerged during the Second World War in Slovenia as an opposition to the occupation. Hodoscek proposed the theme and material for the lesson and focused on a reading of a letter written by a particular partisan teacher. In the video, we observe the discussion that took place after the reading, where concepts such as methods of teaching un...
Add to playlist