DIVA violence
24 results in works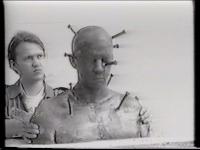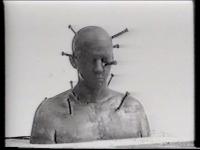 Damijan Kracina - Žeblji / Nails
(00:06:34)
Production:
Akademija za likovno umetnost, Ljubljana
,
1995
The black-and-white footage of a performance shot from a static camera dates to the time when the artist was studying at the Academy of Fine Arts in Ljubljana. The performer looks at sculpted busts, and hammers nails into them, seeking a way to examine the traditional sculptural format without employing a process of construction or deconstruction. The work is also humorous, as if the artist were trying to say that the sculpture is 'hammered' in the head.
Add to playlist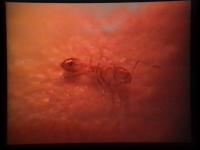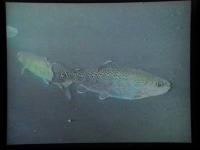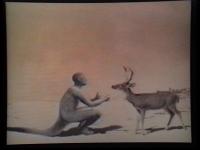 Damijan Kracina - Zoospective
(00:11:53)
Subtitle:
(Zoological Retrospective)
Production:
2000
The video summarises the basic motifs of the artist's work: endangered species and fantasy animals of the future. It comprises an omnibus of five individual video pieces and additional raw video footage. First, we see 'proteus', a computer-generated olm in motion; which is followed by 'An Interview with an Endangered Species', featuring frontal shots of the Soča Trout opening its mouth as if it were speaking; these are combined with an Aquarium video showing the flight of the Soča Trout. This is...
Add to playlist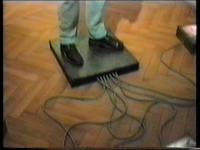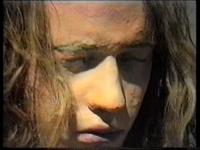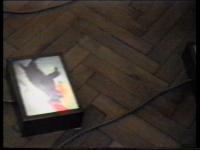 Damijan Kracina - Kracina TV
(00:06:24)
Production:
1995
A hyper-realistic latex sculpture of the artist stands in the middle of a room in Kapelica Gallery, where the artist first presented the installation. The sculpture's low pedestal is connected to seven monitors into which the figure gazes, while light boxes show photographs of cats run over by cars. The installation shows death doubled, or the absence of life. The cats are dead, and the statue, too, is lifeless. The images of dead cats not only draw attention to the cruel human attitude to animals and the...
Add to playlist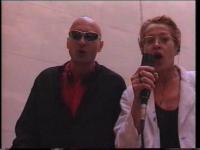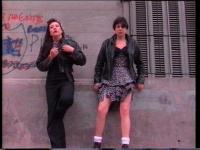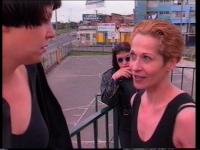 Andrej Lupinc - Odvrženi
(00:42:42)
Subtitle:
Adaptacija gledališke igre Roberto Zucco
Production:
TV Slovenija
,
1997
The story of a tourist who gets lost in a South American metropolis. He wanders into a dangerous suburb, where he meets a strange family and Roberto Zucco - the adventurer, poet and murderer.
Add to playlist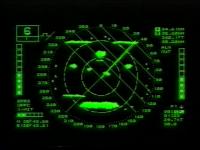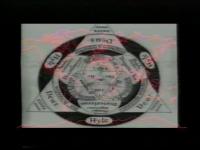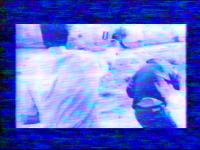 Marko Peljhan - RSS Atol - Projection
(00:58:03)
Production:
Projekt Atol
,
1993
The video works for EGORHYTHMS and ATOL were conceived as the integral part of these projects. They were thought of as pictures from the inner screens of actors, rhythmical images, which interplay with alchemical symbols and abstract visualisations of communication lines. For theL Egorhythm III video, the main motive is Slovene poet Srečko Kosovel's poem Kons 5, and the rss ATOL - projection ends with a photo sequence of Serbian policeman executioning a Muslim inhabitant of the town of Brčko during the wa...
Add to playlist
Sašo Podgoršek - Koza je preživela
(00:09:03)
Production:
1992
Posnetki prikazujejo posameznike, ki se zbirajo pred zapornico: oseba v avtomobilu, ki čaka na svoje dekle, oseba na vozu, oseba na motorju in nekdo s kozo v naročju. Kolona pred zapornico čaka na vlak, vname se pretep, koza pa se v zmedi znajde privezana na zapornico, ki se, ko vlak odide, dvigne s kozo vred. Video predstavlja zrežirane komične prizore, ki prikazujejo resničnost sodobne družbe.
Add to playlist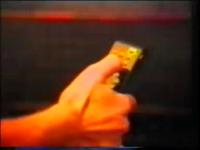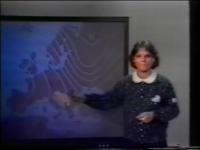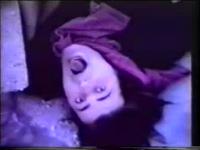 Rok Sieberer Kuri, Media Teror - Kriza
(00:02:54)
Production:
V.S. Video / Škuc - Forum, Ljubljana
,
1989
Kuri, the actor in the video, faces the aggression of the TV medium. He compares the images of himself to media information, he yields to their influence; the multiplication of information brings him to a crisis. (VD)
Add to playlist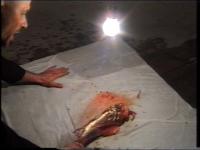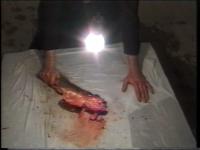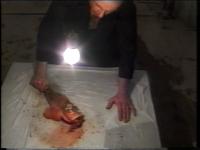 Zmago Lenardič, Jasna Hribernik - Three Wishes
(00:01:05)
Subtitle:
Fulfill My Wish
Production:
2000
Unedited recording of a performative action is following one of the authors holding a golden fish in his hand, hitting it on a white surface as he repeats a chant: "Grant me wish". A light bulb is shining above the artist. Video perfomance "Grant me a wish" was a part of an exhibition "Tre desideri (Three wishes)", which contains two other video elements: an edited video recording of a tropical fish and documentary recordings of winter fishing. Each of all three video works was exhibited in one...
Add to playlist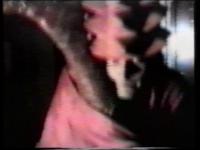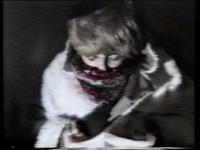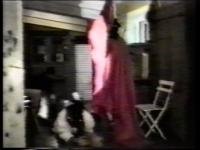 Rok Sieberer Kuri - Rop bakice
(00:02:53)
Production:
V.S. - D.V.
,
1990
Zamaskiran moški oropa babico, tako da jo najprej fizično napade, iz njene košare pada nakupljeno sadje, ona pa se po svojih močeh, a neuspešno brani.
Add to playlist
ZANK - Triumf želje / The Triumpf of Desire
(01:03:20)
Subtitle:
A compilation of Borghesia video clips (Document, G.U.M., Poppers, Triptych Futurists, No Hope No Fear, Discipline, Mud, She, Venceremos)
Production:
Brut, VS Video / Forum, E-motion film, TV Slovenija & PIAS, Ljubljana, FV video
,
1989
Borghesia (1983 - 1939) was a multimedia group (concert performance, video works, music videos, video tapes, music records and cassettes) formed by Zemira Alajbegović, Goran Devide (Ɨ), Aldo Ivančić, Neven Korda and Dario Sereval. Borghesia was active as a multimedia group until 1989 and was later changed to a music duo by Aldo Ivančić and Dario Sereval. This compilation of Borghesia video clips (Document, G.U.M., Poppers, Triptych Futurists, No Hope No Fear, Discipline, Mud, She, Venceremos) contin...
Add to playlist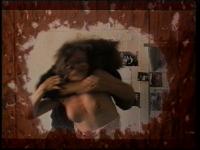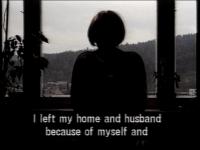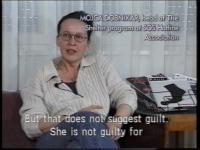 Zemira Alajbegović - Med štirimi stenami
(00:33:17)
Subtitle:
slovenska verzija
Production:
ZANK, VPK & TV Slovenija (izobraževalni program)
,
1999
V dokumentarcu Med štirimi stenami ženske, ki so pobegnile pred nasiljem v lastnih družinah in poiskale pomoč v zatočišču, pripovedujejo svoje zgodbe. Spregovorijo o letih zlorabe, nasilja, posilstev in osamljenosti. Film vsebuje tudi posnetke iz zatočišča za ženske in otroke - žrtve nasilja, iz centrov za socialno delo, skupine za nenasilno komunikacijo, v kateri moški spreminjajo svoje nasilno vedenje. Posnetki so montirani. Film vključuje tudi razprave zgodovinarjev in antropologov, ki gov...
Add to playlist
ZANK - Divja horda
(00:05:40)
Subtitle:
Tako mladi (kompilacija Borghesia)
Production:
FV Video / ŠKD Forum
,
1984
Music video for a song by the Borghesia group is a part of a compilation So young. This first video cassette was released in 1985 at Založba FV. ------- The Wild Bunch is a music video by the Borghesia group. It is a part of a compilation of the Borghesia video clips (So Young, The Wild Bunch, He, Too Much Tension, Cindy, A.R., ZMR), issued in 1985 as the first video cassette by the FV Label. These are short, almost "film-like" stories focused primarily on the iconography of the body in urba...
Add to playlist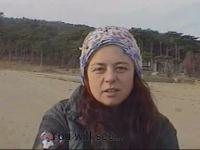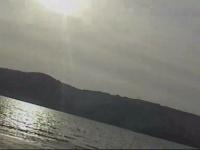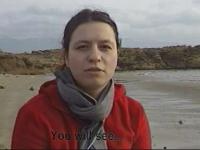 Nataša Skušek - You Will See...
(00:04:23)
Production:
2003
Video is set on a windy beach. The author and her sister appear in two roles, which foretell dim prospects to each other with clichee expresions in a sinister way. Simple editing and the usage of shot reverse shot is used.
Add to playlist
Duba Sambolec - Questioning, Answering
(00:58:16)
Subtitle:
NoHomeVideos©
Production:
Duba Sambolec
,
1999
In the video we witness an interrogation of a women with a blind over her eyes. Strict and somewhat violet interrogation is executed by the second female character. Eventually it becomes clear, that shots of both people were merged in postproduction. The viewer is therefore manipulated as is the video, and at the same time he takes on the role of an accomplice, as he accepts the game of the interrogator. NoHomeVideos© video performances, altogether created 14 by the author, are dealing with the experi...
Add to playlist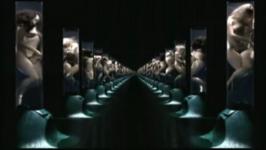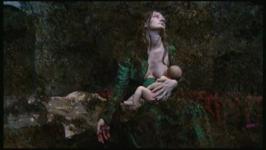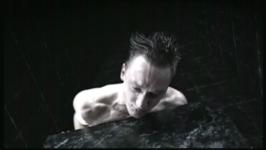 Ema Kugler - Phantom
(00:87:45)
Production:
Zavod ZANK / VPK, Cankarjev dom, RTV Slovenija
,
2003
Phantom je film o smrti, ki se ne sprašuje: "Kdo sem?", temveč: "Sem kdaj res bil tam ... v življenju? Sem kdaj zares živel? Ali ni bilo vse le zgolj iluzija, privid lažnega obstoja? Je sploh možno umreti? Kako uiti iz te verige neznosnih ponovitev; biti duša in biti meso vedno znova vedno znova! Je sploh možno videti drugega, takšnega, kot je? Ali ni tudi ta drugi le privid, naš miselni konstrukt, ki ga tako neizmerno potrebujemo, ker je to tisto, kar nam pomaga prilepiti našo raz...
Add to playlist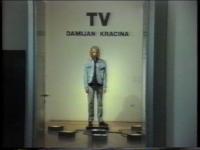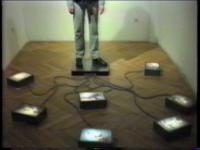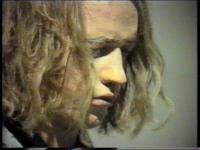 Damijan Kracina - Kracina TV
(00:05:48)
Production:
1995
Hiperrealističen kip avtorja iz lateksa stoji sredi prostora v Galeriji Kapelica, kjer je umetnik prvič postavil instalacijo. Nizek podstavek kipa je povezan s sedmimi monitorji, v katere je uprt pogled figure. Na svetlobnih objektih so prikazane fotografije povoženih mačk. Instalacija prikazuje dvojno smrt oziroma dvojno odsotnost življenja. Mrtve so povožene mačke, neživ pa je tudi kip umetnika. S podobami mrtvih mačk umetnik ni opozoril zgolj na krut odnost človeka do živali, na davek človeko...
Add to playlist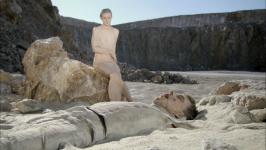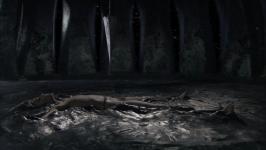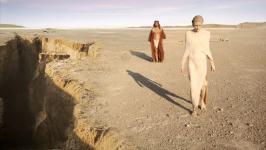 Ema Kugler - Za konec časa / For the End of Time
(02:05:28)
Production:
Zank & VPK
,
2009
The video film is an investigation on man and his smallness in front of nature and time, the story is told by a voice-over narrator, with no dialogues between the characters. The camera slowly moves horizontally in panoramic views showing bright wide desert landscapes crossed by traces of death, alternated with futuristic interiors. Computer generated imagery plays an important role in this last work as in the previous ones by Ema Kugler and contributes to the creation of recurrent enviroments which are a p...
Add to playlist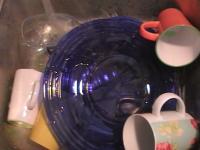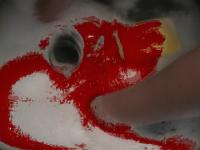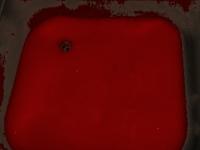 Evelin Stermitz - Hitchcock Dishing
(0:01:17)
Production:
2008
A short video about the danger of daily dishing as a sublime metaphor for the unpaid daily work of women with its loss of time and energy for other more meaningful, useful and creative activities. Hitchcock Dishing is also articulating concealed domestic violence.
Add to playlist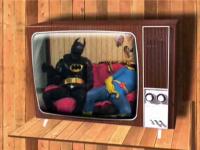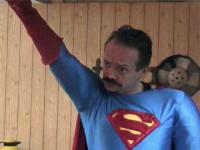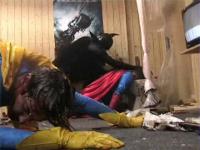 Mark Požlep - Fireplace, Axe and a Banana Peel
(00:11:46)
Production:
White Cross Production
,
2008
Igrani video zaključuje avtorjevo tematiziranje namišljenih in personificiranih superherojev. Dogajanje je postavljeno v tesen domačijski ambient, kjer tije protagonisti – superheroji - skušajo živeti v sožitju. Zaradi karakternih posebnosti in velikega ega vsakega izmed njih je medsebojna komunikacija napeta, sobivanje pa skoraj nemogoče. Poskus sobivanja preraste v nasilje, pogubno za vse tri protagoniste. Skozi ludistično igro se superheroji - Batman, Bananaman in Superman – začno pretepati,...
Add to playlist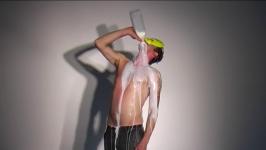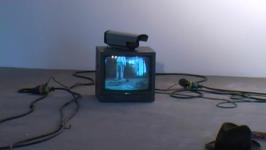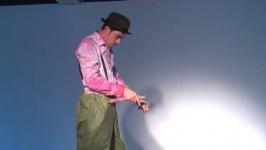 Mark Požlep, Jaša (Mrevlje - Pollak) - Time to Become Poets
(0:08:00)
Production:
2009
Samostojno video delo, ki je bilo izvorno prikazano kot del razstavne instalacije na gostovanju v Marseillu, kjer sta avtorja zapolnila obsežen razstavni prostor z odsluženimi gledališkimi rekviziti. Video delo, ki je bilo predvajano v posebej zgrajeni projekcijski instalaciji na skrajnem koncu razstavišča, prikazuje predvsem proces nastajanja prostorske postavitve, ko sta avtorja izvajala performativne akcije (ustvarjene zgolj za kamero). Avtorja, ki sta tudi edina nastopajoča, se asociativno poigrav...
Add to playlist