DIVA landscape
24 results in works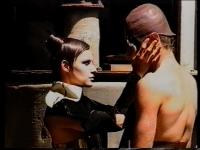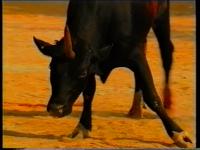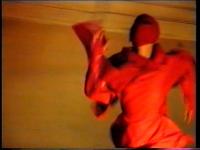 Ema Kugler - Hydra
(00:15:45)
Production:
V.S. Video, Forum Ljubljana, VPK
,
1993
Mythology in the video works by Ema Kugler is inscribed in rituals of everyday life; this time it is the theme of Hydra with many facets. The theme is represented by the separate scenes featuring human figures in leather costumes (created by the artist herself) that constrain their movements, thus emphasising their separation from nature. The last trace of their respective connection is shown in a ritual relationship between a man and a bull, although even this relationship involves man's deeply ingrained c...
Add to playlist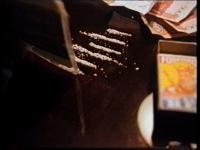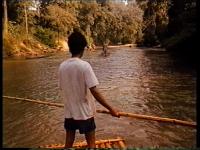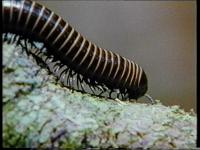 Andrej Lupinc - V 8. minutah okoli sveta / In 8 Minutes around the World
(00:09:38)
Production:
TV Slovenija, filmski laboratorij
,
1990-2000
The documentary video patchwork with shots from various places in the world that the author visited while working as a cameraman at Slovenian national TV station in the span of ten years. Diversity of aesthetics is visible through a compilation of shots from different continents. A stable rhythm that runs through the whole video unifies all different scenes and brakes the seeming symbolic differences. The video would work as an ideal visualisation of Levi-Strauss's anthropological theory developed in his bo...
Add to playlist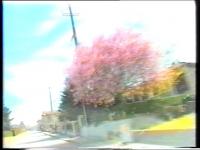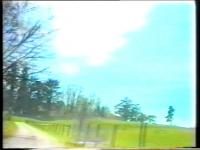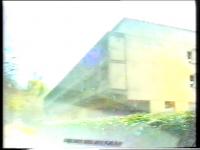 Apolonija Šušteršič - Perspectives emouvantes
(0:03:39)
Subtitle:
MTV for La Tourette
Production:
Rijksakademie van beeldende kunsten Amsterdam
,
1996
This is a compilation of four short video films, made in the La Tourette Dominican monastery near Lyon, which was constructed in the early sixties according to the plans of Le Corbusier and with the participation of mathematician, musician, and composer Iannis Xenakis. Through the clearly visible car window, which eliminates the simulation of the viewer's direct contact with the landscape in motion, we see a series of serene passing scenes of the countryside. The only disturbance in this idyll is the di...
Add to playlist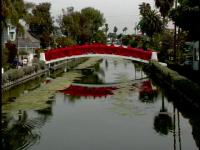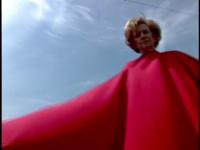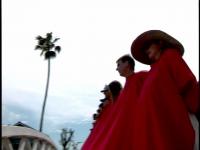 Nataša Prosenc Stearns - Connected
(0:08:00)
Subtitle:
Living Sculpture / Human Bridge
Production:
Kanalya Pictures
,
2005
A documentary about a living sculpture on one of the bridges over the Venice canals. Connected was created as part of the 26th Venice Art Walk in celebration of the 100th anniversary of the Venice canals in California. The participants were all covered with red fabric standing shoulder to shoulder on a bridge. The intention was to point out connections between people in a society run by individualism and hostility.
Add to playlist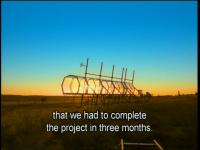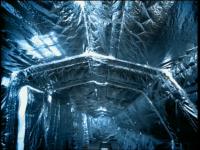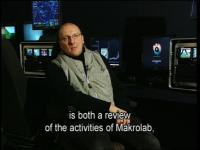 Zemira Alajbegović - Nevidni teritorij Marka Peljhana/ Marko Peljhan's Invisible Territory
(00:49:12)
Production:
Jaka Hemler
,
2001-2007
Marko Peljhan's Invisible Territory is a documentary on multi media artist Marko Peljhan and his project Makrolab, mobile artistic and scientific laboratory that travels around the world. It was based in Scotland, Australia, Slovenia, USA. Now preparations are being made to move it to the Arctic and Antarctic. In Makrolab jointly work artists from all over the world, they analyze signals and environment, their mission is to create new, critical art.
Add to playlist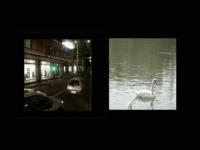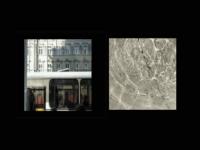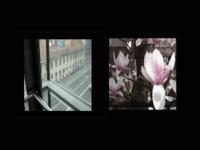 Vesna Čadež - Narava / Nature
(00:11:07 (skupno))
Subtitle:
Sinhronija (narava- Ljubljana) / Sinchrony (Nature- Ljubljana)
Production:
2005
The video captures two different video projections being played simultaneously presenting the contrast between urban and natural environment. They are viewed at separately, but grasped as a whole mimicking the viewer's division between perceiving and moving in the city as well as in the nature. Author takes the two opposing positions of man's living habitats, which complement one another, as her basis. Continuing with the concept of synchrony, she uses concurrence of action, simultaneousness of sound and...
Add to playlist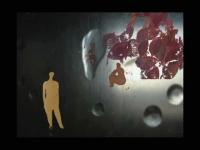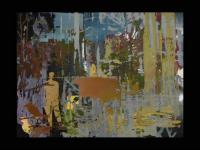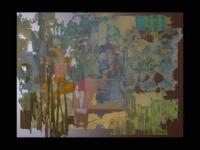 Vesna Čadež - Slika / Painting
(0:03:24)
Production:
2007
Video is focusing on a way of display of painting surfaces, fragments of author's paintings. Latter are shown as animation and collage, when surfaces are built one upon the other, in the under-paintings and color ratios. Canvas is substituted by computer screen, where the author is gradually coming towards a full visual surface, painting. Shapes and motif are connected to the natural world and its elements.
Add to playlist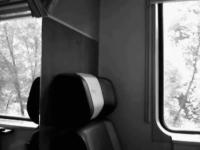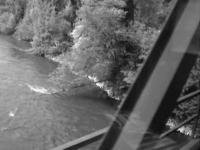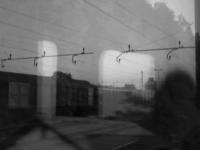 Vesna Čadež - Med vožnjo / During the Drive
(0:02:19)
Production:
2007
Video is following a journey with a train. The author uses image to explore movement, surroundings, the game of fast and slower movement reflected on the traces of speed of the outer, natural occurrence. Video is deliberately made in black and white technique, which emphasizes the graphic appearance of the structures and traces of the journey. The author explores the eternal search of innumerable and unrepeatable possibilities of gazes through the window following each other in a story of journey through a...
Add to playlist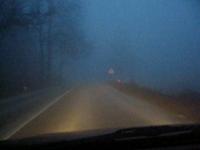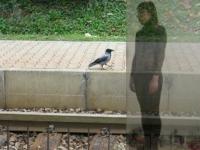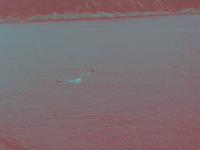 Ana Čigon - Anima (ani+ma)
(0:04:22)
Production:
Ana Čigon
,
2007
Video is author's intimate tale set in nature and author's living space. This non-narrative piece makes driving on a foggy road, outlines and shadows seem like a dream. Melancholic soundtrack is becoming more and more positive and upbeat towards the end of the video and follows scenes of the author set in her home and in nature at the same time. Video was shot with a digital camera with added editing effects that result in doubling, multi layering and color grading and allow the artist to play with combinin...
Add to playlist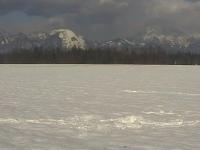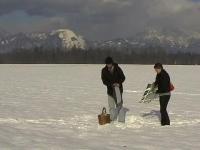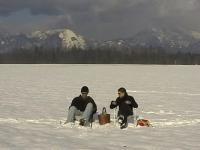 Nika Oblak & Primož Novak - Dejeuner sur l'Herbe
(0:19:22)
Production:
2003
The video shows Nika Oblak & Primož Novak having picnic in a snowy landscape next to a highway. The postcard-like landscape is beautiful to look at, but it also isolates Oblak & Novak from the rest of the world. (Source: oblak-novak.org)
Add to playlist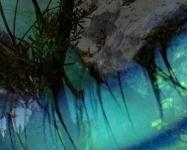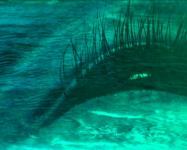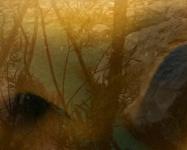 Ana Grobler - Soči
(00:02:38)
Production:
2006
Video work devoted to the Soča River is composed of close up photographs of the author's face and recordings of the river. The intertwinement of both creates an impression of unusual worlds. As images of the face interlace into an image of the river, the limits between human and nature are lost. The face fades into the river flow and the limits between solid and liquid, concrete and abstract, known and unknown vanish. When there is nothing you can grasp on, new key points must be created. Video is meant to...
Add to playlist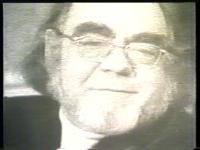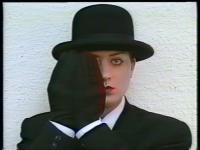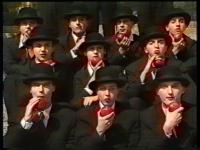 Ana Nuša Dragan - Anketa
(00:14:00)
Production:
TV Skopje
,
1990
Bretonski pesnik Eugene Guillevic, imenovan poèt contemporain je del moje inspiracije kot izhodišče ali opora v video dotiku z njegovo poezijo, ki se zame spremeni v samogovor, v spoznanje zvez med zavestjo in podzavestjo. Ritem slike je Guillevicova beseda, ki se ponavlja, ki je sprva spontana, nezadržna, potem pa postaja čedalje bolj določena in jasna. Resnici se skušam približati z uporabo velikega plana obraza ali objekta, pogosto vlada pogled in kot se zdi nič drugega. Spoznano resnico skuš...
Add to playlist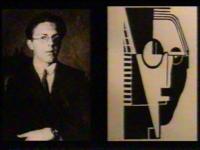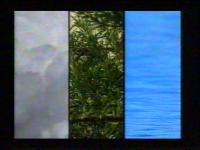 Ana Nuša Dragan - ves svet je moder in zelen, ves svet je v modrino potopljen...
(00:15.30)
Subtitle:
Video artistični portret o Srečku Kosovelu
Production:
Video Produkcija Kregar
,
2001
Življenski krog Srečka Kosovela je kot dežna kaplja, kjer domuje poezija. Z njo se sreča že zelo zgodaj, v okolju, ki je njegov temelj za prve otroške podobe in spoznanje resnice. Njegovo bivanje pozna dva domova, dve središči: svetlobo in temo, bolest in radost, dom in tujino. Video slika se sprehaja po krasu, ki je izvor njegovih pesniških podob. Zgodba slike je konceptualistična, osnova ji je kraško okolje: narava, nebo, oblaki, vinogradi, oljke, rožmarin, morje, arhitektura hiš, dimnikov, v...
Add to playlist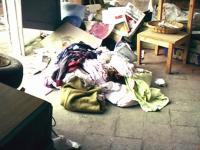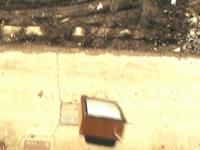 Zoran Srdić Janežič - Take a walk on the wild side
(00:07:30)
Production:
Zavod za sodobne umetnosti in kulture Gulag
,
2010
Video je nastal s snemanjem zapuščenega prostora. Snemalec sprva opazuje okolje in nima interakcije s objekti. Potem pa se v bistvu video pretvori v animacijo, kjer razmetani objekti dobijo neki svoj ritem in novo življenje. Gledalec ima občutek, kot da se stvari same od sebe začenjajo urejati, in iz kaosa zapuščenega prostora nastajajo pravilni in včasih ponavljajoči se vzorci in ritmi.
Add to playlist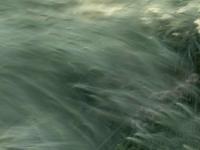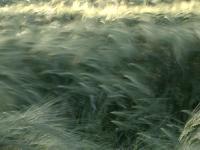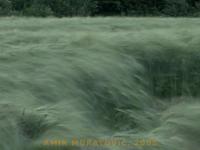 Amir Muratović - Z vetrom
(00:01:10)
Production:
Amir Muratović
,
2008
Video je posnet v enem kadru in dinamika posnetka je pridobljana s postopnim širjenjem vidnega kota. Gibanje rastlinja demonstrira moč vetra. Subtilne spremembe svetlobe in senc ustvarjajo dinamično kompozicijo. Gledalec dobi občutek, da je del sodobne različice romantičnega pejsaža. Vse, kar je slikarskega v romantičnih slikah, dobi tokrat romantično filmsko podobo.
Add to playlist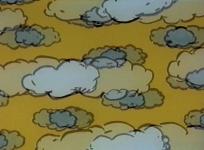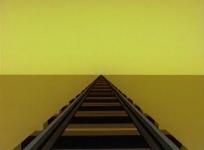 Grega Mastnak - Euphoria
(00:03:00 (00:01:00))
Subtitle:
(one minute excerpt)
Production:
Casablanca - Ljubljana; TV Slovenija
,
2000
Animated travelogue. We follow two passengers on the train. One is an elderly, quite abundant sleeping man, and the other a younger man who is in an ecstatic mood. The animation is characterized by a rough drawing, mostly two- or three-colored. The author emphasized the euphoric mood by changing perspectives and by exposing details.
Add to playlist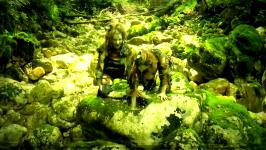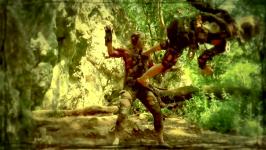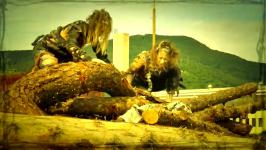 Katjuša Kovačič - Njavke: Crossed-Eyed Gazes
(00:14:53)
Production:
2015
Njavka je v slovanski mitologiji gozdno bitje ženskega spola. Predstavlja dušo deklice, ki je umrla nenaravne smrti. Njavke navadno živijo v skupinah globoko v gozdu ali v jamah, visoko v gorah. Dve njavki (performerki v animaličnem kostumu, ki posnema živalsko kožo, in v gibanju, ki je mešanica živalskega in človeškega) spremljamo v njunem naravnem, domačem okolju. Sledimo njunemu raziskovanju gozda: dotikamo se mahu na skalah, splazimo se v votlo drevesno deblo, ki je njun dom, oglašamo se...
Add to playlist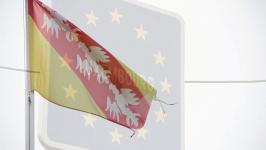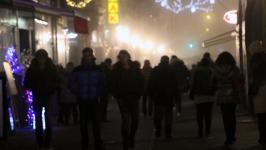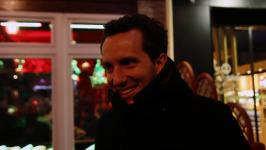 Valérie Wolf Gang - The Luxembourg Monster
(00:10:05)
Production:
2013
"The Luxembourg monster" is a video installation which combines different artistic techniques (graffiti, video, sound). It is also an art piece which plays with the perception of the public: What is the actual monster in the installation? Artists Valerie Wolf Gang researches new surroundings and culture in Luxembourg and questions locals about the personal and economic problems they face in their country. As a representative democracy with a constitutional monarch, Luxembourg is headed by...
Add to playlist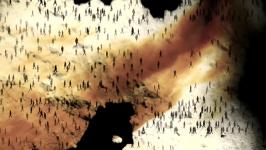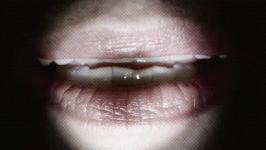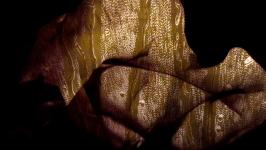 Nataša Prosenc Stearns - Nightmares of the New World
(00:07:31)
Subtitle:
Humans Crossing, Deafening Whispers, Alternative Facts in Nucleus Brass
Production:
2017
Series of three single-channel videos - Humans Crossing, Deafening Whispers / Alternative Facts, Nucleus Brass. The work of the video artist and filmmaker Nataša Prosenc Stearns is never directly illustrative, but her new series Nightmares of the New World is clearly a reaction to the bleak socio-political climate. The first three videos of the series: Humans Crossing, Deafening Whispers / Alternative Facts and Nucleus Brass, address the uncertainty of our physicality from an embryo to a robot, the rising...
Add to playlist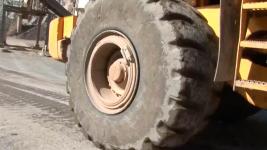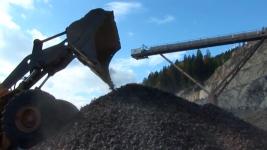 Nika Oblak & Primož Novak - 900 m3 Sand
(00:10:21)
Production:
Universitätskulturzentrum UNIKUM, Klagenfurt in cooperation with section.a, Vienna
,
2014
'900 m3 Sand' is a video installation created as a response to the specific site, a 1st world war cavern on mount Sabotin near Nova Gorica, Slovenia. The volume corresponds to the volume of the cavern dug out by soldiers mostly by hand in the course of 2 years. On Nika Oblak & Primož Novak's request a digger in a quarry composed a 900 m3 large pile of sand in a day. The action alludes to the absurd amount of the labor invested in constructing a battlefield and the pointlessness of warfare. (Source: Nika O...
Add to playlist