DIVA popular culture
31 results in works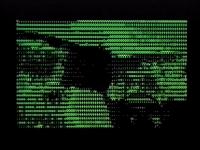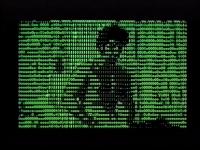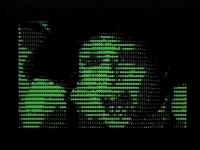 Vuk Ćosić - Deep ASCII
(01:00:05)
Production:
1998
The ASCII conversion of the famous porno film Deep Throat.The author reduces volume of the image to a combination of black and green with various symbols. He is interested about durability of data, but also posses a more complex question about the transfer of information. Video Deep ASCII plays with the limit where information disappears.
Add to playlist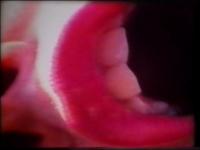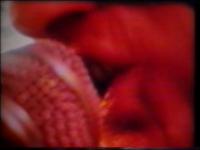 Sašo Podgoršek - Cry Baby
(00:03:26, 00:02:55)
Production:
Nord Cross Production
,
1993
Music video for the song Cry Baby of Slovenian group Demolition Group.
Add to playlist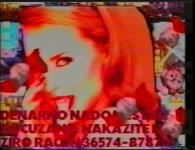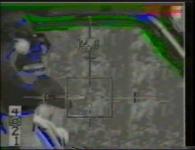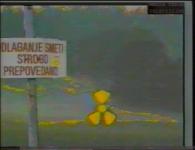 Rok Sieberer Kuri - Bombo ob 12h
(00:03:28, na vhs 197: 00:04:23)
Production:
Media Teror, V.S. Video, Forum Ljubljana
,
1995
One of the typical features of the author is the use of non-professional technology to show everyday reality. On the basis of daily reality he aims to form conclusions pointing to the insanity of modern man. Perhaps a solution cannot be reached merely through an artistic attitude, but rather through radical activity. (VD)
Add to playlist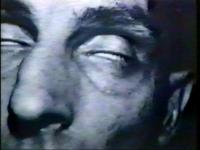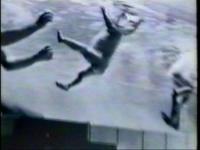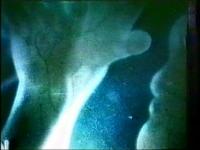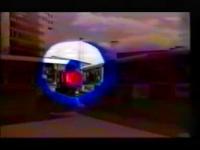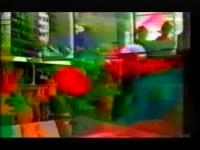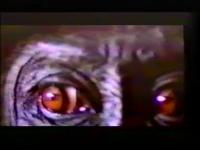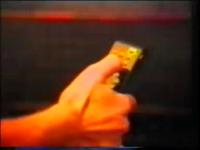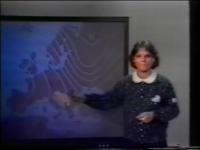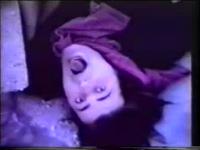 Rok Sieberer Kuri, Media Teror - Kriza
(00:02:54)
Production:
V.S. Video / Škuc - Forum, Ljubljana
,
1989
Kuri, the actor in the video, faces the aggression of the TV medium. He compares the images of himself to media information, he yields to their influence; the multiplication of information brings him to a crisis. (VD)
Add to playlist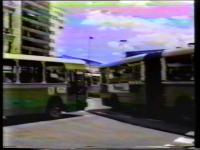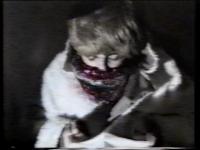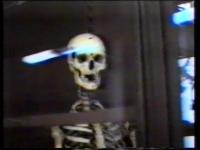 Rok Sieberer Kuri - Kuri kompilacija
(00:34:29)
Production:
V.S.Đ.V., Ljubljana
,
1991
The Kuri Compilation combines several humorous short video clips: Crisis, Yello Party, Ljubljana Trafik, Art Evening, Bonfire, Rollins, Crime-Criminal Story, The Koncilija Portrait, and Grandma's Robbery. An interview with a street newsvendor, city traffic, 'family' video in nature, video burlesque, criminal story featuring toys. (VD)
Add to playlist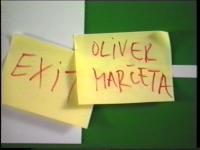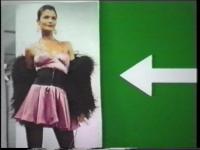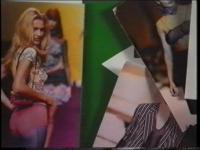 Oliver Marčeta - Jazz bre
(00:02:58)
Production:
Zeleni znak za izhod gosti fotografije manekenk, ki v množici ena za drugo postajajo številne in razosebljene. Video površina je plitva in spominja na kolaž. Žensko telo je potrošniška roba, ki zaradi obilja izgubi vrednost. Avtorjeva kritična misel je zreducirana na znak za izhod.
Add to playlist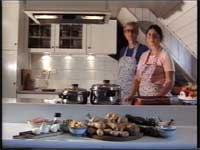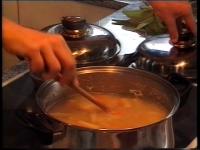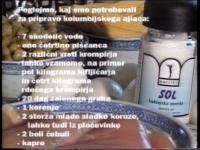 Alenka Pirman, Maja Šubic - Ajiaco
(0:05:15)
Production:
Ljudmila
,
1998
In this video by Alenka Pirman and Maja Šubic, the artists present the traditional Colombian dish ajiaco and through photographs describe the land and culture in which it originates. Adhering strictly to the cooking show genre, they set about preparing a dish that, from now on, we too can make for ourselves in Slovenia. A certain irony is audible in what the artists say, although the tone of their speech is never less than proper. At the end of the video they enjoy the ajiaco with the popular singer Jan Pl...
Add to playlist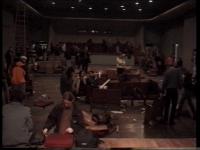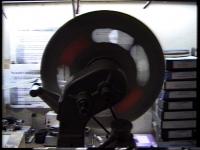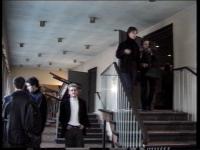 Apolonija Šušteršič - Ausverkauf
(0:09:45)
Production:
1999
Množica obiskovalcev prihaja v kino dvorano, kjer se najprej posedejo in ogledujejo film, nato pa jo popolnoma izpraznijo.
Add to playlist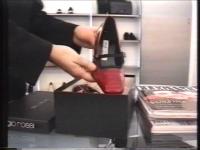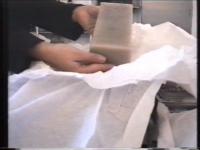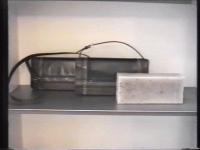 Apolonija Šušteršič - Production of Desire
(0:04:19)
Production:
Rijksakademie van beeldende kunsten Amsterdam
,
1997
The video clip relates handbags and shoes produced by world famous fashion companies (Armani, Gucci, etc.) to a brick of wax produced by Apolonija d.o.o. The material of the brick reveals the recycling procedure that characterises the entire artist's production. The video clip advertisement forms part of an installation placed in a prestigious shop. (VD)
Add to playlist
ZANK - Staro in novo / The Old and the New
(01:05:55)
Subtitle:
(English version)
Production:
V.S. Video / Forum Ljubljana, VPK & TV Slovenija (kulturna redakcija)
,
1997
The Old and the New reconstructs the lively bustle of the "Ljubljana subculture scene" in the eighties, and it was made by two insiders. With minute and swift editing of the picture and sound, the makers have succeeded in compiling a number of documents and video shots - made between 1982 and 1988 under the label FV Video - into an hour long narrative. The video combines the emotions and personal views with the socially-critical subculture and the wider historical context of the Yugoslav socialist...
Add to playlist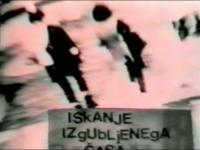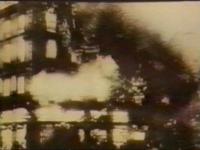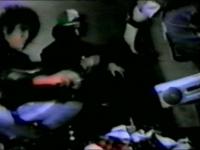 ZANK - Iskanje izgubljenega časa
(00:25:40)
Production:
FV Video / Škuc - Forum
,
1985
A compilation of music video clips of Ljubljana hard-core bands: U.B.R., Tožibabe, Odpadki Civilizacije, Epidemija, and III. kategorija. A collage of documentary and feature-film shots: rough expressive portrayals of the everyday life, searchings, fears, rage, cynicism, and self-irony of the subcultural scene. These images interchange with the images of the then political dailiness and 'mythical' history: political speeches, 'peace parades', bombardments, assaults. The second video cassette by the FV Label,...
Add to playlist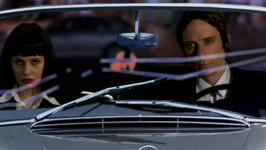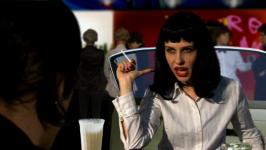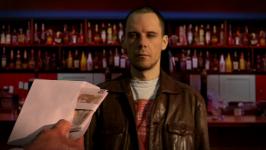 Nika Oblak & Primož Novak - Shund
(0:02:23)
Production:
2008
Shund is a frame by frame visually reconstructed original trailer of the movie Pulp Fiction. The entire trailer was reconstructed in the studio, using the technique of chroma key and simple props, like toy cars and guns, cardboard, paper… Nika Oblak & Primož Novak acted all parts. For the backgrounds of scenes they constructed photo collages, composed from photos mostly found on the internet. In this way Oblak & Novak subject themselves to the influence of mass media and materialize a common fascination...
Add to playlist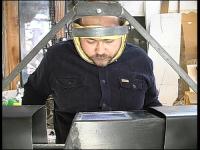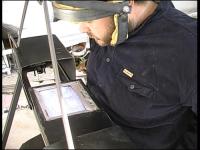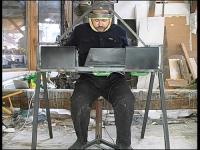 Tomaž Furlan - Wear VII
(00:03:30)
Subtitle:
Wear series
Production:
Tomaž Furlan
,
2005
Video is a part of a series of studio performances Wear compounded of eight works. The artist becomes a cyborg - a man sculpture. He is wearing massive concrete sculptural elements, which make his movements stiff and difficult. With clumsy performance of everyday household chores he humorously deals with the paradox of a life routine with machines, which are supposed to make our life easier and which mentally and ideologically determine the freedom of movement and thinking. Video works were made between 2004...
Add to playlist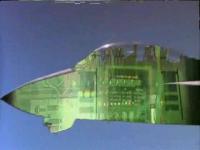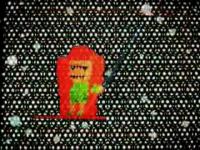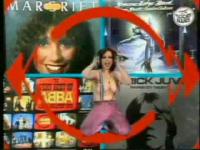 Maja Smrekar - System Casio:pia
(00:26:14)
Production:
Kiberpipa & Maja Smrekar
,
2007
Video je del širšega projekta, novomedijske skulpture, video instalacije, fizičnega objekta z večmedijskimi intervencijami z naslovom Casio Pia, ki temelji na podobju popularne kulture, televizijskega kiča in vsakdanjega sodobnega življenja. Video na svojstven način tematizira družbo spektakla na način izposojanja motivov iz virtualnega sveta filmske in širše zabavne industrije. Video predstavlja razgibana in hitra montaža, saj izposojeni kadri iz različnih filsmkih ali televizijskih produkcij...
Add to playlist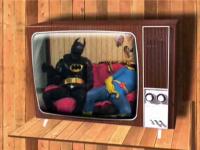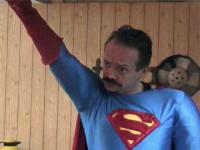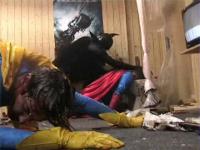 Mark Požlep - Fireplace, Axe and a Banana Peel
(00:11:46)
Production:
White Cross Production
,
2008
Igrani video zaključuje avtorjevo tematiziranje namišljenih in personificiranih superherojev. Dogajanje je postavljeno v tesen domačijski ambient, kjer tije protagonisti – superheroji - skušajo živeti v sožitju. Zaradi karakternih posebnosti in velikega ega vsakega izmed njih je medsebojna komunikacija napeta, sobivanje pa skoraj nemogoče. Poskus sobivanja preraste v nasilje, pogubno za vse tri protagoniste. Skozi ludistično igro se superheroji - Batman, Bananaman in Superman – začno pretepati,...
Add to playlist
ZANK - A.R.
(00:04:44)
Production:
FV Video, ŠKUC Forum
,
1985
The video creates dynamics by combining positive and negative versions of urban subcultural happening. Traditional and alternative culture are in constant battle. The text of the song is simple, reduced to a repetition of words, which don't follow the structure of a sentence. Video presents an information abundance and fills in the economic text. Borghesia (1983 - 1939) was a multimedia group (concert performance, video works, music videos, video tapes, music records and cassettes) formed by Zemira Alajbe...
Add to playlist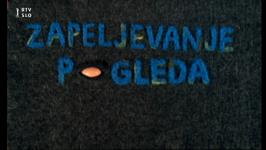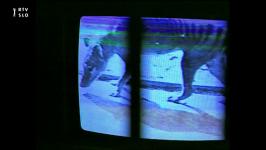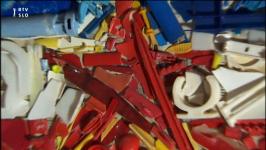 Amir Muratović - Zapeljevanje pogleda (1)
Subtitle:
1. sezona : Marija Mojca Pungerčar / Polona Tratnik, Vadim Fiškin / Sašo Sedlaček, Damijan Kracina / Marko A. Kovačič, Uršula Berlot / son:Da
Production:
RTV Slovenija
,
2007-2009
Niz dokumentarnih oddaj o slovenski sodobni umetnosti Zapeljevanje pogleda nastaja v Izobraževalnem programu Televizije Slovenija od leta 2007. Serijo sestavljajo oddaje, v katerih se predstavljata po dva umetnika, ki nam skozi svoja dela in projekte predstavljata lasten pogled na umetnost. Zapeljevanje pogleda ni zvrstno in žanrsko omejena serija in se še zmerom dograjuje.
Add to playlist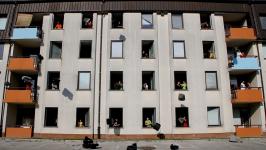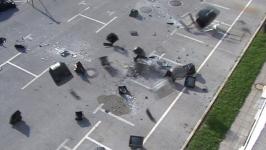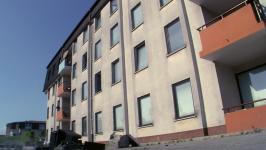 Sašo Sedlaček - Veliki izklop / The Big Switch Off
(00:01:48)
Production:
Aksioma
,
2011
The Big Switch Off is a part of Supertrash exhibition in which the artist problematizes mass destruction of worn out technological equipment and the dumping of it in the third world countries. In the video in question, characterized by a utopian touch, we follow opening and closing of windows of a big apartment building through which some of the tenants throw out cathodic TV receivers. The video gives a comment about introducing digital signal, which replaced the analogue one and as a result the devices, wh...
Add to playlist