DIVA artist in residency
4 results in works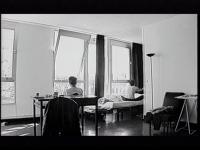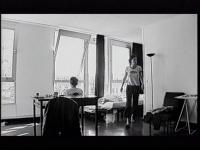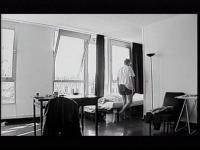 Marjan Gumilar - Pogled
(00:06:38)
Production:
Marjan Gumilar
,
2002
Avtor posname svoj vsakdan na statičen način. Video je posnet v enem samem kadru in prikazuje par v stanovanju, prepravljenem z dnevno svetlobo. Na radiu slišimo jazz glasbo, ki je obenem najbolj dramatičen element videa in omogača tako moški kot ženski osebi, da naselita video brez da bi komunicirala. Moški gleda skozi okno in občuduje razgled, ženska pa bere na postelji. Z odsotnostjo komunikacije - osebe so dejansko ujete v melanholičnost dolgočasnega vsakdana -, postane njuno stanovanje udob...
Add to playlist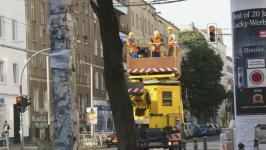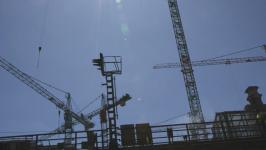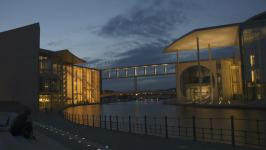 Amir Muratović - Impresija velemesta
(00:13:45)
Production:
Amir Muratović
Video je dokumentarna animacija zbranih fotografij Berlina. Avtor fotografira dogajanje v mestu in s tem ustvarja nov ritem velemesta, kar dobro izrazi predsodek o prenatrpanih in rastočih urbanih središčih. Urbani dogodki, ki so v vsakdanjem življenju postali skoraj neopazni, se skozi avtorjev pogled pokažejo v neki povsem novi obogateni estetiki. Še posebej to pride do izraza v pravilnih usmerjenih gibanjih, ki v ponavljajoči se animirani tehniki izpostavljajo red in tehnološkost velemesta.
Add to playlist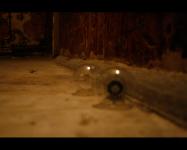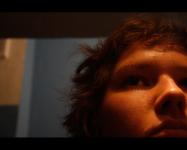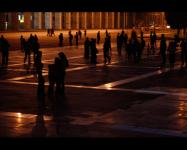 Pila Rusjan - Herethere
(0:03:02)
Subtitle:
Mapping the Memory
Production:
Famul Stuart & ArtEast
,
2007
Herethere je skupek digitalnih fotografij in kratkih video sekvenc, povezanih v zaključeno delo hitro odvijaočega se narativa, ki govori zgodbo avtoričinega intimnega življenja. Pila Rusjan skozi serije snapshot fotografij, ki si v začetku sledijo v hitrem zaporedju in dajejo občutek gibljive slike ali stop-motion animacije, pripoveduje svojo osebno zgodbo o navezanosti na kraje, ki jih kot ustvarjalka obiskuje in v njih določen čas tudi biva: poleg fotografij se skozi delo pojavljajo tudi tekstovni...
Add to playlist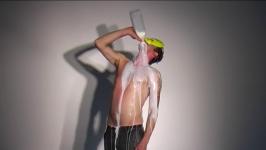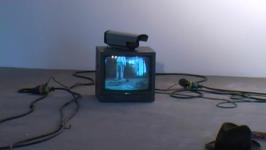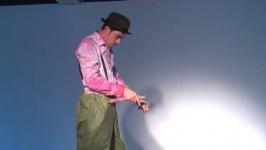 Mark Požlep, Jaša (Mrevlje - Pollak) - Time to Become Poets
(0:08:00)
Production:
2009
Samostojno video delo, ki je bilo izvorno prikazano kot del razstavne instalacije na gostovanju v Marseillu, kjer sta avtorja zapolnila obsežen razstavni prostor z odsluženimi gledališkimi rekviziti. Video delo, ki je bilo predvajano v posebej zgrajeni projekcijski instalaciji na skrajnem koncu razstavišča, prikazuje predvsem proces nastajanja prostorske postavitve, ko sta avtorja izvajala performativne akcije (ustvarjene zgolj za kamero). Avtorja, ki sta tudi edina nastopajoča, se asociativno poigrav...
Add to playlist