DIVA fear
22 results in works
Ema Kugler - Obiskovalec / The Visitor
(00:26:41)
Production:
V.S. Video / Forum Ljubljana, VPK & Viba film
,
1995
The artist insists on the duality of human nature: the same dreadfulness is part of both the mythical and the real world. The duality is explicitly presented by means of electronic effects that can petrify a human face, or wall-up a human body in a few seconds. Human figures dressed in extravagant costumes are returned back to nature by means of electronic effects: a man in a costume reminiscent of a bird transforms into a real bird. The costumed and real birds are accentuated by the bird's eye view, which...
Add to playlist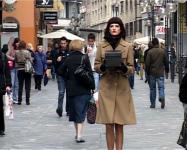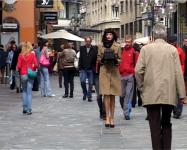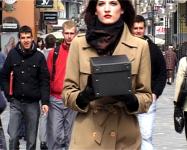 Maja Slavec - Woman Beauty Power Less
(00:04:40)
Production:
2008
A well-dressed woman is carrying with her a black box which has inside the sound of the countdown before the explosion of a bomb. She is walking with a resolute gait on the main street of Ljubljana during the rush-hour as a Suicide-bomber. With this action she is looking to provoke the people and attract their attention to this possible terroristic attack.
Add to playlist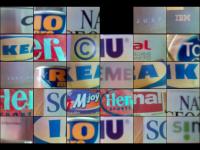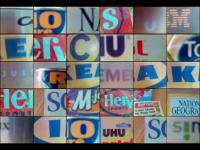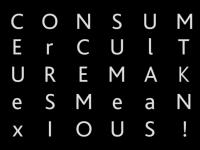 Vesna Bukovec - Consumer Culture
(0:01:30)
Production:
2007
Video work creates a game of logos of the big companies mimicking the game of memory. Inside 30 squares different brands move around. At the end a slogan "Consumer culture makes me anxious!" is written inside the fields.
Add to playlist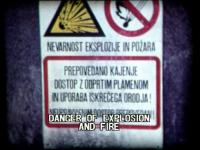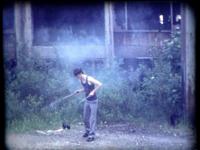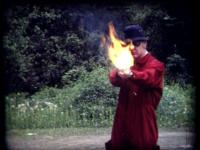 Kolja Saksida - Eksperimentalec
(00:09:31)
Production:
ZVVIKS Production
,
1999
Shot in 8 mm, the film takes inspiration from the genre of action film. In particular it ironically reconstructs the dynamics of a pursuit, the suspense, and the sudden cuts of the martial art film of the '70s. With the same purpose it uses a grained image and black corners around the scene. The film tells about a chance encounter between two expert jugglers and a pyromaniac that takes place around a semi-destroyed factory in Jesenice area. In this unusual environment the jugglers become hostages until a ch...
Add to playlist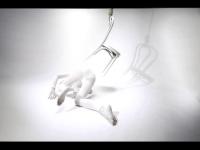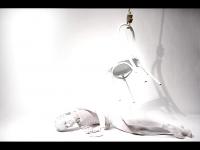 Zmago Lenardič - Suicide
(00:04:10)
Production:
2006
Video explores the dynamics of a tragic event like the suicide by hanging. The digital colour manipulation of the images isolates the scene from any contest, emphasizing it on a dazzling background. The action, perceived in its essential elements, gains a dramatic and at the same time theatrical connotation, despite the surreal inversion of the roles between the man and the chair. By focusing on the intensity of the event thanks to a static shot and few close ups, the video generates a confusion between sub...
Add to playlist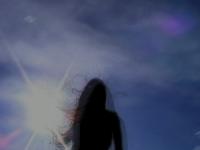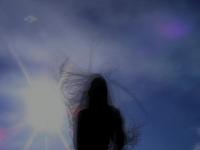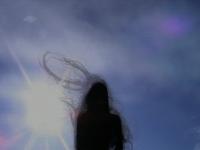 Mirjana Batinić - Burja
(00:02:42)
Production:
2006
Podvojena podoba. Silhueta, neprijetni občutek tesnobe. Fizični napor. avto erotika. Zaslepljena kamera. V delih snema subtilne avtoportrete, ki mejijo celo na avtoerotiko. Zdi se, da je njeno življenje postalo umetniško delo. A prvo umetniško delo je pravzaprav umetnica sama, ki oblikuje svojo podobo z nenavadno dolgimi lasmi, z oblikovanjem lastne osebnosti, z eksplicitno prefinjeno mimiko. Močna prezenca v njenih delih, kjer se skoraj vedno pojavlja kot osrednja igralka, nas privede do ideje nar...
Add to playlist
Vesna Bukovec - It Will Be OK
(00:03:34)
Production:
Bukovec, Vesna
,
2009
A woman sitting on a white sofa is petting a stuffed toy and in a slow rhythm convincing it and iherself that "it will be ok". This mantric exhortation works like a parody of the power of suggestive thoughts promoted by popular new age movements. We can only see the woman's torso. The dominant white color indicates innocence. Video has no music accompaniment.
Add to playlist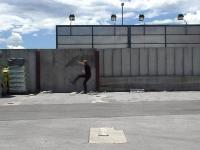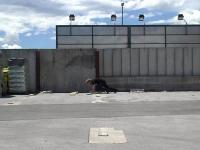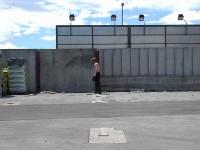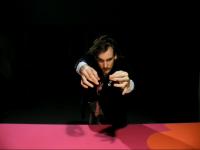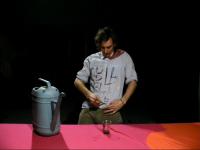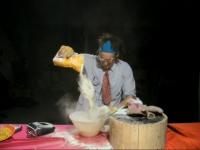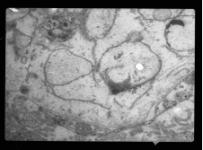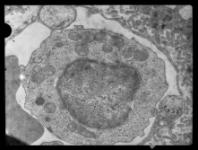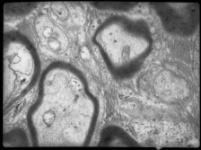 Dejan Habicht - Nevarni vzorci
Subtitle:
12 dolgočasnih pesmi
Production:
Center in Galerija P74
,
2006
Dangerous Patterns is an electronic book, which can be printed at home (557KB). Beautiful patterns on black and white photographs of biopsy specimens found in the discarded archives of the Institute of Oncology in Ljubljana.
Add to playlist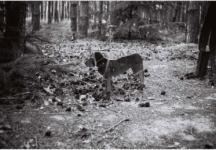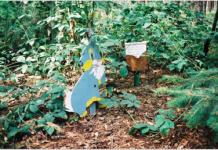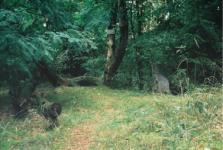 Dejan Habicht - Rotkäppchen
Subtitle:
12 dolgočasnih pesmi
Production:
Center in Galerija P74
,
2007
Pesem je elektronska knjiga, ki si jo lahko natisnemo sami. Sestavljena je iz serije barvnih in črno belih fotografij, ki prikazujejo nenavadni zabaviščni park v globokem gozdu na severu Nemčije, kjer je bil avtor na delovnem obisku. Park naj bi obiskovalca začaral v pravljico o Rdeči kapici (Rotkäppchen), ki ima v tradicijah zelo različne vsebinske in pripovedne oblike. Avtorja zanimajo morbidne variacije o težkem zorenju deklice v žensko.
Add to playlist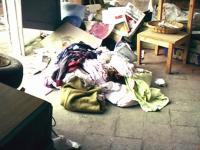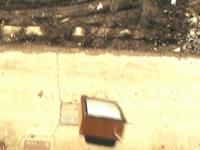 Zoran Srdić Janežič - Take a walk on the wild side
(00:07:30)
Production:
Zavod za sodobne umetnosti in kulture Gulag
,
2010
Video je nastal s snemanjem zapuščenega prostora. Snemalec sprva opazuje okolje in nima interakcije s objekti. Potem pa se v bistvu video pretvori v animacijo, kjer razmetani objekti dobijo neki svoj ritem in novo življenje. Gledalec ima občutek, kot da se stvari same od sebe začenjajo urejati, in iz kaosa zapuščenega prostora nastajajo pravilni in včasih ponavljajoči se vzorci in ritmi.
Add to playlist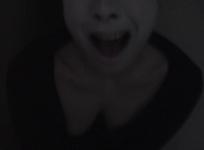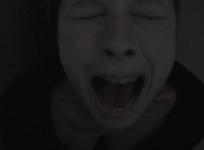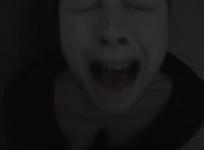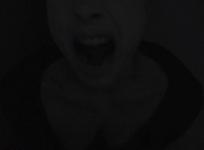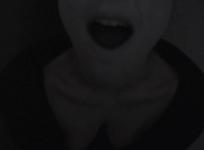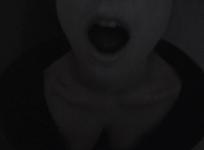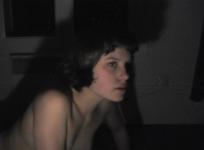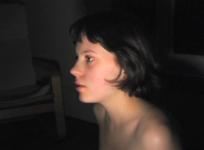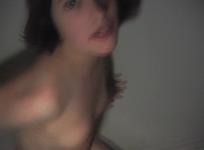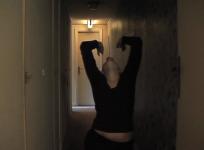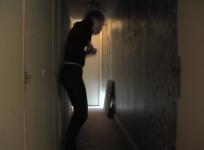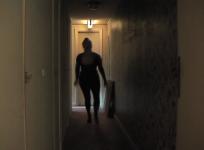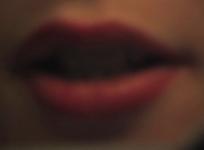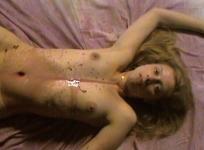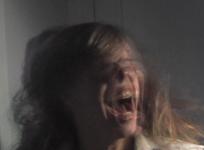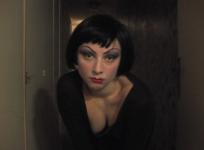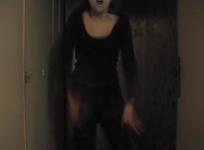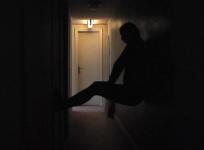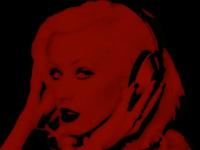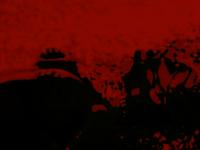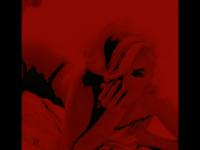 Evelin Stermitz - Women in War
(00:03:05)
Production:
E.S.
,
2010
The artist has compiled a collage of stereotypical images of attractive women, which she found with the search tag 'women' on YouTube. The audio background is made of various reports of violence against women during wars and conflicts. A red-black color combination of the video symbolizes bloody and pornographic violence against the female body.
Add to playlist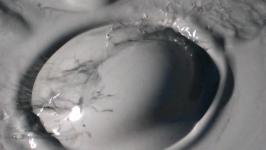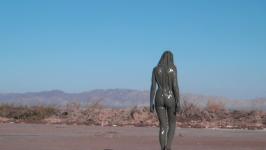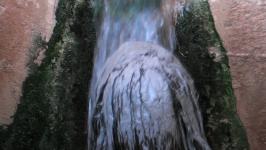 Nataša Prosenc Stearns - Mud (excerpts)
(00:09:59 (00:01:59))
Production:
2009
Blato je zgodba o izvoru življenja, v kateri ženska izoblikuje samo sebe iz naravnega materiala – iz tekocega blata, ki je nasičen s čutnostjo, prožnostjo in kreativnim potencialom. Zgodba je tudi pripoved o razmerju med prosto spreminjajoco se naravo in določenostjo s kulturo ter soobstoju obeh elementov v eni osebi. Motiv igranega video dela je avtorski prikaz mita o kreaciji ženske, ki vstane iz živega blata in stopi na pot transformacije oziroma civiliziranja. Video spremljajo terenski posn...
Add to playlist