DIVA light
23 results in works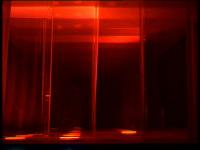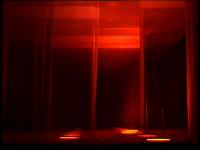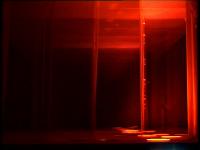 Zmago Lenardič - Fireworks
(00:10:10)
Production:
2006
Video documentation of an installation presented in the exhibition Liquid Space in 2006, shot with a static camera positioned in front of the work. A series of blinking red-light spots that switch on and off one after the other, creates a rhythmic correspondence between the light and the music. The light seems challenging the perceptive faculties of the viewer by drawing a visual interpretation of Bach's Kleine Preludien, and at the same time evoking the mechanism of a piano keys. The spot reflections and t...
Add to playlist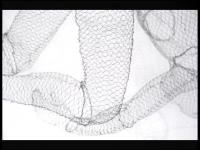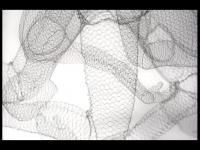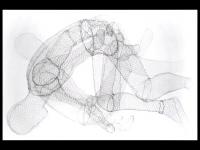 Zmago Lenardič - Network
(00:12:47)
Production:
2006
Video documentation of an installation presented in the exhibition Liquid Space in 2006, where the three-dimensional shape of a human body realized with a thin wire interweave is moving and projecting its shadow on a white surface. The video shows the overlapping of these shapes, creating a new layer where the body seems contested between real dimension and shadow. The movements of the camera around the installation make the new established relationship between the two entities become more and more confused...
Add to playlist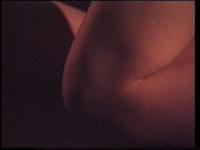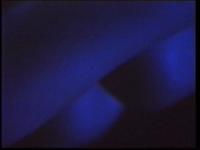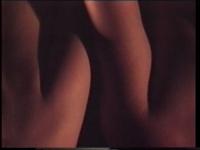 Nataša Prosenc Stearns - Meja
(0:04:32)
Production:
Center RTV Maribor, TV Slovenija
,
1997
The video focuses on the concept of skin, which is the borderline between the body and its surroundings. The picture consciously rejects all sophisticated visual manipulation and instead uses basic visual effects: the play of light and shadow, and colour changes. The varying rhythm of the editing changes the vibration of skin - the image animates its life.
Add to playlist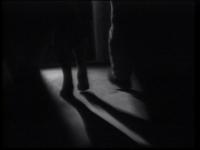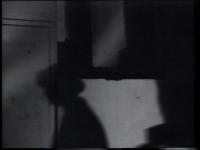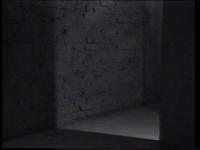 Nataša Prosenc Stearns - Vertikalni horizont
(0:03:20)
Production:
TV Slovenija
,
1994
The video film replicates the labyrinth presented in the installation of the same title. Bricks are placed on the floor, and they pass into the labyrinth on the screen. The figures never come from 'behind the walls' of the labyrinth, we can only hear the sound of their fleeting steps.
Add to playlist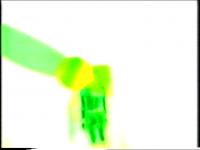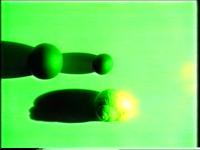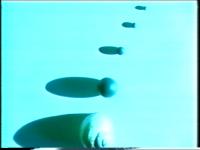 Oliver Marčeta - Zelenjavna mavrica
(00:03:06)
Production:
Polž iz plastelina, ki lovi svoj rep, drsi po površini ekrana, kjer se pojavijo tudi krogljice, ki spominjajo na zvezde. V središču pozornosti je njegova hiška, ki jo osvetljujejo različne barve. Video pogosto funkcionira kot abstraktna slika. Barvni in svetlobni kontrast je zelo močan in ustvarja psihedelično vzdušje.
Add to playlist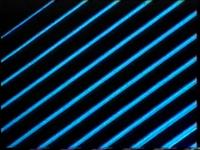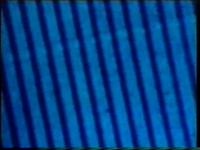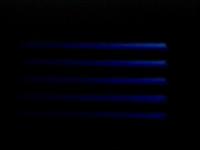 Oliver Marčeta - Avantgarde film
(00:05:18)
Production:
Računalniško producirane črte - vertikalne in horizontalne, sinhrono z glasbo prekrivajo površino ekrana. Glasba spominja na odrezavo pihanje vetra, ki je silovito in se stopnjuje, črte pa se z njo redčijo in gostijo - ekspresivno.
Add to playlist
Duba Sambolec - Tour de Place
(00:12:06)
Production:
Duba Sambolec
,
2001
Video is a performance carried out by one of the artists in front of and the other behind the camera. Pernilla Edholm guides Duba Sambolec and consequentially the viewer around an empty space and together they explore it in an ironic manner. Edholm establishes a character of a guide/sales agent, who conceptualizes the space and searches for meanings and contents that aren't there. Artists return once more to an unaltered space and end the video in the street in front of the building. Video is filmed with...
Add to playlist
Duba Sambolec - Lights & Pipes
(00:05:22)
Subtitle:
NoHomeVideos©
Production:
Duba Sambolec
,
2000
The authors put on the camera and film lights and pipes with one of them filming and the other holding her. The situation is entertaining for both of them, as we hear them laughing. The first one dictates hot the other should hold her in order for her to move up and film the lights and pipes. Movement of the hand held camera is impulsive, fast and improvised. NoHomeVideos© video performances, altogether created 14 by the author, are dealing with the experience of being manipulated by the agents of powe...
Add to playlist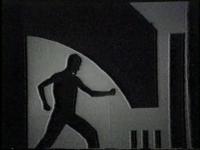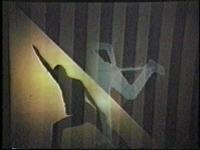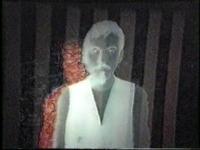 Marko Kovačič - Casus belli (video)
(00:15:35)
Production:
Škuc - Forum
,
1983
Video was made on a basis of an eponymous performance from 1983 by Marko Kovačič. The artist applies his body to projections in the background and creates static and moving images. Video is accompanied by experimental music.
Add to playlist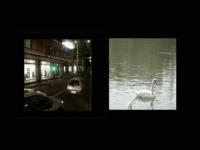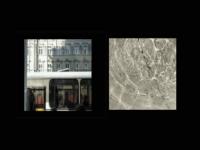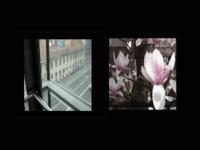 Vesna Čadež - Narava / Nature
(00:11:07 (skupno))
Subtitle:
Sinhronija (narava- Ljubljana) / Sinchrony (Nature- Ljubljana)
Production:
2005
The video captures two different video projections being played simultaneously presenting the contrast between urban and natural environment. They are viewed at separately, but grasped as a whole mimicking the viewer's division between perceiving and moving in the city as well as in the nature. Author takes the two opposing positions of man's living habitats, which complement one another, as her basis. Continuing with the concept of synchrony, she uses concurrence of action, simultaneousness of sound and...
Add to playlist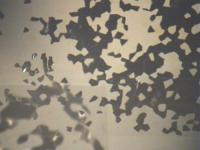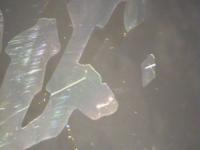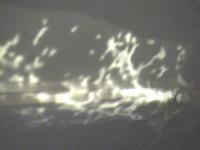 Uršula Berlot - Prehodnost / Transitoriness
(0:02:12)
Production:
2006
Patterns made by etching plastic surface reflect light onto the gallery walls. Diverse architecture of an ex sacral space is completely deconstructed with the movement of the light reflections. Two-dimensional surface is creating a three-dimensional animation with its many reflections, seizing the gallery's volume. This volume becomes the medium, which generates images and by that multiplies its space.
Add to playlist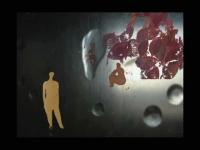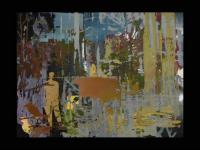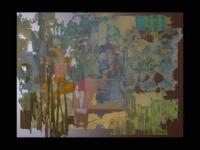 Vesna Čadež - Slika / Painting
(0:03:24)
Production:
2007
Video is focusing on a way of display of painting surfaces, fragments of author's paintings. Latter are shown as animation and collage, when surfaces are built one upon the other, in the under-paintings and color ratios. Canvas is substituted by computer screen, where the author is gradually coming towards a full visual surface, painting. Shapes and motif are connected to the natural world and its elements.
Add to playlist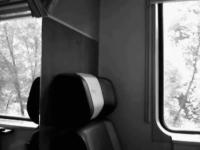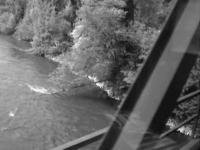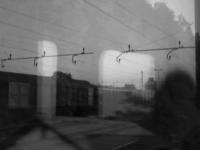 Vesna Čadež - Med vožnjo / During the Drive
(0:02:19)
Production:
2007
Video is following a journey with a train. The author uses image to explore movement, surroundings, the game of fast and slower movement reflected on the traces of speed of the outer, natural occurrence. Video is deliberately made in black and white technique, which emphasizes the graphic appearance of the structures and traces of the journey. The author explores the eternal search of innumerable and unrepeatable possibilities of gazes through the window following each other in a story of journey through a...
Add to playlist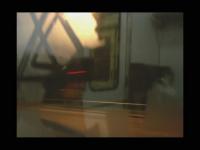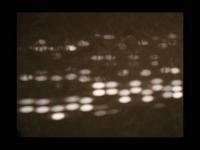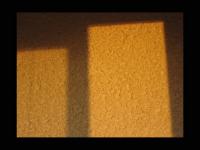 Vesna Čadež - Sencasvetloba / Shadowlight
(0:01:25)
Production:
2007
Video shows light patterns following each other in certain sequences. Different perspectives of light and shadow in nature go from direct ones for example light shining through the leafs, the sky playing with the natural shapes, to the ones caused by different structures of man's living habitat.
Add to playlist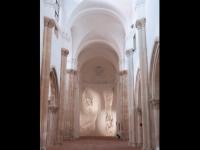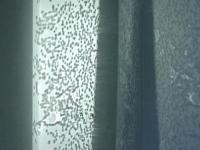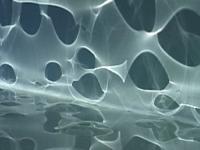 Uršula Berlot - Instalacije 2004-2007 / Installations 2004-2007
(0:05:14)
Production:
2007
Video documentation of the kinetic light installations made by the author in the period 2004-2007.Uršula Berlot combines different techniques of light manipulations. In all of the procedures author uses natural phenomena in order to redefine space and suggest its new metaphysical value.
Add to playlist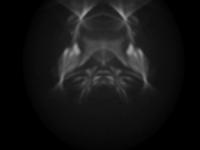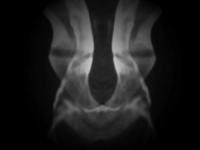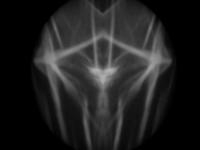 Uršula Berlot - Pulzija / Pulsation
(0:02:41)
Production:
2007
Video combines medical recordings of the brain and computer manipulation of those images. This animated image becomes symmetrical and dehumanized. We get a completely abstract arena, which reminds us of outer space. Author's cerebral area becomes the starting point for the unpredictable travel of light beams.
Add to playlist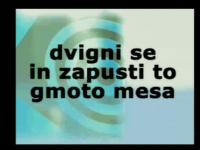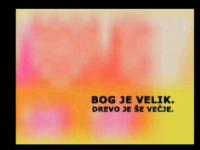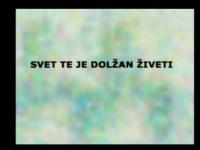 Neven Korda - Reinkarnacija
(00:01:14)
Subtitle:
Vmesno poročilo, Part of New New Films series
Production:
2001
Rise up and leave this mass of meat behind. The world is obliged to make your existence possible. God is big, a tree is even bigger. (Neven Korda) NNF (New New Films) were made between 2001 and 2007 and consist of twelve videos. They are in-between reports by Neven Korda from his renewed reading of the 1960s. At the beginning, they did not like the image of reality. Then they put this reality into question. Now they care just about of artificial worlds. Uniqueness of the moment. Unique...
Add to playlist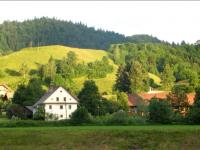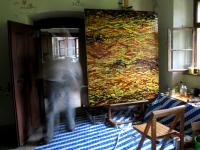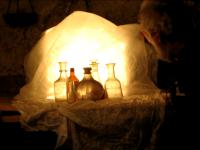 Amir Muratović - Gibanje v podobah
(00:05:00)
Production:
Amir Muratović
,
2006
Video na specifičen način dokumentira likovno kolonijo. Ker je bila tema kolonije podoba gibanja, se je avtor osredotočil na gibanje umetnikov in umetniškega procesa. Z zaključkom umetniškega procesa se ustvarjalni akt ne pretopi vedno le v umetnino. Vsaka umetniška praksa se tako pokaže v svoji goli ustvarjalnosti. Video kot zapisovalec tega umetniškega procesa pa postane dokument ritmičnih premikov, svetlobnih iger, barvnih in reliefnih tranzicij in gibanj umetnikov.
Add to playlist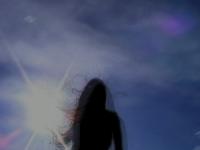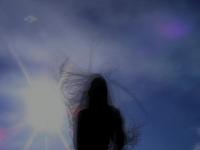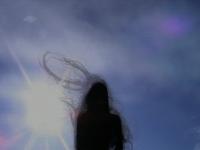 Mirjana Batinić - Burja
(00:02:42)
Production:
2006
Podvojena podoba. Silhueta, neprijetni občutek tesnobe. Fizični napor. avto erotika. Zaslepljena kamera. V delih snema subtilne avtoportrete, ki mejijo celo na avtoerotiko. Zdi se, da je njeno življenje postalo umetniško delo. A prvo umetniško delo je pravzaprav umetnica sama, ki oblikuje svojo podobo z nenavadno dolgimi lasmi, z oblikovanjem lastne osebnosti, z eksplicitno prefinjeno mimiko. Močna prezenca v njenih delih, kjer se skoraj vedno pojavlja kot osrednja igralka, nas privede do ideje nar...
Add to playlist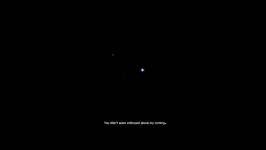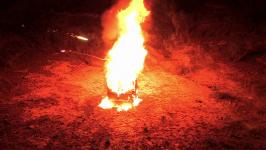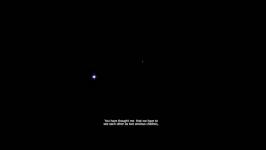 Mark Požlep - Is Anger Substitude for Love
(0:08:15)
Production:
2010
Video je zasnovan kot minimalistična interakcija majhnih svetlobnih teles na temnen zaslonu, ki se repetitivno približujeta in oddaljujeta. Ob vsakem zbližanju, kjer pa še vedno ostaneta na varni ditanci, izmenjata nekaj besed, ki skušajo orisati in umestiti njun abstrahiran odnos. Po koncu kratkega, napetega in pomenljivega pogovora, ki se navezuje na kompleksnost medsebojnih (ljubezenskih) odnosov, začno skozi temo švigati ognjeni izstrelki ter z vztrajnostjo uspejo zanetiti požar. Iz teme se izvi...
Add to playlist