DIVA silence
10 results in works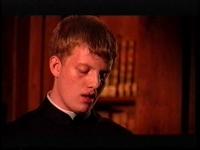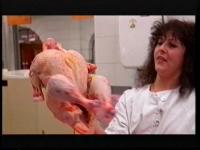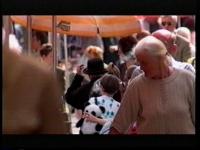 Jasna Hribernik - Hiša nasprotij / House of Contrasts
(00:20:17)
Production:
TV Slovenija
,
1998
Video documents a day in a house, where both the main Ljubljana food market and Christian seminary are based. Lively, ordinary conversations with the vendors blend with scenes from peaceful clerical life, which goes on undisturbed in the upper storeys of the same building. While the first, engaged with the earth and the material side of being, the second deal with spiritual and soulful aspect of life. Through the narrator the author questions about existence of life beyond matter. Classical documentary sh...
Add to playlist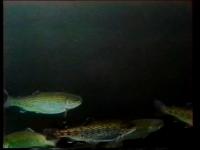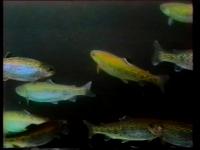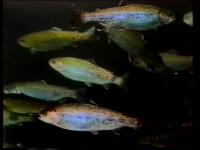 Damijan Kracina - Aquarium
(00:01:12)
Production:
1997
Underwater footage of the flight of the Soča trout, which is endangered due to irresponsible human farming of the common trout in the former's natural habitat. The swimming fish opening their mouths are silent witnesses of human actions.
Add to playlist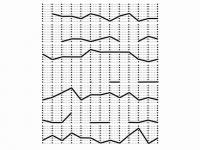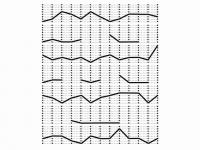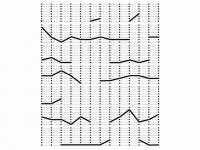 OFFTIR - P1p3P3p1
(00:03:14)
Subtitle:
Grafična notacija
Production:
2013
Grafična notacija P1p3P3p1 je bila razstavljena v okviru projekta projekta Liminale, ki je potekal od 20. 6. do 22. 7. 2013 v okviru programa Studio 6 (produkcija SCCA-Ljubljana). Video je grafična upodobitev računalniško zmiksanega zvoka bobnov, činele in predmetov s kontaktnimi mikrofoni.
Add to playlist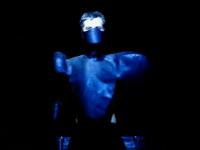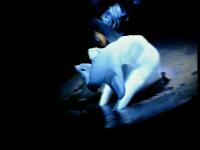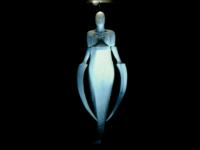 Ema Kugler - Tajga / Taiga
(00:08:22)
Production:
Forum Ljubljana & VPK
,
1996
Video Taiga is made after eponymous performance carried out at the international festival of contemporary arts City of women in October 1995 in Ljubljana. The viewer enters a dark atmosphere, dictated by dramatic vocal-electronic music, threatening anthropomorphic and wax zoomorphic figures and the movement of the camera. When the author establishes the landscape, she inserts two wrestlers and a drowning woman into it, additionally increasing the suspense. As the dramaturgy reaches its peak, the set scene...
Add to playlist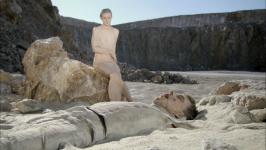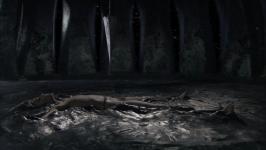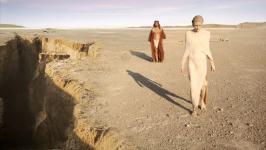 Ema Kugler - Za konec časa / For the End of Time
(02:05:28)
Production:
Zank & VPK
,
2009
The video film is an investigation on man and his smallness in front of nature and time, the story is told by a voice-over narrator, with no dialogues between the characters. The camera slowly moves horizontally in panoramic views showing bright wide desert landscapes crossed by traces of death, alternated with futuristic interiors. Computer generated imagery plays an important role in this last work as in the previous ones by Ema Kugler and contributes to the creation of recurrent enviroments which are a p...
Add to playlist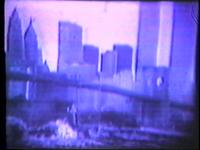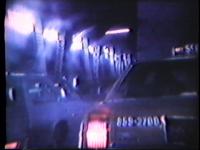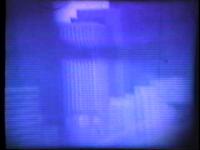 Emil Memon - 1983/Blue Movie
(00:51:00)
Production:
Emil Memon, Pawel Wojtasik
,
1983
"1983/Blue movie" was made on the basis of Memon's Diploma Work at the Florence Academy entitled 'History of Art and Non-Narrative Cinema', with references to film makers, such as Stan Brakhage, Kenneth Anger, Andy Warhol, Maya Deren, Sergei Eisenstein and video makers as Vito Acconci and Dennis Oppenheim. He made it while working as a Fulbright scholar on his MFA at PRATT Institute, Brooklyn, NYC, where he could use their facilities and premiered it there as his thesis show was based on it. Vid...
Add to playlist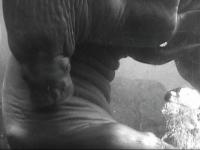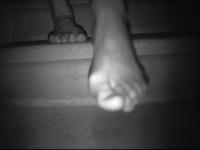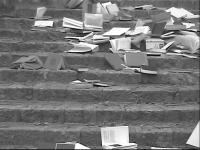 Ksenija Čerče - fall...
(00:08:09)
Production:
Ksenija Čerče
,
2005-2008
The video was created on the basis of three short videos, partly recorded during the artist's audio- visual studies in New York City. By naming it 'audio video', she emphasizes the key role that sound plays in her works. In individual sequences we follow the movement of persons, objects and animals, while the rhythm is based primarily on the presence and absence of sound and image, emphasized silence and darkness.
Add to playlist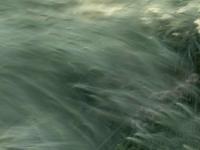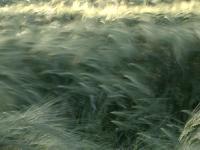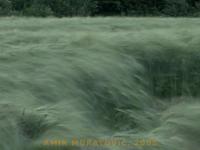 Amir Muratović - Z vetrom
(00:01:10)
Production:
Amir Muratović
,
2008
Video je posnet v enem kadru in dinamika posnetka je pridobljana s postopnim širjenjem vidnega kota. Gibanje rastlinja demonstrira moč vetra. Subtilne spremembe svetlobe in senc ustvarjajo dinamično kompozicijo. Gledalec dobi občutek, da je del sodobne različice romantičnega pejsaža. Vse, kar je slikarskega v romantičnih slikah, dobi tokrat romantično filmsko podobo.
Add to playlist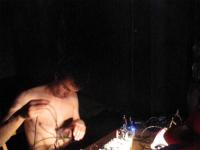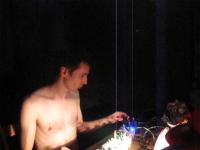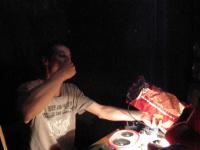 OFFTIR - B10Kalien
(00:51:41)
Production:
2013
Videokument performansa je del projekta Liminale, ki je potekal od 20. 6. do 22. 7. 2013 v okviru programa Studio 6 (produkcija SCCA-Ljubljana). Simon Bergoč je v Projektni sobi SCCA, v lesenem kubusu usvarjal zvočni performans (LFO, sequencer, synth, lo-fi effects, lo-fi speaker). Obiskovalci odprtja Liminala so skozi kukalo lahko sledili akciji performerja.
Add to playlist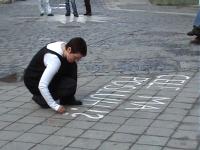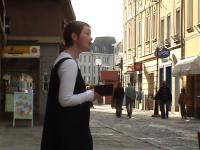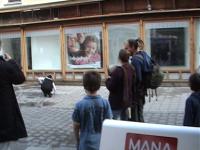 Andreja Džakušič - Cel'e 'as deaf ear
(00:09:17)
Production:
2010
Video is documentation of performance in public space. The performance was carried out together with street musician Vesna Prevolšek. A chair was placed in the location where vesna usually sings, which stood vacant until the time of the performance was due to start. While Vesna sat silently, the artist wrote Cel'e 'as deaf ear!? on the ground. She began to mime the singing of a song from a songbook of Slovene love songs. (Source: Andreja Džakušič, Encounters, overview exhibition catalogue, Center fo...
Add to playlist