DIVA performing arts
12 results in works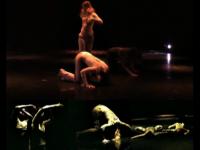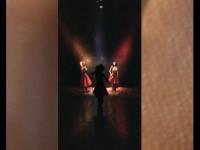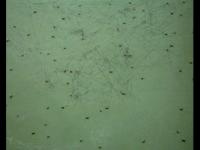 Ana Čigon - Brezčasje / Timelessness
(0:04:03)
Subtitle:
(poklon gozdu) / (compliment to the forest)
Production:
Plesni studio Intakt
,
2008
Dance video presents a dance show in a completely authorial way adding segments to the mere documentation. Author uses detailed shots from the woods and nature in general. We see a combination of long static shots and hand held camera manipulated with different editing effects. Costume design: Mateja Benedetti; Lights: Jaka Šimec; Visual design: Ana Čigon, Nataša Tovirac; Choreography: Nataša Tovirac; Dancers: Maša Kagao Knez, Teja Reba, Nataša Tovirac.
Add to playlist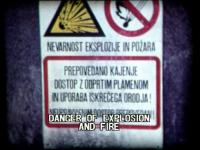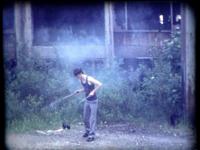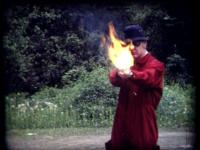 Kolja Saksida - Eksperimentalec
(00:09:31)
Production:
ZVVIKS Production
,
1999
Shot in 8 mm, the film takes inspiration from the genre of action film. In particular it ironically reconstructs the dynamics of a pursuit, the suspense, and the sudden cuts of the martial art film of the '70s. With the same purpose it uses a grained image and black corners around the scene. The film tells about a chance encounter between two expert jugglers and a pyromaniac that takes place around a semi-destroyed factory in Jesenice area. In this unusual environment the jugglers become hostages until a ch...
Add to playlist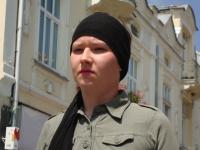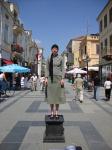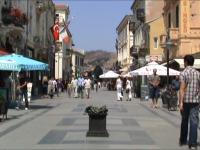 Pila Rusjan - We are all Big Brother and Big Brother is just one of us
(0:08:14)
Production:
AKTO 4 in KUD PUNce
,
2009
Video performans, ki ga je Pila Rusjan izvedla leta 2009 v Bitoli, je ustvarjen tako za naključno publiko v živo, kot za kamero oziroma video; na istem mestu se je kasneje predvajal ta isti video javne akcije. Video je ustvarjen v site specific maniri, saj je prvenstveno namenjen za specifičen prostor in kontekst. Avtorica je vzpostavila dvojni pogled: predvajanje videa ulice na tej isti ulici ter lastno prisotnost na mestu predvajanja videa. Video performans sestoji iz izmenjujočih se dolgih kadrov; pr...
Add to playlist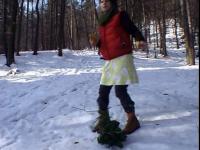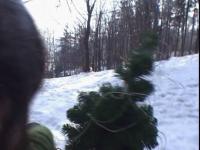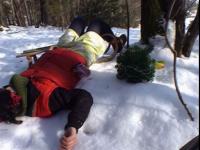 Polonca Lovšin - Sama za božič / On My Own for Christmas
(0:01.09)
Production:
Lovšin, Polonca
,
2006
Video je zgolj prikazni del širše zastavljenega projekta z naslovom 'Dynamo Christmas Tree', ki predstavlja napravo za samostojno napajanje okrasnih luči na božičnem dreveščku; avtorica luči prižiga in ugaša ob pomoči dinama, ki ga drži rokah. Video delo 'On My Own on Christmas' prikazuje avtorico, kako pleše v gozdu poleg majhnega božičnega dreveščka in prepeva pesem 'Last Christmas' skupine Wham in vzpostavlja neposredno asociacijo na ta glasbeni video spot. Avtorica skozi video nakazuje...
Add to playlist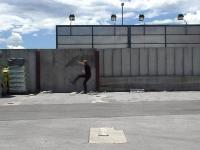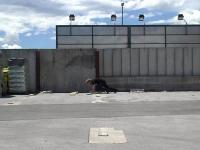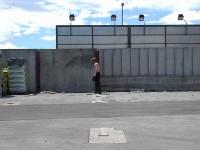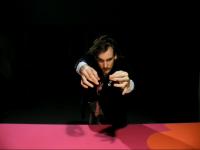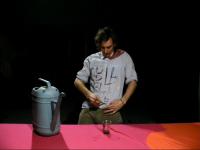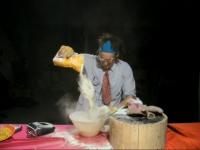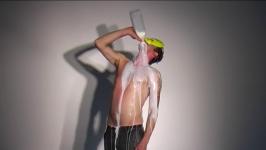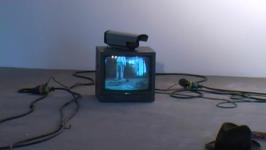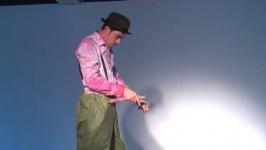 Mark Požlep, Jaša (Mrevlje - Pollak) - Time to Become Poets
(0:08:00)
Production:
2009
Samostojno video delo, ki je bilo izvorno prikazano kot del razstavne instalacije na gostovanju v Marseillu, kjer sta avtorja zapolnila obsežen razstavni prostor z odsluženimi gledališkimi rekviziti. Video delo, ki je bilo predvajano v posebej zgrajeni projekcijski instalaciji na skrajnem koncu razstavišča, prikazuje predvsem proces nastajanja prostorske postavitve, ko sta avtorja izvajala performativne akcije (ustvarjene zgolj za kamero). Avtorja, ki sta tudi edina nastopajoča, se asociativno poigrav...
Add to playlist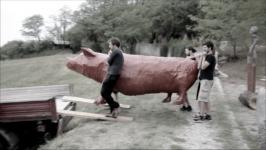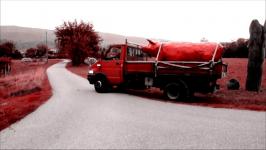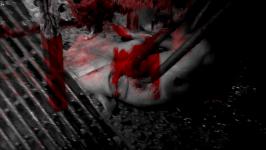 3kolektiv - Rezervoar "Svinja je umetnost in umetnost je svinja"
(00:04:18)
Production:
3kolektiv in Luka Kastelic
,
2012
Avtorski video je del celostnega projekta Rezervoar "Svinja je umetnost in umetnost je svinja". Prvi del projekta je bil podnaslovljen Rezervoar, izhajajoč iz definicije besede »rezervoár« po SSKJ, ki je zaprt prostor ali posoda za shranjevanje navadno večjih količin nečesa; zbiralnik, hranilnik. Video delo je montirani dokument prenosa objekta od lokacije njegovega izdelave v Biljah pri Novi Gorici do lokacije njegove postavitve v Ljubljani. Sama pot in dislociranje kipa je bilo izvedeno k...
Add to playlist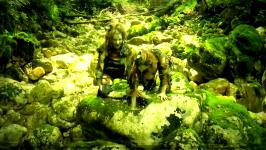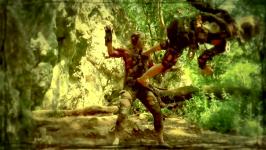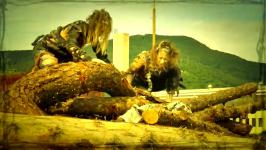 Katjuša Kovačič - Njavke: Crossed-Eyed Gazes
(00:14:53)
Production:
2015
Njavka je v slovanski mitologiji gozdno bitje ženskega spola. Predstavlja dušo deklice, ki je umrla nenaravne smrti. Njavke navadno živijo v skupinah globoko v gozdu ali v jamah, visoko v gorah. Dve njavki (performerki v animaličnem kostumu, ki posnema živalsko kožo, in v gibanju, ki je mešanica živalskega in človeškega) spremljamo v njunem naravnem, domačem okolju. Sledimo njunemu raziskovanju gozda: dotikamo se mahu na skalah, splazimo se v votlo drevesno deblo, ki je njun dom, oglašamo se...
Add to playlist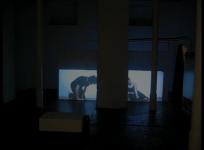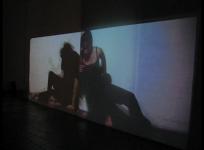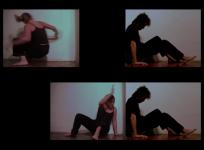 Ana Čigon - Perspective
(00:05:07)
Subtitle:
Video Installation
Production:
Ana Čigon, Galerija Alkatraz
,
2010
Delo je enokanalni video, ki združuje dokumentacijo večkanalne videoinstalacije v galeriji Alkatraz z originalnimi posnetki. Performans za video je bil predhodno posnet v prostorih galerije in nato predstavljen na treh dvo-kanalnih projekcijah v zanki. V videu se izmenjujejo posnetki prostorske postavitve z originali, ki so sestavljeni tako, da je znotraj enega kadra več posnetkov, ki simulirajo prostorsko postavitev. Video spominja na delo One more kick iz leta 2009, vendar ni njegovo nadaljevanje, am...
Add to playlist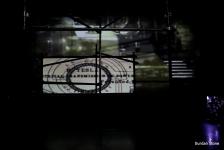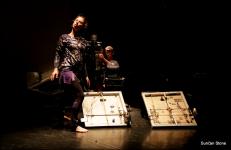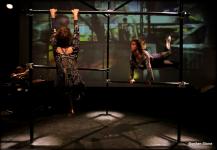 Katjuša Kovačič - Dynamic Balance (trailer)
(00:54:30)
Production:
2015
A show of physical theatre exploring the ideas of Nikola Tesla from early 20th century, by skipping over differences the performers represent a live motor. The performers explore the co-dependence of mass and energy. They seek balance and apply various means of expression to their movement, ranging from contemporary dance, acrobatics, capoeira, Chinese dance, physical and street theatre. The interaction between opposites creates the force of the collective engine. The sound also comes from two sources: t...
Add to playlist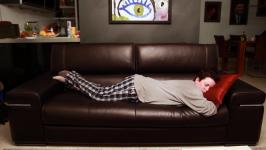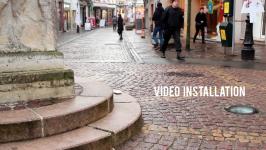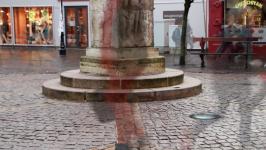 Valérie Wolf Gang - Artist Sleeping on The Street (trailer)
(03:00:00 (00:01:06))
Production:
Co-production: Famul VideoLab
,
2013
"Artist Sleeping on The Street" is a one channel video installation. LCD screen was put on the street of Belgium city Arlon and left there for couple of hours: the real time of the video in which the artist is sleeping. The goal of the video installation was to test the public for two things: firstly if they can notice a small detail on the street and secondly if they would stop and look at the artist sleeping or if they would turn their back on it. The result of the first test was expected but al...
Add to playlist