DIVA war
21 results in works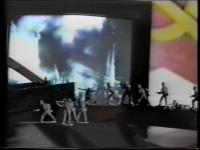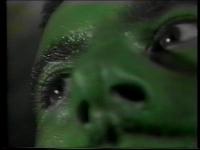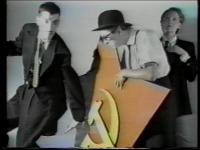 Marko Kovačič - Song of Flesh and Image Was Made Body
(00:15:56)
Production:
ŠKUC - Forum / koprodukcija Marijan Osole - Max
,
1985
The story of the narrative is based on genre crime fiction. The images are filled with citations from the history of art and cinema (Man Ray, S. Eisenstein) and are further stratified and multiplied. The dynamics of the image fraught with a typical cinematic suspence, is curtailed to the music ful of suspenz (Bernard Herrmann).
Add to playlist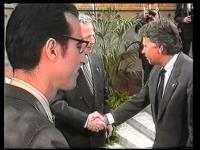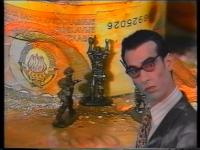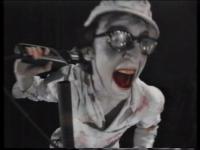 Marko Kovačič - No More Heroes Any More
(0:18:15)
Production:
V.S. VIDEO/Forum Ljubljana
,
1992
Video deals with the theme of war in a parodic and grotesque manner. With Chroma key procedure the two main protagonists or shall we say antagonists - evil and conniving political leaders are set inside a TV studio, where so called Royal game takes place. War battle metaphorically packed as a twisted game of chess, which sees real people as toys in the hands of malicious and greedy politics, is getting more and more insane and uncontrollable. Performative character of the video allows the actors to exagge...
Add to playlist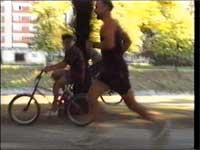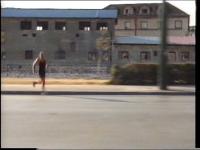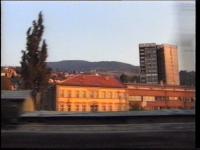 Katja Šoltes, Emir Jelkić - How Do You Say Ćesma? / Kako se kaže fountain?
(00:07:30)
Production:
Ljudmila, Ljubljana in SCCA/pro.ba, Sarajevo
,
2000
The video shows thoughts of a traveller and runner David Jones, who is discovering a war-stricken Sarajevo and tells the story of his endless travels. First the video follows the runner and surroundings through a window of a moving car. The shots at the end of the video are static and feature close-ups of the runner.
Add to playlist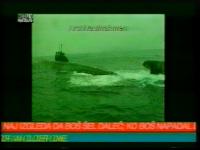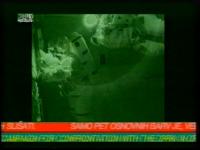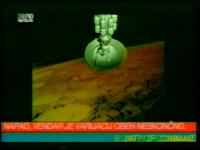 Marko Peljhan - The Park of Culture (TV situation)
(00:07:44)
Subtitle:
part of Media in Media exhibition
Production:
Projekt Atol, SCCA-Ljubljana, VPK
,
1996
If television bombards us with information, then this TV situation explicitly shows it. Images of earths' surface and human, especially technological activities on it are described in double captions, which look like stock quotes and differ in language (English and Slovene) and speed. The first line is describing, the second is explaining. The TV situation can be understood as a cradle for somebody discovering the world. The textual material is the translation of Sun Tzu's The Art of War and the compendium...
Add to playlist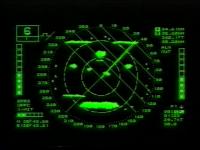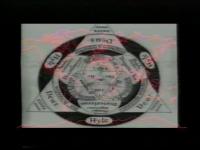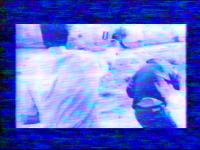 Marko Peljhan - RSS Atol - Projection
(00:58:03)
Production:
Projekt Atol
,
1993
The video works for EGORHYTHMS and ATOL were conceived as the integral part of these projects. They were thought of as pictures from the inner screens of actors, rhythmical images, which interplay with alchemical symbols and abstract visualisations of communication lines. For theL Egorhythm III video, the main motive is Slovene poet Srečko Kosovel's poem Kons 5, and the rss ATOL - projection ends with a photo sequence of Serbian policeman executioning a Muslim inhabitant of the town of Brčko during the wa...
Add to playlist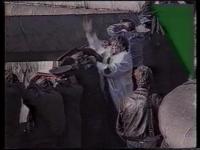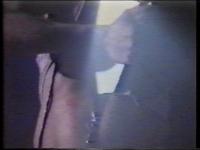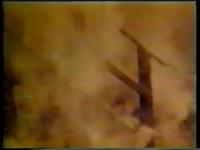 Mirko Simić - Anti Nazy Mix
(00:18:02)
Production:
V.S. Video / Forum, Strip Core & Bris
,
1993
A collage of documentary shots of totalitarian regimes of various periods and places.
Add to playlist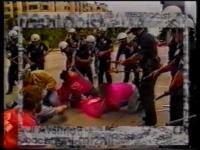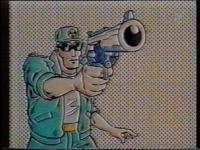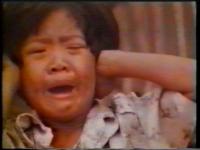 Mirko Simić - Anti Nazy
(00:09:06)
Production:
Bris & VS Video / Strip core
,
1992
A collage of documentary shots of totalitarian regimes of various periods and places. (VD)
Add to playlist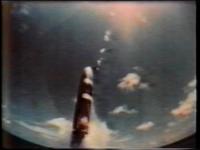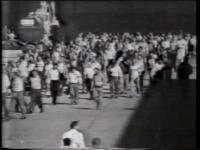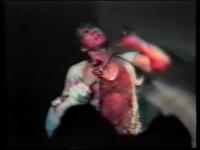 Mirko Simić - Assimilate
(00:08:18)
Production:
VS VIDEO / Škuc - Forum Ljubljana
,
1989
Video spot skupine Skinny Puppy. prizori destruktivnih vojnih misij so vpletene v prizore ljubljanskega koncerta skupine. Avtorju je uspelo zadržati kontekstualno koherentnost in je s tem tudi preispital okolje subkulture kot aktivnega in agresivnega ogovora na družbo.
Add to playlist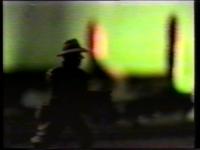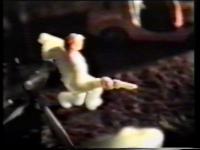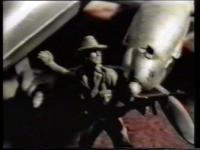 Rok Sieberer Kuri - Krimi krimič
(00:01:21)
Production:
V.S. - D.V.
,
1990
Posnetki figuric-igrač avtomobilčkov, majhnih avionov in vojakov, ki s pištolami merijo eden na drugega. Manipulacija z medijskimi, filmskimi podobami, ki jih avtor pogosto vključuje - akcijo prekine insert streljanja iz akcijskega filma. Figurica nato sede v avto in se odpelje.
Add to playlist
ZANK - Avtobus / Autobus (English version)
(00:11:20)
Production:
TV Slovenija
,
1993
The video starts with a graphic sign from which emerge images, and this procedure points to the fact that any documentary is but an artefact. The narrator searches through documents and reconstructs the life of Lela: in the Middle Ages she was accused of witchcraft; in the 20th century she finds herself in the midst of war, in the future she will leave the planet. Lela's individual destiny is being inscribed into the fate of humanity by means of layering the image; only television shots of the war in former...
Add to playlist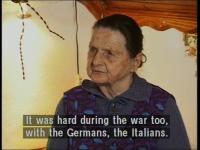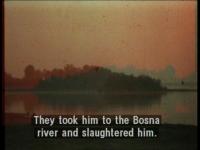 Zemira Alajbegović, Neven Korda - Rezine časa
(00:59:54)
Subtitle:
slovenska verzija
Production:
ZANK, VPK, TV Slovenija (kulturno umetniški program)
,
2001
Documentary film follows stories of two elderly women (artist's grandmothers) born during the First World War after which Austro-Hungarian Empire fell apart and a new state, Yugoslavia was established. They lived in different cultural and religious environments of Yugoslavia, in Bosnia (mostly Moslem) and Slovenia (mostly Christian), yet they were connected through their children and grandchildren. In Slices Of Time history is intertwined with personal stories; the film tells us about childhood, love and w...
Add to playlist
ZANK - Divja horda
(00:05:40)
Subtitle:
Tako mladi (kompilacija Borghesia)
Production:
FV Video / ŠKD Forum
,
1984
Music video for a song by the Borghesia group is a part of a compilation So young. This first video cassette was released in 1985 at Založba FV. ------- The Wild Bunch is a music video by the Borghesia group. It is a part of a compilation of the Borghesia video clips (So Young, The Wild Bunch, He, Too Much Tension, Cindy, A.R., ZMR), issued in 1985 as the first video cassette by the FV Label. These are short, almost "film-like" stories focused primarily on the iconography of the body in urba...
Add to playlist
ZANK - 400
(0:03:55)
Production:
TV Slovenija & PIAS
,
1991
Music video by Neven Korda for the song 400 by Borghesia (PIAS 1991) is a collage of different found footage, remakes of a performance by Marko Kovačič and Sebastjan Starič from 1991 and edited recordings of scenes performed by a theater group Gledališče za proizvodnjo fikcije, both members of Borghesia group and deaf-mute students. "400 kilometers is the distance between Belgrade and Zagreb, two cities of the same country in 1991." (Videodokument) ------- Borghesia (1983 - 1939) was a m...
Add to playlist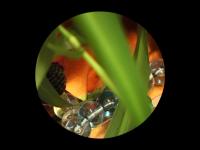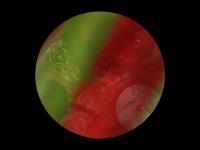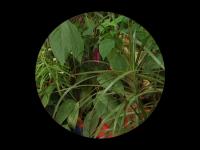 Duba Sambolec - Collectors #2
(00:15:15)
Production:
Duba Sambolec
,
2001
Video work is a research in the field of personal memories, their collected fragments, of the articulation of holes in the memory and missing evidence. The whispering of the author follows the whole line of recordings in a nondramatic, mystical and calming manner and works as a narration. Shots transition from focused to blurry in a slow rhythm. The video is limited with a round frame. In a series of works Collectors the author deals with an individual trapped in a subordinate position and with person...
Add to playlist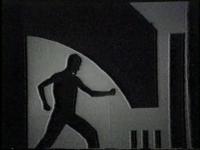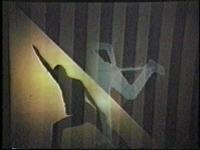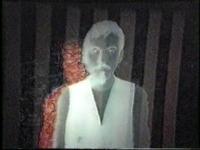 Marko Kovačič - Casus belli (video)
(00:15:35)
Production:
Škuc - Forum
,
1983
Video was made on a basis of an eponymous performance from 1983 by Marko Kovačič. The artist applies his body to projections in the background and creates static and moving images. Video is accompanied by experimental music.
Add to playlist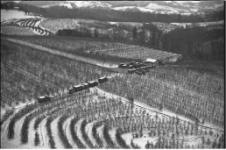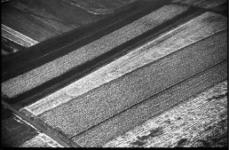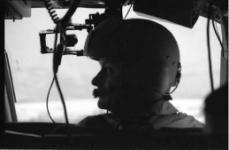 Dejan Habicht - Love is in the Air
Subtitle:
12 dolgočasnih pesmi
Production:
Center in Galerija P74
,
2007
Love is in the Air is an electronic book in the size of 523KB. The story for the poem draws upon a strange script for NATO and PFP exercises from 1998: "After the fall of a dictatorial regime in a small country in southeastern Europe, a bloody power struggle between ethnic and religious militias broke out. The civilian population suffered the greatest number of casualties. Acting on the UN directive, NATO troops, aided by Partnership for Peace troops, entered the country, separated the warring sides, d...
Add to playlist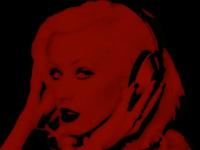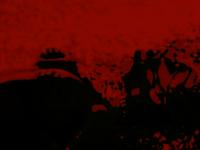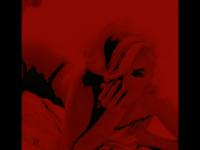 Evelin Stermitz - Women in War
(00:03:05)
Production:
E.S.
,
2010
The artist has compiled a collage of stereotypical images of attractive women, which she found with the search tag 'women' on YouTube. The audio background is made of various reports of violence against women during wars and conflicts. A red-black color combination of the video symbolizes bloody and pornographic violence against the female body.
Add to playlist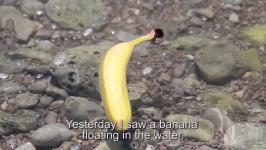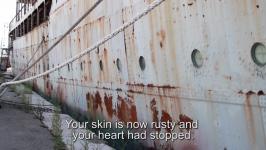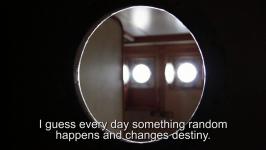 Valérie Wolf Gang - Distant Memory
(00:02:43)
Subtitle:
English subtitles
Production:
2014
"Distant Memory" is a video poetry, which speaks about the times that once were. It all starts with a random event which evokes narrator's memories about the times before the disintegration of Yugoslavia and encourages reflection about what the war actually brings and how quickly people forget everything. The poem can be interpreted as a letter or a personal confession of an unknown man written for the mighty Tito's ship Galeb. The ship has a symbolic value in the poem and through the variety...
Add to playlist

Nika Grabar - Interview: Marko Peljhan/Projekt Atol on video The Park kulture
Production:
SCCA-Ljubljana
,
2011
Interview with Marko Peljhan on TV situation Parc of Culture realised in frame of Media in Media exhibition project (SCCA-Ljubljana) in 1997.[Iz: From Consideration to Commitment: Art in Critical Confrontation to Society, on-line publication https://talkingcriticarts.wordpress.com/, Belgrade, Ljubljana, Skopje, Zagreb: 1990-2010; Publishers: SEEcult.org in cooperation with ForumSkopje; Kurziv - Platform for Matters of Culture, Media and Society; SCCA, Center for Contemporary Arts - Ljubljana / Artservis;...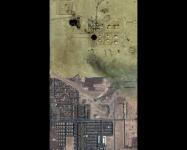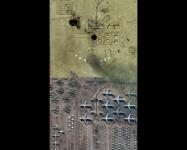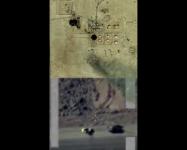 Miha Vipotnik - Smeh / Laughter
(00:03:16)
Production:
Miha Vipotnik
,
2015
The video is divided into two vertical levels. The one above shows the scenes of military territories and interventions of the USA in Irak and Middle East. We see oil marks and empty cities in bird's perspective. A smiley face is added to all the shots as sort of a leitmotif of the video. The level below shows satellite shots of Las Vegas which is at the same time a metaphor of getting rich and of short term and evasive happiness, and it evokes a victorious laughter. The latter vanishes in figural compositi...
Add to playlist