DIVA installation
38 results in works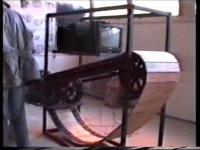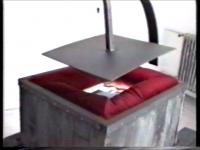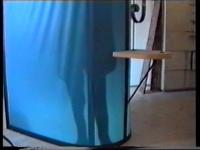 Darij Kreuh - Mine Mind Do you Mind
(00:03:18)
Subtitle:
Imena skulptur: Treadmill, Push it, Cabine
Production:
1993
Posnetek serije skulptur, ki delujejo kot nihala. Gre za interaktivno delo predmeta s predmeti in za dokumentarne posnetke iz razstave, v katere montaža minimalno poseže. Kamera posega v različne kote eksponatov, zato da jih lažje - razločneje vidimo.
Add to playlist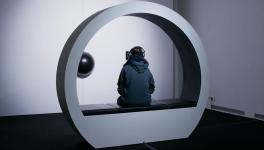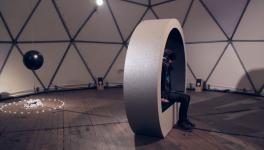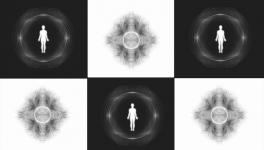 Saša Spačal - Liminoid
(00:08:08)
Production:
Saša Spačal, Muzej sodobne umetnosti Metelkova - MSUM+
,
2016
The video conceptually reflects on Liminoid, an artwork by Saša Spačal and Matic Potočnik.
Add to playlist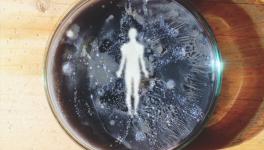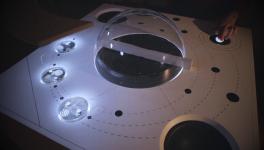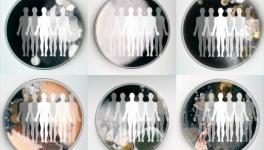 Saša Spačal - Mycophone_unison
(00:14:27)
Production:
Saša Spačal, Muzej sodobne umetnosti Metelkova - MSUM+
,
2016
The video conceptually reflects on the work Mycophone_unison by Saša Spačal, Mirjan Švagelj and Anil Podgornik.
Add to playlist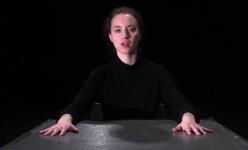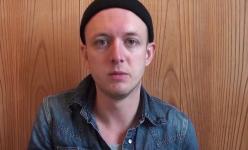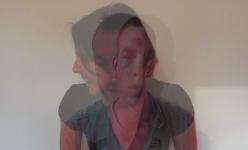 Andrea Knezović - Liminal
(00:11:00)
Production:
2013
Liminal is a video installation that deals with the transformational nature of language and communication through symbolic aspects. The project started as an experiment in which artist involved people coming from different national and linguistic backgrounds; from Sweden, France, UK to Serbia and United States. She gave them an assignment - to write a short story of their choosing, true or fictional, and focus on memorizing its general content. Then they were instructed to elaborate these stories in imagina...
Add to playlist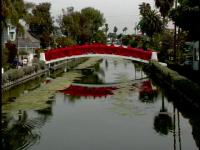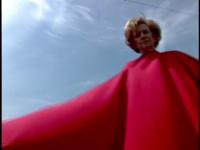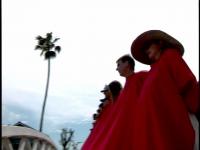 Nataša Prosenc Stearns - Connected
(0:08:00)
Subtitle:
Living Sculpture / Human Bridge
Production:
Kanalya Pictures
,
2005
A documentary about a living sculpture on one of the bridges over the Venice canals. Connected was created as part of the 26th Venice Art Walk in celebration of the 100th anniversary of the Venice canals in California. The participants were all covered with red fabric standing shoulder to shoulder on a bridge. The intention was to point out connections between people in a society run by individualism and hostility.
Add to playlist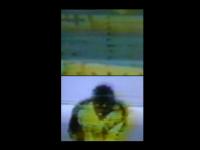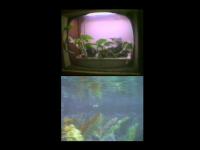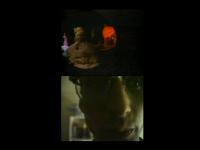 Miha Vipotnik - Eight
(00:24:52)
Production:
1992
Eight is based on the story from the novel Moment of Silence by Tomislav Longinović (Burning Books: San Francisco, 1990) that addresses the question of disintegration of Yugoslavia, search for identity, personal experience of history and the meaning "lost in translation". The video was made for the Remember Yugoslavia exhibition in New York (1991-92), but Vipotnik withdraw it due to the nationalistic tendencies of Serbian artists. Video was presented as an installation at the Vipotnik's inte...
Add to playlist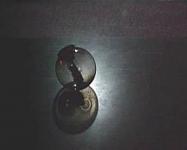 Borut Savski - Dancers
(00:03:34)
Production:
Galerija Kapelica
,
2008
Dve avtonomni gibljivi okrogli telesi v instalaciji izvajata plesni performans dveh preprosto (digitalno, a ne računalniško) programiranih objektov, ki med seboj komunicirata in se privlačita s pomočjo senzorjev in ambientalnega zvoka v galeriji. Okrogli telesi je umetnik prvič sestavil leta 2005 za nastop projekta Problemloss v Moderni galeriji v Ljubljani. Naslov performansu je bil Posodi polni zvoka. Kasneje je posodi vključil v predstavitev Distribuirano telo v Mali galeriji Moderne galerije ter v...
Add to playlist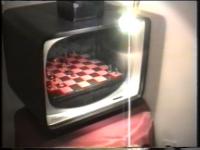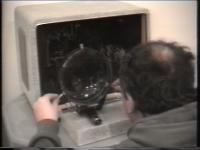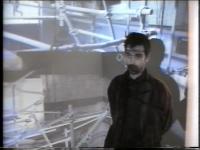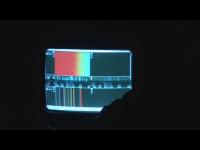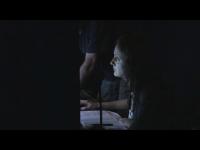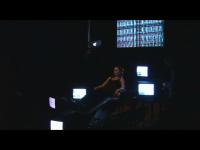 Maja Smrekar - Brain TV
(00:31:36)
Subtitle:
rcv:10.95–11.7GHz,snd 5.8GHz
Production:
Galerija Kapelica, Zavod K6/4
,
2008
Brain TV je interaktivni tehnološko pogojeni projekt, ki je bil postavljen v Galeriji Kapelica. Predstavljen je na podlagi video dokumentacije. Brain TV deluje na frekvencah med 10.95 in 11.7 gigahercev. To pomeni, da zbira elektromagnetna valovanja iz vesolja, jih zajema prek radijskega sprejemnika ter nato skozi kompleksne vmesnike pretvarja v zvok in sliko. Ker so signali iz neskončnega univerzuma večinoma šibki in statični, je avtorica za vmesnik uporabila človeško telo oziroma možgane kot enega...
Add to playlist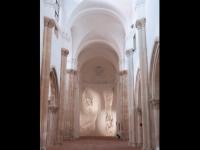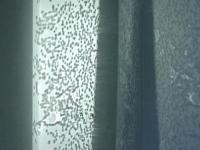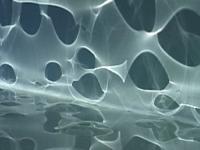 Uršula Berlot - Instalacije 2004-2007 / Installations 2004-2007
(0:05:14)
Production:
2007
Video documentation of the kinetic light installations made by the author in the period 2004-2007.Uršula Berlot combines different techniques of light manipulations. In all of the procedures author uses natural phenomena in order to redefine space and suggest its new metaphysical value.
Add to playlist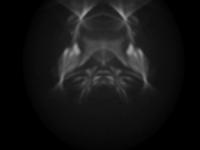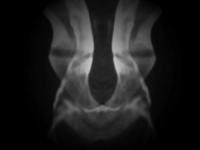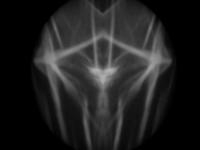 Uršula Berlot - Pulzija / Pulsation
(0:02:41)
Production:
2007
Video combines medical recordings of the brain and computer manipulation of those images. This animated image becomes symmetrical and dehumanized. We get a completely abstract arena, which reminds us of outer space. Author's cerebral area becomes the starting point for the unpredictable travel of light beams.
Add to playlist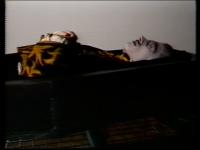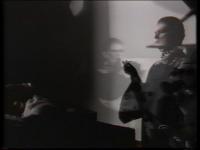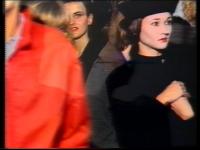 Marko Kovačič - Requiem M
(00:04:02)
Production:
1989
Video documents a performance entitled Requiem, which happened as a part of an exhibition Izkušnja predmeta (Experience of the Object)in Modern gallery in Ljubljana in 1989. The artist conducted the performance on his 33rd birthday. Coated with white wax make-up he immovably lies in a sarcophague for an hour and a half, as long as Mozart's Coronation Mass lasts. With the performance the author partly relived Jesus's experience and predicted the death of human kind. Focused and clear shots of the performanc...
Add to playlist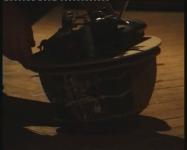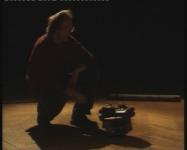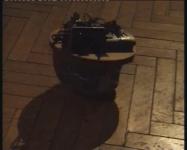 Borut Savski - Plesalec
(00:17:23)
Production:
Galerija Kapelica
,
2005
Posnetek performansa, ki se je zgodil v galeriji Kapelica. Borut Savski je izdelal stroj, ki samostojno deluje in na ta način ustvarja svojo lastno umetnostno prakso. Avtorjevo vprašanje zadeva predvsem prinicipe subjektivacije. Plesalec nam predlaga čisto novo subjektivacijo umetniškega početja skozi gib in zvok in ne več skozi besedo in jezik.
Add to playlist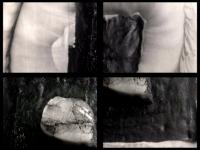 Luka Dekleva, Elena Fajt - The Memory
(00:02:01)
Production:
E. F., L. D.
,
2009
The photo animation was designed by Elena Fajt (installation), Luka Dekleva (photo), Luka Prinčič (sound) at the time of the II. Biennial of Sloevene Independent Illustration in 2009. Fajt set up ice cubes in three open-air locations containing the frozen ink that gradually changed the image. Time-based installations and abstract illustration were the result of the author's reflection on developing a specific method for graphic printing. The colour was frozen in an ice cube, under which the textile was pl...
Add to playlist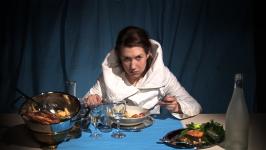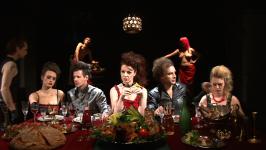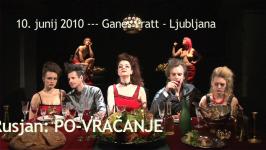 Pila Rusjan - Po-vračanje
(0:18:19)
Production:
Visoka šola za umetnost Univerze v Novi Gorici; Famul Stuart & KUD PUNce
,
2010
Delo Po-vračanje je dvokanalna video instalacija, ki sinhrono prikazuje dva vsebinsko in formalno povezana posnetka skozi specifično postavitev na način, da gledalec nikdar ne vidi obeh strani naenkrat, ter predstavlja metaforo posameznikovega podrejanja skupini oz. posameznikove vpetosti v širšo družbo. Videa sta posneta v studijskem okolju s popolnoma statično kamero, ki nepremično spremlja dogajanje v prostoru, razdeljenem na dve strogo ločeni strani. Osrednji motiv videa je slavnostna večerja...
Add to playlist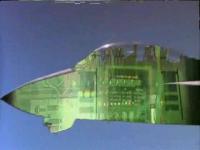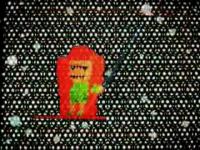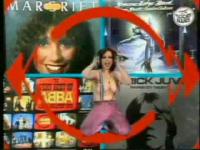 Maja Smrekar - System Casio:pia
(00:26:14)
Production:
Kiberpipa & Maja Smrekar
,
2007
Video je del širšega projekta, novomedijske skulpture, video instalacije, fizičnega objekta z večmedijskimi intervencijami z naslovom Casio Pia, ki temelji na podobju popularne kulture, televizijskega kiča in vsakdanjega sodobnega življenja. Video na svojstven način tematizira družbo spektakla na način izposojanja motivov iz virtualnega sveta filmske in širše zabavne industrije. Video predstavlja razgibana in hitra montaža, saj izposojeni kadri iz različnih filsmkih ali televizijskih produkcij...
Add to playlist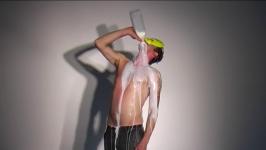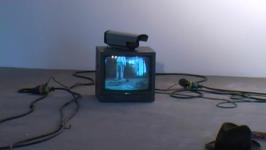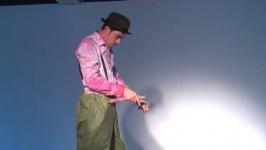 Mark Požlep, Jaša (Mrevlje - Pollak) - Time to Become Poets
(0:08:00)
Production:
2009
Samostojno video delo, ki je bilo izvorno prikazano kot del razstavne instalacije na gostovanju v Marseillu, kjer sta avtorja zapolnila obsežen razstavni prostor z odsluženimi gledališkimi rekviziti. Video delo, ki je bilo predvajano v posebej zgrajeni projekcijski instalaciji na skrajnem koncu razstavišča, prikazuje predvsem proces nastajanja prostorske postavitve, ko sta avtorja izvajala performativne akcije (ustvarjene zgolj za kamero). Avtorja, ki sta tudi edina nastopajoča, se asociativno poigrav...
Add to playlist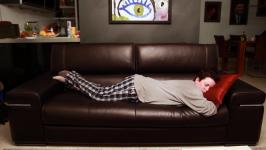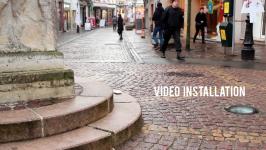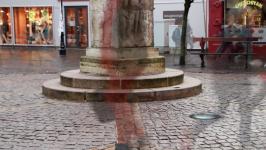 Valérie Wolf Gang - Artist Sleeping on The Street (trailer)
(03:00:00 (00:01:06))
Production:
Co-production: Famul VideoLab
,
2013
"Artist Sleeping on The Street" is a one channel video installation. LCD screen was put on the street of Belgium city Arlon and left there for couple of hours: the real time of the video in which the artist is sleeping. The goal of the video installation was to test the public for two things: firstly if they can notice a small detail on the street and secondly if they would stop and look at the artist sleeping or if they would turn their back on it. The result of the first test was expected but al...
Add to playlist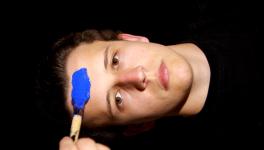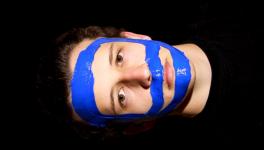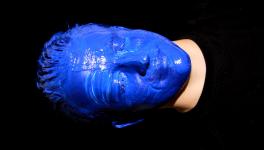 Valérie Wolf Gang - Dali's blue (trailer)
(00:15:00 (00:02:23))
Production:
2013
Dali's blue is video installation by Valerie Wolf Gang inspired by the Salvador Dali's picture Galatea of the Spheres. In the video Valerie is painting the face of a young man blue and the video is projected on white balloons suspended from the ceiling. Balloons are set in different layers so the projection becomes three dimensional in space and it degrades the video image in smaller parts which became it's own separate videos. If you look at the projection from the frontal part you can see a young man an...
Add to playlist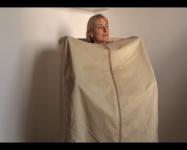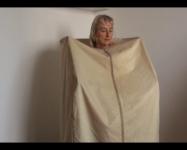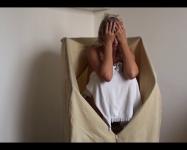 Aleksandra Saška Gruden - Dialectical relationship
(00:12:39)
Production:
Video work is a part of a multimedia deploy conducted in 2013 in Centralna postaja in Maribor. As a part of an exhibition the video problematizes the representation of womanliness. Video – partially edited, recorded in real time and space, follows the unveiling of our perception and the thrill at discovering new features of identities. (Source: centralnapostaja.si)
Add to playlist