DIVA statue
7 results in works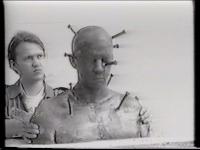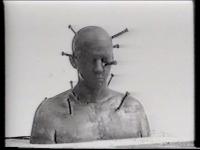 Damijan Kracina - Žeblji / Nails
(00:06:34)
Production:
Akademija za likovno umetnost, Ljubljana
,
1995
The black-and-white footage of a performance shot from a static camera dates to the time when the artist was studying at the Academy of Fine Arts in Ljubljana. The performer looks at sculpted busts, and hammers nails into them, seeking a way to examine the traditional sculptural format without employing a process of construction or deconstruction. The work is also humorous, as if the artist were trying to say that the sculpture is 'hammered' in the head.
Add to playlist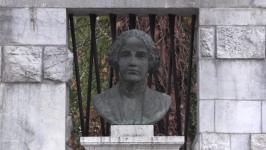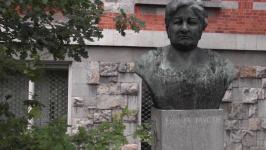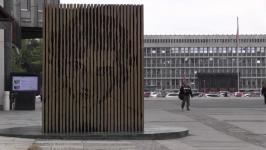 Ana Čigon, Leja Jurišić, Teja Reba, Barbara Kapelj Osredkar - Ljubljana City of Women
(00:09:02)
Production:
Festival sodobne umetnosti Mesto žensk
,
2013
In the video action, Barbara Kapelj Osredkar and Teja Reba asked passers-by on the streets of Ljubljana whether they know about a monument in Ljubljana that would be dedicated to female personality and which woman would they choose if they could decide. The video picture on the other hand shows adapted existing monuments, transformed and dedicated to women in various places in Ljubljana. Monuments do not really exist, but they were computer-generated so that the images of existing sculptures dedicated to ot...
Add to playlist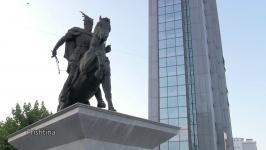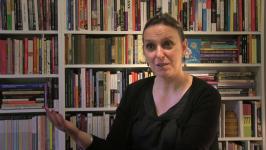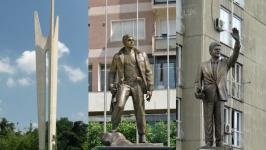 Ana Čigon - Remembering the Others (trailer)
(00:45:54 (trailer, 00:02:09))
Production:
Ana Čigon, Stacion - Center for Contemporary Art, Prishtina - Kosovo, Mestna galerija Ljubljana
,
2015
Remembering the Others (Spominjanje Drugih) je dokumentarni film o pomenu in moči javnih spomenikov. V filmu teoretičarke, aktivistke, študentke, umetnice in umetnik iz Prištine na Kosovu govorijo o javnih spomenikih. Ugotavljajo, kateri ljudje imajo privilegij, da so zastopani v spomenikih, zakaj ni spomenikov, ki bi bili posvečeni ženskim osebnostim in katere so še druge družbene skupine, ki so izključene iz reprezentacije v javnih obeležjih. Film izjavlja, da bo, dokler bodo zgodbe marginali...
Add to playlist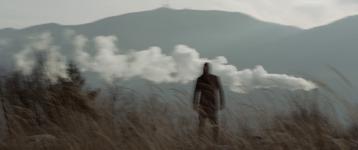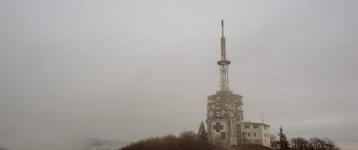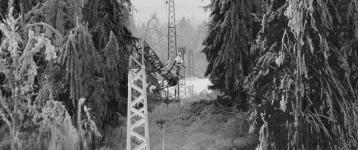 RÁTNEEK - Laibach – Eurovision
(00:04:46)
Production:
2014
Music video for Laibach's Eurovision (Spectre) was filmed in the industrial area of Trbovlje (Slovenia), the home town of Laibach and nearby the Kum mountain. Parts of the video were also shot during the last winter ice cataclysm, when half of Slovenia was in a deep freeze for two weeks. (Source: Blaž Murn, Maja Prelog)
Add to playlist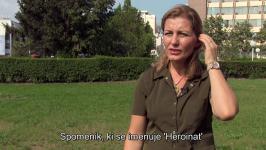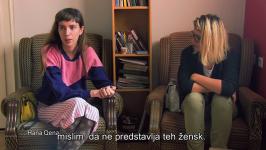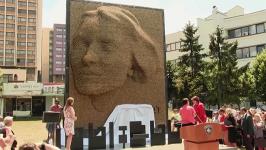 Ana Čigon - Heroinat / Heroines
(00:15:00)
Production:
Ana Čigon, Stacion Center for Contemporary Arts, Mestna galerijo Ljubljana
,
2015
Heroinat / Heroines is a short documentary film on the erection of a problematic monument, which was uncovered in 2015 in Prishtina. It was dedicated to the women that contributed in the war of 1998-99 in Kosovo and all the women that were victims of sexual assault during this war. In the film critique on the monument is shown through montage of interviews with a politician who supported the project, the artists and theoreticians from Prishtina, that are questioning the idea and aesthetics of such monument,...
Add to playlist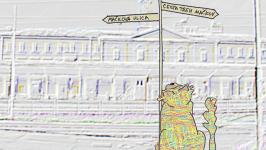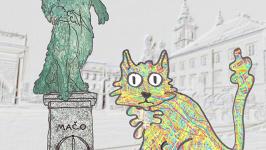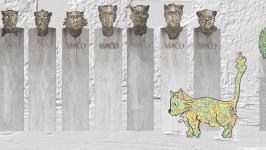 Ana Čigon - Macho
(00:03:00)
Subtitle:
part of the series Uncovering a Pig in a Poke
Production:
Ana Čigon
,
2015
An animation of what is happening in the macho world, if someone walks through it, who is not a macho. In the animation, a cat is walking through Ljubljana and is admiring the monuments in the city. The monuments are cat cartoon versions of real monuments dedicated to male historic figures in Ljubljana. The cat at first enjoys the monuments but is slowly becoming suspicious of the repetition of the same gender of cats represented on the monuments. Namely, under all of the monuments there is a label mačo (...
Add to playlist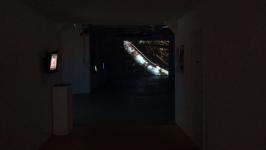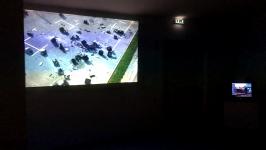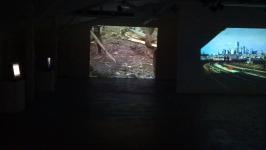 Barbara Borčić - From art in the urban context to fictional distopia
(00:01:20)
Subtitle:
Projected Visions
Production:
SCCA-Ljubljana, Apollonia
,
2018
Projected Visions. From art in the urban context to fictional distopia (in frame of the project e.city-Ljubljana) Selection from SCCA-Ljubljana video archive DIVA Station Curator: Barbara Borčić Espace Apollonia / Apollonia, échanges artistiques européens,Strasbourg 27 January–25 February 2018 The exhibition consists of eighteen video works and one film, bound to the theme of urban and public space in their everyday dimension but also in its utopian and dystopic aspects. Participating artis...
Add to playlist