DIVA performance
17 results in works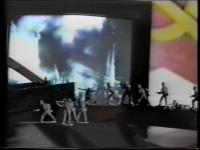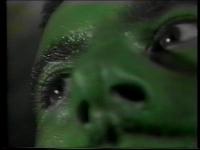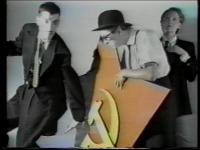 Marko Kovačič - Song of Flesh and Image Was Made Body
(00:15:56)
Production:
ŠKUC - Forum / koprodukcija Marijan Osole - Max
,
1985
The story of the narrative is based on genre crime fiction. The images are filled with citations from the history of art and cinema (Man Ray, S. Eisenstein) and are further stratified and multiplied. The dynamics of the image fraught with a typical cinematic suspence, is curtailed to the music ful of suspenz (Bernard Herrmann).
Add to playlist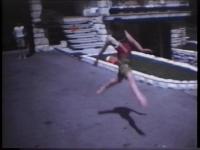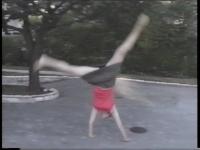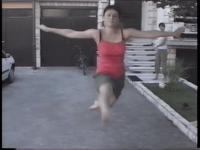 Polonca Lovšin - Always Better
(00:01:27)
Subtitle:
Street
Production:
2002
The video thematises footage from the artist's childhood: together with her sister, she demonstrated gymnastic exercises for the camera in the back garden of their family home. The sisters repeated the same routine, in the same place, in the present.
Add to playlist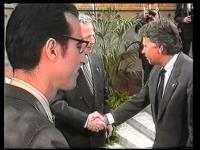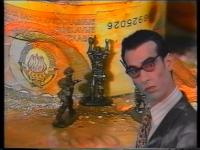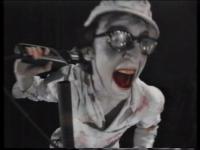 Marko Kovačič - No More Heroes Any More
(0:18:15)
Production:
V.S. VIDEO/Forum Ljubljana
,
1992
Video deals with the theme of war in a parodic and grotesque manner. With Chroma key procedure the two main protagonists or shall we say antagonists - evil and conniving political leaders are set inside a TV studio, where so called Royal game takes place. War battle metaphorically packed as a twisted game of chess, which sees real people as toys in the hands of malicious and greedy politics, is getting more and more insane and uncontrollable. Performative character of the video allows the actors to exagge...
Add to playlist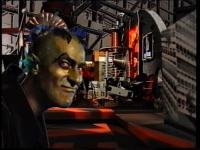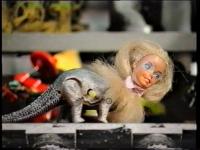 Marko Kovačič - Naprej v preteklost / Forth Into the Past
(0:09:30)
Production:
Forum Ljubljana, VPK
,
1995
The video deals with our understanding of the distant future, presented through a concrete example of the 23rd century archaeology. A narration of a professor archaeologist leads us through the story as he guides his student through one of the main archaeological sites in the City of Catastropolis, where so-called Plastoses, who (will) survived the atomic catastrophe live. These half-organic half-mechanical creatures form a comprehensive civilisation of Plastos, which is the author's subject in a series of...
Add to playlist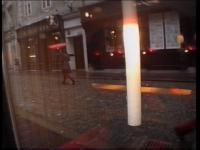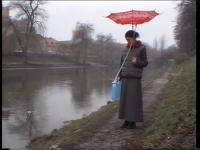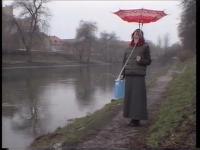 Polonca Lovšin - Zbiralec vode
(00:00:23)
Subtitle:
Ulica
Production:
2002
A video document of the project Water Collector in which the author is walking through town on a rainy day, collecting water into her umbrella which is turned inside out and held above her.
Add to playlist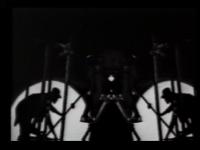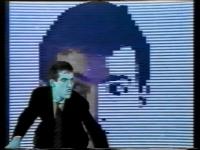 Marko Kovačič - Ogledalo pozna skrivnost / Mirror Knows the Secret
(00:02:34)
Production:
1986
The video is based on the performance of the same title. The metamorphosis of image is enabled by electronic technology. A step further from the chroma-key procedure of inserting of the front plane of the image into some other background, which invests the modified image with greater dynamics and gives it the mark of experiment. The use of digital (mirror) effects allows for the reproduction of the same image in the rhythm of music. (Source: Videodokument)
Add to playlist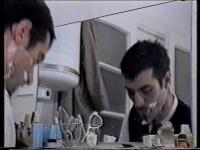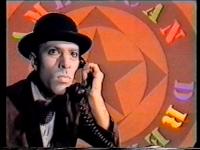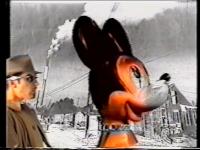 Marko Kovačič - American Dream
(00:06:43)
Production:
Brut film
,
1986
The hero first appears in real surroundings (the documentary effect), but in the next moment he finds himself in front of a rich fine-art scenery. The chroma-key effect is used to manifest some other world (the illusion of dreams). The scenery, however, does not give the impression of immobility, but appears dynamic because of the changing surfaces; this is enhanced also by the constant motion of the hero ceaselessly changing between two roles, the pursuer and the pursued, and thus presenting the Hollywood-...
Add to playlist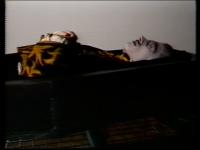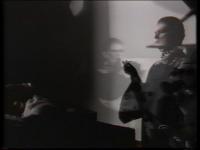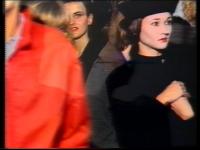 Marko Kovačič - Requiem M
(00:04:02)
Production:
1989
Video documents a performance entitled Requiem, which happened as a part of an exhibition Izkušnja predmeta (Experience of the Object)in Modern gallery in Ljubljana in 1989. The artist conducted the performance on his 33rd birthday. Coated with white wax make-up he immovably lies in a sarcophague for an hour and a half, as long as Mozart's Coronation Mass lasts. With the performance the author partly relived Jesus's experience and predicted the death of human kind. Focused and clear shots of the performanc...
Add to playlist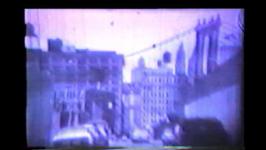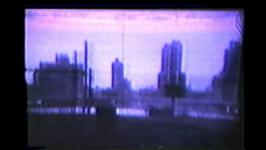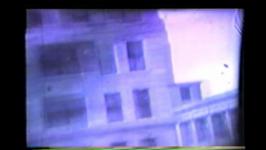 Emil Memon - Blue Movie/Schizophrenia
(00:05:37)
Production:
1983/95
Video "Blue Movie/Schizophrenia" is a shorter edited version of Emil Memon's silent movie "1983/Blue movie" shot in NYC in 1983, reconceptualized as a music video (music by Emil Memon and Robert Aaron). (Music video for Emil Memon's Szhizophrenia track , featuring Robert Aaron, recorded at Dubway studio, NYC, 1994.) ]"1983/Blue movie" was made on the basis of Memon's Diploma Work at the Florence Academy entitled 'History of Art and Non-Narrative Cinema', with references to...
Add to playlist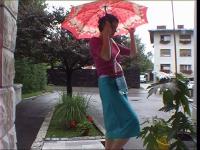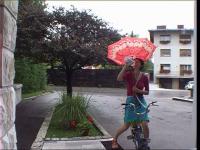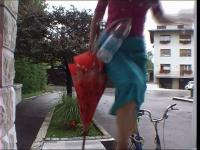 Polonca Lovšin - Vseuporabnidežnik 2
(00:00:34)
Subtitle:
Multipurpose umbrella 2
Production:
Lovšin, Polonca
,
2002
Akcija z naslovom 'Vseuporabni dežnik' predstavlja alternativne možnosti uporabe dežnika kot enega najbolj vsakdanjih in uporabnih predmetov v življenju posameznika. Avtorica s preprosto intervencijo spremeni običajno funkcijo dežnika, ki namesto zaščite pred dežjem postane zbiralnik vode, pri tem pa uporablja svoje telo kot nosilec celotne instalacije. V predstavitvenem videu – v funkciji dokumenta akcije – izpostavi praktične aplikacije tega večnamenskega dežnika: uporabi ga na kolesu za z...
Add to playlist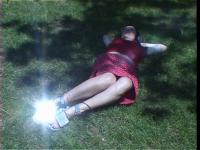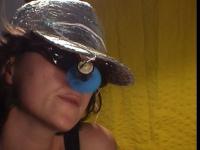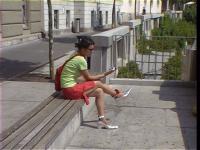 Polonca Lovšin - Solarna kolekcija / The Solar Collection
(0:00:51)
Production:
Lovšin, Polonca
,
2002
Projekt z naslovom 'Solarna kolekcija' predstavlja naprave, ki izkoriščajo sončno energijo za svoje delovanje na način preproste proto-znanosti ter tako nakazujejo možnosti varčevanja z energijo na mikroravni. Avtorica se postavlja v igrane situacije v javnem prostoru, kjer praktično prikazuje delovanje naprav za polnjenje mobilnega telefona, napajanje prenosnega radijskega sprejemnika in ventilatorja za poletno hlajenje. Video, ki je v funkciji dokumentiranja praktične rabe naprav v resničnem živ...
Add to playlist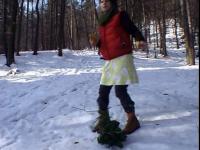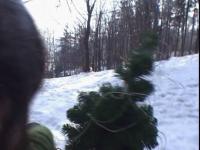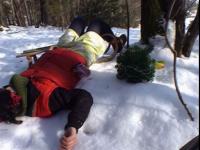 Polonca Lovšin - Sama za božič / On My Own for Christmas
(0:01.09)
Production:
Lovšin, Polonca
,
2006
Video je zgolj prikazni del širše zastavljenega projekta z naslovom 'Dynamo Christmas Tree', ki predstavlja napravo za samostojno napajanje okrasnih luči na božičnem dreveščku; avtorica luči prižiga in ugaša ob pomoči dinama, ki ga drži rokah. Video delo 'On My Own on Christmas' prikazuje avtorico, kako pleše v gozdu poleg majhnega božičnega dreveščka in prepeva pesem 'Last Christmas' skupine Wham in vzpostavlja neposredno asociacijo na ta glasbeni video spot. Avtorica skozi video nakazuje...
Add to playlist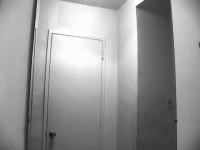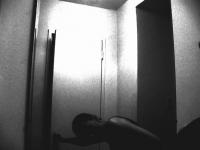 Evelin Stermitz - Into the Mirror
(00:05:21)
Production:
E.S.
,
2011
In black and white video performance, a woman tries to enter through the door in the mirror. The artist is referring to the door from Alice in Wonderland, which represents a transition to another world. Sound collage composed by Elise Kermani, with additional sound samples by Christine Bard, 2011.
Add to playlist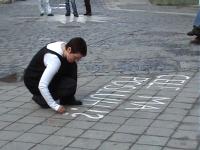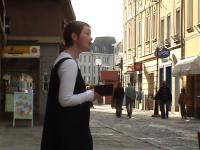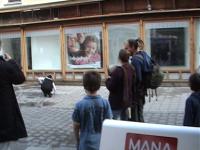 Andreja Džakušič - Cel'e 'as deaf ear
(00:09:17)
Production:
2010
Video is documentation of performance in public space. The performance was carried out together with street musician Vesna Prevolšek. A chair was placed in the location where vesna usually sings, which stood vacant until the time of the performance was due to start. While Vesna sat silently, the artist wrote Cel'e 'as deaf ear!? on the ground. She began to mime the singing of a song from a songbook of Slovene love songs. (Source: Andreja Džakušič, Encounters, overview exhibition catalogue, Center fo...
Add to playlist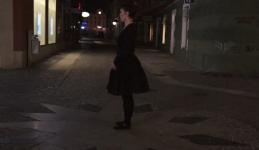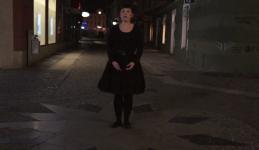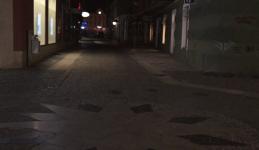 Andreja Džakušič - A Lullaby for the City
(00:07:00)
Production:
2008
Video is documentation of performance in public space made at the occasion of the Admission Free 2008 festival in Celje. During the time of the festival the artist sang a lullaby to the city at exactly midnight. The initiative for the performance was existing conflictive relationship between the residents of the old city centre and the owners of the bars, whose needs and wishes were diametrically opposite. (Source: Andreja Džakušič, Encounters, overview exhibition catalogue, Center for Contemporary A...
Add to playlist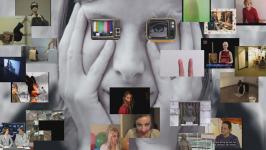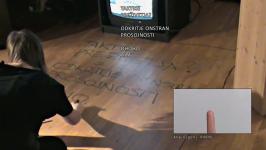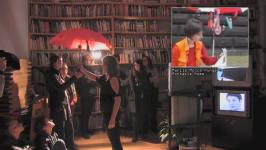 Ana Čigon - Ana at the Station
(00:05:30)
Subtitle:
Dokument eksperimentalne raziskave spletnega in fizičnega arhiva Postaja DIVA in performansa
Production:
2016
The video is a document of an experimental research of Station DIVA. The artist was searching for a place for her artistic practice and fastened her own creations amongst the creation of other authors thus contextualizing her work through eclectic merging of written, spoken and performative quotations from her own work and from works of other authors. The purpose of the research was establishing a critical relationship towards her own work through exploration of works of other authors.
Add to playlist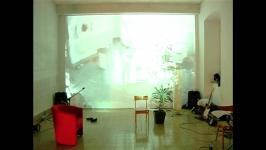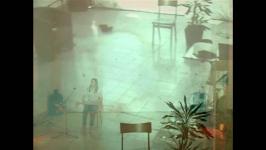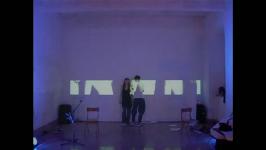 Luka Prinčič - My Body Hurts Over
(00:03:57)
Subtitle:
Transmittance #1.5
Production:
Emanat
,
2011
My Body Hurts Over is a music video for one of the songs created as a product of an improvised audio-visual telematic performance Transmittance #1.5. The video takes video footage from the telematic performance Transmittance #1 which took place at KC Karlo Rojc, Polis Jadran Europa Festival, Pula, Croatia. The project explores inside the concepts of spectatorship and spectacle and by that tries to overcome the physical space of new media art and performative practices. The video presents an edited sonic d...
Add to playlist