DIVA dance
16 results in works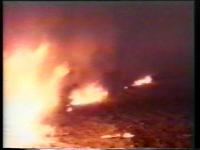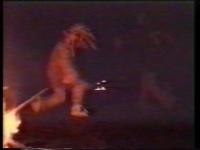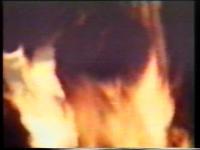 Rok Sieberer Kuri - Kres II. Razstava
(00:01:02)
Production:
V.S. - D.V.
,
1990
Posnetki nočnega kresa in ples okoli ognja. Kamera zmedeno beleži telo v soju ognjenih plamenov.
Add to playlist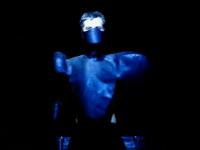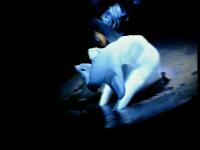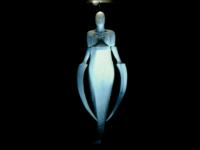 Ema Kugler - Tajga / Taiga
(00:08:22)
Production:
Forum Ljubljana & VPK
,
1996
Video Taiga is made after eponymous performance carried out at the international festival of contemporary arts City of women in October 1995 in Ljubljana. The viewer enters a dark atmosphere, dictated by dramatic vocal-electronic music, threatening anthropomorphic and wax zoomorphic figures and the movement of the camera. When the author establishes the landscape, she inserts two wrestlers and a drowning woman into it, additionally increasing the suspense. As the dramaturgy reaches its peak, the set scene...
Add to playlist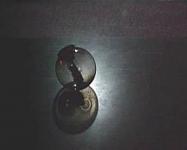 Borut Savski - Dancers
(00:03:34)
Production:
Galerija Kapelica
,
2008
Dve avtonomni gibljivi okrogli telesi v instalaciji izvajata plesni performans dveh preprosto (digitalno, a ne računalniško) programiranih objektov, ki med seboj komunicirata in se privlačita s pomočjo senzorjev in ambientalnega zvoka v galeriji. Okrogli telesi je umetnik prvič sestavil leta 2005 za nastop projekta Problemloss v Moderni galeriji v Ljubljani. Naslov performansu je bil Posodi polni zvoka. Kasneje je posodi vključil v predstavitev Distribuirano telo v Mali galeriji Moderne galerije ter v...
Add to playlist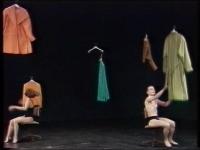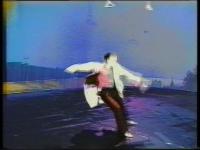 ZANK - Icht
(00:24:25)
Production:
RTV Slovenija
,
1993
The dance performance by a man and a woman presents a story of timeless attraction and rejection. Despite of our desire for closeness, the curse of the greatest love for ourselves is omnipresent; sometimes the dancers come together, and then again they challenge and fight with each other yet they never get together. The theme of the stage choreography is partly transferred onto the street. (Source: Videodokument)
Add to playlist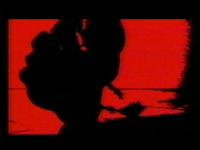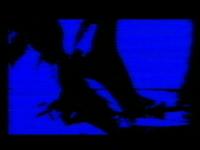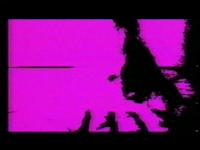 Boštjan Kavčič - Ples / Dance
(0:03:44)
Production:
2001
A close up of feet dancing peculiarly to electronic music from Jean Michel Jarre's album Zoolook. Two different dichromatic filters are used and are altering one another. Playing with the medium, artist creates a stylized and abstract video using completely intimate and unimportant motif.
Add to playlist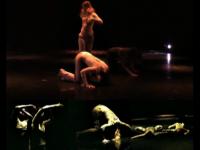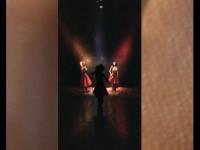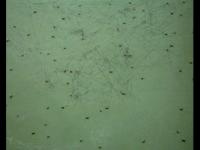 Ana Čigon - Brezčasje / Timelessness
(0:04:03)
Subtitle:
(poklon gozdu) / (compliment to the forest)
Production:
Plesni studio Intakt
,
2008
Dance video presents a dance show in a completely authorial way adding segments to the mere documentation. Author uses detailed shots from the woods and nature in general. We see a combination of long static shots and hand held camera manipulated with different editing effects. Costume design: Mateja Benedetti; Lights: Jaka Šimec; Visual design: Ana Čigon, Nataša Tovirac; Choreography: Nataša Tovirac; Dancers: Maša Kagao Knez, Teja Reba, Nataša Tovirac.
Add to playlist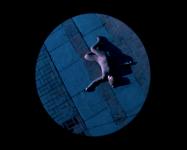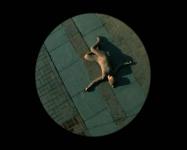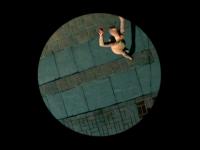 Maja Slavec - Revaluation
(00:42:19)
Production:
Partizanka
,
2008
Video polje je reducirano na krog. Reducirano zato ker je še vedno prisotna črna površina, ki tvori razliko do pravokotnika. Krožna oblika in snemanje s ptičje persepktive ustvarjajo klaustrofobično vzdušje in akterjem ukradejo volumen. Volumen tako beremo bolj preko senc, kot preko perspektive. Subjekti prihajajo in odhajajo iz krožnega polja, plesalcu pa je krog tudi celotno polje delovanja. Avtorica se sprašuje o stopnji avtonomije, ki jo ima posameznik v družbi.
Add to playlist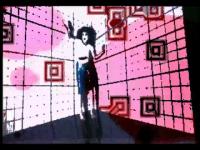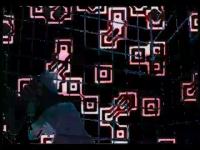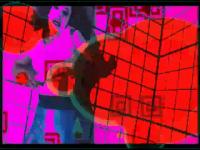 Maja Smrekar - Repeating Coincidence
(00:03:42)
Production:
Smrekar, Maja
,
2009
The main character in the video is a dance performer situated in media environment with splashing saturated colours, like a woman enclosed by the media wall. The speed and braking of the image represents the dancer's nervous movements in the space that create an emotional tension. The sound composed by Borut Savski intensifies the fragmented and nervous motions and determines visual coordinates. The entire sound and visual imagery is saturated, repetitive and fragmented, composed by numerous cut frames. Th...
Add to playlist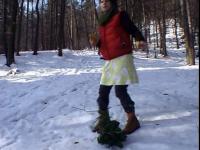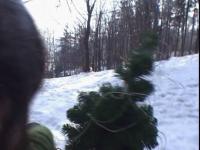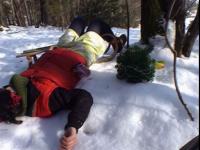 Polonca Lovšin - Sama za božič / On My Own for Christmas
(0:01.09)
Production:
Lovšin, Polonca
,
2006
Video je zgolj prikazni del širše zastavljenega projekta z naslovom 'Dynamo Christmas Tree', ki predstavlja napravo za samostojno napajanje okrasnih luči na božičnem dreveščku; avtorica luči prižiga in ugaša ob pomoči dinama, ki ga drži rokah. Video delo 'On My Own on Christmas' prikazuje avtorico, kako pleše v gozdu poleg majhnega božičnega dreveščka in prepeva pesem 'Last Christmas' skupine Wham in vzpostavlja neposredno asociacijo na ta glasbeni video spot. Avtorica skozi video nakazuje...
Add to playlist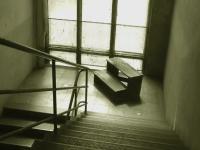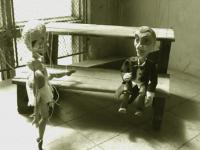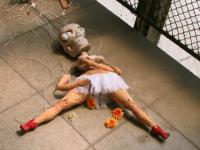 Zoran Srdić Janežič - The Ballet Teacher
(00:07:56)
Production:
Zavod za sodobne umetnisti in kulture Gulag
,
2010
The Balet Teacher prikazuje seanso baletnega pouka v lutkarski izvedbi. Atmosfera je zelo dramatična, mogoče nekoliko nenavadna za takšno klišejsko temo. A ravno to povzroča napetost skozi cel video. Slika je skoraj popolnoma črno-bela in estetika videa mogoče nekolio spominja na nemške filme iz dvajsetih let. Ura baleta se konča neuspešno. Brez besed, samo s telesnim dialogom, je avtorju uspelo ustvariti močan karakter pri profesorju baleta. Moška dominacija je v filmu zelo izražena in že v...
Add to playlist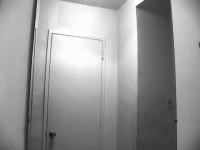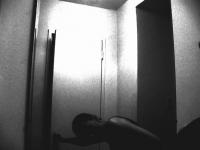 Evelin Stermitz - Into the Mirror
(00:05:21)
Production:
E.S.
,
2011
In black and white video performance, a woman tries to enter through the door in the mirror. The artist is referring to the door from Alice in Wonderland, which represents a transition to another world. Sound collage composed by Elise Kermani, with additional sound samples by Christine Bard, 2011.
Add to playlist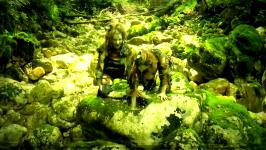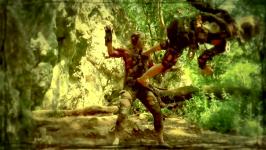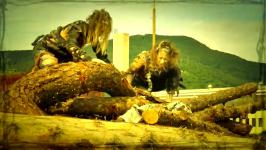 Katjuša Kovačič - Njavke: Crossed-Eyed Gazes
(00:14:53)
Production:
2015
Njavka je v slovanski mitologiji gozdno bitje ženskega spola. Predstavlja dušo deklice, ki je umrla nenaravne smrti. Njavke navadno živijo v skupinah globoko v gozdu ali v jamah, visoko v gorah. Dve njavki (performerki v animaličnem kostumu, ki posnema živalsko kožo, in v gibanju, ki je mešanica živalskega in človeškega) spremljamo v njunem naravnem, domačem okolju. Sledimo njunemu raziskovanju gozda: dotikamo se mahu na skalah, splazimo se v votlo drevesno deblo, ki je njun dom, oglašamo se...
Add to playlist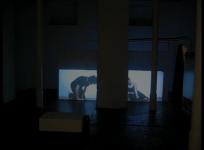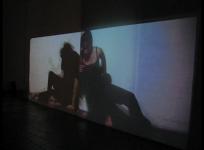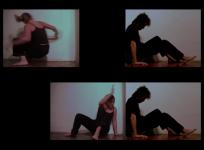 Ana Čigon - Perspective
(00:05:07)
Subtitle:
Video Installation
Production:
Ana Čigon, Galerija Alkatraz
,
2010
Delo je enokanalni video, ki združuje dokumentacijo večkanalne videoinstalacije v galeriji Alkatraz z originalnimi posnetki. Performans za video je bil predhodno posnet v prostorih galerije in nato predstavljen na treh dvo-kanalnih projekcijah v zanki. V videu se izmenjujejo posnetki prostorske postavitve z originali, ki so sestavljeni tako, da je znotraj enega kadra več posnetkov, ki simulirajo prostorsko postavitev. Video spominja na delo One more kick iz leta 2009, vendar ni njegovo nadaljevanje, am...
Add to playlist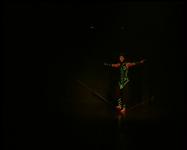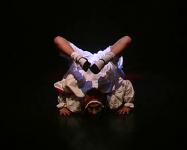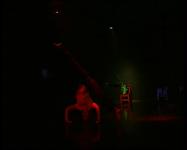 Katjuša Kovačič - Seeking Balance
(00:08:40)
Production:
Mesto žensk / City of Women
,
2009
The author, Katjuša Kovačič, in her movement debut, Seeking Balance, seeks balance in a moving, expressive, cultural, and gravitational sense; she is trying to connect different entities into a whole, and in this manner to create a story of co-existence, transition, and complementation.
Add to playlist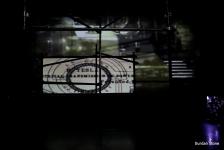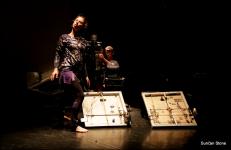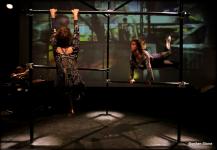 Katjuša Kovačič - Dynamic Balance (trailer)
(00:54:30)
Production:
2015
A show of physical theatre exploring the ideas of Nikola Tesla from early 20th century, by skipping over differences the performers represent a live motor. The performers explore the co-dependence of mass and energy. They seek balance and apply various means of expression to their movement, ranging from contemporary dance, acrobatics, capoeira, Chinese dance, physical and street theatre. The interaction between opposites creates the force of the collective engine. The sound also comes from two sources: t...
Add to playlist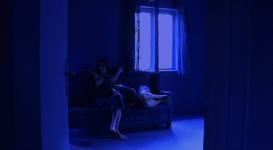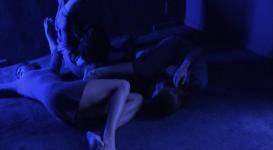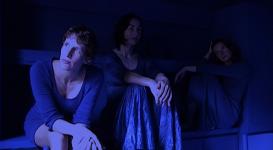 Evelin Stermitz - Blue House
(00:25:18)
Subtitle:
Dance Improvisation Performance
Production:
E.S.
,
2009
Dance improvisation by three female performers. They use their bodies to explore empty spaces in a blue house. The author links the blue color to the story of Bluebeard, which addresses violence against women. However, the house in the video is a safe place. Performers: Klaudia Ahrer, Tina Gressl, Judith Meister All music composed, performed and recorded by Elise Kermani, Copyright 2008, Licensed by BMI.
Add to playlist