"Posnetek koncerta 2227"
Artist: Sieberer, Rok - Kuri (2227)
Title: Posnetek koncerta 2227
Duration: 00:29:07
Genre: Documentary video / Music video
Production: Stripcore
Country: Slovenia
Language: slovene, english
Download: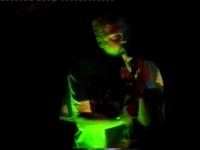 120VHSVHSMiniDV62RokSieberervecdelKoncert22271.png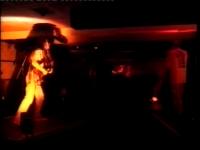 120VHSVHSMiniDV62RokSieberervecdelKoncert22272.png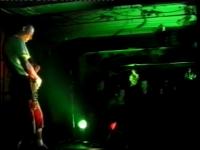 120VHSVHSMiniDV62RokSieberervecdelKoncert22273.png
Koncert zasedbe 2227 iz kluba Channel Zero, ki je bil nekdaj matični klub te ljubljanske zasedbe. Koncerti 2227 v Channel Zero so bili ponavljajoča se stalnica v devetdesetih letih. Video delo predstavlja dokumentarni zapis koncerta v Channel Zero brez avtorskih posegov.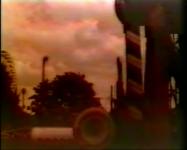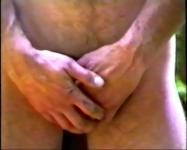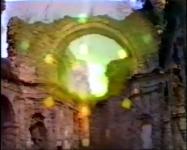 Media Teror, Rok Sieberer Kuri - Media Teror Chroma Quart Mix (mix II.)
(00:03:39)
Production:
Media Teror, 1998
Fast changing images of a city, TV recordings, nature and objects inside nature, which are completed with art forms by different editing techniques. Dynamic hand held camera shots are processed with overlaps and chroma key effect. The content is hidden in...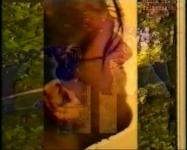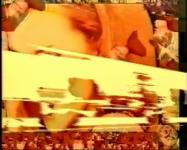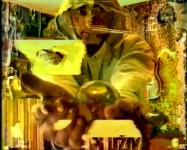 Media Teror, Rok Sieberer Kuri - Media Teror Croma Quart Mix (mix III.)
(00:06:44)
Production:
Media Teror, 1998
Hitro menjujoče podobe mesta, televizijskih posnetkov, narave in objektov v naravi, ki jih z različnimi montažnimi tehnikami dopolnjujejo likovne forme. Gre za prekrivanje in croma key, posnetki kamere so večinoma iz roke in so dinamični, izgleda da...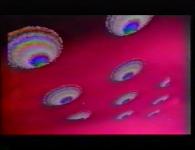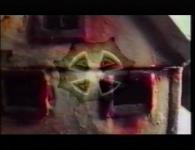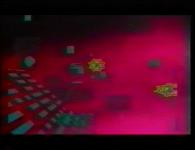 Rok Sieberer Kuri - Dobrodošli
(00:06:36)
Production:
Media Teror, Forum Ljubljana, 1996
Welcome is a short experimental video film which combines computer graphics and video image. The resulting new picture produces a new and different vision and meaning. The product of metamorphosis leaves the viewer with his/her own understanding of the wo...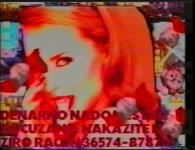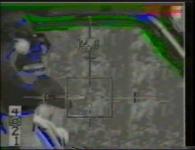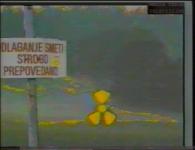 Rok Sieberer Kuri - Bombo ob 12h
(00:03:28, na vhs 197: 00:04:23)
Production:
Media Teror, V.S. Video, Forum Ljubljana, 1995
One of the typical features of the author is the use of non-professional technology to show everyday reality. On the basis of daily reality he aims to form conclusions pointing to the insanity of modern man. Perhaps a solution cannot be reached merely thr...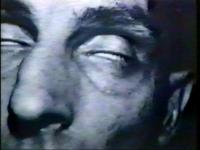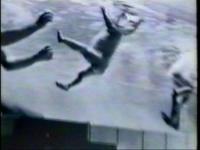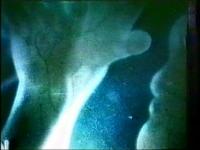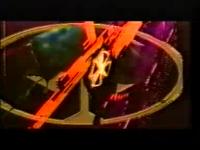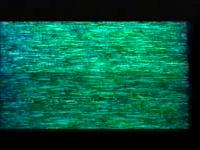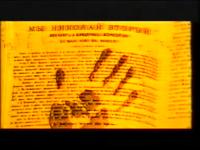 Rok Sieberer Kuri - Chroma Quart Mix I
(00:34:15)
Production:
V.S. Video / Forum Ljubljana, 1997
The video collage has a firm structure defined in the scenario. Several videos with different basic messages, accompanied by wild and loud music, are combined into a peculiar, but unique story (A Bomb at Noon, Welcome, Chroma Qart Mix, Vivisection).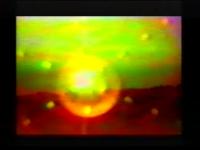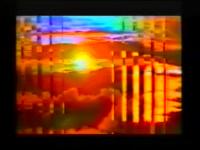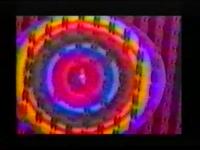 Rok Sieberer Kuri - Technotime
(00:30:11)
Production:
Media Teror, 1999
Video is playing with abstract forms of coloured masses dancing on the screen and changing shapes. The artist uses found footages from television news reports that he digitally manipulated, he typically uses fast changes of scenes and fast rhythm of video...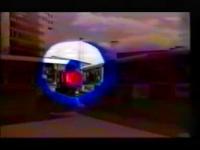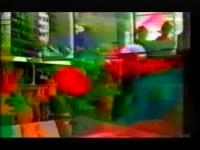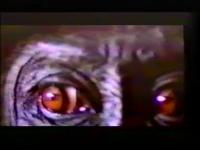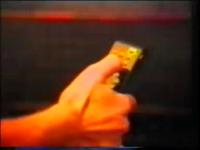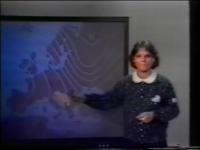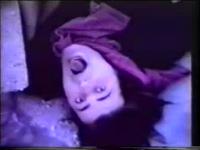 Rok Sieberer Kuri, Media Teror - Kriza
(00:02:54)
Production:
V.S. Video / Škuc - Forum, Ljubljana, 1989
Kuri, the actor in the video, faces the aggression of the TV medium. He compares the images of himself to media information, he yields to their influence; the multiplication of information brings him to a crisis. (VD)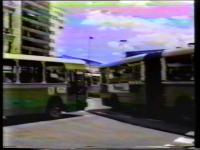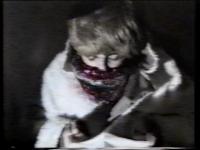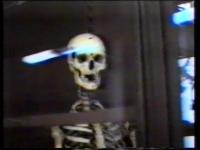 Rok Sieberer Kuri - Kuri kompilacija
(00:34:29)
Production:
V.S.Đ.V., Ljubljana, 1991
The Kuri Compilation combines several humorous short video clips: Crisis, Yello Party, Ljubljana Trafik, Art Evening, Bonfire, Rollins, Crime-Criminal Story, The Koncilija Portrait, and Grandma's Robbery. An interview with a street newsvendor, city traffi...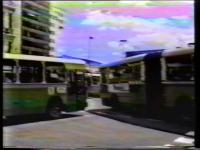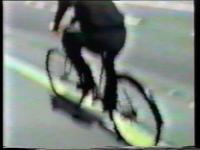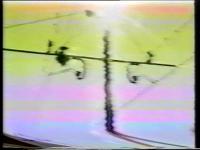 Rok Sieberer Kuri - Ljubjana Trafik
(00:05:12)
Production:
V.S. - D.V., 1990
Promet v Ljubljani poteka (z montažo) počasneje kakor sicer: avtomobili, dolgi avtobusi in kolesarji, ki pogled usmerjajo v kamero. Spremlja jih bučna glasba, ki s hitrejšim ritmom daje slow motionu slike še večji kontrast. Sporočilo glasbe je: It'...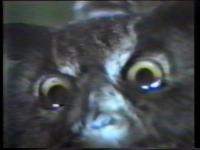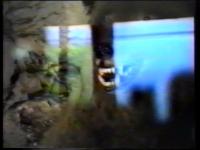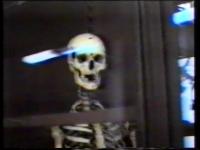 Rok Sieberer Kuri - Rollins
(00:01:03)
Production:
V.S. - D.V., 1990
Posnetki lobanj in človeškega okostja preidejo k posnetkom medveda, sove; nagačenih živali. Glas Henrya Rollinsa poda citat Henrya Millerja iz leta 1934: "Tomorrow you may bring about the destruction of your world. Tomorrow you sing in paradise above...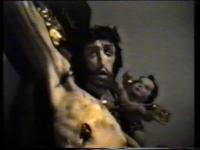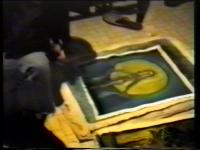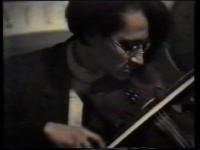 Rok Sieberer Kuri - Umetniški večer
(00:10:05)
Production:
V.S. - D.V., 1990
Podoba Kristusa na križu, okoli katerega kroži dinamična kamera, v obraz ga snema iz dveh perspektiv - iz vsake izgleda drugače. Hitri preskoki perspektiv, ki sežejo v rano na prsih. Nato se pogled preseli na Kristusovo fresko na steni, pod katero gl...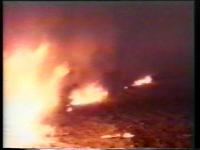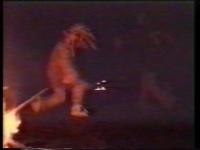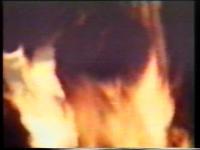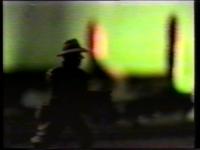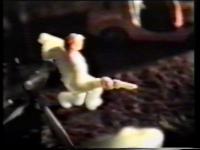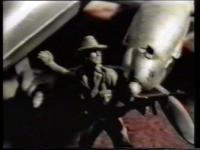 Rok Sieberer Kuri - Krimi krimič
(00:01:21)
Production:
V.S. - D.V., 1990
Posnetki figuric-igrač avtomobilčkov, majhnih avionov in vojakov, ki s pištolami merijo eden na drugega. Manipulacija z medijskimi, filmskimi podobami, ki jih avtor pogosto vključuje - akcijo prekine insert streljanja iz akcijskega filma. Figurica nat...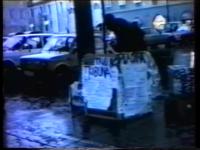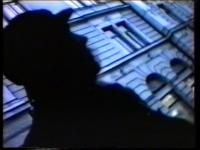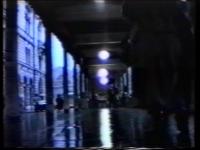 Rok Sieberer Kuri - Portret Koncilja
(00:03:23)
Production:
V.S. - D.V., 1990
Posnetki središča Ljubljane s kamero v roki, posnetki reke Ljubljanice v katero pada dež in ujet pogled na prodajalca revije Tribuna in Mladina - to je Brane Koncilija, pesnik, glasbenik ter punk / hard core aktivist iz Dolenjske. Z njim avtor izvede i...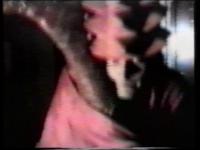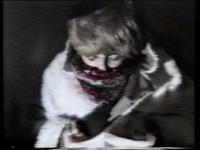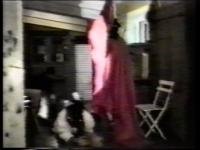 Rok Sieberer Kuri - Rop bakice
(00:02:53)
Production:
V.S. - D.V., 1990
Zamaskiran moški oropa babico, tako da jo najprej fizično napade, iz njene košare pada nakupljeno sadje, ona pa se po svojih močeh, a neuspešno brani.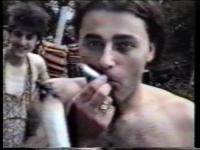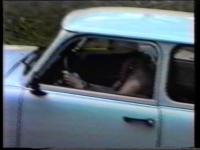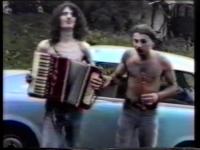 Rok Sieberer Kuri - Yello žur
(00:02:38)
Production:
V.S. - D.V., 1990
Na žuru oziroma pikniku v naravi se zberejo protagonisti ljubljanske hard core scene. Žur je predstavljen v povsem surovih posnetkih, dinamično in tresočo kamero, brez posebnih efektov. Gostje žura oddidejo na travnik, kjer se začne partija improviz...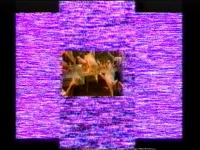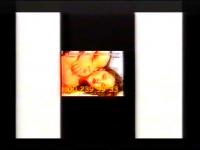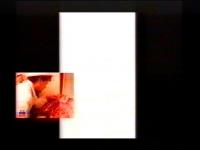 Rok Sieberer Kuri - Preveč slepi, da bi videli / Too Blind To See
(00:06:42)
Production:
Media Teror, 2000
Kompilacija zmanipulirane slike in zvoka, ki se med seboj ne ujemata in vsaka na svoj način tematizirata sodobno odvisnost od množičnih medijev (v največji meri televizije). V video delu smo priča zvočnim zapisom vročih linij, poročilom, punk glas...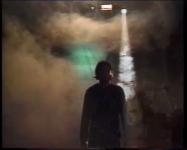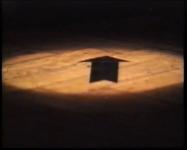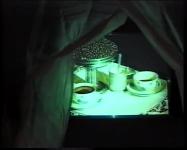 Rok Sieberer Kuri - Tišina prosim, gledamo
(00:09:58)
Pripravljanje razstave Roka Siebererja Kurija v galeriji Kapelica (2001), kjer na dokumentaren način beleži delovani proces. Postavljanje instalacij, umeščanje video del v prostor, pogovor o učinskih predstavljenega.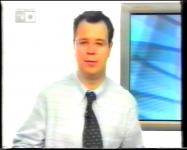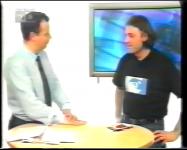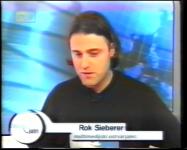 Rok Sieberer Kuri - Prispevek TV Pika
(00:02:30)
Production:
TV Pika, 2001
Intervju Roka Siebererja Kurija za Pika TV, kjer avtor spregovori o prihajajoči razstavi in na splošno o svojem delu.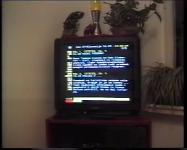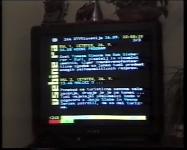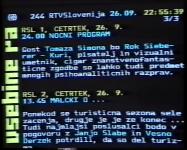 Rok Sieberer Kuri - Teletekst
(00:00:35)
Posnetek najave Kurijeve razstave na teletekstu domače televizije, akterja, moški in ženska sremljata ekran iz domačega kavča, ženski glas podaja komentarje k vsebini.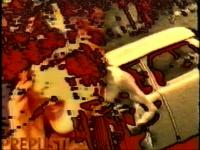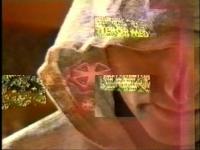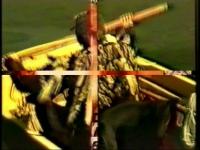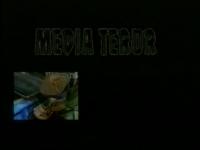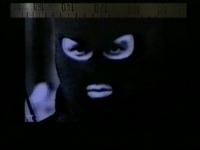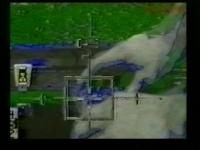 Rok Sieberer Kuri - Chroma Qart Mix Light + Ideology (Last part)
(00:10:55)
Production:
Media Teror, 2002
Video v levem spodnjem kotu prikazuje proizvodni obrat za predelavo lignjev, posnetke pa spremlja poljudno-znanstveni komentar, ki podaja statistiko letne porabe lignjev. Sledi insert z vroče linije nedefiniranega nemškega TV programa in kompilacija pod...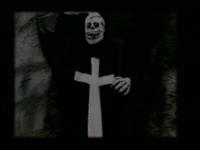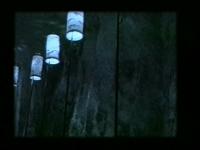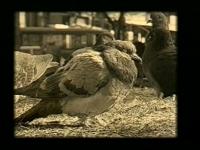 Rok Sieberer Kuri - Psy
(00:07:23)
Production:
Media Teror, 2003
Video prikazuje filtriranje podob v kombinaciji z drugimi posnetki prsti, rib, posameznikov, mesta, zahajajočega sonca itd. Posnetki so opremljeni z agresivno techno glasbo.