"Prince Ki-Ki-Do"
Artist: Grega Mastnak
Title: Prince Ki-Ki-Do
Subtitle: One hundred unhappy mushrooms,The swamp monster
Duration: 00:08:22 (odlomka, 00:02:01)
Year: 2013/14
Genre: Animation
Production: OZOR, zavod za gibljive slike, Ljubljana
Composer: Vojko Sfiligoj
Country: Slovenia
Download:
Mastnak_Grega_Princ_Ki-Ki-Do_dva-odlomka_1.png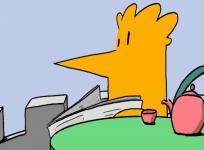 Mastnak_Grega_Princ_Ki-Ki-Do_dva-odlomka_2.png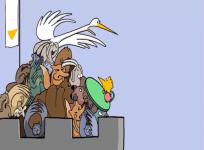 Mastnak_Grega_Princ_Ki-Ki-Do_dva-odlomka_3.png
In a dark forest on top of a stone tower lives a small chick known as Prince Ki-Ki-Do, who is a fearless fighter for the rights of the forest inhabitants and the tiny superhero of the animation series.

Prince Ki-Ki-Do is accompanied with Tine and Bine, the two Asian tiger mosquitos, and Rosalia who is the playful wild piglet in flames of prepuberty.

The first two four minute episodes of the animated cartoon series are One hundred unhappy mushrooms (2013) and The swamp monster (2014). In One hundred unhappy mushrooms Prince Ki-Ki-Do and his companions save the mushrooms in the forest from too enthustiastic Rozalia. In The swamp monster the heroes save the swamp from the unknown monster.

(On-line an excerpt from both episodes is published. In the physical archive the animations can be seen as a whole.)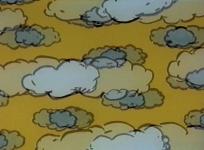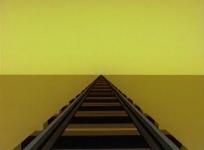 Grega Mastnak - Euphoria
(00:03:00 (00:01:00))
Production:
Casablanca - Ljubljana; TV Slovenija, 2000
Animated travelogue. We follow two passengers on the train. One is an elderly, quite abundant sleeping man, and the other a younger man who is in an ecstatic mood. The animation is characterized by a rough drawing, mostly two- or three-colored. The au...