"Free Fall"
Artist: Lenka Đorojević & Matej Stupica
Title: Free Fall
Duration: 00:21:30
Year: 2016
Genre: Performance
Production: Zavod P.A.R.A.S.I.T.E.
Camera: Marko Cvejić
Country: Slovenia
Download: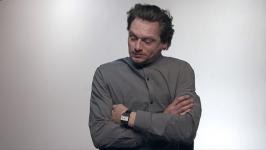 Djorojevic-Stupica_Prosti-pad_01.jpg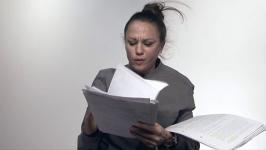 Djorojevic-Stupica_Prosti-pad_02.jpg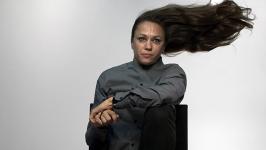 Djorojevic-Stupica_Prosti-pad_03.jpg
The video performance was first introduced as part of the installation entitled Free Fall in the P74 Gallery, Ljubljana in 2016. The solo exhibition was part of the OHO Young Visual Artist Award, which the authors received in 2015.
The installation was designed as an empty office space with a video window. The entire room was rotated for 90 degrees. The video shows man and woman alternately (Primož Bezjak and Katarina Stegnar), dressed in a simple gray uniform, we see them frontally. At first glance, they do not make any heavy physical work, but nevertheless, we see the strain on their face. Performers as if they were waiting for something to happen. In the middle of the little thing, they cut off the cigarette and examined the documents. It is only from the use of props that it is visible that they hang in the room all the time and that they are not gravitating.
In their video piece Free Fall, Lenka Đorojević and Matej Stupica visualise the kind of effort that stress and constant psychological pressure present also in physically undemanding forms of work, but in the upside-down world of the contemporary reality of precarious work. Overcoming gravity becomes an extraordinary physical effort, visible in the bulging veins on the faces of the performing couple, who, in the twisted perspective, are only waiting for an event that never happens. Waiting as another form of meaningless work.

NOTE: On the artists' request, the full video is not published on-line; it is kept and on view only in the DIVA Station Mediatheque at Metelkova 6, Ljubljana.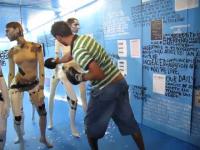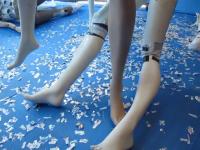 Lenka Djorojević, Neža Jurman, Matej Stupica - Boxing Match
(00:07:04)
Production:
Galerija Kresija, 2012
Videodokument otvoritvenega performansa razstave Boxing Match umetnic Lenke Đorojević, Neže Jurman in umetnika Mateja Stupice, ki je bila v Galeriji Kresija na ogled v avgustu leta 2012. Boxing Match je bil participatorni projekt, s katerim so avtor...