"Menhir"
Artist: Kugler, Ema
Title: Menhir
Duration: 00:35:16
Year: 1999
Genre: Art Film / Art video
Production: Forum Ljubljana, VPK & TV Slovenija
Camera: Lupinc, Andrej; Farič, Iztok; Tozon, Miha
Composer: Kumar, Aldo; Majcen, Goran
Country: Slovenia
Download: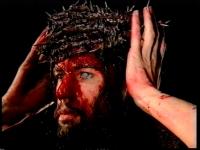 23_Ema_Kugler__Menhir_I.jpg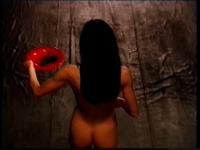 23_Ema_Kugler__Menhir_III.jpg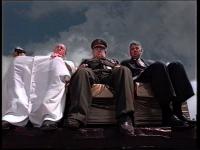 23_Ema_Kugler__Menhir_II.jpg
Urbanity is finally erased with mythological rituals, which is defined by the title of the video film: menhir, a large upright standing stone from the Neolithic Period which was used in sacred rituals. A man and a woman are Adam and Eve who are formed before us with electronic transformation (morphing) and are marked by blood, which also marks all the other elements of the video image: murder of an individual committed by a menhir or the trinity (politics, church, army), bodies of dancers. Blood, murder and death are only beaten by the second basic element: stone which is in the next moment drenched in blood. Electronic tricks, which turn rulers from flesh and blood into stone and vice versa, also act in the battle between natural elements.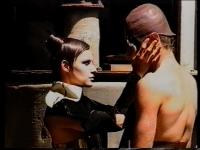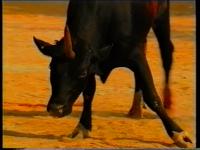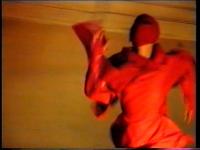 Ema Kugler - Hydra
(00:15:45)
Production:
V.S. Video, Forum Ljubljana, VPK, 1993
Mythology in the video works by Ema Kugler is inscribed in rituals of everyday life; this time it is the theme of Hydra with many facets. The theme is represented by the separate scenes featuring human figures in leather costumes (created by the artist he...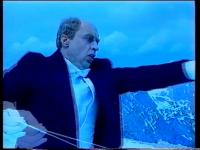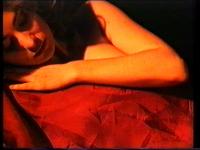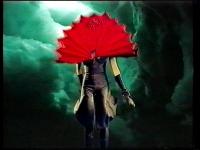 Ema Kugler - Postaja 25 / Station 25
(00:30:08)
Production:
Forum Ljubljana & VPK, 1997
The artist continues with her main preoccupations: the relationship between a man and a woman, the irruption of the mythical into the rituals of everyday life. The video film uses the numerous potentials of electronic manipulation of the picture. The fine...
Ema Kugler - Obiskovalec / The Visitor
(00:26:41)
Production:
V.S. Video / Forum Ljubljana, VPK & Viba film, 1995
The artist insists on the duality of human nature: the same dreadfulness is part of both the mythical and the real world. The duality is explicitly presented by means of electronic effects that can petrify a human face, or wall-up a human body in a few se...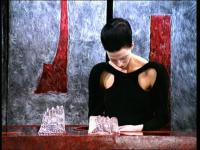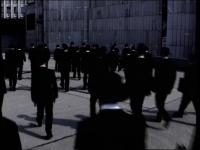 Ema Kugler - Homo Erectus
(00:43:28)
Production:
ZANK, 2000
This video features no words, only music and images. Ema Kugler describes the moving images as: "They are like a dark, surrealist dance of everyman with his own death. I have seen all these images. They came from the darkness of my subconsciousness, col...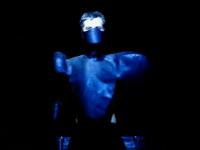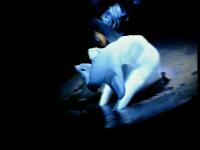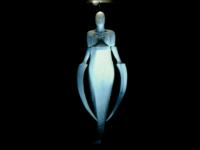 Ema Kugler - Tajga / Taiga
(00:08:22)
Production:
Forum Ljubljana & VPK, 1996
Video Taiga is made after eponymous performance carried out at the international festival of contemporary arts City of women in October 1995 in Ljubljana. The viewer enters a dark atmosphere, dictated by dramatic vocal-electronic music, threatening anthr...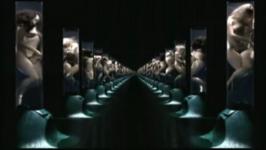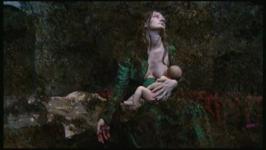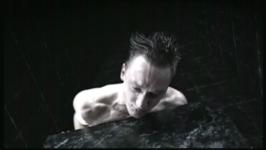 Ema Kugler - Phantom
(00:87:45)
Production:
Zavod ZANK / VPK, Cankarjev dom, RTV Slovenija, 2003
Phantom je film o smrti, ki se ne sprašuje: "Kdo sem?", temveč: "Sem kdaj res bil tam ... v življenju? Sem kdaj zares živel? Ali ni bilo vse le zgolj iluzija, privid lažnega obstoja? Je sploh možno umreti? Kako uiti iz te verige nezno...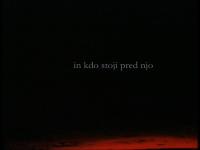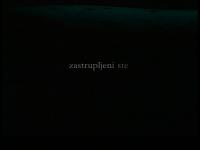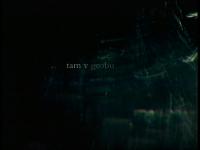 Ema Kugler - Le Grand Macabre
(01:40:44)
Production:
ZANK / Ljudmila, 2005
Experimental video is made after sound recording of Le Grand Macabre opera, recorded live at the Parisian Theatre du Chatelet in fabruary 1998, performed by London Sinfonietta Voices Philharmonic Orchestra. Composer György Ligeti, avant-gardist of the co...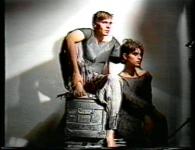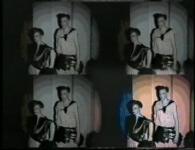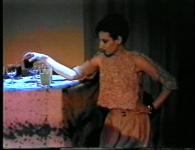 Ema Kugler, Nada Vodušek, Jane Štravs - Nostalgični izrez
(00:07:56)
Production:
Marijan Osole - Max, CD, 1985
A collage of fashion creations from a fashion show set in Cankarjev dom starts off as if browsing through a trendy Fashion magazine. Models wearing leather clothes are accompanied by Italian, Yugoslav and American pop music from the 60'. We can also see s...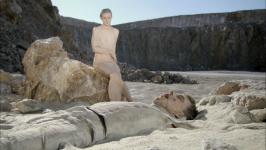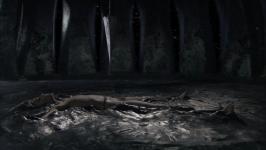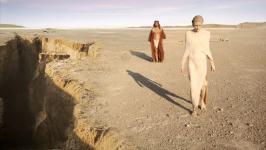 Ema Kugler - Za konec časa / For the End of Time
(02:05:28)
Production:
Zank & VPK, 2009
The video film is an investigation on man and his smallness in front of nature and time, the story is told by a voice-over narrator, with no dialogues between the characters. The camera slowly moves horizontally in panoramic views showing bright wide dese...