"Nezlomljiva / Unbreakable"
Artist: Čigon, Ana
Title: Nezlomljiva / Unbreakable
Duration: 0:01:08
Year: 2008
Genre: Minute video / Art video
Production: Ana Čigon
Camera: Ana Čigon
Country: Slovenia
Download: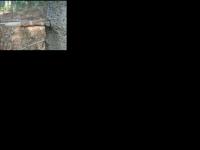 vlcsnap341068.png
vlcsnap341146.png
vlcsnap341219.png
Video documents braking of the branches on trees; it gets harder and harder to break the branches and in the end the author gets to a branch that doesn't give in. Video consists of nine short scenes ending with freeze frames, eight of them forming a frame with the last - ninth shot placed in the middle. Video is shot with a hand held camera making only close-up shots.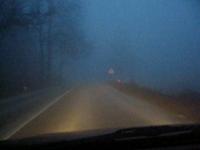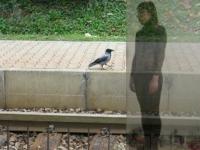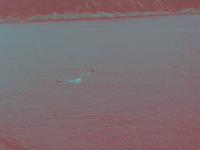 Ana Čigon - Anima (ani+ma)
(0:04:22)
Production:
Ana Čigon, 2007
Video is author's intimate tale set in nature and author's living space. This non-narrative piece makes driving on a foggy road, outlines and shadows seem like a dream. Melancholic soundtrack is becoming more and more positive and upbeat towards the end o...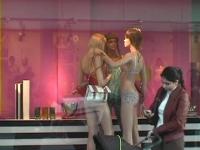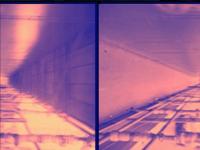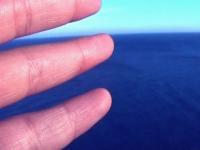 Ana Čigon, Brina Torkar - Ulikses / Ulysses
(0:24:00)
Production:
Ana Čigon, Brina Torkar, 2005
Ulysses is a visual documentary, a video film about Dublin, where the authors went for a student exchange. The video paints different sides of this city and Ireland. It is composed from different parts each dealing with different aspects of Dublin followi...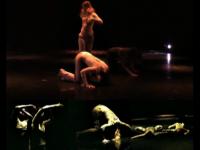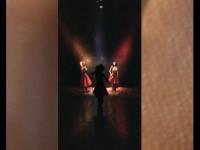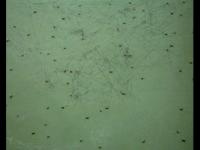 Ana Čigon - Brezčasje / Timelessness
(0:04:03)
Production:
Plesni studio Intakt, 2008
Dance video presents a dance show in a completely authorial way adding segments to the mere documentation. Author uses detailed shots from the woods and nature in general. We see a combination of long static shots and hand held camera manipulated with dif...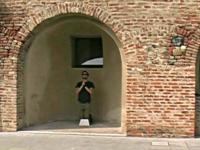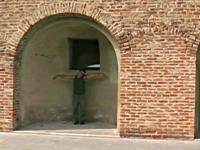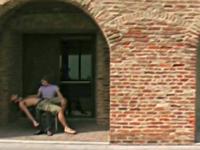 Ana Čigon, Cristiana Arena - Real Presence
(0:01:05)
Production:
Ana Čigon, Cristiana Arena, 2008
This performative fiction art video places human figures in architectural niches, which freeze in different positions, eventually forming biblical iconographic motives (pieta, oranta …). Video is composed out of short and fast shots.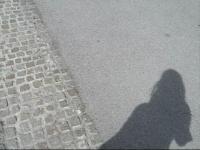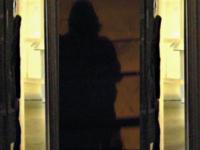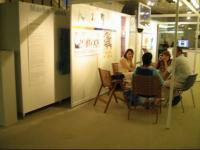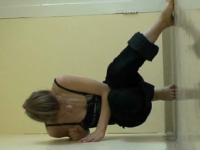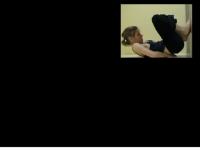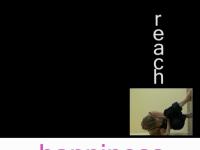 Ana Čigon - One More Kick
(0:04:35)
Production:
Ana Čigon, 2009
'One More Kick' is a performative video in which the author is tackling a wall, trying to move it with great effort. She tries really hard and seemingly pushes it around the frame, using the method of measuring the edges of the screen, used by the early v...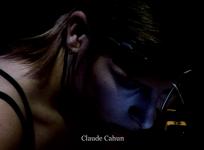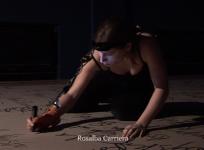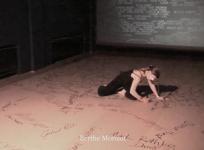 Ana Čigon - Dear Ladies, Thank You (Kapelica Gallery)
(00:05:06)
Production:
Galerija Kapelica, 2011
DEAR LADIES, THANK YOU - Ljubljana (second version) Performance presented in Kapelica Gallery 2011 Idea, performance and technology: Ana Čigon Additional technical support and programming: Vasja Progar The performance Dear Ladies, Thank You critica...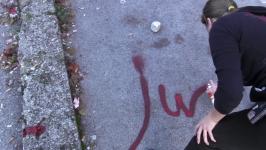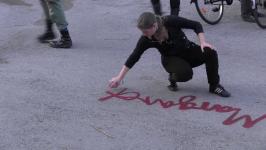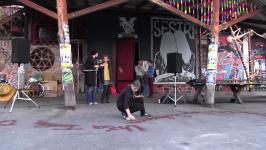 Ana Čigon - Dear Ladies, Thank You – Red Dawns
(00:12:30)
Production:
KUD Mreža, 2013
Dear Ladies, Thank You is an evolving performance that has been presented in several variations. The common thread that connects all versions is the discourse of the under-representation of women in art history, art theory, art institutions, and in the br...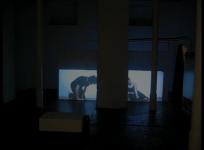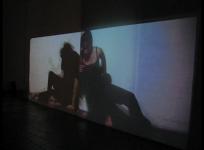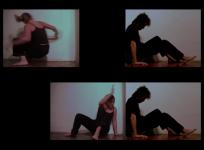 Ana Čigon - Perspective
(00:05:07)
Production:
Ana Čigon, Galerija Alkatraz, 2010
Delo je enokanalni video, ki združuje dokumentacijo večkanalne videoinstalacije v galeriji Alkatraz z originalnimi posnetki. Performans za video je bil predhodno posnet v prostorih galerije in nato predstavljen na treh dvo-kanalnih projekcijah v zanki. V...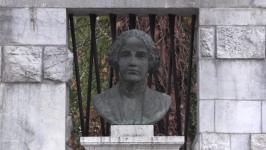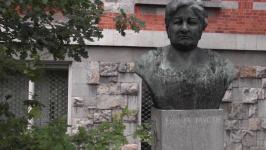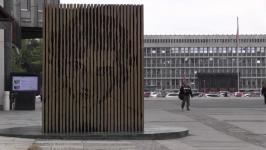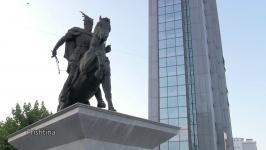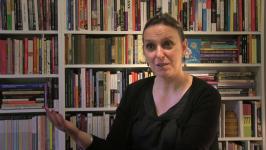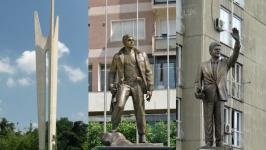 Ana Čigon - Remembering the Others (trailer)
(00:45:54 (trailer, 00:02:09))
Production:
Ana Čigon, Stacion - Center for Contemporary Art, Prishtina - Kosovo, Mestna galerija Ljubljana, 2015
Remembering the Others (Spominjanje Drugih) je dokumentarni film o pomenu in moči javnih spomenikov. V filmu teoretičarke, aktivistke, študentke, umetnice in umetnik iz Prištine na Kosovu govorijo o javnih spomenikih. Ugotavljajo, kateri ljudje imajo...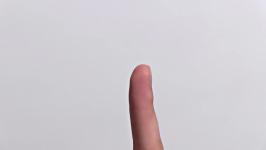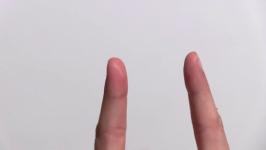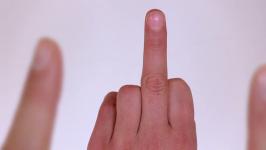 Ana Čigon - OHOHO
(00:01:30)
Production:
Ana Čigon, 2015
Video se začne s posvetilom vsem organizatoricam in organizatorjem razstav, ki ne izplačujejo razstavnin. V ozadju se slišijo nerazločni glasovi različnih ljudi in blag ropot. Hrup spominja na zvoke z odprtja razstave. Posvetilo izgine, hrup se poča...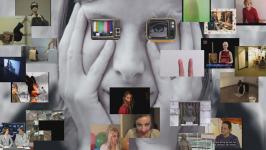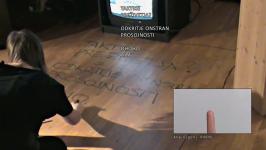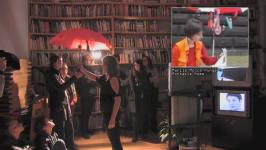 Ana Čigon - Ana at the Station
(00:05:30)
The video is a document of an experimental research of Station DIVA. The artist was searching for a place for her artistic practice and fastened her own creations amongst the creation of other authors thus contextualizing her work through eclectic merging...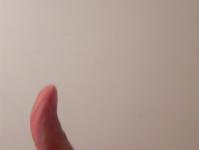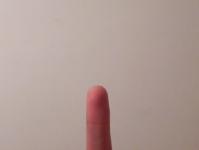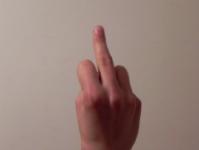 Ana Čigon - Finger in U.S.
(00:02:15)
In 2009 I received the OHO award. The prise was a residency in USA. I traveled to USA in 2010. To enter the country I had to give my fingerprints as every other non-US resident. I did not like this fact so I made a video to comment this event. The video w...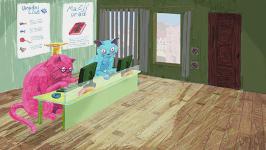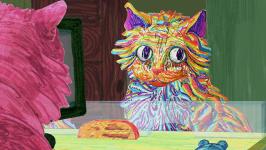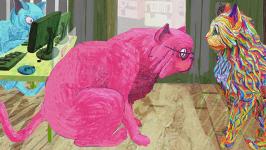 Ana Čigon - Rebellious Essence (trailer)
(00:04:59 (trailer, 00:00:22))
Production:
A.Č., 2017
A cat walks into the Office of the Ministry for Cat Affairs and requests for a passport. All goes pretty well until the female and male cat clerks demand to know the cat's sex. (Source: Ana Čigon) NOTE: On the artist's request, the on-line DIVA Stati...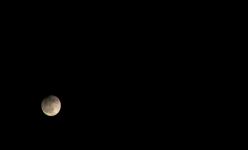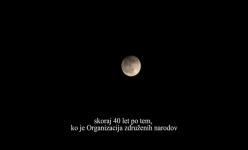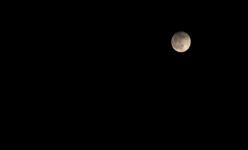 Ana Čigon - Za luno
(00:01:15)
Production:
A.Č., 2015
Video je kratka feministična zbadljivka o astronomskih težavah pri doseganju enakopravnosti. (Vir: Ana Čigon) V videu, ki se zdi animiran, pa ni, vidimo pospešen dejanski posnetek potovanja polne lune po nočnem nebu. Spremlja ga zvočni posnetek i...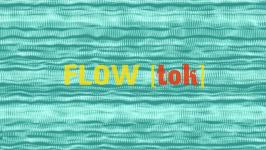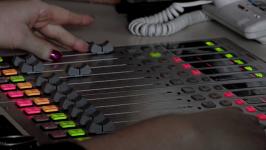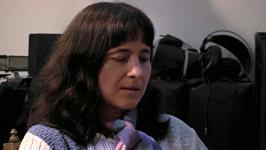 Ana Čigon, Saša Spačal, Ida Hiršenfelder - Flow (trailer)
(00:55:35 (trailer, 00:02:57))
Production:
RAMPA Laboratorij, koprodukcija RTV Slovenija, 2016
Eight women working in the broad spectrum of scientific professions from artificial intelligence to programming and aviation, talk about the conditions in which they became interested in technical professions, the obstacles they confronted, and how they d...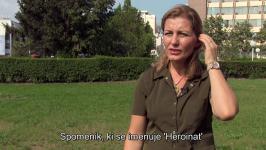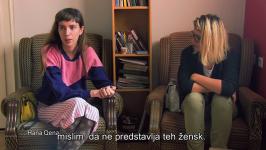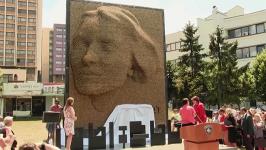 Ana Čigon - Heroinat / Heroines
(00:15:00)
Production:
Ana Čigon, Stacion Center for Contemporary Arts, Mestna galerijo Ljubljana , 2015
Heroinat / Heroines is a short documentary film on the erection of a problematic monument, which was uncovered in 2015 in Prishtina. It was dedicated to the women that contributed in the war of 1998-99 in Kosovo and all the women that were victims of sexu...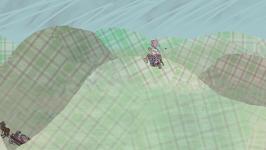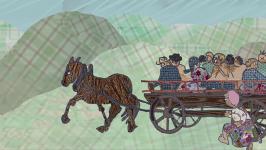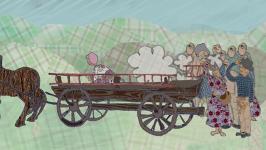 Ana Čigon - Francka
(00:01:13)
Production:
Ana Čigon, 2015
The idea for animation was created at the feminist assembly Feminism to the Streets, which was held in Ljubljana in 2014. On that occasion, the participants exclaimed various slogans, among them also 'Franckas Today Are Running Faster'. Francka is a chara...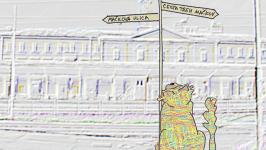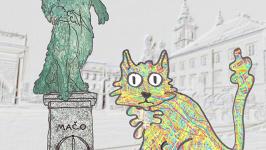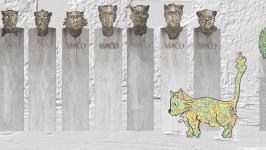 Ana Čigon - Macho
(00:03:00)
Production:
Ana Čigon, 2015
An animation of what is happening in the macho world, if someone walks through it, who is not a macho. In the animation, a cat is walking through Ljubljana and is admiring the monuments in the city. The monuments are cat cartoon versions of real monument...