"Suicide"
Artist: Lenardič, Zmago
Title: Suicide
Duration: 00:04:10
Year: 2006
Genre: Installation Art / Art video / Performance
Country: Slovenia
Download:
zmago_lenardic_suicide_1.jpg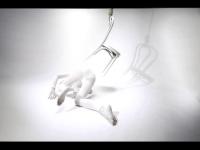 zmago_lenardic_suicide_2.jpg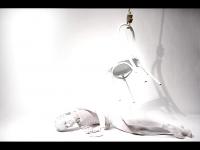 zmago_lenardic_suicide_3.jpg
Video explores the dynamics of a tragic event like the suicide by hanging. The digital colour manipulation of the images isolates the scene from any contest, emphasizing it on a dazzling background. The action, perceived in its essential elements, gains a dramatic and at the same time theatrical connotation, despite the surreal inversion of the roles between the man and the chair. By focusing on the intensity of the event thanks to a static shot and few close ups, the video generates a confusion between subject and object, it overturnes the point of view and suggests a new perception of reality, together with its predetermined roles and rules.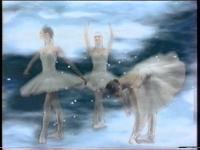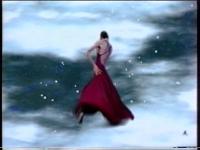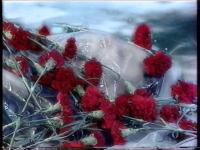 Jasna Hribernik, Zmago Lenardič - Elsa und Lohengrin
(0:03:15)
Production:
VPK, 1997
A variation on Wagner and his opera Lohengrin. There is no Wagnerian hero, but a ballerina dancing to the opera, which later transforms into a modern song, and the ballerina also turns into a modern dancer. Both dancers, however, resemble a woman covered...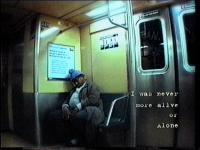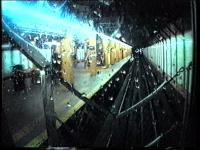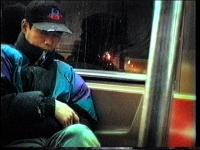 Zmago Lenardič - Big Blue Subway
(00:12:42)
Production:
VPK & White Balance, 2000
Video tematizira odtujenost velikega urbanega središča s posnetki utrujenih, spečih ljudi na newyorški podzemni železnici. Pripisana beseda se nanaša na njihove misli ali sanje, odmik od realnosti odtujenega velemesta. Sprevračana je v temačno odi...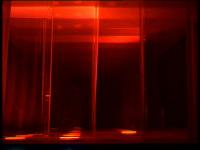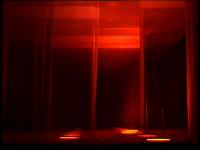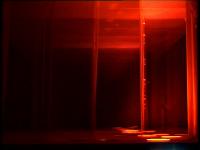 Zmago Lenardič - Fireworks
(00:10:10)
Video documentation of an installation presented in the exhibition Liquid Space in 2006, shot with a static camera positioned in front of the work. A series of blinking red-light spots that switch on and off one after the other, creates a rhythmic corresp...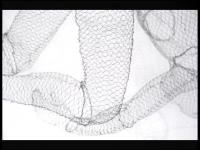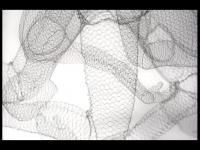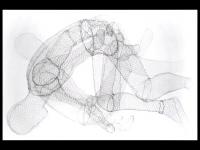 Zmago Lenardič - Network
(00:12:47)
Video documentation of an installation presented in the exhibition Liquid Space in 2006, where the three-dimensional shape of a human body realized with a thin wire interweave is moving and projecting its shadow on a white surface. The video shows the ove...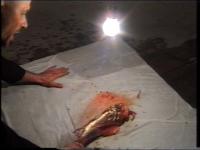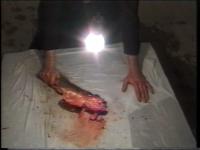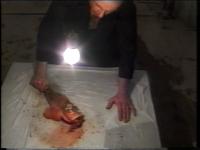 Zmago Lenardič, Jasna Hribernik - Three Wishes
(00:01:05)
Unedited recording of a performative action is following one of the authors holding a golden fish in his hand, hitting it on a white surface as he repeats a chant: "Grant me wish". A light bulb is shining above the artist. Video perfomance "Grant me...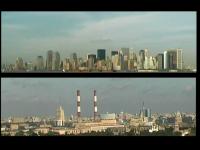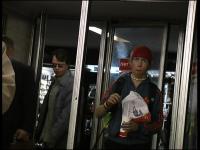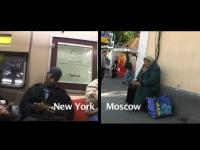 Zmago Lenardič, Jasna Hribernik - NewMoscowYork
(00:25:20)
Production:
White Balance, 2004
The video is a humoristic comparison of two metropolises – New York and Moscow, where the life in the age of globalization is close to identical. Authors juxtapose similar scenes on two different channels. Each channel shows an urban silhouette with sky...