"Schizogram"
Artist: Dekleva, Luka; Prinčič, Luka
Title: Schizogram
Duration: 00:14:22
Year: 2009
Genre: Hybrid Art / Computer Graphics / Sound Art
Country: Slovenia
Download: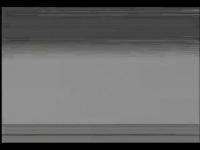 D176_Dekleva_Schziogram_01.png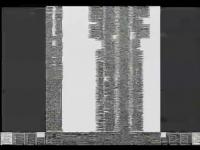 D176_Dekleva_Schziogram_02.png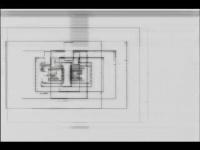 D176_Dekleva_Schziogram_03.png
Schizogram je posledica zlorabe oziroma namerno neravilne uporabe, analogne in digitalne video opreme, ki posledično proizvaja nepredvidljive podobe. Schizogram predstavlja abstraktno estetiko računalniških napak. Rezultat tega procesa je grafična estatika, ki je včasih podobna animirani jedkanici, pri kateri razlivanje tinte ustvarja animacijo. Prostor je večinoma dvodimenzionalen; samo v srednjem delu je s ponavljajočo obliko kvadrata nakazana tretja dimenzija. Delo ima v naprej predvideno dramaturško dogajanje: začne se s sivimi površinami, vrhunec dogajanja z jasnimi črtnimi tvorbami je strnjen na sredini, na koncu se zvok umiri, video pa postane minimalistična igra temnih površin, ki se končajo v črnini.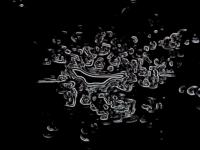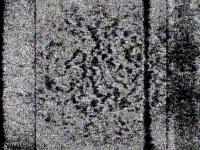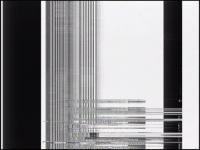 Luka Dekleva - FeedForward Cinema
(00:05:25)
Production:
codeep, 2007
Video dokumentacija performansa iz Kinodvor dne 19. oktobra 2007. Delo Feedforward Cinema nastaja z interakcijo dveh video naprav, ki si vzajemno pošiljajo signale in tvorijo zaprt krog informacij. Rezultat spominja na različne vzorce od zelo organskih...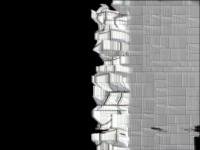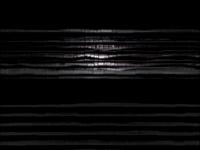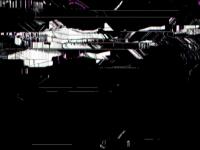 Luka Dekleva - City Off Season
(00:05:44)
City of Season je video za istoemenski glasbeno delo beograjskega umetnika za hrupno glasbo (noise) WoO. Luka Dekleva generira video pokrajino na podlagi počasnega zvočnega ritma, ki je povezan z manipulacijo mozaičnih priključkov v programu PureData....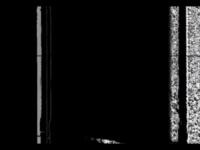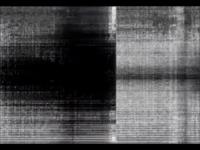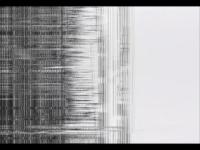 Luka Dekleva - lOw/Tuning
(00:07:08)
Pri video delu lOw/Tuning gre za isti princip kot pri delu Feedforward Cinema. Z interakcijo dveh video naprav, ki si vzajemno pošiljata signale in tvorita zaprt krog informacij, pride do realizacije deloma nepredvidivih struktur, ki se pojavlajo kot hru...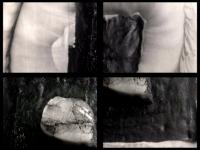 Luka Dekleva, Elena Fajt - Spomin
(00:02:01)
Delo je fotografska animacija, ki so jo zasnovali Elena Fajt (instalacija), Luka Dekleva (fotografija), Luka Prinčič (zvok) v času II. bienala neodvisne ilustracije. Fajt je na treh javnih lokacijah na prostem postavila ledene kocke, v katere je zamrzn...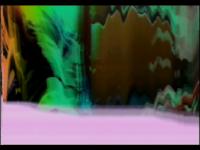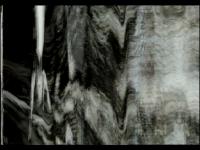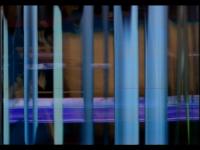 Luka Dekleva - Sen/za Televizijo/a
(00:28:38)
The video is a result of artistic collaboration with Miha Vipotnik during the Sen/za Televizijo/a project at Jakopič Gallery, marking 30 years to the date after the first transmission of Vipotnik's television video project Videograma 4 on May 4th, 1979. De...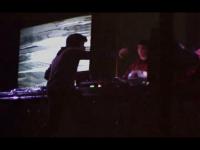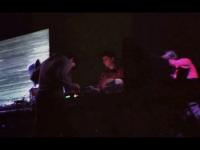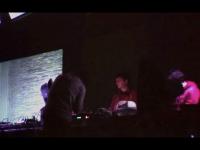 Luka Dekleva, Luka Prinčič, Miha Ciglar - Netmag08 Live
(00:05:22)
Netmag08 Live je multimedijski dogodek, performans interakcije signalov in napetostnih polj. Že sama postavitev določa parametre video interakcij. Intervencija umetnika, ki s svojim telom preusmerja tok elektronov iz katodne cevi v zvočni izvor. Umetni...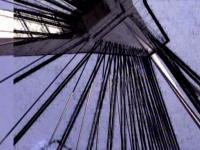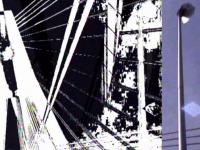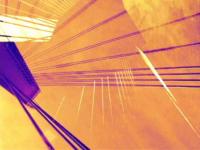 Luka Dekleva - Singing Bridges EDIT
(00:04:14)
The author uses audio and video field material recorded by the artist Jodi Rose. Manipulation of video recordings of a hanging bridge construction is used as a visual background for an experimental electronic music created from sound recordings of the bri...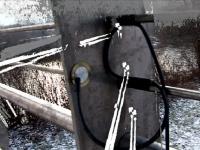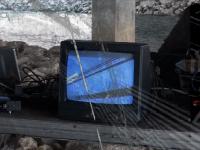 Luka Dekleva, Luka Prinčič - Singing Bridges Bizovik
(00:04:07)
Production:
Kapelica, Codeep. KinoDvor, 2008
Singing Bringes Bizovik is a video performance in which the sound is coming from the microphones mounted on cables and construction of the bridge. Thus, Jodi Rose and Luke Prinčič combined the recorded sound material in a live event and a video of the b...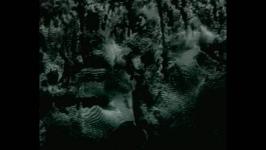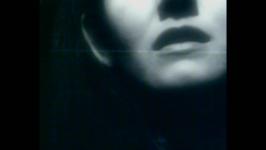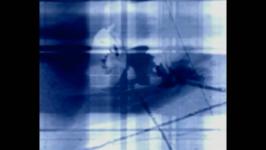 Luka Prinčič - Retrospections: Maya Deren
(00:12:02)
Video work is a product of a live-cinema performance taking an opus of avant-garde artist Maya Deren as the base of its research. With real-time visual and sonic manipulation and editing the author establishes a dialogue between past and present, thus sea...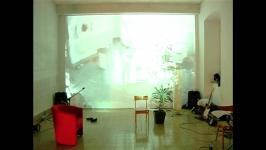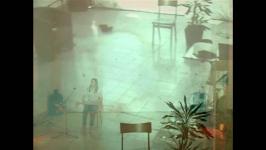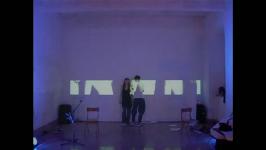 Luka Prinčič - My Body Hurts Over
(00:03:57)
Production:
Emanat, 2011
My Body Hurts Over is a music video for one of the songs created as a product of an improvised audio-visual telematic performance Transmittance #1.5. The video takes video footage from the telematic performance Transmittance #1 which took place at KC Karl...