"Soft Machine"
Artist: Požlep, Mark
Title: Soft Machine
Duration: 0:09:53
Year: 2010
Genre: Interactive Art / Art video
Country: Slovenia
Download: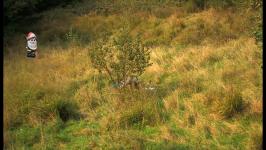 967_D217_pozlep_softmachine_palcki1.png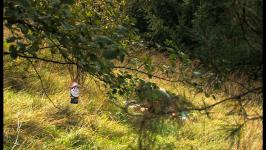 967_D217_pozlep_softmachine_palcki2.png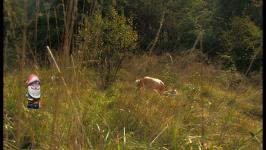 967_D217_pozlep_softmachine_palcki3.png
Delo 'Soft Machine' je del večmedijske razstavne instalacije z naslovom 'Queens & Criminals', izvorno prikazane v Kibli Maribor leta 2010. Video prikazuje statične posnetke para med spolnim aktom iz treh različnih zornih kotov (v treh dolgih kadrih), kamera pa je vselej postavljena v položaj, kjer je pogled deloma zakrit z drevjem ali travnimi bilkami. Voajerski položaj kamere (avtorja) in gledalca pri spremljanju intimnega akta neznancev skuša zbujati nelagodje ob opazovanju drugega. V kadru se neprestano pojavlja vsiljivec oziroma zalezovalec v podobi stiliziranega animiranega palčka, ki iz neposredne bližine opazuje dogajanje. Gledalec je tako soočen z lastnim opazovanjem in voajerstvom drugega ter s trojno moralno dilemo. Avtor preiskuša odziv gledalca na treh ravneh: z zbujanjem nelagodja ob spremljanju intimnega akta neznancev, ki se za okolico ne zmenita, preizpraševanjem nelagodja ob tujem zalezovanju in z nelagodjem zaradi lastnega voajerstva. Interaktivna instalacija je bila zasnovana na način, da je bila gledalcu ponujena puška, s katero je lahko streljal v projekcijsko platno. Gledalec, tudi sam voajer, se je tako moral odločiti na koga bo streljal: na opazovalca ali opazovani par.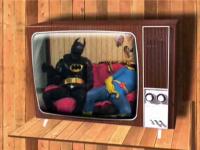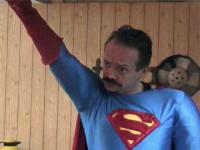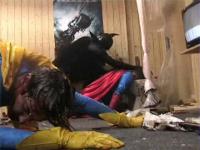 Mark Požlep - Fireplace, Axe and a Banana Peel
(00:11:46)
Production:
White Cross Production, 2008
Igrani video zaključuje avtorjevo tematiziranje namišljenih in personificiranih superherojev. Dogajanje je postavljeno v tesen domačijski ambient, kjer tije protagonisti – superheroji - skušajo živeti v sožitju. Zaradi karakternih posebnosti in ve...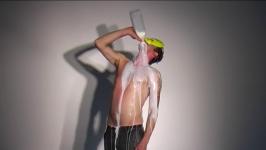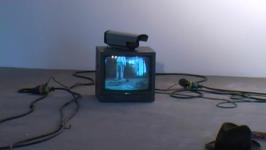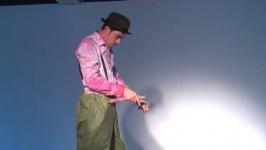 Mark Požlep, Jaša (Mrevlje - Pollak) - Time to Become Poets
(0:08:00)
Samostojno video delo, ki je bilo izvorno prikazano kot del razstavne instalacije na gostovanju v Marseillu, kjer sta avtorja zapolnila obsežen razstavni prostor z odsluženimi gledališkimi rekviziti. Video delo, ki je bilo predvajano v posebej zgrajeni...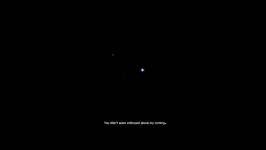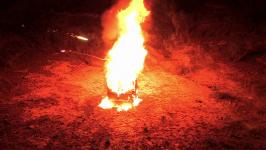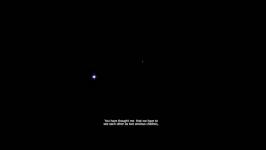 Mark Požlep - Is Anger Substitude for Love
(0:08:15)
Video je zasnovan kot minimalistična interakcija majhnih svetlobnih teles na temnen zaslonu, ki se repetitivno približujeta in oddaljujeta. Ob vsakem zbližanju, kjer pa še vedno ostaneta na varni ditanci, izmenjata nekaj besed, ki skušajo orisati in...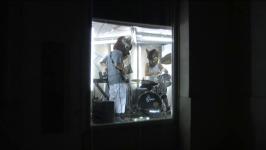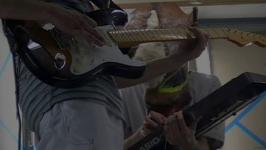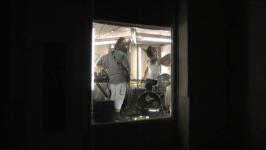 Mark Požlep - Maybe Weird and Dark but Certainly Alive
(0:05:00)
Video predstavlja dokumentacijo glasbenega performansa ob otvoritvi razstave 'Maybe Weird and Dark but Certainly Alive' v galeriji Plevnik-Kronkowska v Celju. Skupina v volkodlake maskiranih glasbenikov v izložbenem oknu galerije izvaja hrupne minutn...