"Maybe Weird and Dark but Certainly Alive"
Artist: Požlep, Mark
Title: Maybe Weird and Dark but Certainly Alive
Subtitle: Maybe Weird and dark but certainly alive; Never Exactly sure what i will find, never exactly sure what i will search; Is my cock big enough, is my brain small enough, for you to make me a star; Disco fever killed my beaver; It is never too late to have a
Duration: 0:05:00
Year: 2010
Genre: Music video / Art video / Performance
Composer: Gašper Piano
Country: Slovenia
Download: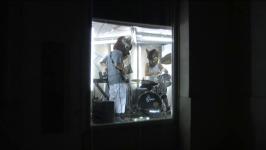 vlcsnap2011091717h21m35s93.png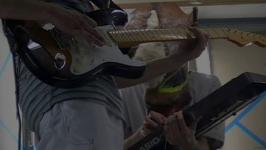 vlcsnap2011091717h22m10s189.png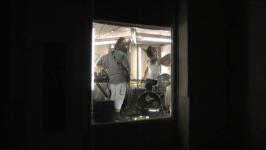 vlcsnap2011091717h22m49s67.png
Video predstavlja dokumentacijo glasbenega performansa ob otvoritvi razstave 'Maybe Weird and Dark but Certainly Alive' v galeriji Plevnik-Kronkowska v Celju. Skupina v volkodlake maskiranih glasbenikov v izložbenem oknu galerije izvaja hrupne minutne kompozicije (avtor Gašper Piano). Sleherna skladba kljub svoji instrumentalni naravi predstavlja refleksijo na določeno temo, saj so se izvajalci z zvokom odzvali na predlagane naslove: 'Maybe Weird and Dark but Certainly Alive', 'Never Exactly Sure What I Will Find, Never Exactly Sure What I Will Search', 'Is My Cock Big Enough, Is My Brain Small Enough for You to Make Me a Star', 'Disco Fever Killed My Beaver' in 'It Is Never too Late to Have a Happy Childhood'. Skupina glasbenikov, osvetljena z neonskimi lučmi, predstavlja komentar na spektakelsko družbo ter vsepristono željo po slavi in moči.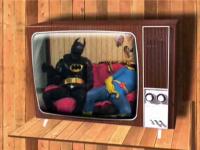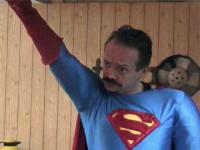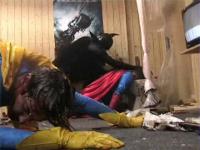 Mark Požlep - Fireplace, Axe and a Banana Peel
(00:11:46)
Production:
White Cross Production, 2008
Igrani video zaključuje avtorjevo tematiziranje namišljenih in personificiranih superherojev. Dogajanje je postavljeno v tesen domačijski ambient, kjer tije protagonisti – superheroji - skušajo živeti v sožitju. Zaradi karakternih posebnosti in ve...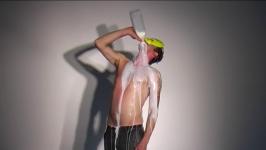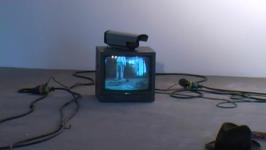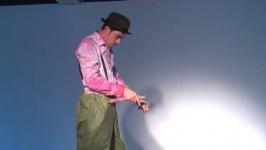 Mark Požlep, Jaša (Mrevlje - Pollak) - Time to Become Poets
(0:08:00)
Samostojno video delo, ki je bilo izvorno prikazano kot del razstavne instalacije na gostovanju v Marseillu, kjer sta avtorja zapolnila obsežen razstavni prostor z odsluženimi gledališkimi rekviziti. Video delo, ki je bilo predvajano v posebej zgrajeni...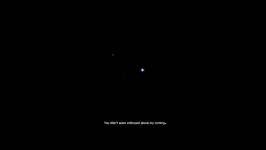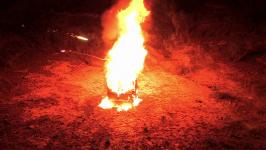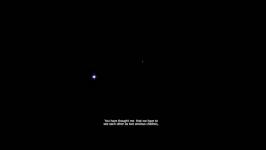 Mark Požlep - Is Anger Substitude for Love
(0:08:15)
Video je zasnovan kot minimalistična interakcija majhnih svetlobnih teles na temnen zaslonu, ki se repetitivno približujeta in oddaljujeta. Ob vsakem zbližanju, kjer pa še vedno ostaneta na varni ditanci, izmenjata nekaj besed, ki skušajo orisati in...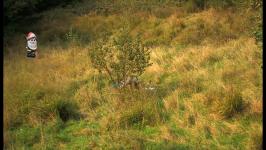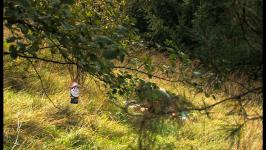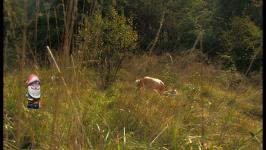 Mark Požlep - Soft Machine
(0:09:53)
Delo 'Soft Machine' je del večmedijske razstavne instalacije z naslovom 'Queens & Criminals', izvorno prikazane v Kibli Maribor leta 2010. Video prikazuje statične posnetke para med spolnim aktom iz treh različnih zornih kotov (v treh dolgih kadrih), k...