DIVA nature
59 results in works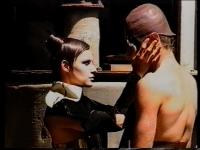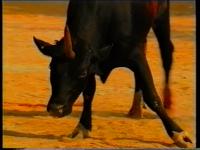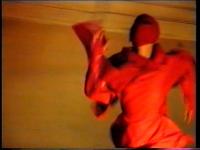 Ema Kugler - Hydra
(00:15:45)
Production:
V.S. Video, Forum Ljubljana, VPK
,
1993
Mythology in the video works by Ema Kugler is inscribed in rituals of everyday life; this time it is the theme of Hydra with many facets. The theme is represented by the separate scenes featuring human figures in leather costumes (created by the artist herself) that constrain their movements, thus emphasising their separation from nature. The last trace of their respective connection is shown in a ritual relationship between a man and a bull, although even this relationship involves man's deeply ingrained c...
Add to playlist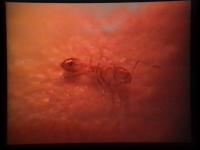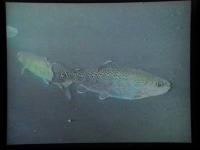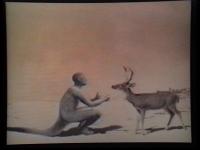 Damijan Kracina - Zoospective
(00:11:53)
Subtitle:
(Zoological Retrospective)
Production:
2000
The video summarises the basic motifs of the artist's work: endangered species and fantasy animals of the future. It comprises an omnibus of five individual video pieces and additional raw video footage. First, we see 'proteus', a computer-generated olm in motion; which is followed by 'An Interview with an Endangered Species', featuring frontal shots of the Soča Trout opening its mouth as if it were speaking; these are combined with an Aquarium video showing the flight of the Soča Trout. This is...
Add to playlist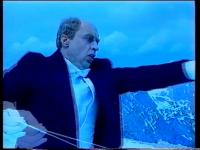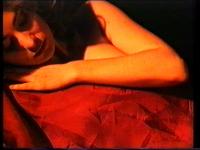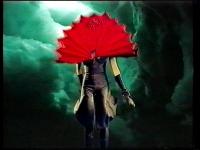 Ema Kugler - Postaja 25 / Station 25
(00:30:08)
Production:
Forum Ljubljana & VPK
,
1997
The artist continues with her main preoccupations: the relationship between a man and a woman, the irruption of the mythical into the rituals of everyday life. The video film uses the numerous potentials of electronic manipulation of the picture. The finest scenes are those of "morphing" (electronic transformation), where a figure from a painted canvas turns into an identical figure on the video screen, or the latter "freezes" into a figure on a fixed picture. The artist once again insists on the real natu...
Add to playlist
Ema Kugler - Obiskovalec / The Visitor
(00:26:41)
Production:
V.S. Video / Forum Ljubljana, VPK & Viba film
,
1995
The artist insists on the duality of human nature: the same dreadfulness is part of both the mythical and the real world. The duality is explicitly presented by means of electronic effects that can petrify a human face, or wall-up a human body in a few seconds. Human figures dressed in extravagant costumes are returned back to nature by means of electronic effects: a man in a costume reminiscent of a bird transforms into a real bird. The costumed and real birds are accentuated by the bird's eye view, which...
Add to playlist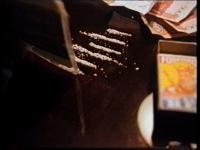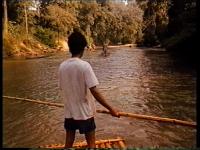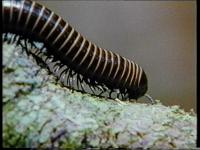 Andrej Lupinc - V 8. minutah okoli sveta / In 8 Minutes Around the World
(00:09:38)
Production:
TV Slovenija, filmski laboratorij
,
1990-2000
Original documentary video patchwork with shots from various places in the world that the author visited while working as a cameraman at Slovenian national TV station. Diversity of aesthetics is visible through a compilation of shots from different continents. A stable rhythm that runs through the whole video unifies all different scenes and brakes the seeming symbolic differences. Video would work as an ideal visualisation of Levi-Strauss's anthropological theory developed in his book Race and History. Fea...
Add to playlist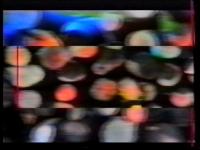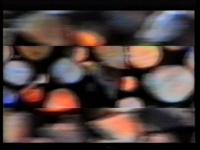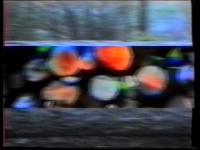 Damijan Kracina - Točka nič / Point Zero
(00:02:07)
Production:
1996
The video consists of three parallel strips showing the same footage in different time frames. It seems that we are following a video of the countryside shot from a moving car. The upper and lower strips follow the same timeline, while the strip in the centre is of the same footage, but on rewind. In the central strip, the video slows down. Both timelines meet, which is indicated by a red line, which merges and draw the point zero.
Add to playlist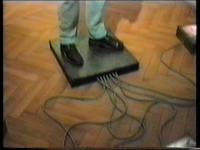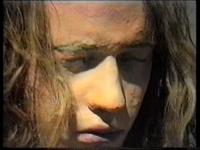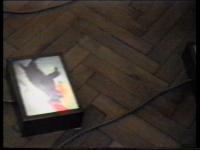 Damijan Kracina - Kracina TV
(00:06:24)
Production:
1995
A hyper-realistic latex sculpture of the artist stands in the middle of a room in Kapelica Gallery, where the artist first presented the installation. The sculpture's low pedestal is connected to seven monitors into which the figure gazes, while light boxes show photographs of cats run over by cars. The installation shows death doubled, or the absence of life. The cats are dead, and the statue, too, is lifeless. The images of dead cats not only draw attention to the cruel human attitude to animals and the...
Add to playlist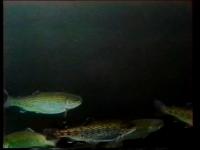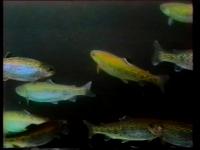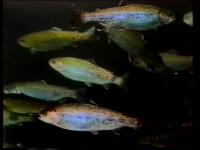 Damijan Kracina - Aquarium
(00:01:12)
Production:
1997
Underwater footage of the flight of the Soča trout, which is endangered due to irresponsible human farming of the common trout in the former's natural habitat. The swimming fish opening their mouths are silent witnesses of human actions.
Add to playlist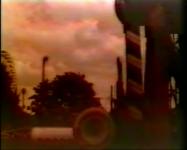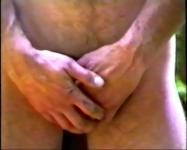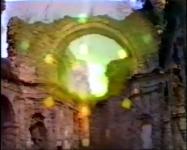 Media Teror, Rok Sieberer Kuri - Media Teror Chroma Quart Mix (mix II.)
(00:03:39)
Production:
Media Teror
,
1998
Fast changing images of a city, TV recordings, nature and objects inside nature, which are completed with art forms by different editing techniques. Dynamic hand held camera shots are processed with overlaps and chroma key effect. The content is hidden in the gaps: in the symbolic forms and association leaps in the selection of the shots, atmospheres and surroundings. Synchronous image and sound make the work resemble a music video.
Add to playlist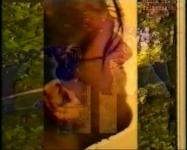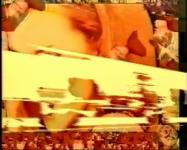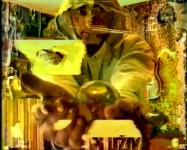 Media Teror, Rok Sieberer Kuri - Media Teror Croma Quart Mix (mix III.)
(00:06:44)
Production:
Media Teror
,
1998
Hitro menjujoče podobe mesta, televizijskih posnetkov, narave in objektov v naravi, ki jih z različnimi montažnimi tehnikami dopolnjujejo likovne forme. Gre za prekrivanje in croma key, posnetki kamere so večinoma iz roke in so dinamični, izgleda da gre za naključno lovljenje materiala. Vsebina je skrita v vrzelih: simbolnih formah in asociacijskih preskokih izbire posnetkov, ambientov in okolja. Gmote posnetkov prehajajo in se kopičijo - prekrivanje v izbranih kompozicijah, ki so zelo likovne. Na vi...
Add to playlist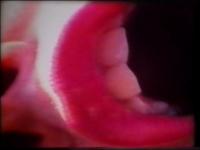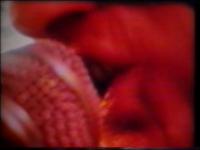 Sašo Podgoršek - Cry Baby
(00:03:26, 00:02:55)
Production:
Nord Cross Production
,
1993
Music video for the song Cry Baby of Slovenian group Demolition Group.
Add to playlist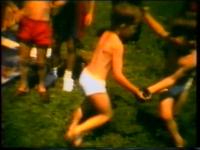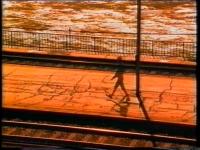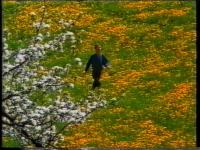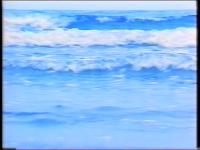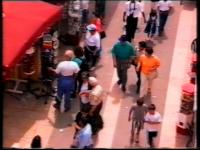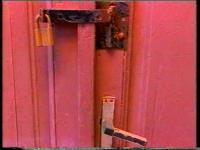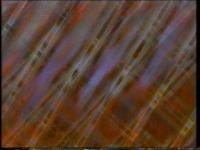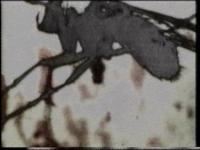 Mirko Simić - Parabola
(00:35:28)
Production:
VPK & Human Creative Net
,
1997
Parabola is a short version of six hours long video performance in a club Gavioli Ambasy in Izola, Slovenia that the artist VJ Simo has performed at a live visual act. It is presenting a collage of numerous found fotages and documentary recordings from this tiny costal town. The video is interlaced with a rich electronic manipulation of image and patterns.
Add to playlist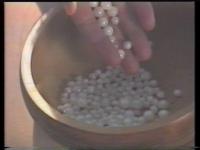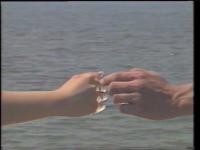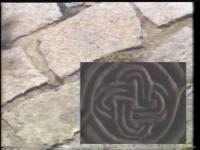 Ana Nuša Dragan - Lyhnida
(00:08:47)
Production:
TV Skopje
,
1989
A woman's body communicates with its surroundings; it is a receptor of the macrocosm that bears traces of all other laws, including even the physiology with all its energetic zones. This is the energy that corresponds to spiritual experiences, which also depend on the body technique. The communicability can be understood, among other things, as one of the variations of the functioning of the body within the sequential regime of signs.(source: Ana Nuša Dragan)
Add to playlist
Duba Sambolec - Listening to the Globe-Beat
(00:36:25)
Subtitle:
NoHomeVideos©
Production:
Duba Sambolec
,
2000
Video performance documents the procedure of planting. Static camera records a scene in the middle of the space, where there is a pile of dirt with eight flower pots and postcards laying around. The author starts to fill in the pots with dirt, then she takes the postcards, places them in plastic bags and plants them inside the pots. She's adds more dirt, waters the planted postcards and then plugs earphones into dirt and seemingly begins listening. Occasionally she walks around the space and adds the dirt. Sh...
Add to playlist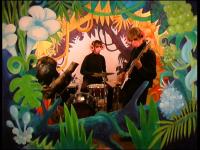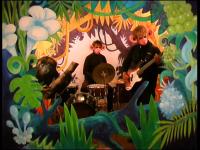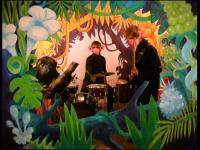 Damijan Kracina, Vladimir Leben - Ape Boys
(00:12:00; 00:03:24)
Production:
2004
This music video with Damijan Kracina on bass and Vladimir Leben on drums was first a video performance in an installation in which the scenery simulated the ape's natural habitat, similarly to what is done in TV documentaries. The video is exhibited as part of a video installation on a television set in a black box with printed screens. The artists wear ape costumes and play an introductory song and three grunge pieces. The video was exhibited as part of a group project with Galapagos and Animal Tour. Th...
Add to playlist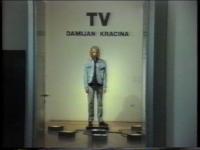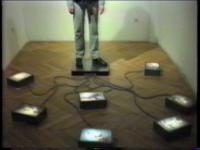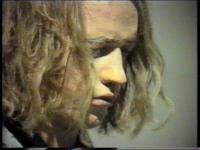 Damijan Kracina - Kracina TV
(00:05:48)
Production:
1995
Hiperrealističen kip avtorja iz lateksa stoji sredi prostora v Galeriji Kapelica, kjer je umetnik prvič postavil instalacijo. Nizek podstavek kipa je povezan s sedmimi monitorji, v katere je uprt pogled figure. Na svetlobnih objektih so prikazane fotografije povoženih mačk. Instalacija prikazuje dvojno smrt oziroma dvojno odsotnost življenja. Mrtve so povožene mačke, neživ pa je tudi kip umetnika. S podobami mrtvih mačk umetnik ni opozoril zgolj na krut odnost človeka do živali, na davek človeko...
Add to playlist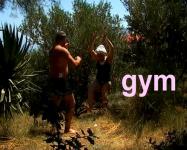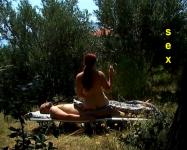 Nataša Skušek, Mladen Stropnik - Prosti čas / Free Time
(00:06:42)
Production:
2007
Video work discusses time management in a modern family life. The authors document their holiday with their children and through personal experience explore the overload and expectations imposed upon an individual about themselves by modern society.
Add to playlist